Aloo Tikki is one of my most favorite snacks in India.
It's such a versatile snack that its recipe can easily be modified to prepare many different snacks.
For eg.,
If you add a couple of ingredients like Corn, Green Peas, and Carrots to the classic Aloo Tikki recipe, it will completely change the taste and texture of this delicacy.
And that's not just about it. You can also serve the Tikkis in different styles.
You can serve it hot with Coriander Chutney and Imli Chutney as shown below or serve as a chaat item with spicy Chana masala and Nylon Sev.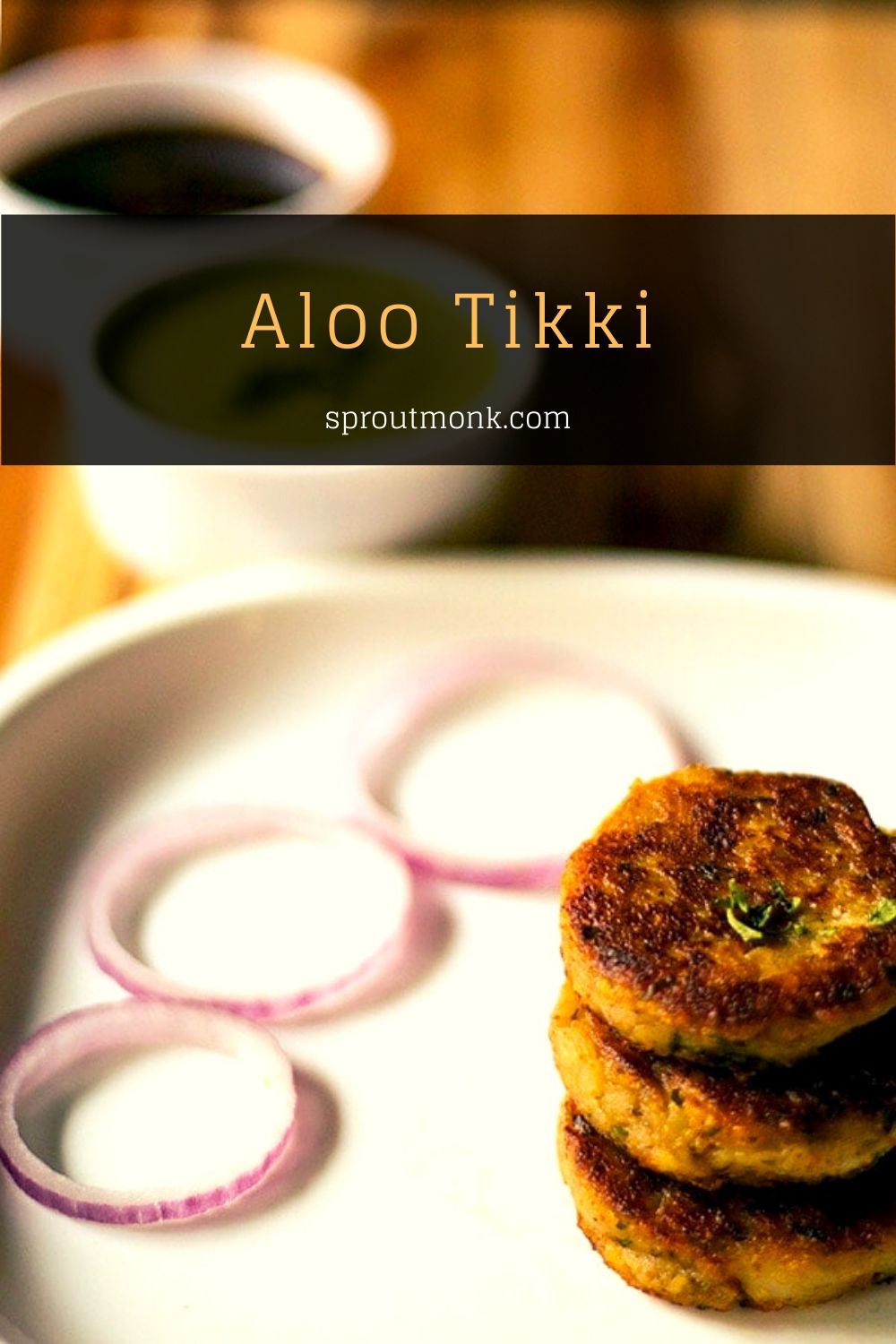 If you don't want to waste time on all other garnishes and accompaniments, you can also enjoy it with Tomato Ketchup. It tastes equally good!
You can also make it a lighter version with the shallow-frying technique instead of the deep-frying technique.
Alright now, let's get started with the recipe.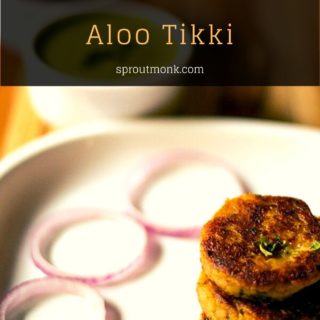 Aloo Tikki Recipe
Aloo Tikki is one of the most favorite chaat delicacies amongst the street food lovers in India. It can be enjoyed as a snack as well as an accompaniment for Biryanis and Pulaos.
Ingredients  
3

nos.

Potatoes (Aloo)

boiled and mashed

2

Green Chili

finely chopped

2

tbsp

Rice Flour

1

tbsp

Garam Masala

1

tsp

Chaat Masala

2

tsp

Ginger Garlic Paste

5

gms

Coriander Leaves

finely chopped

2-3

tbsp

Oil

Salt

as per taste
Instructions 
Clean the Potatoes thoroughly and boil them in a pressure cooker for up to 4-5 whistles. (It may depend on the brand of pressure cooker you use in your kitchen.)

Once the Potatoes are done, let them cool down for some time. 

Peel the Potatoes and mash them nicely for the Tikki mixture. Make sure there are no small pieces in them.

Now, add the Rice Flour, Garam Masala, Chaat Masala, Ginger Garlic Paste, Coriander Leaves, and Salt to the mashed Potatoes.

Mix all the ingredients using your hands. 

Make small balls of this mixture and shape them into medium-sized Tikkis. You can also use the cookie cutters to get the perfect shapes.

Switch on the flame and put the Tawa (flat base) on it.

Once the Tawa is hot enough, add the Oil and shallow-fry your Aloo Tikkis on low-medium flame. Don't forget to flip them a couple of times to get the perfect crunchy texture.

Serve the Tikkis with Chaat Chutneys or any choice of your sauces.
Notes
You can add more Rice Flour if you can't form the Tikki properly. However, don't forget to check the taste of Tikki mixture before frying them in the pan.
Variations
Want to try some variations?
Here are some quick and easy ideas to take your classic Tikki recipe to the next level –
Aloo Matar Tikki
This is a popular variation of the basic Tikki recipe.
In Aloo Matar Tikki recipe, all you need to do is add the boiled Green Peas into the Potato mixture. Everything else is pretty much the same as far as the recipe technique goes.
Some people also like to add the chopped Onions into this recipe.
The Onion pieces give the extra crunch to the Tikkis. However, if you don't like Onions, you can avoid them completely.
Tip: Add Cashew nuts or any other nuts to the recipe for that extra bit of crunch and rich texture.
Aloo Paneer Tikki or Aloo Cheese Tikki
Don't like veggies?
No problem!
You can use Paneer or Cheese in this Tikki recipe and turn it into Aloo Paneer Tikki or Aloo Cheese Tikki.
Note: When you add these two ingredients, check the taste of your Aloo mixture again. Also, do keep an eye on the Salt quantity while using grated Cheese.
Other than that, there is nothing much to say about these variations.
For those who like Tofu, you can add Tofu pieces as well instead of Paneer and Cheese.
Schezwan Tikki
Indo-Chinese food is quite popular on the streets of India, and Schezwan sauce is one of the most used ingredients in this type of food.
So, how about using the same sauce to transform our classic Tikkis?
Well, get a Schezwan sauce bottle from your nearby grocery store and use a couple of tablespoons of sauce in the Potato mixture.
That's all you got to do to make the tasty Schezwan Aloo Tikkis!
If you don't like too many spices, do not add Green Chilies in the mixture.