When I had seen Bhadang for the first time, I wasn't really sure whether I'd ever dare to try this dish.
Its peculiar fiery red color makes you think it's the spiciest dish in the world.
But that's not true at all!
I did try it out later on, and I have to say the first bite completely changed my perception of this dish.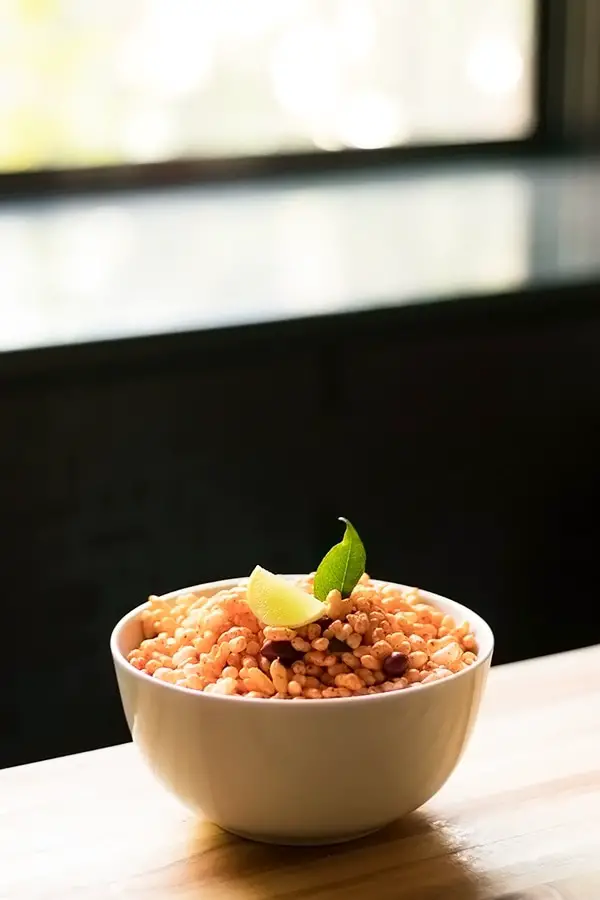 Even though it looks like a very very spicy snack, it's not!
It does give you a hint of spiciness, but the pungency is not as high as any other typical Kolkhapuri dish.
Also, if you are making Bhadang at home, you can easily adjust the recipe as per your taste.
On the other hand, you can also add chopped Green Chilies or homemade Red Chili Powder if you like spicy food.
In the following Bhadang recipe, I have used Kashmiri Red Chili Powder.
It's an amazing alternative to traditional homemade masalas.
With this Chili Powder, you can get the desired color and limited spiciness to your recipe.
Things You Need To Make Bhadang
Bhadang is not an exotic dish that requires many different ingredients. You just need a few ingredients to prepare it at home.
Here's the list of main ingredients:
Murmuras (Puffed Rice)
Peanuts
Kashmiri Red Chili Powder
Curry Leaves
Ginger and Garlic
Talking about other ingredients, you can add the roasted dry Coconut pieces and roasted Chana Dal to Bhadang.
Both these ingredients go well with Murmuras.
Some people also like to add Teekha Sev (Spicy Fried Noodles) to get the extra crunch to this recipe.
Step By Step Recipe
Here are some of the detailed steps to make Bhadang at home –
Step 1 & 2: As you can see, you will need to chop Ginger and Garlic finely.
And when you're done, keep them aside for a while.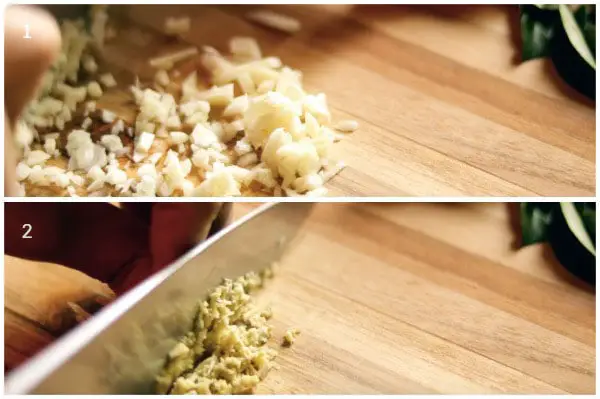 Step 3: Now, get a large plate or Paraat, and place all the Murmuras in it.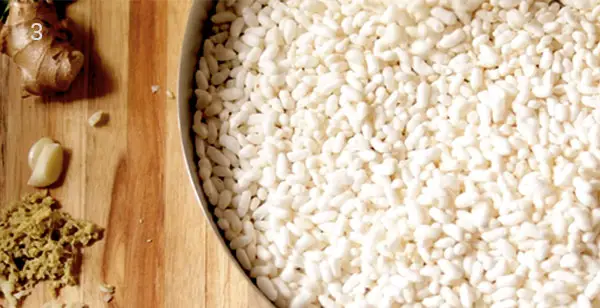 Step 4 & 5: Here, you will need to fry the Peanuts until golden brown.
Make sure you fry them nicely.
You will need the crunchy texture of these fried Peanuts in your Bhadang preparation.
Step 6 to 9: In the same pan, prepare a Tadka using Mustard Seeds, Cumin Seeds, Asafoetida, Curry Leaves, and Ginger-Garlic pieces or paste.
In the next steps, we will need to pour this Tadka on the Puffed Rice.
So, prepare everything accordingly.
Note: If you want more spicy taste, you can also add some chopped Chillies to it.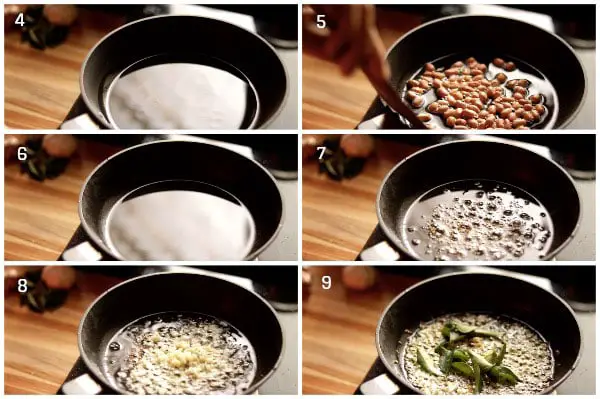 Step 10 to 17: These are the final steps to assemble all ingredients together.
So, pour the Tadka on the Murmuras.
Then, add the fried Peanuts, Powdered Sugar, Red Chilli Powder, and Salt to it.
In the final steps, mix everything together until each Murmura is coated with Orange colored masala.
Done!
That's how you can make Bhadang at home.
Tips To Make Kolhapuri Bhadang At Home
Always use Bhadang-special Murmuras to make this recipe. It won't get the same texture and taste if you use the Murmuras we use for Bhel Puri.
If the Murmuras seem a little soft, dry roast them on a low-medium flame for a few minutes. It will help them make crispy and crunchy again.
Do not add Red Chili Powder while preparing the Tadka (tempering). Just sprinkle it on top of Murmuras and then add the Tadka to it. If you add Red Chili Powder to the Tadka, it might turn black due to high heat. And you won't get the quintessential Orange-Red color to the dish.
You can also squeeze some fresh lemon juice to enhance the overall taste of your dish.
Bhadang can be stored for days and weeks. So, make sure you use a good air-tight container.
Now, let's take a look at the detailed recipe below.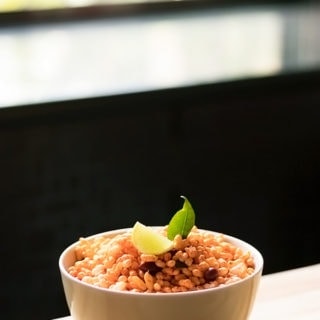 Bhadang Recipe
Bhadang is a traditional Maharashtrian snack, which can be enjoyed with a hot cup of tea or coffee.
Ingredients  
100

gm

Bhadang Murmura/Kurmura (Puffed Rice)

50

gm

Raw Peanuts (Singdana)

15-20

Curry Leaves (Kadi Patta)

1

tbsp

Kashmiri Red Chili Powder

1

tbsp

Ginger (Adrak)

finely chopped

1

tbsp

Garlic (Lehsun)

finely chopped

2

tsp

Mustard Seeds (Rai Dana)

1/4

tsp

Asafoetida

2

tsp

Cumin Seeds (Jeera)

1

tbsp

Powdered Sugar

3-4

tbsp

Oil

or as needed

Salt

as per taste
Instructions 
Spread Murmuras in a big plate and keep aside.

Heat a pan on medium flame. Once it turns hot enough, pour some Oil in it.

Add the Raw Peanuts and fry them till they turn golden brown. When you're done, add them on top of the Murmuras.

Again in the same Pan, add the Mustard seeds and wait till they crackle.

As soon as you hear the crackling sound, add the Asafoetida and Cumin Seeds. 

Add the Ginger and Garlic, and fry them till they turn slightly brown.

Add Curry Leaves to the Pan. Lower the flame and fry them nice and crisp.

Pour this Tadka mixture on the Murmuras.

Add the Kashmiri Red Chili Powder, Powdered Sugar, and Salt to the Murmuras. (*Refer to the Notes section.)

Serve it immediately or store it in an air-tight container.
Notes
I have added the Kashmiri Red Chili Powder after pouring the Tadka on Murmuras. You may reverse the process to get the better color to this dish.
When you are using a mild chilli powder like Kashmiri Red Chilli powder, make sure you use the Ginger-Garlic paste. It adds more flavor and spicy taste to the dish. You can also use crushed pieces if the paste is not available.
You will need to fry the Curry Leaves thoroughly for this recipe. It needs to have a bit of crunchy texture to it. And the same rule applies to Peanuts as well.
When the Bhadang is ready, don't store it immediately. Let it cool down for a few minutes. If you store it directly, the Murmuras will lose their crunch.
If you don't like fried Peanuts,  you can also use Farsan, Gathiya, Fafda, fried Green Peas, etc. in this recipe. 
It's always better to make Bhadang in small batches, as it tends to lose its taste and texture over the time.
Update Notes: Originally published in March 2019; republished in April 2020 with new tips and guidelines.