Is there any difference between Biryani Masala and Garam Masala?
Both these masalas are extensively used in Indian cuisine, and they have become quite popular in recent decades.
However, many beginners get confused when they come across these two types of masalas.
Since some of the recipes do recommend using these masalas together, it becomes really confusing to select these spice mixes for cooking. 
So, in today's guide, let's understand the similarities and differences between these two masalas.
Hopefully, it will help you learn a thing or two about them.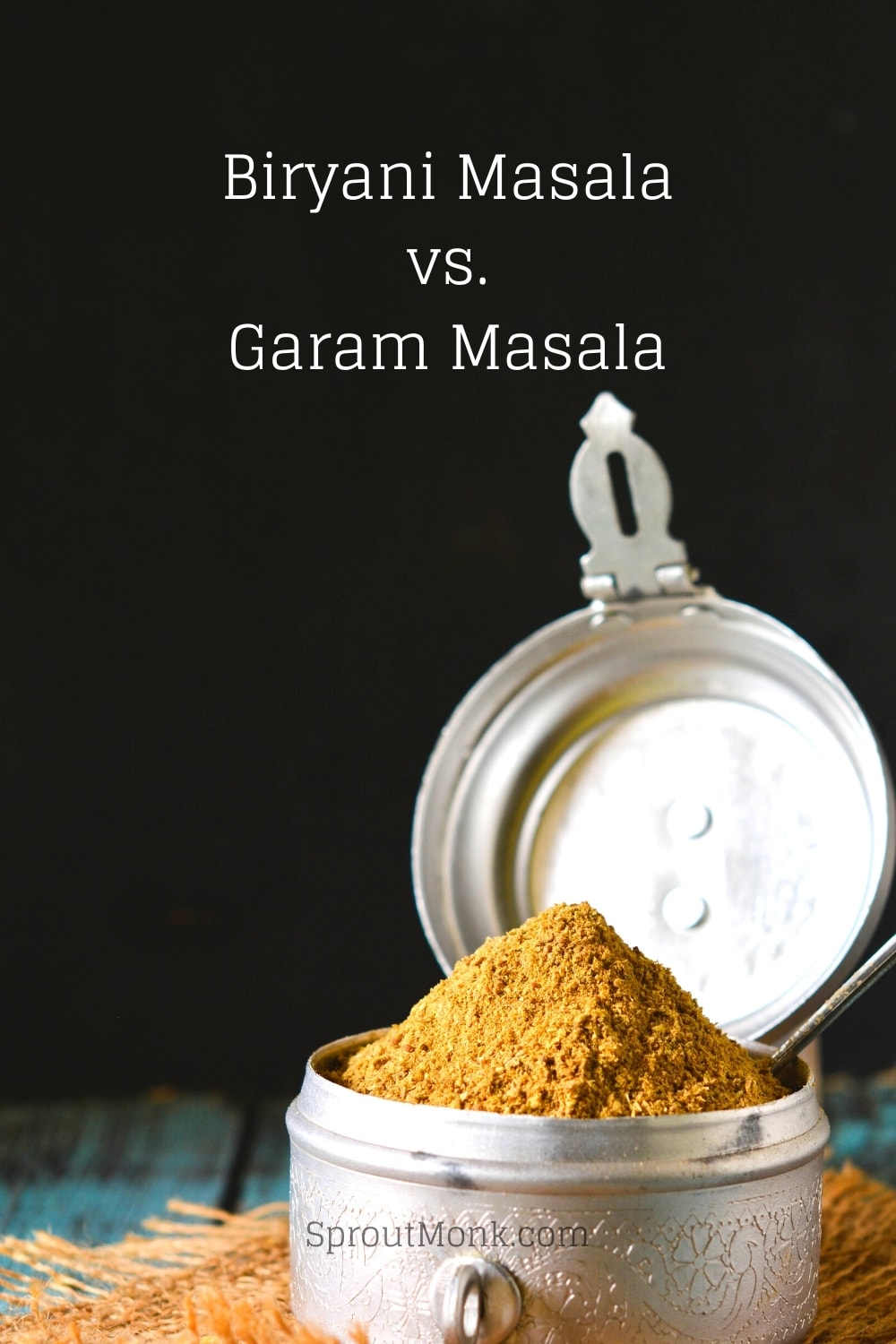 What Is Biryani Masala?
Biryani masala is nothing but a combination of spices that bring aroma as well as flavor to this traditional delicacy.
The spices that go into making this masala are quite unique, and their proportions change with each recipe.
However, the most common factor in Biryani masalas is the aroma!
You won't taste a lot of sharpness in this masala.
This is also the reason why we use green chilies and red chili powder separately while making Biryani in the kitchen.
Both these ingredients enhance the spice level in the dish, which is often missing in the powdered Biryani masala.
As for the recipe of this masala, there is no particular recipe that one can follow for the preparation.
Since there are so many types of Biryanis made in India, you will notice many interesting variations in its masala.
Having said that, there are a few common ingredients that are part of most Biryani masala mixtures.
And here's the list of them – 
Black Pepper Seeds
Green Cardamom 
Black Cardamom
Cloves
Coriander Seeds
Cumin Seeds
Caraway Seeds
Cassia/Cinnamon
Star Anise
Nutmeg
Mace
Turmeric Powder
Dry Mango Powder
So, as you can see, these are some of the ingredients that form a base for any Biryani masala in the world.
Of course, you can add a couple of more spices to it and prepare your own blend as per your liking.
The other noticeable thing in this list is the absence of heat-producing spices.
We don't use such spices for the preparation of Biryani Masala.
What Is Garam Masala?
Garam Masala is also a popular masala from India.
In fact, it's pretty much found in each Indian household.
Like Biryani Masala, the recipe of this masala changes from one kitchen to another.
As for uses, it can be used for making curries, spicy rice dishes, chaats, etc.
You can even use this masala for making Biryanis.
Many chefs also prefer adding a bit of Garam Masala to their Biryani preparations.
This is usually done to enhance the overall flavor of the dishes.
Similarly, you can use this masala to flavor other dishes too.
The other interesting thing about this spice mix is that it can be used at the time of cooking and after finishing the cooking.
Both these methods yield different results, so you need to use them accordingly.
Now, here is a list of common ingredients for Garam Masala –
Cumin Seeds
Coriander Seeds
Cloves
Black Pepper Seeds
Mace
Fennel Seeds
Bay Leaf
Green Cardamom
Cinnamon
Nutmeg
Star Anise
Overall, these are the spices that help make your own Garam Masala at home.
Also, if you noticed, the spices used in this masala blend are not so different from Biryani Masala.
The real difference lies in the proportion of these spices.
You can surely add some more spices in both these blends, but the base ingredients are pretty much the same for them.
Now, let's look at the differences between Biryani Masala and Garam Masala. 
Biryani Masala vs. Garam Masala – The Differences
| | Biryani Masala | Garam Masala |
| --- | --- | --- |
| Color | Light Brown/Orange | Dark Brown |
| Smell | Pleasant | Strong, Earthy |
| Red Chillies Requirement | Rarely Used | Not Required |
| Texture | Slightly Coarse | Fine |
| Known For | Aroma | Flavor |
| Uses | Biryani, Spicy Rice Dishes | Spicy Rice Dishes, Curries, Appetizers |
| Price | High | Comparatively Low |
1. Smell
Biryani Masala has a soothing scent, which really makes you more hungry.
On the other hand, Garam Masala has a strong smell that is more useful for flavoring the dishes.
Garam Masala won't make your dishes aromatic, so you need to use it skillfully.
But it can surely bring more depth and warmth to your preparation.
However, if you are new to Indian cooking, you might find it difficult to understand the difference based on smell.
So, you will have to rely on some other differentiating factors that are mentioned in this guide.
2. Color
Biryani Masala often has a light brown color.
Sometimes, the packaged ones also come in red/orange color, as the manufacturers add paprika or red chili powder to their mixtures.
The addition of red chilies is optional in this type of masala, though.
Now, when it comes to Garam Masala, it will always have a slightly dark brown shade.
It is because of the roasting process.
You need to roast the spices lightly before blending them in a grinder.
Also, the other reason is we don't use any colored spices in this masala powder.
So, if you are looking for the real difference, you can surely think of color as a differentiating factor.
3. Texture
The texture is another useful way through which you can differentiate these two masalas.
Garam Masala generally has a fine and smooth texture.
It helps in infusing the flavor to other ingredients in the recipe.
On the other hand, Biryani Masala comes with a slightly coarse texture.
Often, you will find some whole pieces of spices in this mixture.
The reason for such texture lies in how we use this masala for Biryanis.
Since it's mostly used for aroma and flavor, the coarse texture and semi-broken spices do a great job retaining these elements for a long time.
Note: Some manufacturers and chefs do use Biryani Masala with fine consistency.
This type of texture is useful if you are making a Shahi Biryani.
You may also use it if you don't like whole spices while enjoying the Biryani.
4. Cooking Method 
Garam Masala can be used in two ways.
You can add it while cooking the base masala as well as garnish it once the dish is ready.
In the first stage, we use it for extracting the flavors out of the spices.
In the second stage, it only brings a delicate aroma to the dish.
Talking about the Biryani Masala, you can also use it in a couple of stages.
However, this is only required if your rice is not fragrant enough and if you like spicy Biryani rice.
In general, you don't need to use it as a garnish, and you can skip it entirely at this stage of cooking.
5. Price
Usually, Biryani Masala gets a better rate in the market for obvious reasons.
Biryani is sort of a rich delicacy and is prepared for special occasions.
But the same is not true for Garam Masala.
It can be used in almost all spicy dishes.
Hence, it's more of a common spice mix in India.
Moreover, there is one more reason why you'd see such a price difference in these two masalas.
And that is the addition of extra spices in Biryani Masala.
Many times the masala makers use some secret spices and additives to bring more aroma and flavor to Biryani and similar spicy rice dishes.
So, it truly justifies the high price for this masala.
6. Uses
As I have mentioned earlier, the Biryani Masala is specially made for making Biryanis and Pulaos.
You may also use this masala for making some non-vegetarian curries.
But it's primarily used for traditional rice dishes only.
On the contrary, Garam Masala is not associated with any specific dish.
It's a standard masala that brings added flavor to the dishes.
FAQs
1. Which Masala Is Good For Biryani?

You can use Everest's Shahi Biryani masala or Shan's Biryani masala.

Both of them have a really nice aroma and flavor.
2. Can I Use Garam Masala Instead Of Biryani Masala?

If you don't have Biryani Masala, you can use Garam Masala as an alternative.

But you should definitely make this rice delicacy with specific Biryani Masala only.

When you make Biryani with Garam Masala, you will notice a great difference in the taste.
3. What Is Biryani Masala Made Of?

Biryani Masala is made of whole aromatic spices that are ground to a fine or coarse consistency.
4. Why Does Biryani Taste Bitter?

Your Biryani can taste bitter due to several reasons.

The common reasons are – overcooked spices, overcooked onions, expired yogurt, stale veggies, etc.
5. What Is Shahi Biryani Masala?

Shahi Biryani masala contains more aromatic spices than regular masala.

This type of masala is also known for its low spice levels.

It won't taste sharp to your palate. 
Over To You
I hope you enjoyed this comparison of Biryani Masala vs. Garam Masala.
If you have any questions or feedback, please let me know in the comments below.
Meanwhile, if you liked this guide, do share it with your friends and family.