Many people resist making Boondi Ladoos at home, as it's always a task to bind them into a perfectly round shape.
You can ask about it to any professional chefs, and you'd get the same reply from them as well.
So, why is it so difficult to bind a Boondi Ladoo?
And what are the things you need to remember while making this ladoo at home?
Let's find more about all these things in the following guide.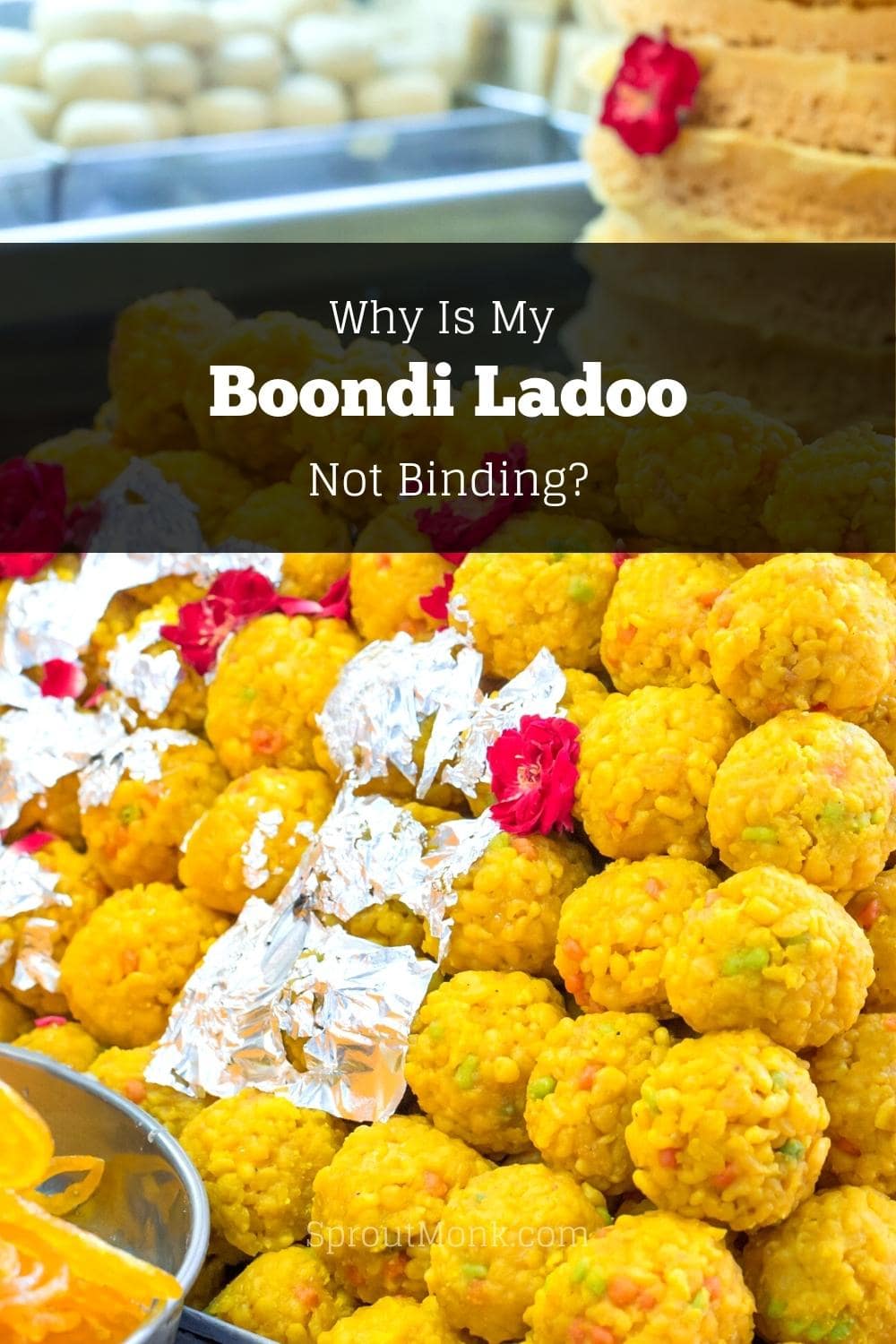 Why Is My Boondi Ladoo Not Binding?
As you know, there are quite a few reasons for this problem.
So, let's learn them in detail.
1. You've Fried The Boondi On High Flame
You should never fry them in very hot oil.
That's the basic rule to make boondi while making Boondi Ladoos.
When you fry them on high flame, it becomes hard from outside and doesn't absorb syrup juices well.
As a result, the boondi retains their shape and texture even after soaking them in the sugar syrup.
So, if you are wondering what could be the possible reason for your boondi not binding together, you should certainly think about the frying technique in the first place.
The boondi need to be fried at a low-medium temperature so that you can cook them thoroughly.
2. You've Fried The Boondi For Too Long
Similar to the above issue, frying your boondi for too long is not going to help either.
You should never let the boondi be in the oil for a long period, as it quickly changes its texture.
Apart from that, it can also result in a change in color for the boondi. 
Due to continuous exposure to heat, the boondi will turn a bit darker in color.
When you remove them from the flame, the cooking process continues to take place for some time.
This can also lead to a darker shade of color for your boondi. 
So, be aware of it and try to remove them as soon as it's nearly done.
3. Your Boondi Are Not Cooked Well
This is another common mistake that people make while preparing boondi.
As I've mentioned earlier, the boondi needs to be cooked thoroughly.
If you don't cook them well, you will surely have difficulties during the binding process.
But how do you know it's completely done?
Well, you will need to look at a couple of things.
The first thing is the color of the boondi.
If you haven't added any artificial color to the batter, the boondi should get a nice yellow shade.
And that's a good indication that it's ready to be removed from the flame.
The other indication is how it reacts to the frying process.
When you drop them in the oil, it begins to float on the oil after some time.
Once you see this happening, allow them to get the desired color and remove them.
These are the two techniques through which you can cook them thoroughly. 
4. You Wait For Too Long To Put Boondi In The Sugar Syrup
Yes, it needs to be done quickly.
If you allow the boondi to dry outside for a long period, it will turn cold.
And as you might know, the cold boondi never soaks syrup well.
So, whenever you remove the boondis from your Kadai, you can either keep it aside for a few minutes or put it directly into the syrup. 
Both these methods work quite well, and you will get amazing results in the end. 
5. Your Sugar Syrup Is Thick
The syrup consistency should be a little less than 'Ek taar' (single string consistency), as we call it in Hindi.
This is the right consistency for your syrup, as it allows boondis to soak enough syrup. 
If your sugar syrup turns thick, it will not get absorbed by the boondi.
Eventually, the boondi will turn hard and rubbery.
When it attains such a texture, you can't bind them together, and your ladoos will not form properly.
To avoid this issue, you will need to keep an eye on the consistency of your sugar syrup.
6. Your Boondi And Sugar Syrup Have Cooled Down
The temperature of boondi and sugar syrup plays a huge role in the preparation of boondi ladoos.
If both of them have cooled down, you will struggle to bind the boondi together.
Ideally, the temperature of both mediums should be moderate.
This is when the boondi soaks sugar syrup effectively.
7. You Do Not Drain The Excess Syrup From Boondi
It's not a real cause of concern, but you have to drain the syrup from boondi as much as possible.
If you let the syrup be in the boondi, it will start coming out while shaping the ladoos.
Moreover, you will not be able to shape them altogether.
So, how do you solve this problem?
It's not too difficult to fix this issue.
All you have to do here is place the boondi in one corner of the plate and tilt the plate at a slanted angle.
Keep the plate at this angle for some time so that excess syrup gets drained out from the boondi.
Once you've managed to get rid of enough juices, you can start binding and shaping the ladoos.
It is a better approach for this process because the excess syrup doesn't interfere with the binding process.
You will be easily able to prepare ladoos with this method and that too without any issues. 
8. Your Ladoo Binding Technique Is Not Correct
Sometimes, you can also go wrong with the binding technique.
In this case, you only need to use your fingers to shape the Ladoos.
You don't have to use your palm to put more pressure on the Boondies.
If you apply more pressure to them, it will take more time to bind them together.
In the end, the boondi will turn cold and make the whole process a bit more difficult.
You can make use of your palm in later stages to simply shape the Ladoos in a perfect ball shape.
Do not use it a lot during the beginning stages.
Let the ghee and syrup do their magic.
9. You Do Not Apply Water To Your Fingers
Well, it's not something that is an absolute must in this process, but it's always a good idea to apply a bit of water to your fingers and palms.
When you apply water to the hands, it makes the binding job a whole lot easier.
Water will keep your palm's surface from sticking to the boondi.
As a result, you will be able to shape them quickly.
So, do use this technique and see if you can bind the ladoos well.
On the whole, these are the few things that can make things difficult for you when it comes to binding the boondi ladoos.
Do try to work on them, and I'm sure you will be able to make perfectly round-shaped ladoos at home.
Now, let's check out the FAQs below.
If you have any more queries related to Boondi Ladoos or Ladoos in general, the following section will hopefully answer some of them.
FAQs
1. How Do You Soften Hard Ladoo?

There aren't many easy techniques to soften hard Ladoos, but you can either warm them up or crush them and try to bind them with a bit more ghee.

That said, the reheating process does change the color of the ingredients.

Also, if you have used thick sugar syrup, your ladoos will turn hard, and it'd be difficult to soften them later.

Hence, it's recommended to follow the right recipe while making any ladoos at home. 
2. What Is The Difference Between Motichoor Ladoo And Boondi Ladoo?

The biggest difference is the sieve we use for making these ladoos.

For Motichoor Ladoo, you need a sieve that can drop small boondi.

On the other hand, Boondi Ladoo needs a sieve with slightly bigger holes.

Motichoor also needs red/orange color, which can be obtained through various methods.

Also, Boondi Ladoos are a bit tricky to make because of large-sized boondi.
3. How Can I Tighten My Besan Ladoo?

You can add some melted ghee to the Besan Ladoo mixture and mix everything thoroughly.

Once that's done, try to shape the ladoos when the mixture is moderately hot.
4. What Does Ladoo Taste Like?

It depends on the type of ladoos you're eating, but it generally tastes sweet and slightly earthy. 

Most ladoos also have a lot of ghee, which means you will find them a bit heavy and rich while tasting.
5. Can You Freeze Boondi Ladoo?

Yes, you can freeze Boondi Ladoo.
Over To You
As you can see, the Boondi Ladoo preparation is not an easy task.
But that doesn't mean you shouldn't attempt to make it at home.
You will surely make some mistakes, but try to avoid them with the above tips and suggestions.
In case you still have any issues, please leave a comment below.
I will try to help you out to the best of my knowledge.
If you liked this guide, do share it with your friends and family.