Boondi Raita recipe is one of the easiest Raita recipes for your Pulaos and Biryanis.
And when I say it's an easy to make recipe, I really mean it.
For this recipe, all you need is some Boondis and Yogurt/Dahi. Both these main ingredients are good enough for you to make the perfect Boondi Raita.
Of course, you need other spices as well to get the added flavor and taste to the bland Boondis.
Talking about the Boondis, you can either make them at home using Besan flour (Gram flour) or buy from your local grocery store.
Generally, I prefer buying them from the store because it saves a lot of time.
And the store-bought ones also give consistent results while making the Curd-based Raita.
If you plan to make the homemade Boondis, you might not get the same texture and color in the end. Due to the different quality of flours and oils, you are likely to get different results each time.
So, I'd recommend you to go for the packaged Boondis only if you want to make a quick and easy Raita at home.
Now, let's take a look at the detailed recipe of Boondi Raita.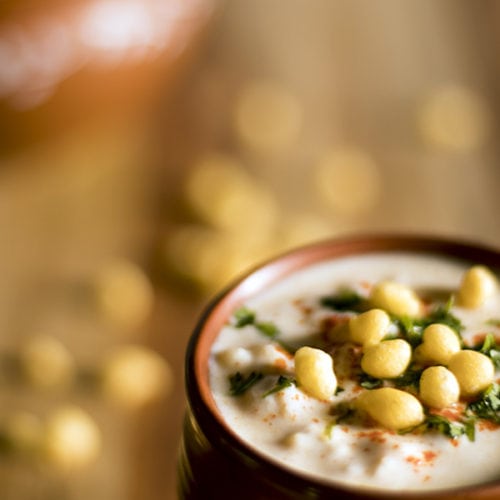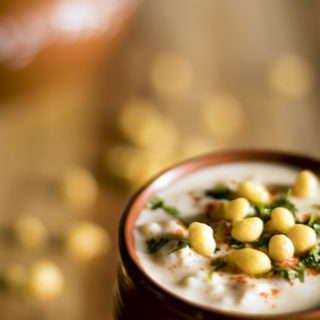 Boondi Raita Recipe
Boondi Raita is the best accompaniment for vegetarian Rice preparations. It enhances the flavors while enjoying the Pulaos or Veg. Dum Biryanis.
Ingredients  
20

gms

Boondi

50

gms

Yogurt

1/3

tsp

Roasted Cumin Powder

1/2

tsp

Red Chili Powder

1/2

tsp

Chaat Masala

5

gms

Coriander Leaves

finely chopped

1

tsp

Sugar

Salt

as per taste

Water

for soaking
Instructions 
Pour warm water in a bowl and add the Boondis into it. Let them soak in water for about 5-6 minutes

In another bowl, add the Yogurt and whisk it nicely. 

Now, add the Roasted Cumin Powder, Red Chili Powder, Chaat Masala, Sugar, and Salt. Mix all the ingredients thoroughly.

Add the soaked Boondis into this bowl.

Mix it well and make sure all the Boondis are covered in the Yogurt mixture.

Pour the Boondi Raita in a serving bowl.

Garnish it with a pinch of Red Chili Powder and some finely chopped Coriander Leaves.

Serve this Boondi Raita with your favorite Rice preparations.
Notes
You can also use Rock Salt instead of regular Salt in this recipe.
Variations for Boondi Raita
Boondi Raita is a great accompaniment for many main course dishes.
You don't really need to do anything to it to enhance the flavor or change the taste. It's a perfect side dish in itself.
However, if you want to try something new with this Raita, you can start with the following variations.
Pineapple Boondi Raita
I love Pineapples!
And I never miss the opportunity to use them in sweets as well as accompaniments.
If you're looking to offer something extra in your Boondi Raita, I'd suggest you go for the Pineapple.
Here's the quick recipe:
Cut the Pineapple pieces in small cubes and add them to the Raita.
Mix the Raita well and serve it chilled.
Easy, right?
I'm sure the crunch of Boondis and unique Pineapple taste will make everyone go crazy for your Raita variation.
Pomegranate Boondi Raita
Want more contrasting colors and taste?
You can add in some fresh Pomegranate seeds to this Raita recipe.
As you know, Pomegranate is not a completely sweet fruit. You'll always find some tanginess in it.
Well, you can make use of this amazing quality to your benefit.
Just put the Pomegranate seeds in Boondi Raita and see how it transforms the taste of your dish.
If you know any other variations, do suggest them in the comments section below.