Coconut Chutney (or Nariyal Chutney in Hindi) is a traditional Indian chutney.
And it goes well with many South Indian snacks, which include Idli, Medu Vada, Dosas, etc.
You can also have this Chutney as an accompaniment for lunch and dinner. It tastes delicious with Indian thali dishes.
As for me, I like to have it with hot Medu Vadas and Masala Dosas. I think this Chutney helps in balancing the flavors of such snacks.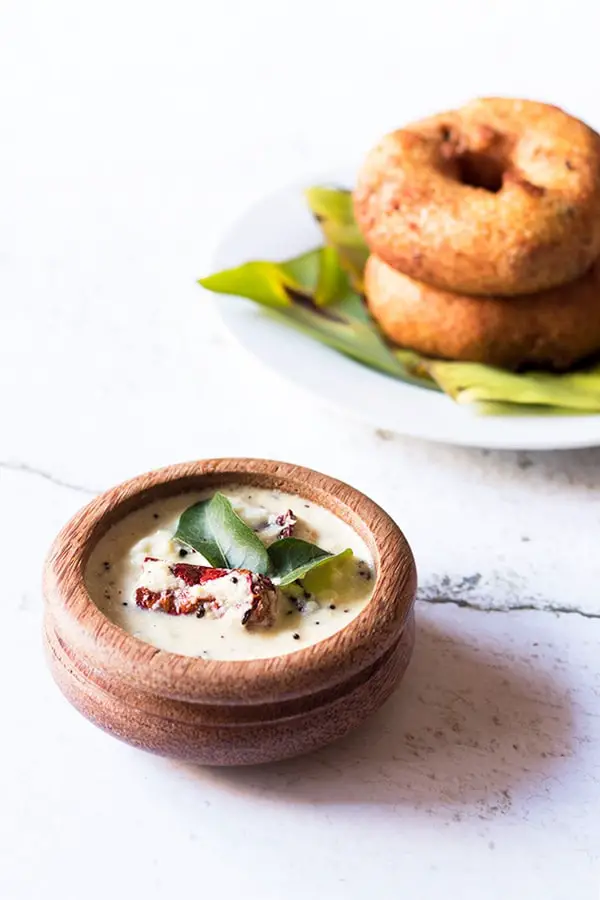 And oh, if you want to know whether a restaurant serves fresh South Indian food, taste their Coconut Chutney.
Yes, that's all you need to do!
Coconut Chutney tastes good only when you make it with freshly grated Coconut.
If you make it with leftover Coconut or some other substitutes like packaged Coconut powder, it will change the taste and flavors of this dish.
So, you should always use fresh ingredients for this recipe.
Many Udupi restaurants serve their fresh Chutneys along with breakfast dishes, which is also a secret for their success all over the world.
And if you want to make the same hotel-style recipe at home, check out the following Coconut Chutney recipe.
Yes, the recipe can be made at home as well. You won't require any unique ingredients to make this Chutney.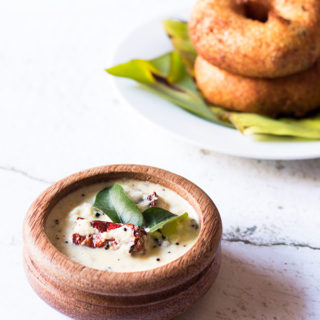 Coconut Chutney Recipe
Coconut Chutney is one of the most popular chutneys in India. It is generally served with South Indian dishes like Idli, Medu Vada, Dosas, etc.
Ingredients  
For Grinding
1

cup

Desiccated Coconut (Kaddukas Nariyal)

1

tbsp

Split Bengal Gram (Bhuna Chana Dal)

roasted

1

Green Chili (Hari Mirch)

roughly chopped

1

inch

Ginger (Adrak)

Salt

as per taste

Water

as required
For Tempering (Tadka)
1

tbsp

Mustard Seeds (Rai Dana)

1

tsp

Cumin Seeds (Jeera)

2

tsp

Husked Black Gram (Urad Dal)

1-1/2

Dry Red Chili (Sukhi Lal Mirch)

6-8

Curry Leaves (Kadi Patta)

1/4

tsp

Asafoetida (Hing)

3

tbsp

Oil

for Tadka/Tempering
Instructions 
For Grinding
Get a grinding jar and add the grated or desiccated Coconut, Roasted Chana Dal, Ginger, Green Chili, Salt, and Water to it.

Grind these ingredients into a fine paste and keep it aside in a bowl.
For Tempering (Tadka)
Heat your Tadka pan on medium flame.

Add some Oil in it and wait for a couple of minutes.

As soon as the Oil turns hot, add the Mustards Seeds. Let them crackle for a while.

Add the Cumin Seeds, Asafoetida, Curry Leaves and Dry Red Chilies into the pan.

Fry them for a minute or so.

Pour the tempering over ground Coconut paste.

Mix everything nicely and serve it with your favorite South Indian snacks.
Notes
If you can't find Chana Dal, there is no need to add it into this recipe. It only helps in enhancing the flavor of your Chutney.
Tips To Make Coconut Chutney
As mentioned earlier, you should always use fresh ingredients for this recipe.
If you don't have a Tadka pan, you can also prepare the Tadka in a regular frying pan.
If you want to make this Chutney spicier, add more Green Chilies as per your taste. Note – It's a white-colored Chutney, so don't use too many Green Chilies.
Use Chana Dal and Urad Dal in limited quantity, as it can change the color of your Chutney.
Store this Chutney in a refrigerator if you want to serve it later. It lasts for a day in refrigerated conditions.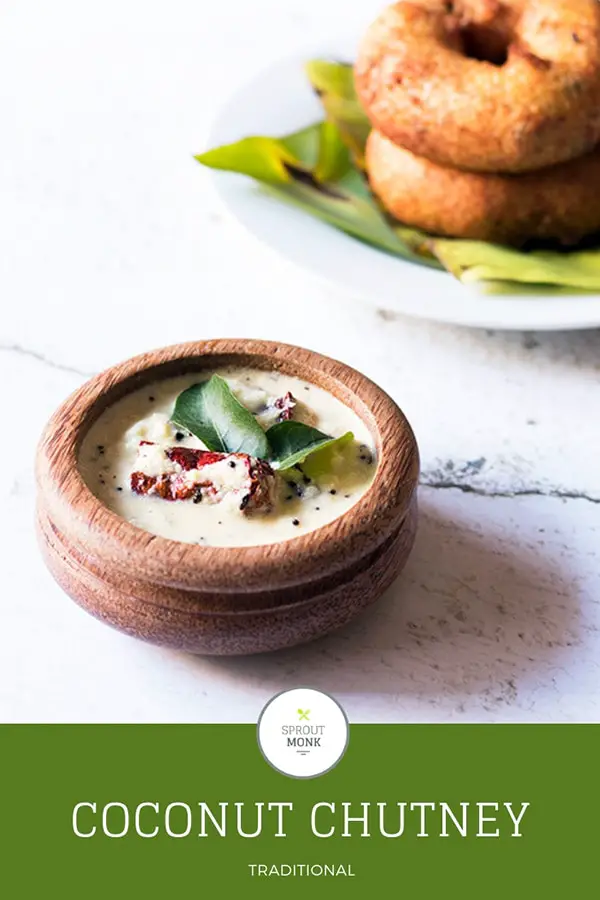 How To Serve Chutney
Just like any other Chutney, you can serve it as an accompaniment for your main dishes.
If you want to offer it with snacks, serve it on the right side of the plate along with Sambar and other accompaniments.
And that's it for the Coconut Chutney recipe!
I hope you make this traditional Indian Chutney recipe at home.
More Chutney Recipes: