Do you need to soak Chana Dal before cooking?
Can you make it without soaking?
If you are a beginner or just an enthusiast, I'm sure these questions would have crossed your mind.
Chana Dal is a popular dal in Indian cuisine, and it needs to be cooked well so that you can experience its unique taste in the preparation.
So, how do you do that?
In this guide, let's try and understand more about it in detail.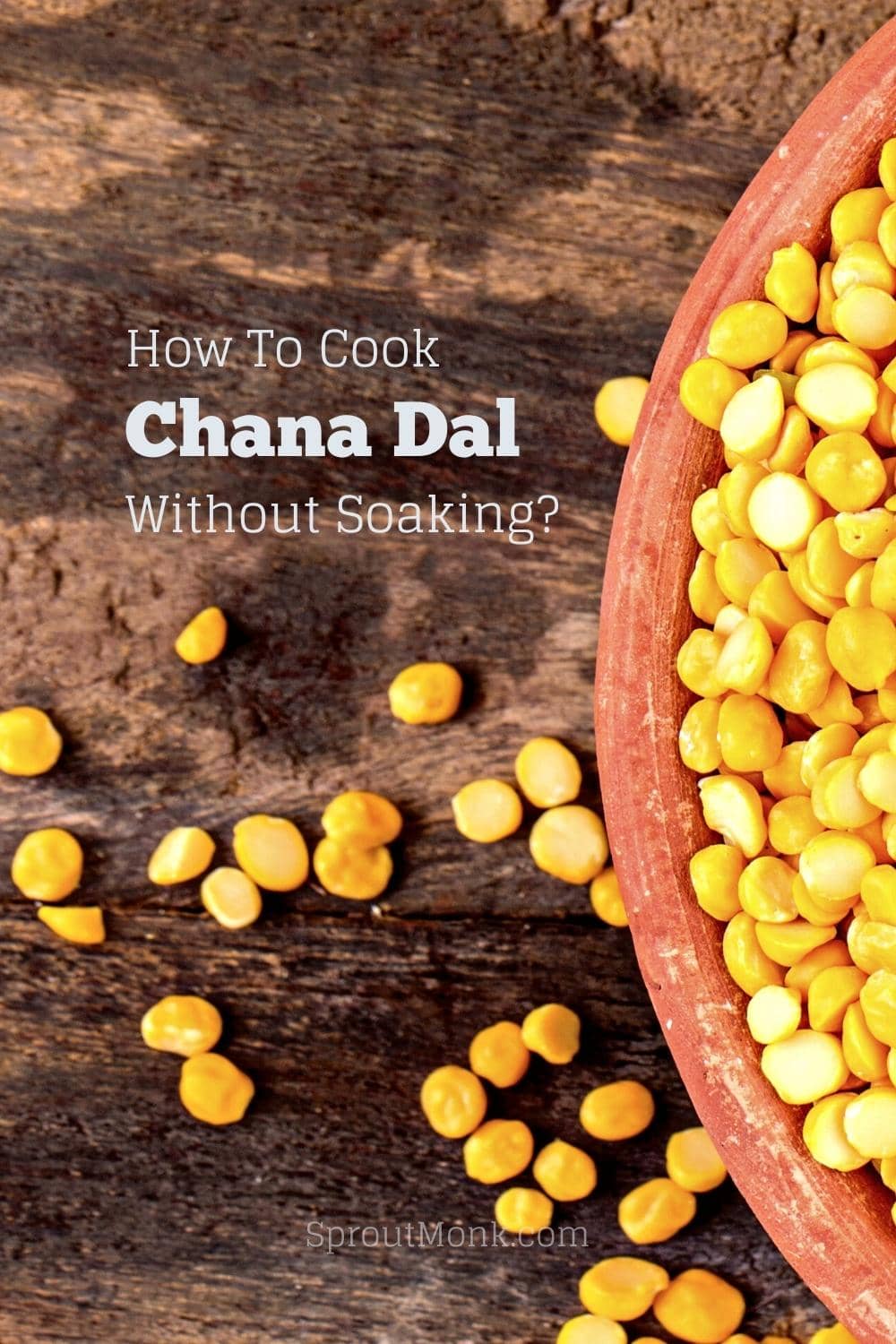 Can You Cook Chana Dal Without Soaking?
Yes, you can!
Since Chana Dal is just another food ingredient, you can surely cook it without soaking it.
Many people believe it's impossible to cook Chana Dal without putting it in water for some time.
But that's just a misconception.
In theory, you can definitely go ahead and cook this dal directly on the flame.
Or you can soak it for 15-20 minutes just before cooking it.
Why Do You Need To Soak Chana Dal Before Cooking?
The soaking method helps in making the dal lighter and fluffier in the end.
When you keep it in the water for a good amount of time, it helps break down the internal structure of dal.
Eventually, this further helps at the time of cooking, as the soaking technique already disintegrates the internal structure of dal and makes it softer.
So, even if it's not a mandatory step, you should definitely soak and pressure cook your Chana Dal or any other dal with a hard structure.
It will significantly reduce your efforts to make it soft and mushy later.
How To Cook Chana Dal Without Soaking
Alright, if you still want to go ahead with the cooking process directly, here's what you can do –
Switch on the flame and place the Chana Dal pot in a pressure cooker.
Add enough water to the container, but do not add salt at this moment.
Pressure cook the dal on high flame for up to 4 whistles or more, depending on your pressure cooker model. 
Once the cooking process is over, keep the pressure cooker aside for a while. Do not remove the lid at this stage, as the cooking process continues to take place in the cooker even after removing the lid.
After 10-12 minutes, you may remove the lid and check the texture of your dal. If it feels hard, you may put it back on the flame and cook for one or two whistles more. This should help fix the problem.
Now, these are the basic steps you should follow whenever you make Chana Dal without soaking.
Note: If your dal doesn't soften properly, you can also make use of Baking Soda in it.
Just add a pinch of soda in the dal container and cook it as you'd normally do.
It will soften the texture of your dal.
The same Baking Soda technique also works for other hard textured pulses.
But what if you want to cook Chana Dal in the pot?
You can surely do so!
However, it takes a great amount of time to get the perfect texture to your dal.
And even after that, you may end up having a hard dal in your cooking pot.
The open cooking method is generally preferred for large-scale preparations, as you get to cook the ingredients on relatively high heat.
In home-style cooking, you will simply waste your time and gas or electricity to cook this type of dal.
So, make sure you keep these things in mind.
How To Soak Chana Dal
As mentioned earlier, the soaking technique is quite effective in getting the desired results for your dal preparation.
It is a tried and tested method and gives the best results almost all the time.
Sometimes, you may come across a situation where dal would remain hard after soaking.
This usually happens when you get a low-quality dal from the grocery store.
And unfortunately, you can't do much about this type of dal.
Anyway, so, let's look at the step-by-step guide to soak Chana Dal – 
Rinse your Chana Dal under tap water. Do it a couple of times until you remove most of the starch and the water in the container appears transparent.
Once you're done with this task, get enough water in the container and ensure the dal is completely submerged in the water.
Cover the container with a lid and keep it in a slightly warm place like your kitchen countertop. 
Keep it soaked in water for 5-6 hours or overnight. Ideally, you should soak it in water overnight only, as it gives sufficient time for dal to soak more water into its body.
Check the dal next morning and use it accordingly. Also, do rinse it again before using it.
Follow these guidelines, and I'm sure you will see how well the dal absorbs water from the container.
If your dal still hasn't increased in size after soaking, you can wait for a couple of hours more.
Later, you can cook this dal in a pressure cooker or cooking pot directly.
Note: For instant cooking, you can also soak this dal for 30 minutes or 1 hour. 
Of course, the dal will not turn too soft, but you can definitely use it to make different sabzis and curries.
Quick Tip: During the winter season, you may use slightly lukewarm water to soak your dal.
Also, it's quite useful if you live in a cold place where the temperature drops significantly.
Things To Expect If You Don't Soak Chana Dal
Your dal will likely turn hard and won't change its appearance by much.
It needs to be cooked for a very long duration.
You will have to apply more pressure to turn it mushy after cooking.
You may even need to grind it to get the right consistency.
Your dal preparation won't be thicker or creamy if the Chana Dal is not cooked properly.
These are the few things you should expect if you do not soak your Chana Dal. 
And unfortunately, there is no alternate way to fix such dal preparation.
Baking Soda does work with this type of ingredient, but you shouldn't be using it regularly.
Use it once in a while, and that too when you're left with no other option.
In the following section, I have shared some FAQs related to this topic.
If you have similar questions in mind, go through this section and see if you can find some answers.
FAQs
1. Does Chana Dal Have To Be Cooked?

Yes, like any other dal, you will need to cook it for a reasonable amount of time.

It's also a hard-textured dal, so cooking this dal on high heat makes sense.
2. Do You Have To Cook Dal Before Cooking?

It's not necessary to cook dal separately before cooking.

But if you can do it, you will save a lot of time, especially when preparing some delicacies.
3. How Long Does Dal Need To Cook?

It depends on how you cook your dal.

The technique is quite important in making perfect dal at home.

So, as for timing, you will need to cook dal for 3-4 whistles in the pressure cooker, which can take up to 10-12 minutes.

If you are cooking it outside in a pot, it will take about 20-30 minutes, depending on the texture and size of the dal.
4. Are Chickpeas The Same As Chana Dal?

Well, chickpeas are called Chana in Hindi and other regional languages in India.

Chana Dal is nothing but split chickpeas.

So, you can use them accordingly as per the recipe requirement.
5. Can You Cook Dal Without Pressure Cooker?

Yes, you can definitely cook dal without a pressure cooker or any such equipment.

But the pressure cooker does simplify this task.

As mentioned above, if you do it directly in a pot, it will take much longer to cook the dal.

So, if you want to save some time and effort, you should consider cooking it in a pressure cooker.
Over To You
Do you cook Chana Dal without soaking?
What's your experience?
Share it with me in the comments section below.
Also, if you have any further questions regarding this topic, please let me know in the comments.
Hopefully, I can suggest a few guidelines to resolve some of your queries.
Do share this guide with your friends and family if you found it helpful.