Fried onions have always been a part of Mughalai cuisine in India.
It is one of those secret ingredients that can really elevate a dish from good to great.
But what if I told you that you could make these delicious fried onions without having to deep fry them?
Sounds interesting, right?
Well, let's discuss it more in the following guide!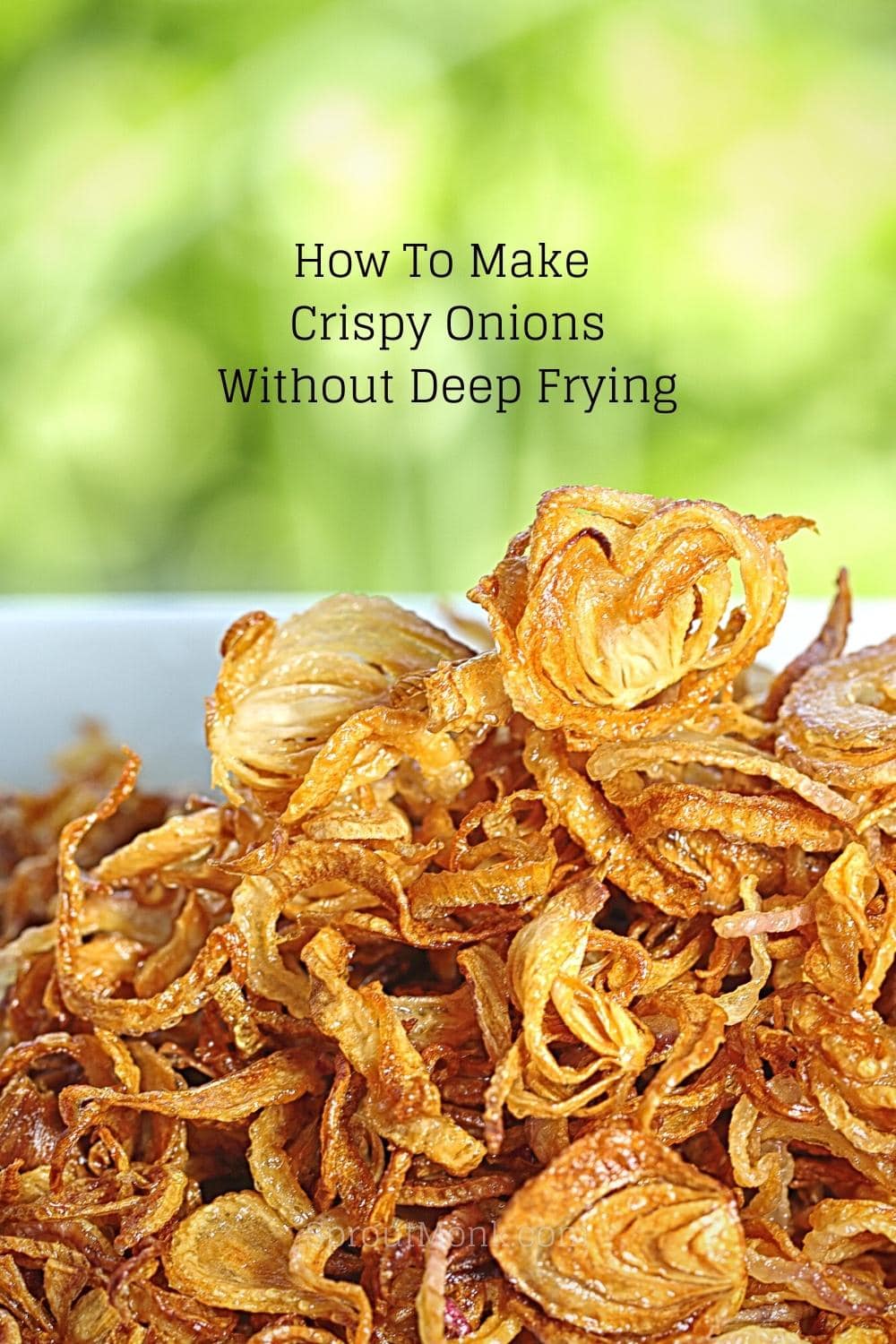 How To Make Crispy Onions Without Deep Frying
The deep frying technique can do wonders for your food.
It can make it crispy, crunchy, and simply irresistible.
But, it's not a very convenient option for many of us.
So, there are certain techniques and tips that you can follow to make crispy onions without deep frying.
Here are some of the methods you can try –
1. You Can Bake The Onions
Baking is one of the best ways to cook food.
And it can also be used to make crispy onions without deep frying.
For this method, you will need to slice the onions thinly and then toss them in a little bit of oil.
After that, bake them in a preheated oven at 400 degrees Fahrenheit for around 20-25 minutes or until they turn golden brown in color.
You can use non-stick cooking spray or any other light oil for this purpose.
Just make sure that the onions are coated evenly with it.
Also, you will need to turn them a few times while baking so that they cook on all sides.
If you don't follow this step, the slices will probably get overcooked or burnt from one side.
2. You Can Pan-Fry The Onions
This is one of my favorite methods of preparing fried onions at home.
And there is a reason why I like this method so much.
It's because it doesn't require much oil for cooking!
Yes, that's right.
You can make crispy onions without deep frying by pan-frying them.
All you need to do is heat a little oil in a frying pan.
Once the oil turns hot enough, you can add the sliced onions.
Fry them on medium heat until they turn golden brown in color.
Similar to the above method, you will need to turn them a few times while frying.
And that's it!
Your crispy onions are ready.
You can use this method to make a variety of dishes like biryani, bhajis, pakoras, and even toppings for your pizza.
3. Air-Fry The Onions
Air fryers have become quite popular in recent years.
And for a good reason!
They are a great alternative to deep-fried food.
So, if you want to make crispy onions without deep frying, you can air-fry them.
Of course, the cooking technique used for the air fryer is different from the pan frying method.
But it's quite similar to the baking method.
You just need to spray the air fryer basket with oil, which will help prevent the onions from sticking to the basket.
As for the cooking time, it will depend on the size and thickness of the onions slices.
Generally speaking, you will need to cook them for around 25 minutes at 325 degrees Fahrenheit.
But, it's always a good idea to check on them after every 5-10 minutes, just to be sure.
4. Use A Wok
A wok is an interesting tool that can be used for various purposes.
And one of those purposes is to make crispy onions without deep frying.
I know it might sound a little bit strange.
But trust me, it works!
The basic idea is to use the heat generated while cooking to make the onions crispy.
Since the wok heats up quickly, it can help make the onions crispy without using too much oil.
Here's how you can do it –
First of all, heat some oil in a wok.
Once the oil is hot enough, add the sliced onions and cook them on high heat.
Stir them constantly so they don't stick to the bottom of the wok and cook evenly.
After a few minutes, you will notice that the onions start to turn crispy.
At this point, you can lower the heat and cook them until they are golden brown.
This is a simple and straightforward method to make crispy onions without deep frying.
And the best part is that it doesn't require much oil.
So, these are the four methods you can use to get the desired results.
You may choose the one you think best suits your needs and requirements.
You can also make use of oil sprayers to coat the onions with oil.
This will help reduce the quantity of oil used without compromising the taste or quality of the fried onions.
Note: Deep frying is the best method to get the perfectly colored fried onions for your preparations.
But if you don't want to do that, I'd suggest you go for the shallow-frying or pan-frying method.
The air fryer or oven methods are also effective, but the results may not be as good as the deep-fried or shallow-fried onions.
Now that you know about these methods, let's look at some of the tips and tricks that you can use to make the perfect crispy onions.
Tips To Make Crispy Fried Onions
Here's what you need to know –
Always use red onions or shallots for frying. These onions are known to have a higher sugar content, which helps in making them crispy. White onions do not work as well in this regard.
Slice the onions as thinly as possible. This will help them cook well and become crispy.
If you are pan-frying the onions, you should use a non-stick pan. This will help prevent the onions from sticking to the pan.
If you are using an air fryer, you should spray it with oil before adding the onions.
Cook the onions on moderate-high heat so that they cook well.
Use fresh onions for frying.
Let the fried onions be in the oil for some time, even after they are cooked. This will help them become crispier. But don't overcook them. Fried onions tend to cook further even after they are taken out of the oil.
Once you remove the onions from the oil, place them on a paper towel. Do not cover these onions with any kind of lid, as it will make them soggy.
Fried onions can last long if they are stored in an airtight container.
Always cook them thoroughly if you wish to store them for long. Undercooked onions will go bad quickly.
With these tips in mind, you can be sure to make the perfect crispy onions at home.
What To Do With Leftover Fried Onions Oil?
Of course, you don't want to waste the oil you've used for frying.
So, what can you do with it?
Well, here are a few ideas –
You can use it for frying other food items.
If you have a lot of oil left, you can store it in a container and use it the next time you fry onions.
You can also use this oil for making salad dressings or marinades.
The oil can also be used for frying other vegetables.
You can try out one of these ideas or come up with your own.
But there is no need to waste the oil, as it can be quite versatile and useful in the kitchen.
Let's take a look at the FAQs now.
FAQs
1. Can Onions Be Fried Without Oil?

Well, technically speaking, yes.

But I wouldn't recommend it.

Frying onions without oil can make them dry.

So, you may not be able to achieve that crispy texture that you are looking for.
2. How Do You Keep Onions Crispy When Cooking?

There are a few things you can do to keep onions crispy when cooking.

First of all, the oil needs to be hot enough before adding the onions.

If the oil is not hot enough, the onions will absorb too much oil and become soggy.

Another thing you can do is to cook the onions in small batches.

If you crowd the pan, the onions will not cook evenly and turn soggy.
3. Why Are My Fried Onions Not Crispy?

If your fried onions are not crispy, it means you may not have cooked them properly.

Also, if you have kept them outside for too long, they will surely lose their crispiness.

So, it's always a good idea to use them immediately after cooking.
4. How Do You Dry Fried Onions?

Once the onions are fried properly, you can spread them on a kitchen towel.

Put them under a fan for a few minutes so that any excess oil is removed.

Eventually, they will turn dry.
5. Do You Need Oil To Caramelize Onions?

Caramelizing onions is a slow cooking process.

So, you will need to add a little oil to the pan so that the onions don't stick to the bottom and burn.

But, other than that, you don't really need too much oil.
Over To You
Preparing fried onions can be tricky, especially if you have never done it before.
But I hope the above tips and suggestions will help you make the perfect fried onions at home.
Do let me know how it went in the comments below.
Also, if you have any questions, feel free to ask. I would be happy to help.
Please share this guide with anyone who wants to know the different methods of making crispy onions.
Happy cooking!