Do you want to serve a curry for dosa?
Dosa is such a versatile dish, and curry is the perfect accompaniment.
So, what are the best curry options that go well with dosa?
Let's find out in the following guide.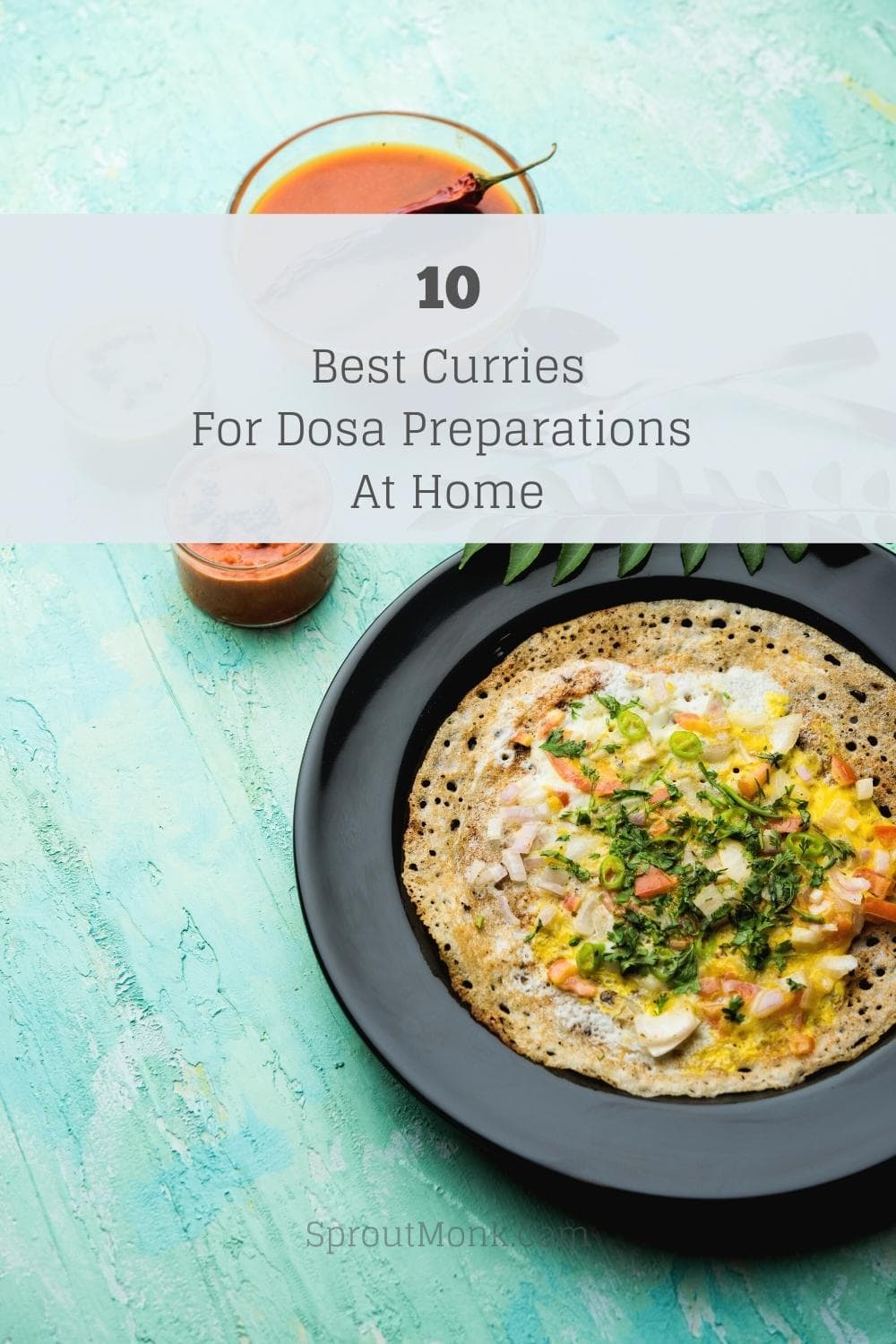 What Is The Best Cury For Dosa?
Here are some of my favorite curries that taste really good with plain dosa –
1. Sambar
Sambar is a very popular curry in South India.
It is made with various vegetables and lentils and has a distinct flavor.
Sambar-Dosa is a classic combination and is one of my personal favorites.
The best part about this curry is you can make it in different styles.
Apart from dosa, I also like to serve the sambar with idli and rice.
Overall, it is a very hearty curry and is perfect for a filling meal.
2. Potato Curry
Potato curry is another great option to have with dosa.
It is a simple curry made with boiled potatoes and a few spices.
You can also add some green peas to this curry to make it more wholesome.
It tastes great with plain dosa as well as masala dosa.
You can use the same potato curry as a filling in masala dosa.
If you want, you can also make another version of this curry with red chili powder and some spices.
You can add some cabbage to this curry to get the extra crunch.
3. Rasam
Rasam is more of a soup than a curry, but it goes well with dosa.
So, I thought I should include it in this list.
It is prepared with tamarind juice, tomatoes, and a variety of spices.
Rasam is very light and refreshing.
You can also have this curry with rice.
But it's a little watery, so don't pour too much rasam on your rice.
Just have a little bit of it along with your rice, and you will be good to go.
4. Onion-Tomato Curry
This is another amazing curry to have with dosa.
It just needs some onions, tomatoes, and a variety of spices.
If you like garlic flavor, add a few cloves to this curry.
You can even use this curry as a filling in your masala dosa, and that's a much better option for homemade masala dosa preparations.
So, do give this curry a try the next time you make dosa at home.
5. Mixed Vegetable Curry
Mixed vegetable curry is basically a mix of all the leftover vegetables that you have in your fridge.
But that doesn't mean you should use only leftover veggies only.
You can make it with the fresh ones too, as they offer much better flavor and taste.
You can include some paneer (cottage cheese) in this curry to make it more rich and tasty.
Note: Don't make this curry too runny.
It tastes better when it is of a semi-solid consistency.
6. Chana Masala
How about trying something different with your dosa?
Chana masala can be a unique side dish or curry for dosa.
It generally contains chickpeas and a variety of spices.
The best part about this curry is that it can be made in different styles.
You can make it in a typical North Indian or South Indian style.
The curry tastes great in both versions.
But if you ask me, I prefer the typical Punjabi style curry as it goes well with dosa.
Note: This curry takes does take some time to cook, so do plan ahead.
7. Matar Paneer Curry
Many people don't like tofu.
So, for all those people out there, matar paneer curry is a great option with dosa.
The only main ingredients in this curry are paneer (cottage cheese) and green peas.
And you can prepare the base masala for this curry beforehand and store it in the fridge.
So, whenever you want to make this curry, all you need to do is add the paneer and green peas to the base masala, and your curry will be ready in no time.
The curry is rich and creamy, and the paneer gives it a unique flavor.
If you want, add some cashews to this curry to make it even more rich and thick.
Tip: Use fresh green peas to prepare this curry.
Frozen peas won't taste as good.
8. Green Mung Beans Curry
It's one of the best curries you can have with dosa if you want something on the lighter side.
You can make this easy curry on Sunday mornings and enjoy it with your family.
And it's especially good if you plan to have heavy meals for lunch or dinner.
Having said that, mung beans are not too flavorful on their own.
So, you need to add a good amount of spices to make this curry more interesting.
You should also add potatoes to this curry as they help to absorb all the flavors from the spices.
As for the consistency, you can make this curry as thick or thin as you like.
Also, do serve some accompaniment like pickle or chutney with this curry.
9. Chicken Curry
Want to serve something non-vegetarian with dosa?
Try chicken curry.
Chicken curries are very popular in India and go really well with dosa.
There are many different types of chicken curry you can make.
And pretty much all of them taste great with dosa.
Also, the consistency won't be an issue as chicken curry is usually on the thinner side.
So, you can have it with dosa without any problem.
But don't make it too watery.
Otherwise, it will make the dosa soggy.
If you don't like chicken, you can replace it with mutton, fish, or even eggs.
10. Pav Bhaji
Surprised?
Yes, you can have pav bhaji with dosa too.
Pav bhaji is a very popular street food in India, and it is made with a mix of vegetables.
The vegetables are cooked in a special bhaji masala, which gives the curry its unique flavor.
But the bhaji masala can be a little too spicy for some people.
So, if you are making this curry for dosa, you can tone down the spice level a bit.
And it is best to have pav bhaji with plain dosa as opposed to masala dosa.
And one more thing, you should make your dosa a little thinner and crispier when you have it with pav bhaji.
It gives a very nice contrast in texture, and the curry and dosa go well together.
These are some of the best curries you can have with dosa.
So, the next time you plan to make dosa, try one of these curries, and you will not be disappointed.
Now, let's check out the FAQs below.
FAQs
1. What Can Be Eaten With Dosa?

There are a number of things that can be eaten with dosa.

Some of the popular items include sambar, potato curry, chutney, and rasam.

You can also try pickles, honey, ketchup, or some flavored yogurt as accompaniments.
2. What Is The Best Combination For Idli?

When it comes to idli, the best combination would be sambar and chutney.

You can also try other Indian curries as an accompaniment.
3. What Is Dosa Called In South India?

Dosa is called dosai in South India.
4. Is Dosa A Junk Food?

No, dosa is not junk food.

It is made with fermented rice and lentils.

However, if you eat a dosa from a street vendor, it might not be as wholesome as the home-cooked version.

They generally have too much oil and butter in their dosas.

Also, the other varieties like Schezwan Dosa, Pav Bhaji Dosa, etc., can be considered junk food.

This is because they are loaded with too many non-essential ingredients.
5. How Do You Make Soft Fluffy Idlis?

The key to making soft and fluffy idlis is in the batter.

The batter should be of the right consistency, and it should be fermented well.

You can also add a little baking soda to the batter to make the idlis even softer.

When steaming the idlis, use enough water so that the idlis cook evenly.

Do not overcrowd the steamer, and allow enough space for the idlis to rise.
Over To You
Making a perfect curry for dosa can be tricky.
But with these curry ideas, you should be able to make a curry that will go perfectly with dosa and make your meal even more enjoyable.
You can also try these curry recipes with other Indian bread like roti, naan, or paratha.
They taste just as good!
Do you have any other tips to share?
Or have any questions?
Please feel free to leave a comment below, and I will be happy to help.
Share this guide with your friends and family if you find it helpful.