Are you facing difficulties in softening your dal?
Dal is one such recipe that looks simple, but it can be tricky to get the perfect texture and taste to this preparation.
It happens because we use different types of dals, and each of them cooks differently.
So, how do you fix this problem?
Let's check out the following guide where I've shared a few tips on this topic.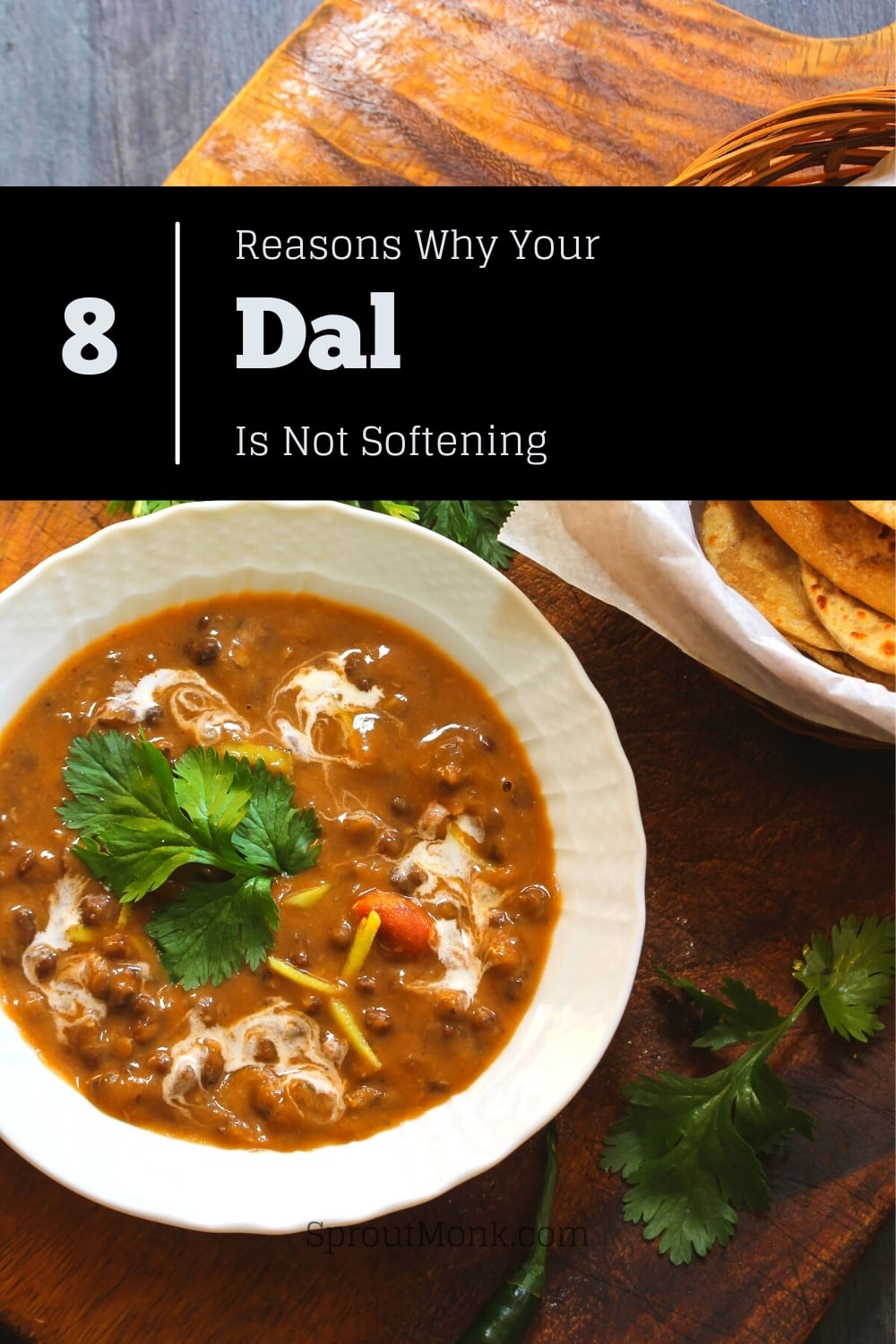 Here's Why Your Dal Is Not Softening
Here is why you might be having issues with softening your dal –
1. You Don't Soak Your Dal For A Long Time
As you know, lentils have a hard texture than most other grains.
If you soak your dal along with the rice, it may or may not get enough time to absorb a decent amount of water.
Of course, this depends on the type of dal you're using for cooking.
But, in general, dals need more time for the soaking process.
2. Your Dal Is Not Fresh
Is your dal fresh?
Yes, this is an important factor in softening the dal to perfection.
If it is old, you may have a hard time cooking it in the kitchen.
So, whenever you go grocery shopping, make sure you check the expiry date on the package.
This should give you an idea of whether you're using the fresh dal or not.
If you are buying it online, do take a look at the reviews before making the purchase.
3. You Cook Dal In A Pot
Although there is nothing wrong with this technique, you might find it a little difficult to cook dal in a pot.
When you cook it in a pot, it usually takes a long time to break down completely.
And again, it all depends on the type of dal you're using for preparation.
If it's Toor Dal or Chana Dal, you will need to cook it a bit longer.
4. You Cook Dal At High Flame
This is true for making dal in a pressure cooker.
If you cook it on a high flame, it will not build enough pressure in the system.
As a result, the pressure cooker will quickly release the pressure with the whistles, and your dal will remain slightly undercooked.
However, you can fix this texture by cooking it separately with the tadka (tempering).
5. Your Pressure Cooker Might Be Leaking Steam
Followed all steps correctly?
Still not getting the right texture to your dal?
Then, there might be an issue with the pressure cooker itself.
Many times, these equipment leak steam through their lid, and it's a common sight with the old pressure cookers.
So, try to fix this problem if you feel it's not cooking your dal well.
6. You Add Salt To Soaked Dal
Even though salt brings taste to bland dals, you shouldn't be using it at the time of cooking in the pressure cooker or pot.
Salt can easily absorb water.
When it dissolves in water, it leaves a similar impact on the dal.
It absorbs water from the lentils as well, which often leads to undercooked or hard dal.
Therefore, do not use salt at this stage of cooking.
You can use it later on when you prepare it with your regular tadka.
7. You Do Not Add Enough Water While Cooking The Dal
Yes, it happens with everyone!
I have experienced a similar thing whenever I've used less water while cooking dal in a pressure cooker.
Even if you cook it for a considerable amount of time, the lack of water can create a problem in this situation.
And the only solution to this problem is you should add more water while cooking your dal.
Ideally, you should add enough water till it reaches 1 or 1.5-inch above the surface of the lentils.
With this method, you cannot go wrong with making a perfectly soft dal at home.
You can use a similar method for making rice, and you can read more about it in this guide.
8. You Remove It From Pressure Cooker Quickly
As they say, you should never cook your food in a hurry.
It often leads to issues that eventually take more time and effort.
In this case, you should not remove your dal from the pressure cooker as soon as you switch off the flame.
The reason is the cooking process doesn't finish after 4-5 whistles.
When you switch off the flame, the steam present in the pressure cooker continues to cook the food for a bit longer.
So, if you remove it in a hurry, you will essentially stop the cooking process.
And that's not the best thing to do, especially when you are preparing dal.
You should allow the cooker to cool down for a few minutes, which can be anywhere between 15-20 minutes.
You may also keep it even longer for up to 30 minutes or so.
This should help in attaining the right texture for your dal.
In the following section, I have shared some tips to resolve this issue.
I hope you find them useful.
Tips To Prepare Soft And Mushy Dal
Here's how you can soften your dal –
1. Soak Your Dal
The soaking process plays a huge role in softening the dal. 
When you soak it in water, it absorbs water and swells up in size.
This essentially begins the breakdown process in lentils.
Later, when you cook it in a pressure cooker or instant pot, it breaks down even further and turns soft.
But how long should you be soaking your dal?
It depends on the size of the lentil.
However, you should soak your dals for at least half an hour.
You can even keep it in water for an hour, especially if you are making Toor Dal, Urad Dal, etc.
Also, it'd be a good idea to soak it in lukewarm water, which will boost the breakdown process.
If not, you can also use plain water for this process.
So, try to follow this process, and I'm sure you will have a better result next time.
2. Grind The Undercooked Dal And Cook It Separately
Sometimes, the lentils don't soften no matter what you do, and that's mostly because of the quality issues.
In this situation, you can simply make use of a grinder and turn the undercooked dal into a coarse paste.
This will solve the problem instantly.
You can also turn it into a smooth paste if you are making sambar or something similar in the kitchen.
For regular dal, try to keep it coarse or semi-coarse so that you can cook it later with the tadka.
3. Cook It On A Slow Flame
This is the ultimate method of cooking dal!
Have you ever visited traditional dhabas?
They usually prepare dals using the slow cooking method.
Sometimes, they even leave their dals to cook overnight on woodfire ovens.
But yes, we can't follow the same technique in our home kitchen.
Having said that, if you are making it on a stovetop, try to cook it on the large burner with a low flame. 
That's how I make dal in my kitchen, and it turns out great each time.
If you are struggling with the texture of your dal, do try out this technique.
You will always get a smooth and silky texture with it.
4. Use A Consistent Flame While Cooking
When you are making dal at home, you should never reduce the flame at any stage.
Try to cook it at a consistent flame so that the lentils cook evenly.
If you keep on changing the flame, you will get the same inconsistent results.
5. Wait For Dal To Get Mushy Before You Add Water To It
It's one of the common mistakes I've seen people make when they prepare dals at home.
They just pour water right after adding the cooked dal to tadka or base mixture.
If you are making the same mistake, don't do it.
That's not how dal should be prepared!
For better understanding, here's how it should be done –
Remove dal from the pressure cooker.
Prepare a tadka base in a separate pot.
Add cooked dal to this pot.
Cook it for a few minutes until it turns mushy.
Add water as needed.
As you can see, the fourth step is where the magic happens.
If you miss this step, you will have a grainy-textured dal.
Apart from that, this step also helps in cooking undercooked dal at times.
Hence, you shouldn't avoid it. 
It's just a little step in this process, but it will make a huge difference to the texture of your dal preparation.
6. Use Hot Water To Mix With Your Dal
Whenever you mix water at the time of cooking your dal, you should try to use hot or lukewarm water.
Now, why is it so important?
Well, when you use cold water, it stops the cooking process immediately.
Therefore, the dal may take a longer time to cook entirely or not cook properly at all.
Moreover, if your dal is not softening for some reason, you should think of using this technique.
On a concluding note, these are the few things you can do to get the correct texture for your dal.
Other than that, you can also try using a pinch of baking soda while cooking (boiling or pressure cooking) your dal.
It does work great if you are struggling with the hard dal.
Note: Dals like Urad Dal can be soaked overnight, which will give even better results.
Now, let's have a look at the following FAQs section.
FAQs
1. What To Do If Dal Is Not Cooked Properly?

You can cook it for a few more whistles in the pressure cooker or follow the same process in a pot. 

If you still don't get the desired result, you may consider grinding it in a grinder. 

Both these methods can help you achieve the perfect texture for your dal.
2. Can You Overcook Dal?

Yes, you can overcook your dal.

It happens when you leave it simmering for a few extra minutes.

Due to this, the dal breaks down completely and loses the texture that is desired for preparation.

To avoid this problem, you should always check the consistency after adding water to your dal.
3. How Do You Fix Watery Dal?

You can prepare a slurry of wheat flour or rice flour and add it to your dal.

It should help fix the watery dal issue.

Note: You don't need a lot of it, as it will change the texture and taste of your preparation.
4. How To Cook Toor Dal Faster?

You can use a pressure cooker or instant pot for cooking toor dal faster.

Alternatively, you can cook it in a woodfire oven at a very high temperature.
5. Can Chana Be Cooked Without Soaking?

Yes, it's quite possible to cook chana without soaking, though it just takes a lot of time to cook it thoroughly.

Instead, you should soak it well before putting it into the pressure cooker.
Over To You
As I mentioned earlier, dal is probably one of the easiest things you can prepare in your kitchen.
But when it doesn't turn soft, it becomes quite a task on its own.
Hopefully, the tips and suggestions I've shared in this guide will help in fixing this issue for you.
Still, have any questions?
Please let me know in the comments.
If you enjoyed this guide, share it with your friends and family.