Do you want to know the difference between Cheese and Paneer?
But is there even a difference between these two ingredients?
The answer is yes!
And you will get to know more about it in the following guide.
So, let's begin.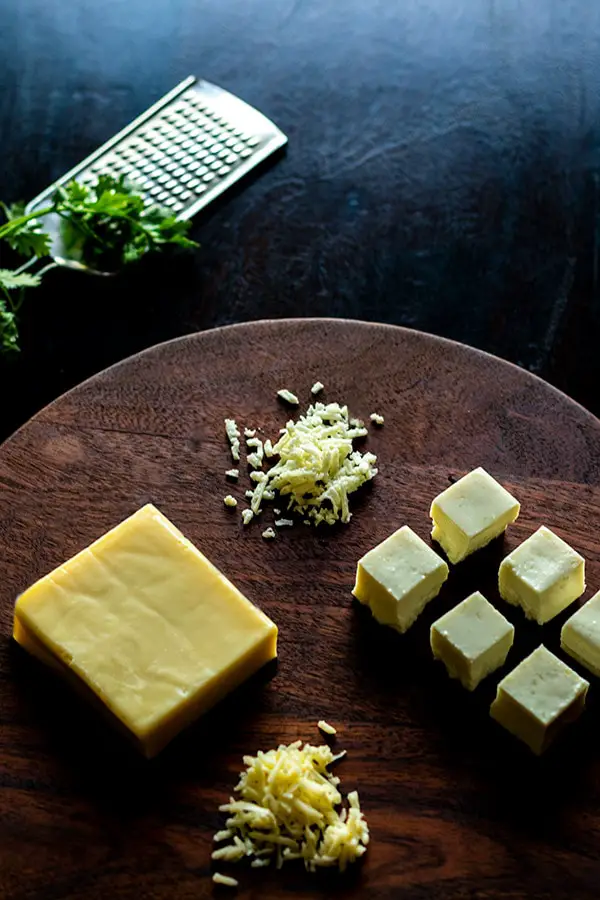 What Is The Difference Between Cheese And Paneer?
The difference lies in their preparation methods, appearance, texture, and taste.
Despite being the byproducts of milk, the above characteristics prove to be the differentiating factors in the cheese vs. paneer comparison.
The smell could also be a differentiating factor.
But the above four factors are quite distinct in their regards and make it far easier for us to distinguish these two dairy products.
In the following guide, let's dig deep and find further details about these milk products.
What Is Cheese?
Cheese is a milk product.
And it is obtained from the coagulation process of milk protein, i.e., Cassien.
The best thing about it is you can make it with many different types of milk, which includes milk from Cows, Buffalos, Sheep, Camels, etc.
The Cheese you get from these different milk differs a lot in appearance and taste.
As for the making, you need to use Rennet and cultures to produce a good quality of Cheese from milk.
For those who don't know, Rennet is a collection of enzymes found in ruminant animals.

These enzymes help in coagulating the protein present in milk.
Did you know?
The first industrial Cheese production started in Switzerland in 1815.
History Of Cheese In India
As for the history, its process began when humans started to domesticate wild animals like Sheep and Cows.
However, there is no real evidence of when the first humans discovered the Cheese-making process.
In India, the invaders and travelers brought the concept of new-age Cheese-making, but the process was probably not new to the country.
It may have been present in the country for at least a few thousand years, as the Silk Route was a central part of the trade between European and Asian countries during those times.
Also, the mentions of Butter (Makkhan) in the Mythological stories do indicate that the Indians were aware of Cheese or Cheese-making methods in some form or the other.
But, as we know, the culture of making homemade Cheese never became popular in Indian households.
And it also reflects in our modern-day production figures.
While India is the largest producer of milk in the world, Indian Cheese is not as popular as Mozzarella, Cheddar, Parmesan, and Gouda.
What Is Paneer?
Similar to Cheese, Paneer is a byproduct of milk.
It is also known as 'Farmer's Cheese' in India.
And its preparation process involves the curdling of milk.
However, the only difference here is you don't need to use Rennet and cultures to prepare Paneer from milk.
It only requires acidic ingredients like –
Lemon Juice
Vinegar (Sirca)
Yogurt
Citric Acid
Here's a brief look at the process:
When you boil the milk, you can add one of the above ingredients to coagulate the milk protein.
It makes the job easier to separate the Paneer from the remaining water (whey).
During this process, you can also add some flavoring ingredients like Green Chillies, Cumin Seeds, Saffron, and Salt to it.
All these ingredients help in elevating the overall taste and flavors of Paneer.
Once it's separated, you can remove the excess water using a muslin cloth.
And that's how Paneer is made in India!
In India, we mostly use it to prepare Punjabi curries, Mughalai Biryanis, and Pulaos.
Paneer Bhurji is another popular dish among food lovers in India.
Chenna is also a widely used form of Paneer in the eastern part of country.
You can make Rasgulla, Chhena Poda, Chenna Jalebi with this variety.
Interesting Fact:
Paneer is also quite popular in neighboring countries like Nepal, Bangladesh, Pakistan, and Afghanistan.
History Of Paneer In India
The Indian history of Paneer is as complex as Cheese.
We don't know which type of Cheese arrived first in the country, but Paneer seems to be the obvious answer to this question.
As far as its earliest presence is concerned, the researchers did find some evidence of Paneer being used during the Indus Valley civilization.
These early settlers used Berries, Sour Leaves, and Yogurt to prepare Paneer from milk.
Apart from this evidence, you will also find its mentions in ancient Vedas.
So, it does seem like it was a part of our food culture during those times.
In the later centuries, though, the curdling of milk was not considered a sacred thing in India.
And eventually, it disappeared from Indian households.
Therefore, we don't have the rich history of the Cheese-making processes like many other European countries.
Later, when the Mughals, Portuguese, British arrived in the country, they popularized the use of Paneer (and its variants) in various regional dishes.
And that's how we again started to use it in different dishes.
So, technically speaking, we don't have a long history of Paneer or Cheese-based dishes.
And as I mentioned earlier, it may have been present several thousands of years ago, but it couldn't become a mainstream food ingredient until the late 18th and 19th centuries.
Alright now, let's take a look at the similarities between Cheese and Paneer.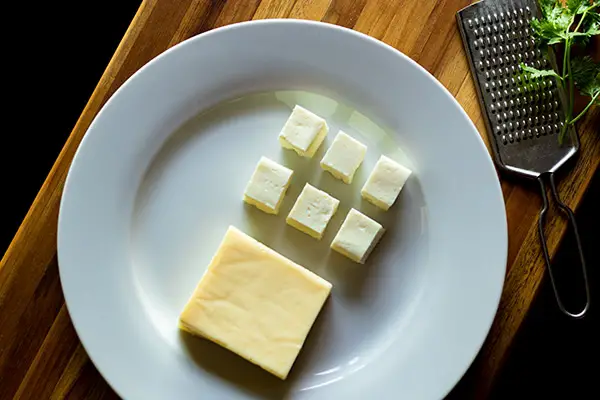 Cheese vs. Paneer: The Similarities
| | Cheese | Paneer |
| --- | --- | --- |
| Food Type | Dairy Product | Dairy Product |
| Produced From | Milk | Milk |
| Protein Coagulation | Required | Required |
| Can Be Prepared At Home | Yes | Yes |
| Storage | Refrigerate or Freeze | Refrigerate or Freeze |
| Availability | Easily Available | Easily Available |
Now that you understand the similarities between these two milk products, let's learn more about the differences.
Cheese vs. Paneer: The Differences
These are the differences between Rennet-based Cheese and Paneer.
| | Cheese | Paneer |
| --- | --- | --- |
| Making Process | Proteins separated using enzymes | Proteins separated using natural sour/acidic ingredients |
| Enzymes Required | Yes | No |
| Protein Separation Ingredients | Rennet, Cultures | Lemon Juice, Yogurt, Vinegar |
| Color | Yellow, White; Depends on the Bacterial Process | White |
| Texture | Soft or Hard; Depends on the variety | Mostly Hard |
| Melting Point | Cooking Temperature | Does not melt easily |
| Can Be Prepared At Home | Yes | No |
| Shelf Life | Months to years | Few days to a week |
| Mostly Used In | Pizzas, Garnishes, Salads | Indian Curries, Biryanis, Pulaos, Kebabs, Stuffings for Flatbreads, Pizzas, and Sweets |
| Popular Varieties | Parmesan, Mozzarella, Cheddar, Gouda, Ricotta | Cottage Cheese, Chhena |
| Price | High | Relatively Less |
And that's it for the differences!
I hope you enjoyed this information as much as I did while sharing it with you.
Also Read: Difference Between Atta and Maida
If you still have some queries in mind, take a look at the following FAQs section.
In this section, I have tried to answer some of the most commonly asked questions related to this topic.
Now, let's begin!
FAQs
1. How To Make Cheese From Paneer?
You can't make Cheese from Paneer.

It is a form of Cheese.

Therefore, you will need to use milk to prepare these byproducts.
2. How To Make Mozzarella Cheese From Paneer?
You can't make Mozzarella from Paneer.

Mozzarella cheese should be prepared using milk, and it needs a lower temperature of the milk.

Also, it's important to stretch Mozzarella to achieve its unique consistency and texture.
3. Can We Use Paneer Instead Of Cheese In Pizza?
Yes, you can use Paneer instead of Cheese in Pizza.

But it won't melt like regular Cheese.

It will stay firm even if you bake Pizza on high heat.

In case you don't know, Paneer is often used to make different types of Indian Pizzas, including Paneer Tikka Pizza, Paneer Makhani Pizza, Paneer Vegetable Pizza.
4. Is Paneer And Cottage Cheese The Same?
Yes and no!

They are the same if you're talking about the production process.

However, Paneer is a salted Cheese, whereas the other is an unsalted one.

Also, the Cottage Cheese is mostly used for salad toppings and spreads.

In India, we refer to Paneer as Indian Cottage Cheese due to its similarities to the American variant.
5. Which Cheese Is Closest To Paneer?
As for the texture, Ricotta, Halloumi, and Cheddar Cheese are the closest to Paneer.

You can also use Tofu if you're looking for the Paneer substitute.
Over To You
As you can see above, it's all about the technique!
It's the technique of making Cheese that makes a lot of difference in various aspects of Rennet-based Cheese as well as Paneer.
To sum it up:
If you use lemon juice or similar natural ingredients, you will get paneer.
If you use Rennet and culture, you will get cheese.
Of course, there are many other processes involved in their productions.
So, what's your favorite type of Cheese?
Is it the regular Cheese, or do you prefer Indian Paneer?
Do let me know in the comments section below.
And if you find this information useful, don't forget to share it with your friends and family.