Is your Dosa batter not fermenting?
Do you find it difficult to get the right consistency of fermented batter?
Don't worry!
It's one of the most common issues in the Dosa-making process.
In the following guide, I have shared the reasons and suggestions for this issue, which should help in getting things right in this process.
So, let's get started!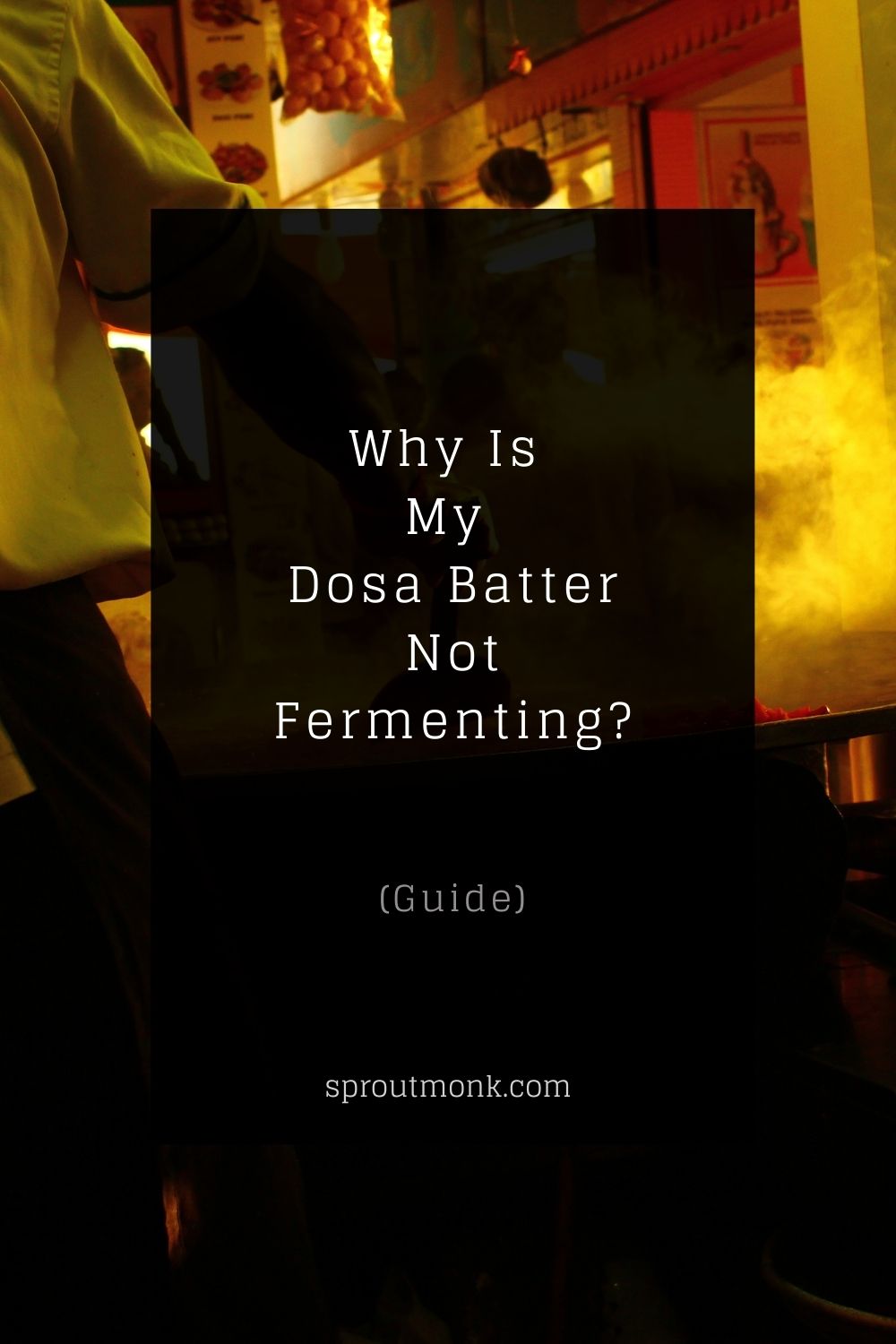 7 Reasons Why Your Dosa Batter Is Not Fermenting
Here are some of the reasons why you are struggling to ferment the Dosa batter at home –
1. You Do Not Soak The Grains For Long
This is the first step of making a perfect Dosa batter at home.
If you avoid this step or hurry into grinding the grains, you will face issues with the fermentation process.
The grains need to be soaked well before using them for grinding and turning into a smooth paste.
Quick Fix:
Soak the grains for at least 4-5 hours.
Also, it would help if you soaked them in separate containers.
Once the soaking phase is done, you can mix them for the grinding process.
2. You Are Not Fermenting The Batter For Enough Time
Yes, it's all about the fermentation time!
If you do not ferment the batter long enough, it's likely to cause issues later on.
As you know, the semi-fermented or non-fermented batter doesn't help much in making the perfectly crisp Dosas.
So, how do you fix this problem?
Quick Fix:
Ferment the batter for at least 8-10 hours!
Once you grind the grains into a mixie or wet grinder, you should allow the mixture to rest for this much period.
If you want to prepare Dosas and other dishes for breakfast, you can also ferment it overnight.
This gives the batter enough time to rise well.
However, the 8-10 hour period is suitable for those who live in India, as we have reasonably hot weather conditions throughout the year.
If you live in the US, UK, Canada, or similar cold places, you should increase the fermentation period to 12-15 hours.
You may even have to ferment it for 18-20 hours in winters if it snows outside.
3. You Live In A Cold Place
You know it's always fun and pleasant to live in cooler places.
But if you are an Idli or Dosa lover, you will probably find it a bit difficult to make Dosa batter in your kitchen.
This is because the fermentation needs a little warmer conditions.
Without the required amount of heat, the bacteria (good ones) present in the mix will remain dormant and might not perform at their optimum speed.
Hence, it becomes quite tricky to ferment the batter in cold places.
Quick Fix:
Provide enough heat to the batter!
That's the only way you are going to get consistent results while preparing your Idli-Dosa batter.
So, how do you do that?
The best way to do this is by using your oven or Instant Pot at home.
If you have an oven, preheat it for about 10 minutes and keep the container inside for 12-15 hours.
In the case of an Instant Pot, you will need to use the Yogurt maker function.
This feature does a great job in fermenting the batter in cold places.
For this to work, you will have to use the same period, i.e., around 15 hours for the fermentation.
Initially, you can keep it on for 12 hours.
If it doesn't look ready, you should increase the period by another couple of hours.
4. You Do Not Add Enough Water To The Batter
When you grind the grains with a little bit of water, it gives you a thick consistency.
It is generally considered alright, as you do not want to add too much water during this process.
When you add less water, it gives the grains a chance to break into fine pieces.
Ultimately, this gives you a smooth batter.
But you shouldn't stop at this step.
Once your grinding process is over, you should add more water to the batter and stir it gently.
The added water will help break down any lumps present in the batter.
Eventually, it will aid the fermentation process.
Quick Fix:
As I have already explained above, add enough water at the time of mixing the batter.
The batter should attain a flowing consistency, though it shouldn't be too runny.
If you are still not sure, think about the Pakoda batter and try to get a similar consistency for your Dosa batter as well.
5. You Do Not Add Urad Dal And Fenugreek Seeds To Your Batter Mix
These are the two most essential ingredients while making a perfect Dosa batter at home.
If you don't add these ingredients, you may find it challenging to ferment the batter quickly.
As for Urad Dal, it gives the body to the entire mix and greatly helps in the aeration process too.
Talking about the dried Fenugreek Seeds, it's quite essential in the fermentation process itself.
Other than that, it also adds a nice delicate taste to the batter.
The seeds are bitter and should be used sparingly.
Quick Fix:
Simply soak these two ingredients along with rice and grind them together.
Don't forget to keep an eye on the quantity of these ingredients, as they may change the flavor of your final preparations.
Note: There is no alternative to Fenugreek seeds.
You can use Kasuri Methi (Dried Fenugreek Leaves), but it won't help much in the fermentation process.
Therefore, you should add it in the powdered form only after the fermented batter is ready.
This should help achieve a slightly bitter taste that makes the Dosas even tastier.
6. You Store The Batter Mixture In The Refrigerator
Yes, you should never keep the Dosa batter mixture in the refrigerator for fermentation.
The whole fermentation process is based on the heat available in the mixture.
If you put it in a cold place like a refrigerator or freezer, this process will stop or slow down considerably.
As suggested earlier, the bacteria will go into the dormant phase and stop processing the food available in the form of a batter mixture.
If you are someone who is preparing the Dosa batter for the first time, you might make the mistake of keeping the ground batter in the refrigerator.
And that's alright too!
Just make sure you don't repeat the same mistake.
Quick Fix:
Whenever you grind the soaked grains, put them in a large container.
Cover the container with a lid and keep it aside somewhere in the kitchen.
Why kitchen?
Because the warmth of this room will benefit it accelerating the fermentation process.
For cold places, you should consider using other kitchen gadgets like Oven or Instant Pot.
Having said that, you can put the batter in the refrigerator when the fermentation process is over.
It will help you keep the batter fresh for a few more days.
7. You Do Not Use Baking Soda In Your Batter
Want to make soft Idlis and Dosas?
This is the secret ingredient!
Many chefs and food makers swear by Baking Soda, as it makes a lot of difference in the texture of fluffy dishes.
In case you don't know, Baking Soda and Baking Powder are excellent leavening ingredients.
Both of them are used in making various Indian flatbreads, sweets, and savory dishes.
So, you can use any of them while making the Dosa batter.
The only thing you need to remember is to use them in a minimal quantity.
Also, you won't need them in a hot climate, as the bacterial process will take place fairly quickly.
The Baking Soda method is only useful if you live in a cold place or want to achieve a light and soft texture to your preparations.
Apart from that, there is no real benefit of using such ingredients in your batter mix.
Quick Fix:
You should use Baking Soda if the Dosa batter is not fermenting at all or taking too long hours. 
Well, these are the few things you need to understand while trying to ferment the Dosa batter.
In the next section, let's take a quick look at the FAQs related to this topic.
FAQs
1. How Can I Make Dosa Batter Ferment Faster?

The only way to accelerate the fermentation process is by providing an adequate amount of heat to the batter mix.

It can be achieved through the natural heat present in the room or using the tools like Oven and Instant Pot.

You may also consider using Fenugreek Seeds and Baking Soda, which are quite useful in this process.
2. How Do You Fix Fermented Dosa Batter?

If you have kept the batter for fermentation for too long, there is no way you can reverse the process.

However, this batter can be used to make Dosas!

Don't use it for making Idlis, as they may turn a little sour.

If the batter is not fermented well, you can add some Yogurt or Butter Milk to it.

It will get the right sourness to the batter.

Finally, if the batter is too thick, you can add some water and get it to the right consistency.
3. How Long Should I Ferment Dosa Batter?

In ideal conditions, you should ferment the Dosa batter for 8-10 hours. 

In the summertime, you may achieve good results within 6 hours as well.

If you are living in a place where it snows heavily, you will probably have to think about a 12-15 hours fermentation period.

Sometimes, it might take 18-20 hours if the weather conditions are not too favorable.

Overall, it all depends on where you live and the climate of your location.
4. Can I Ferment Dosa Batter For 24 Hours?

There is no real need to ferment the Dosa batter for so long, as it might turn sour in the process.

The 24-hour fermentation period is only useful for those who stay in extremely cold places.

If you live in tropical regions, you don't have to think about such a long fermentation period.
5. Does Salt Help In Fermentation Of Dosa Batter?

Salt only helps in adding taste to the batter.

In fact, many people avoid adding salt to the fermenting batter, as it might hinder the whole process.

Still, if you use it in less quantity, there should not be a problem as such.

Alternatively, you can use it at the time of mixing the batter in the end, especially when you want to make something out of it.
Over To You
To tell you the truth, the batter fermentation process is pretty easy than it seems.
Once you get the right idea of the temperature and ingredients' proportion, you should be able to ace this process in no time.
Still if you have any questions at present, please let me know in the comments below.
I will try to resolve them for you.
If you found this guide helpful, do share it with your friends and family.