Is your dosa sticking to the pan?
Are you having problems removing it from your pan?
Well, these are the common issues when you make dosa at home.
In the following guide, I have addressed these issues and have also shared some solutions to them.
So, do check out the guide if you wish to resolve the sticky dosa issue once and for all.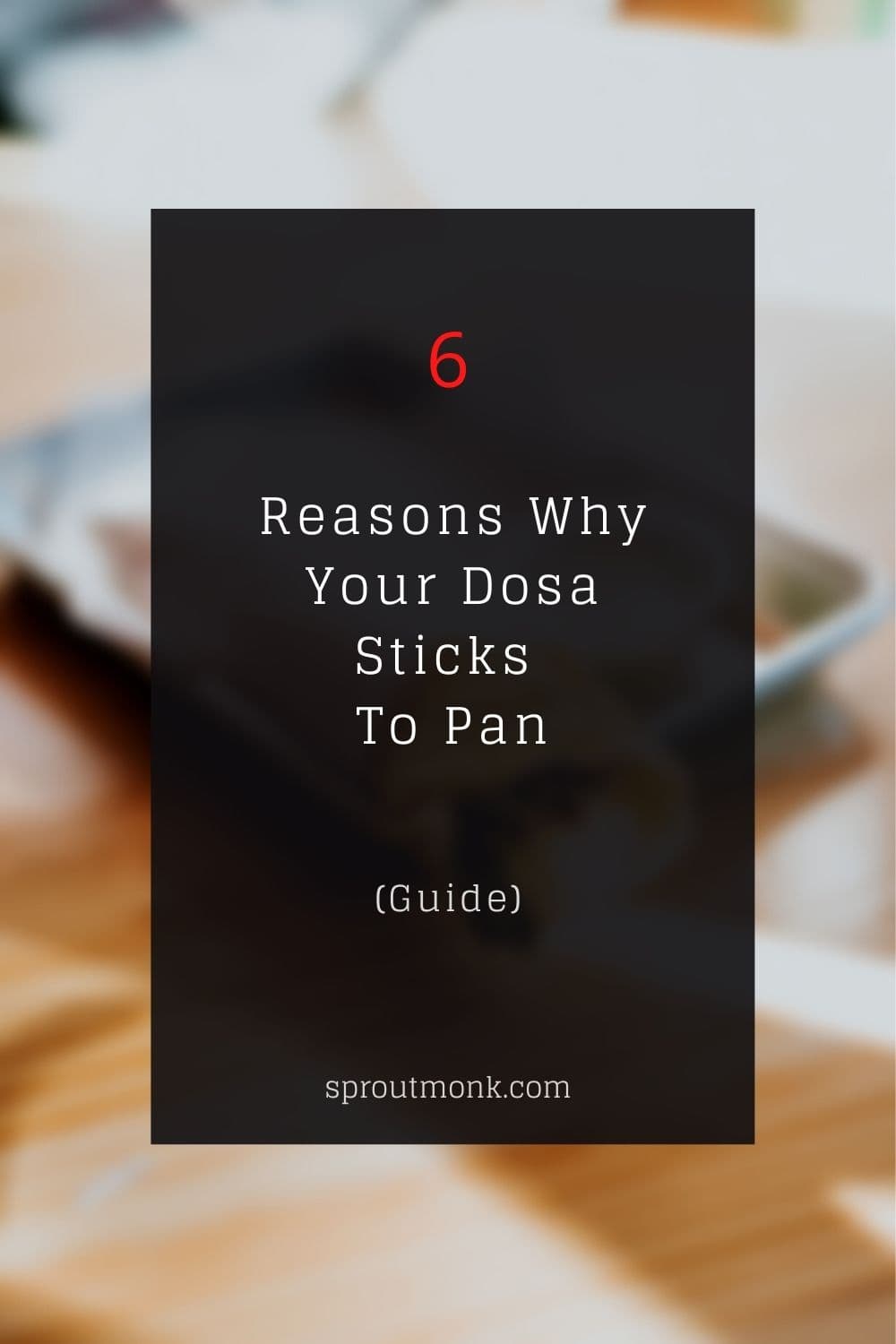 Here's Why Dosa Sticks To Your Pan
Before we move to the tips section, let's take a look at the common reasons why your dosa sticks to the tawa. 
1. You Are Using A Thick Batter Consistency.
Yes, you have to get the right consistency for your batter.
If you use a thick batter, it will stick to the pan.
And more importantly, you will also have difficulties in spreading it evenly on the pan surface.
2. Your Pan Is Too Hot.
Ideally, the dosas require high heat cooking.
But you can't cook them on the same heat for too long.
If you do, the dosas will stick to the surface of the pan.
However, it happens with everyone, including professionals.
So, there is no need to worry about it a lot. 
Do take a look at the following section, where I've shared solutions to some of these issues.
3. You Have Not Seasoned The Pan Well.
If you don't season the pan well, it'll be quite a task to make dosas on such a surface.
The seasoning process helps in softening the pan's surface.
So, as I mentioned above, if you've not seasoned it earlier, your dosas will stick to the pan no matter what.
4. You Do Not Grease The Pan Before Pouring The Batter Into It.
Whether you're using a non-stick pan or a cast-iron pan, it doesn't really matter when it comes to the dosa making process.
You have to grease the pan's surface each time you make a new dosa on it.
If you don't follow this practice, you will have inconsistent results with each dosa.
5. You Use The Same Pan For Other Preparations.
That's right!
When you use the same pan for flatbreads or curries, it tends to lose its non-stick feature over the period.
Sometimes, the greasy ingredients also remain glued to the pan, despite deep cleaning.
And that creates a problem when you try to make dosas on the same pan next time.
6. You Are Using An Old Pan To Prepare Your Dosas. 
Are you using an old pan?
If yes, it could be the reason why your dosas stick to its surface.
The old and well-seasoned pans generally last really long, but, as you know, there is always an expiration date for everything.
Honestly, if you've been using the same non-stick pan for a couple of years, you should feel happy about it.
Most of the modern 'non-stick' coated pans don't last long, especially when you're using them for high heat cooking. 
And yes, the same is the case with the so-called diamond coating pans! 
Personally, I have used such pans earlier, and they didn't last as long as advertised.
So, if you have been using an old pan, you know what to do. 
And if you haven't guessed it already, I'll talk about it more in the following tips section.
10 Tips To Solve The Sticky Dosa Issue
Alright, now, let's not waste more time and see how to resolve this issue.
1. Use A Pan With Good Non-stick Quality.
It's the first thing that comes to your mind when you see dosas sticking to the pan.
So, if you have been using a pan with low quality non-stick features, you might find this problem time and again.
And there is nothing much you can do about it.
Either you will need to season it well or get a new pan with excellent non-stick coating.
I have shared a few suggestions on this topic below.
You can check out the last tip in this section for more details.
2. Use A Well-seasoned Pan While Making Dosas.
As I mentioned earlier, you need to have a decent coating layer to make perfect dosas at home.
Without this, it becomes a herculean task to remove sticky dosas from the pan.
And in case if you are not looking to get a new pan, the only option left for you is to season the pan well.
It's the only trick you need to do the magic!
If you don't know how to season it properly, here are some of the quick steps for you – 
Wash the pan thoroughly and remove any food particles from it.
Wipe it clean and allow it to dry out completely.
Place it on medium heat and smear it with a thin layer of oil.
Heat the pan on the same flame till the oil starts to smoke.
Once you see some smoke coming out from the pan, take it off the flame and keep it aside.
Let it cool down completely.
Once it cools down, you can use the pan to make dosas again. 
The whole seasoning process shouldn't take more than 10 minutes.
Also, if you are using a new non-stick pan, you may need to repeat the process a couple of times more.
Note: Seasoning is a very crucial step to regain the lost non-stick characteristic of your pan.
It also helps in increasing the longevity of the pan.
So, it's wise to perform this step if you're facing troubles with sticky dosas.
3. Grease The Surface With Some Oil Before You Pour The Batter.
Even if you have seasoned the pan well, you may find difficulties removing the dosas from it.
It happens mostly with the old pans that are in the process of losing the non-stick coating.
In such a case, you will have to grease the pan with some oil or ghee before spreading the dosas for the next batch.
You will need to repeat this step every time you want to make a fresh dosa.
Also, whenever you are making a new dosa, you must remove any remnant particles from the pan.
Do not pour the batter when there may be some particles left on its surface.
The pan should look nice and clean before you pour the batter.
4. Spread The Batter Evenly On The Surface Of The Pan.
Although this step is not as essential as some of the other steps mentioned above, you need to learn the right technique to spread the batter on your tawa.
It will make a world of difference to your dosas.
If you spread it well, the dosas will not only come out nicely, but they will also look more presentable in the end.
For this purpose, you can use any sauce ladle from your kitchen.
If you are comfortable with metal bowls or cups, you may use them as well.
Quick Tip: Do not use wooden cups or ladles, as the metal ones offer more control to spread the dosas evenly.
5. Prepare Your Batter Well.
The batter consistency plays a significant role in removing the dosas efficiently from the pan.
If the dosas are relatively thick, you won't have much of an issue here.
But if you are making a thin dosa like Neer Dosa, you will need to be a little more careful while preparing the batter.
With more water quantity, the batter won't spread properly on the pan.
And therefore, it increases the chances of getting sticky dosas in the end.
Similarly, with the plain dosas or masala dosas, the batter consistency should be as good as Pakoda batter.
If you add more or less water to it, you will either face issues with uneven dosas or sticky dosas.
So, as you can see, it's imperative to get the batter consistency right.
6. Cook It On A Stable Flame.
You should never cook the dosas on a very high flame.
The excess high heat will make the dosas stick to the surface despite the decent non-stick coating on the pan.
As for cooking, it needs a stable medium-high flame so that it gets cooked properly from all sides.
Also, in the process, it won't stick to the surface instantly.
If you feel the pan is too hot, reduce the flame immediately and wait for some time before pouring the batter again.
You can also sprinkle some water on its surface to reduce the surface temperature, but it needs to be done with utmost care.
Otherwise, if you are not a pro at it, I'd suggest you wait for a few minutes till its temperature comes down to a reasonable level.
So, these are the two things you need to remember while pouring the batter and cooking the dosa on the pan.
7. Cover The Dosa With A Lid For A Few Minutes.
When you cover it with a lid, it helps in generating steam inside the pan.
And the same steam eventually allows you to cook the dosa perfectly.
Well, that's just not about it.
It also prevents the dosa from sticking to the bottom surface, and you can easily take it off the flame in the end.
Therefore, whenever you prepare a dosa or uttapam at home, cover it with a lid for a couple of minutes.
Let it cook under the hot steam for a few minutes.
8. Wait For Some Time Till The Dosa Edges Leave The Pan Surface.
Once you remove the lid, you need to wait for a few more minutes.
It's one of the common mistakes beginners make when they prepare the dosas for the first time.
It is also the reason why dosa sticks to the pan. 
When you cover the dosa with a lid, it generates a lot of steam inside the pan.
And it also increases the moisture content, which gets trapped in the batter particles.
So, when you remove the lid, it requires more time to evaporate excess moisture as well as to form a crispy layer at the bottom.
If you try to take it out in a hurry, it will stick to the pan.
But how do you know when is the right to take it off?
Well, it's easy!
You will see dosa leaving the edges when it has formed a crispy layer at the bottom.
That's the time you should try to lift it from the pan!
9. Wash The Pan Properly.
The above tip is useful for when you make the dosas next time.
When you're done using the pan, you must wash it properly.
If there is a thick layer of oil or sticky particles, you should remove them from the surface.
But make sure you do not use any abrasive material for the cleaning purpose.
You can use lukewarm water and lemon or neem-based dishwashing agent to remove such solid particles from the pan.
The baking soda and vinegar are also efficient for such cleaning tasks.
Note: Here, the temperature of the water is more important than anything else.
If you use cold water, you will have a tough time cleaning the pan.
Overall, there shouldn't be any cooked particles or oily stains on it. 
And if you follow this practice regularly, your dosas will come out smoothly each time.
Quick Tip: Once you have washed the pan, wipe out any moisture or droplets left on its surface.
It will help in preventing any rust issues that may occur due to the moisture content.
Important: Don't forget to season the pan every 15-20 days or so.
You can perform this step after washing the pan.
10. Get A New Dosa Pan.
Finally, if nothing works for you, I'd suggest you get a quality dosa pan for yourself.
Generally, I recommend everyone to get a cast-iron pan for the dosa making process.
These pans are the best for making dosas at home. 
Yes, they may be costlier than the regular non-stick pans, but it's the one tool you should always have in your Indian kitchen.
It's like an investment, which pays great dividends in terms of delicious dosas and uttapams over the years.
So, in my opinion, it's better to get a quality cast-iron dosa pan.
But the choice is up to you.
The only downside of these heavy-duty pans is you need to season them regularly.
It's a bit of an additional work that comes with almost any cast-iron equipment.
Alright, let's now take a look at some of the most commonly asked questions by the readers.
I hope these questions and answers help you resolve your doubts too.
FAQs
1. How Do You Clean A Dosa Pan?

As you know, cleaning is quite an essential step when it comes to the dosa pan.

If you want to retain their non-stick nature, you need to take some extra precautions while cleaning them.

So, here are a few cleaning tips for you – 

1. Do not use a mesh or similar tool to clean the sticky food particles on the pan.

Instead, use some water and lemon-based dishwashing agent to remove such particles.

2. Do not rub on the non-stick surface for too long. If you continue to do so, there is a probability that the coating will come off, and your tawa won't be useful to prepare dosas next time.

3. Use the lemon-based or neem-based dishwashing agents to clean your pan.

Do not use harsh agents for this purpose.

You may also use vinegar to clean the pan.

So, these are some of the tips you need to remember during the cleaning process.
2. Can We Use Same Pan for Dosa and Chapati?

Well, you can certainly use the same pan for making Dosa, Chapati, or Paratha.

But sometimes, it's better to have a dedicated tool for each delicacy.

And when it comes to the dosas and other flatbreads, I'd suggest you get a separate quality pan for the dosas.

If you use the same pan for them, the pan will definitely lose its non-stick quality sooner than later.

As you know, the non-stick feature is necessary to remove dosas from the pan.

Without this feature, it'd be really challenging to make dosas efficiently.
3. How To Fix Dosa Batter?

Unfortunately, there is no real way to fix the dosa batter.

Most of the methods suggest the addition of other ingredients, which do change the taste and texture of the dosa.

But still, if you want to go ahead with these methods, here're some of the best workarounds for this purpose.

Add some flattened rice (Poha) powder or rice flour to the batter. Mix it well and make sure it incorporates well in the mixture.

Wait for a few minutes, and then check the consistency. It should help in absorbing excess water from the batter.

Add wheat flour to the batter.

If you don't have rice flour, you can also replace it with whole wheat flour.

There may be a difference in taste, but it works nonetheless. 

Similarly, you can add some Semolina to it. For this method, though, you will have to soak it in water for at least 15-20 minutes.

Once it's soaked nicely, you can mix it with the dosa batter.

Well, these are the tried and tested methods to fix the dosa batter. 

So, go ahead and see how they work for you.
4. How Do I Make My Non-Stick Pan Non-Stick Again?

It all depends on the condition of your dosa pan.

If there is too much wear and tear on it, it'd be hard to get back the same non-stick characteristic to it.

But if your pan is relatively new, you can indeed consider some of the following options.

The first option is to season it well.

You can smear some oil on the hot pan.

Allow it to smoke for 30 seconds to a minute. 

You can also use a brush to spread the oil on all sides and edges of the pan.

Once it's cooled down, wipe out excess oil from the pan using a kitchen towel.

Note: You don't have to wash the seasoned pan again. 

The second option is to perform the same step a couple of times.

Yes, it may seem a repetitive task, but it does work great!

In fact, you might notice a better non-stick coating after performing this step several times.

So, do try it out.

The other tip to regain the non-stick characteristic is to use extra oil while preparing the dosa.

The added oil will help in forming a thin layer on the pan, which should help in removing the dosas without any issue.

Quick Tip: If you don't like too much oil, you may also use some cooking sprays to achieve the same non-stick characteristic.

But as I said, the seasoning method is more effective and long-lasting in this case.
Over To You
Well, I hope the above tips and suggestions are useful in dealing with the sticky dosa issue.
If you have any more doubts or questions related to this topic, do let me know in the comments below.
I will do my best to resolve them for you.
You can also share this guide with your friends and family. 
I am sure they will learn a thing or two from the above tips.
Meanwhile, if you want more such updates on food guides, do consider subscribing to my weekly newsletter below.