Paneer is one of the key ingredients in many vegetarian Indian dishes, and you can use it to prepare gravy as well as dry dishes. 
Most restaurants prepare a specific type of paneer gravy dishes, but these dishes are not easy to replicate in home kitchens. They also require more time to cook. More importantly, many of these dishes taste the same irrespective of their names.
So, if you're bored having the same cashew paste based paneer dishes, try out some of the dry paneer recipe ideas shared in the guide below.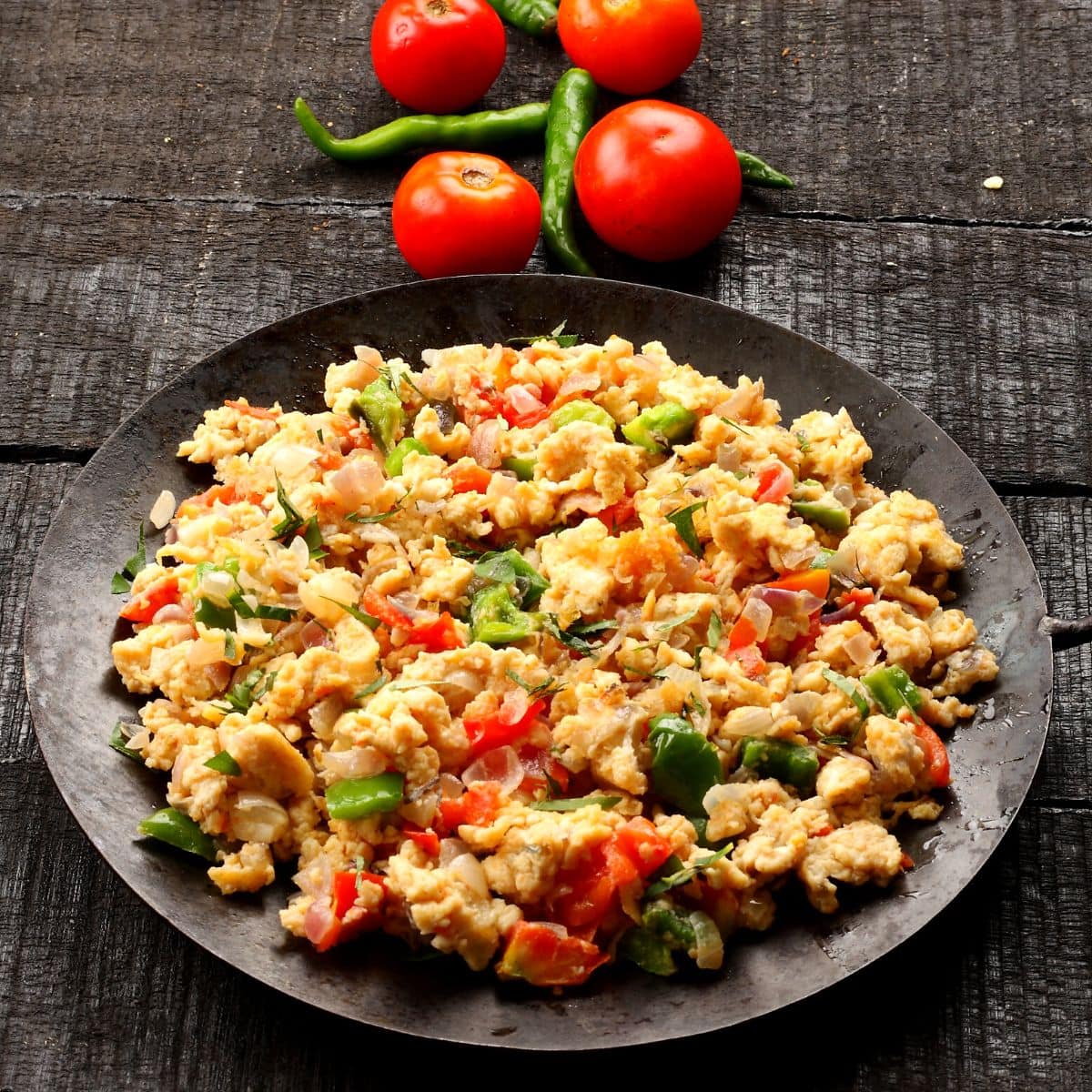 Dry Paneer Recipes
Here are some ideas to try – 
1. Paneer Tikka
Paneer tikka is a versatile dish, as you can serve it as a starter and the main course. It can also be used in various gravy dishes to get the perfect smokey flavor. 
I have shared a detailed recipe for making Paneer Tikka on tawa. It's more convenient to make this recipe using a non-stick pan. So, do try it out!
Paneer Tikka Variations –
Apart from the above recipe, you can try out other variations as well. Here's a list for you – 
Hariyali Paneer Tikka
Reshmi Paneer Tikka
Pahadi Paneer Tikka
Achari Paneer Tikka
Kalimiri Paneer Tikka
Malai Paneer Tikka
2. Paneer Tawa
Paneer Tawa is often served with the typical red gravy, but you can change its texture and make it drier. 
For this, you will have to reduce the cook the base masala longer. It will help reduce excess moisture content.
Shallow-fry the paneer pieces on the pan to get a nice crisp texture and golden color. It might turn the paneer a bit hard, so cook it for 2-3 minutes on each side. Use a medium-high flame to perform this task.
Check out the following recipe video for detailed instructions. 
3. Paneer Kadai
Similar to Paneer Tawa, you can make this recipe in a dry style. Most restaurants serve this dish with an overloaded masala base and paneer chunks. 
But you can make a simpler version of Paneer Kadai at home. The good thing about it is it tastes equally better and goes well with chapatis and phulkas. 
For the preparation, you will need to use paneer pieces, onion-tomato base, capsicum, and any other veggies of your choice. 
For the powdered masala, lightly roast cumin seeds, coriander seeds, black pepper, and dry red chilies. Prepare a powdered masala of these ingredients. 
You can use these ingredients to prepare a quick Paneer Kadai dish. Check out the following recipe video for more details. 
Note: Do not use cashew paste or almond paste for this recipe. If you still want to use it, use 1-2 tablespoons only. Similarly, fresh cream is not required for the homemade recipe. 
4. Chatpata Paneer
Although it's not a very popular recipe, it does taste good and can be made in a dry version. 
This recipe has many variations, but I like to keep it simple with minimal spices and other ingredients. For the 'chatpata' taste, you can add chaat masala powder or dry pomegranate powder. 
Use them in small quantities, though. It can turn your dish tangy. 
For the main recipe, prepare a thick onion-tomato masala base and add shallow-fried capsicum, onions, tomatoes, and paneer pieces. Toss them for a few minutes on a medium flame. Later, cook the dish under the lid for 5-6 minutes. 
Add hot water if the dish turns too thick. It will help fix the consistency.
Have a look at the recipe below.
5. Dry Matar Paneer
It's a perfect recipe for winter, as you get fresh and juicy green peas this season. 
Matar Paneer is a simple recipe and goes well with Indian flatbreads as well as rice dishes. It can also be used as an accompaniment for pulaos.
There are two ways to make this recipe, i.e., using onion-tomato masala and onion-yogurt masala base. I like to make it with an onion-yogurt base because it tastes slightly different than the same restaurant-style preparations. 
You can also add carrots to this recipe. The fresh winter carrots have a slightly sweetish taste that complements the overall flavor of this dish. However, add them to the cooking pan along with peas, as they require more time to cook well.
Here's a quick recipe video to follow – 
6. Paneer Bhurji
Paneer bhurji can be a good option if you don't want to make the typical paneer dishes. 
It requires a few ingredients, including chopped onions, cumin seeds, crumbled paneer, green chilies, turmeric powder, dry mango powder, and salt. You can also make a red version of this dish using Kashmiri red chili powder. 
Dry mango powder is optional and can be replaced with lemon juice. Garnish the dish with finely chopped coriander leaves.
Use fresh paneer for this recipe, as it turns very soft and brings a nice texture to the dish. The other benefit of using soft paneer is you don't have to use a grater to get the crumbly pieces. 
Check out the following recipe video for more details –
7. Aloo Gobi Paneer
Aloo Gobi is a traditional dish prepared with basic spices, potatoes, and cauliflower. But you can elevate the taste by adding paneer pieces to the dish. 
However, don't add too many paneer pieces to this recipe. The main ingredients of this dish are cauliflower and potatoes, so don't turn it into a mixed vegetable sabzi. 
As for spices, use red chili powder, turmeric powder, homemade garam masala, coriander powder, and cumin seeds. The base masala can be prepared using onions and tomatoes. If you want to make it slightly richer, add a couple of tablespoons of yogurt. 
You can follow this Aloo Gobi recipe and add the paneer pieces in later stages.
8. Paneer Chettinad Dry
It's an iconic dish from the land of Hyderabad and can be a great alternative to Punjabi curries. It can be made in two distinct styles, i.e., dry sabzi and gravy-based curry. Both variations taste amazing and are easy to make at home. 
For the preparation, you will have to make a Chettinad masala blend. This masala contains Dry Coconut, Curry Leaves, Cinnamons, Black Peppercorns, Red Chilies, Cumin Seeds, Coriander Seeds, Bay Leaf, Star Anise, Poppy Seeds, Mace, and Fennel Seeds.
It's a spicy blend, so adjust the spices accordingly. You will also need to prepare it separately if you wish to store it for later use. 
The masala stays fresh for a few days if it's not too wet. Store it in an airtight container.
Prepare a thick onion-tomato masala base during the final preparation. For tempering, use cumin seeds and curry leaves. Once the base masala is ready, add the powdered Chettinad masala and cook it for a few minutes until the oil separates from the sides. Then, add the paneer pieces and cook for a few more minutes. 
Garnish the dish with fresh coriander leaves. 
Here's another version of the Chettinad Paneer recipe – 
You can adjust the ingredients according to your taste and requirement. 
FAQs
1. What Can Be Made From Crumbled Paneer?
You can make Paneer Bhurji, Paneer Cheese Balls, and tikkis with crumbled paneer. 
2. Do You Soak Paneer Before Frying?
There is no need to soak paneer before frying or cooking. However, if it's frozen or store-bought paneer, soak the whole chunk in warm water for a few minutes before using it.

Also, remove the water from its surface before putting it in the fryer or kadai. Otherwise, it will splutter a lot in hot oil. 
3. Do You Need Oil To Fry Paneer?
Yes, you need to use oil to fry paneer. Even though it's a type of cheese, it needs a greasing ingredient to fry properly. If you fry it directly in the pan, it will stick to the surface and won't cook properly.
4. What Sabji Can Be Made From Paneer?
You can prepare a mix vegetable paneer sabzi or paneer kadai using vegetables and paneer as the main ingredients. 
5. Is It Necessary To Boil Paneer Before Cooking?
No, you don't have to boil paneer before cooking. Boiling the paneer will make it harder and rubbery. 

If you prefer this type of texture, you can boil it beforehand. In general, however, it is not recommended to cook paneer twice.