Want to ferment your dosa batter immediately?
In this world of instant foods, we all want to find ways that can help reduce the preparation or cooking time in the kitchen.
And that's quite understandable too!
So, is it even possible to expedite the fermentation process and prepare the batter instantly?
Let's dig deep into it and find out whether there is any real solution to this issue.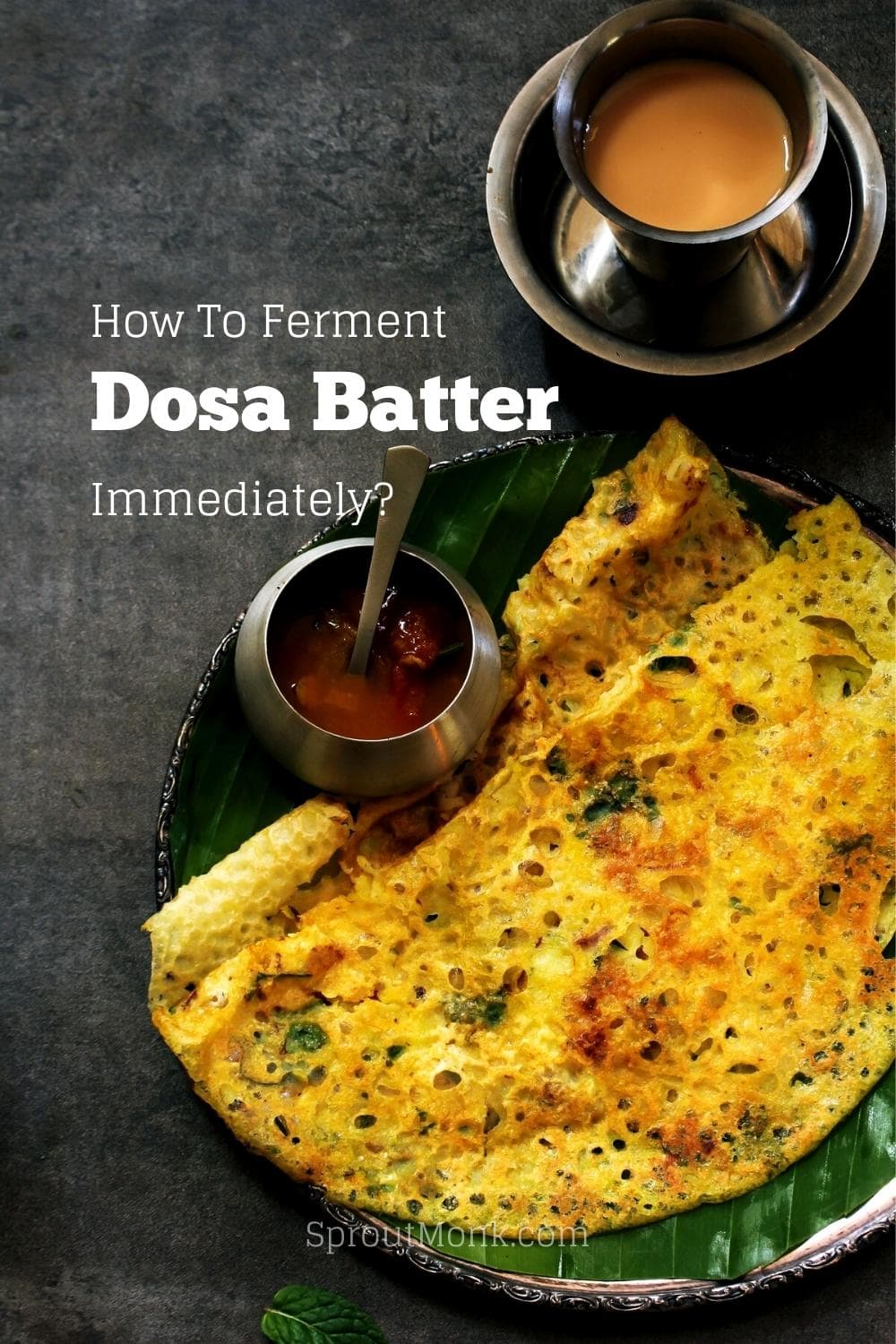 How To Ferment Dosa Batter Immediately
Before we try and understand the following techniques, you need to know that it's nearly impossible to ferment the dosa batter instantly.
Since the bacterial process is the base of the whole fermentation process, you can only expedite this process and can't skip it in any way to reduce the preparation time.
Also, you will have to soak the grains prior to grinding them and turning them into a batter.
So, you can't skip the soaking time, either.
On that note, let's check out the ways through which you can ferment the batter faster – 
1. Use Yogurt To Expedite The Fermentation Process
Yogurt is one of the best mediums to increase the speed of the fermentation process.
Generally, it's not the essential ingredient for this process because fermentation happens naturally.
But if you are living in cold places, yogurt can help fix the fermentation issue.
For those who don't know, yogurt or dahi acts as a culture that can really boost the bacterial activity inside the batter mix.
It will also add a bit of sour taste to the batter, which makes the dosas even tastier.
That said, you shouldn't add it too much.
You will only have to use a spoonful of dahi for your homemade batter preparation.
As for the type of dahi, you can use homemade dahi or packaged dahi.
But make sure you add fresh dahi only!
2. Add Yeast To The Mixture
Yeast is another interesting ingredient that can help in the fermentation of the dosa batter.
However, it is rarely used in the traditional batter-making process.
Like dahi, it's something you can use to expedite the fermentation process.
Now, there are many brands that offer yeast or starter culture for batter preparation.
You can ask the vendor about its usage and whether it can be used for dosa batter.
Once you confirm it, you can use the yeast culture for this process.
Moreover, you don't need a lot of yeast to ferment the batter.
So, use only a half teaspoon of yeast to prepare your batter.
Along with the yeast, you will need to add a pinch of sugar to the mix.
This will help in activating the yeast for the further process.
So, don't forget this additional ingredient!
3. Use Baking Soda In Your Dosa Batter
Baking soda is a useful ingredient that can certainly help in aiding the fermentation process for your batter.
It's also easily available in most grocery stores in India and abroad.
So, it won't be much of an issue to find it near your place.
Moreover, you don't need it in large quantities, either.
Just a pinch of soda would do the job for your batter.
If you can't find baking soda, you can also use Eno fruit salt. 
Although baking soda does a great job in the preparation of dosa or idli batter, you shouldn't use it regularly.
It can add an off taste to the batter, which will get passed on to the dosas.
So, you should limit the quantity of baking soda in this type of preparation.
If possible, you should avoid it completely.
4. Use Leftover Dosa Batter For The Fermentation
Have you ever tried fermenting the batter with leftover batter?
Well, it's possible, and it gives the same results too!
Whenever you're finding it challenging to ferment the batter or if it's taking too long, you can use some leftover batter to expedite this process.
The leftover batter works pretty much like the yeast or dahi, as mentioned above.
The bacteria present in this batter helps in boosting the activity in the new batter.
So, try making use of such leftover batter for your next batch of batter.
Also, you will need only a spoonful or a couple of spoons of this batter for the fermentation.
Do not use it in an excess quantity, as it can bring a sour taste to the new batch of the batter.
These are the four most effective methods to speed up the whole fermentation process for your dosa batter.
You can use the same method for your idli batter as well.
Most of these techniques are also used in professional kitchens, as the chefs never rely on nature to do the magic for their large quantity of batter preparation.
So, you can definitely consider some of these options if the batter is not fermenting well in your home kitchen.
Things To Consider While Fermenting Dosa Batter
I know the batter-making process is not as easy as it sounds, especially if you live in a place where the temperature drops significantly.
If you want to follow the traditional process, you will have to be patient to ferment the batter.
There is no other way around it. 
You can make use of some of the techniques mentioned above, but you should go for the natural process whenever possible.
If you want to know more about the fermentation process, take a look at this guide on why dosa batter is not fermenting.
I have shared some detailed insights on this topic, which should help you resolve this issue entirely.
For more tips, you can also read another guide on the blog that details how you can make a perfect dosa batter.
In the next section, you can check out the FAQs related to this topic.
I'm sure some of these Q&As will help in addressing your doubts in more detail.
FAQs
1. How Do You Ferment Dosa Batter In 2 Hours?

If you want to make traditional dosa, there is no real quick magic trick to ferment the dosa batter within a short period.

You will need to let the batter ferment for at least 6-8 hours, as it's an ideal time for the bacteria to do their work.

Of course, there are some dosas you can make instantly, but you can't make traditional dosa with such batters.

You will surely notice a great difference in taste and texture.
2. How Can I Quickly Ferment Dosa Batter Without Oven?

If you don't have an oven, you can resort to natural resources to provide some heat to the batter.

For this, you can either place your batter container near a stovetop in the kitchen or place it near a water heater.

It will allow you to ferment the batter nicely.
3. What To Do If Dosa Batter Is Not Fermented?

Well, there are a couple of things you can do here.

You can either use the same batter to prepare the dosa or allow it to ferment further.

Both these options are available for you.

If you go ahead and make dosas with the same batter, the dosas may not taste the same and may turn out white in the end.

You can balance this taste with tasty sambar and spicy chutneys, though.
4. Can We Keep Idli Batter In Fridge After Fermentation?

Yes, you can surely store the idli batter once the fermentation process is over.

You can store this batter in the fridge for a couple of days.

But if you want to use it for a longer period, it's better to place it in the freezer section of your refrigerator.

Once the batter is placed inside the freezer section, it will automatically improve the shelf life of your fermented batter.
5. Does Salt Help In Fermentation Of Dosa Batter?

Salt can be used during the fermentation of dosa batter, but it's better to ferment it without its addition.

This generally helps when the temperatures are relatively cold, as the bacterial activity drops significantly during these periods.

Most professional vendors also prefer to use salt after fermenting the batter.
Over To You
As you can see, there are a few ways through which you can ferment the batter pretty quickly.
That said, it's always a good idea to follow the traditional method of fermenting the batter for a long period.
It definitely adds to the taste, and you can easily notice the difference between the dosas made with these batters.
So, try to make the dosas with the longer method only if possible.
It may take some time, but the wait will be worth it.
In case you want instant dosas, you can order them from the restaurant or get the readymade batter from a local grocery store.
Meanwhile, if you have any questions related to this topic, feel free to leave them in the comments below.
Do share this guide with your friends and family if you found it helpful.