Is it possible to freeze Indian food?
Freezing is an amazing technique that can really help you extend the durability of cooked as well as uncooked food.
But like many storage techniques, there are some pros and cons to this method too.
If you don't store the food properly, it will get spoiled within a few hours.
So, how do you go about this process?
Let's check out the following guide and find more about it.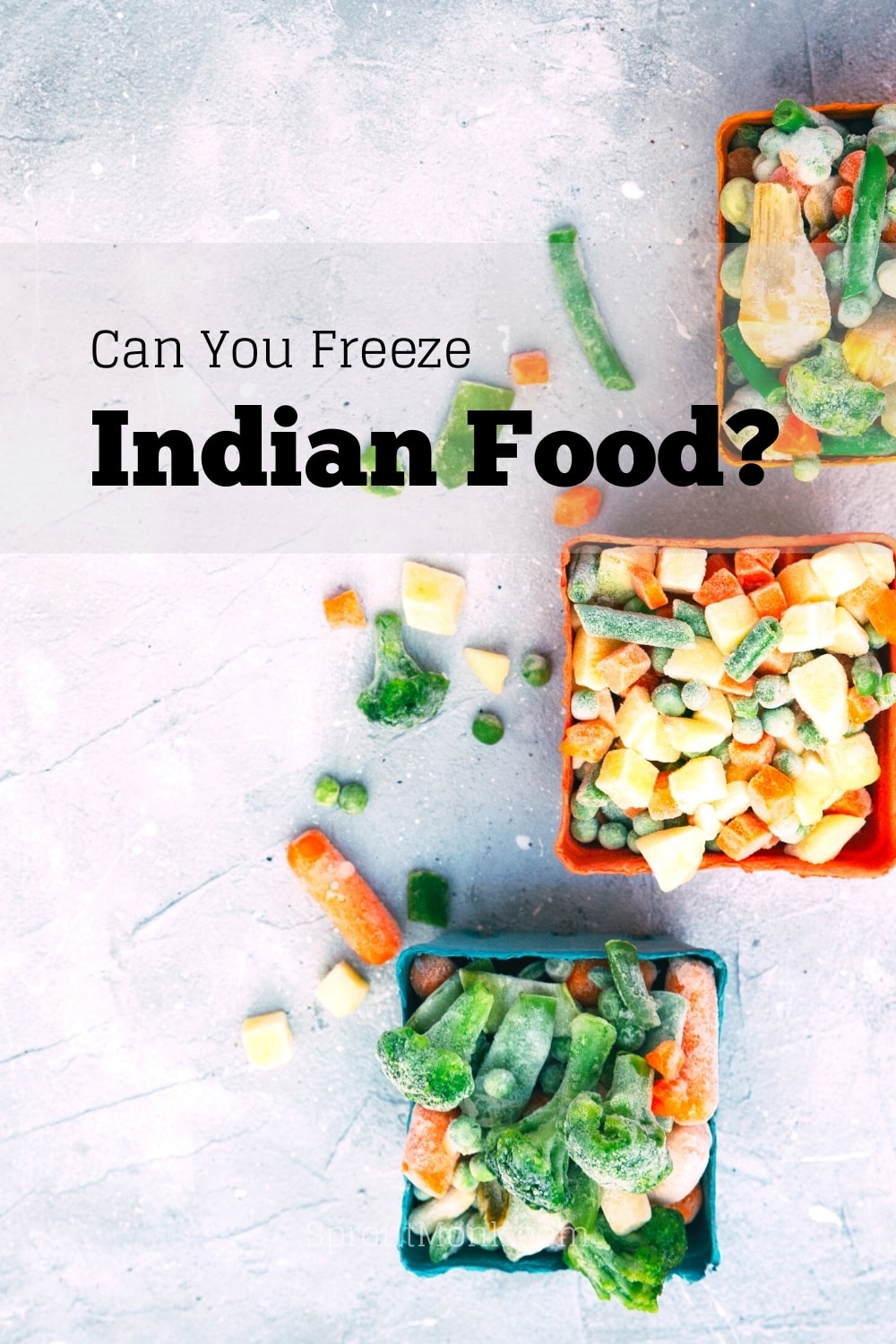 Can You Freeze Indian Food?
Yes, you can freeze Indian food.
Most Indian dishes can be frozen for a few days to months in the freezer section of your refrigerator.
However, you need to be careful while storing cooked food in such a manner.
As you know, Indian food is all about flavors and textures.
When you freeze these dishes, the decomposition process does get delayed.
But the food will surely start losing its flavors and texture in a day or two.
Yes, there are dishes like biryanis that taste better the next day, but you shouldn't eat leftover food every other day.
Ideally, you should always make and enjoy fresh food at home.
In the next section, I have shared some tips on this topic, which should help you learn the right ways to freeze our desi food.
Tips To Freeze Different Indian Foods
When it comes to storing fresh uncooked food items, you don't have to think too much about it.
These items can be stored either in the fridge or freezer section, depending on the requirement.
But when it comes to freezing cooked food, you need to follow certain guidelines.
So, let's check them out below.
How To Freeze Indian Curries
The best way to freeze Indian curries is using an airtight container.
You can easily find such containers in any shopping mall or online store.
Tip: Whenever you want to store curries for the next day, do not prepare them entirely.
Instead, you should prepare the base masala with onion, tomato, ginger-garlic paste, and oil. 
This masala mixture stores well for quite a few days.
You can use the same mixture to prepare many North Indian style curries.
Alternatively, you can also prepare fried onion paste, tomato sauce, and ginger-garlic paste.
It will give you more flexibility to cook different types of curries.
Now, here are a few more things you should remember while freezing the curries –
Dos:
Add a bit of extra oil while preparing these curries.
Cook them thoroughly.
Try to get a thicker consistency and reduce them as much as possible before storing them.
Check the lid of the container before keeping it in the freezer.
Don'ts:
Do not store milk-based foods for too long. For e.g., Paneer will turn hard, as you store it for many days.l
Similarly, you should avoid storing fish and meat-based curries for many days.
How To Freeze Indian Rice Dishes
The frozen rice can last for a month or so, but you surely don't want to keep it for that long.
The freshness of rice will depend on the ingredients and masala base you use for cooking.
If there isn't much water content in it, you can store the same for up to a week.
For freezing, you can use an airtight bag to keep it in the freezer.
If you want to store biryani or pulao, you may need to keep it in an airtight container.
Tip: When you reheat the frozen biryani or pulao rice, make sure you sprinkle a bit of water and garam masala on the top.
It will help elevate the texture and flavor of the preparation.
How To Freeze Indian Starters And Fried Dishes
The starters and fried items do freeze well, but they will lose their texture eventually.
You won't be able to experience the same crunch you'd expect when they come out directly from the kadai or pan.
To solve this problem, you should fry them till they are almost done or half-done.
Later, you can defreeze them and fry them again in the oil.
This way, you will be able to enjoy the same crispy and crunchy texture of your pakoras and tikkis.
As for freezing, there is nothing much difference to it.
You can pack them in an airtight bag or container and store them in the freezer for 10-12 days.
The deep-fried food items will stay alright for a few extra days, but try to eat them as soon as possible.
Regarding kebabs, you can freeze them too, but they won't last as long as deep-fried snacks. 
How To Freeze Indian Flatbreads
Flatbreads are the trickiest food items to freeze at home.
Since we make them with different types of flour, the flatbreads turn hard and lose their elasticity during the freezing period.
And when you try to reheat them, they become even more chewy and hard in the process.
Still, if you want to go ahead and freeze them, you can do a couple of things here.
Firstly, do not cook your chapatis or phulkas completely.
Cook them for a minute or two on both sides and remove them from the flame.
Then, allow them to cool down.
In the second step, you will have to stack them on each other.
Cover them in foil and put them in an airtight bag.
While stacking them, apply a bit of pressure from the top to avoid any air gaps in them.
When you want to reuse these flatbreads, simply put them back on a tawa and roast them as you like.
Don't forget to apply some oil or ghee while reheating.
It will make them a little softer.
For Parathas and stuffed flatbreads, you can keep them for 10-15 days in the freezer.
However, it will depend a lot on the stuffing ingredients.
On the other hand, Theplas and other such flatbreads can last up to a month, and you can follow the same above process while reheating them.
Now, let's take a look at the FAQs below, where I've tried to answer some related questions around this topic.
FAQs
1. Can You Freeze Leftover Indian Food?

Yes, you can freeze leftover Indian dishes too.

But make sure you heat the food before storing it for the next day.

Here's a quick guide for you – 

1. Reheat the leftover food.
2. Allow it to cool down completely.
3. Store it in a dry airtight container.
2. What Indian Dishes Freeze Well?

It'd be difficult to list a few dishes because most Indian dishes freeze well.

The only thing you need to understand is that milk and meat-based dishes will lose their taste and flavor over the period.

So, you shouldn't freeze them for too long.

Store them for a day or two if you really want to taste the same flavors.
3. How Long Can Indian Food Be Frozen?

It depends on the type of food you wish to freeze in the refrigerator.

The curries and rice dishes can freeze for a week or so.

You may store them for more time, but the taste won't be the same.

As for pastes, chutneys, and pickles, these food items can stay fresh for months.

The pastes and chutneys will remain good for a month or so, but the pickles will have a better shelf life.
4. Can You Freeze Indian Takeaway?

Yes, you can freeze Indian or any restaurant takeaways.

However, you need to be a little more careful while storing this type of food.

This is because many restaurants use frozen masala bases, veggies, and meats to prepare their dishes.

It's a common practice in this industry, which helps make their businesses more profitable.

So, if you want to store any takeaways, you should ask the chef or manager about the use of frozen food in the preparation.

If they use any such ingredients, you should refrain from storing the dish in the freezer.
5. How Do You Reheat Frozen Indian Food?

Firstly, you will need to defreeze the food.

Once the food reaches normal temperature, you can reheat it in the oven or fry pan.

Depending on the consistency of the food items, you will need to reheat them accordingly.

While reheating the frozen food, make sure you don't put the flame on high.

The flame should be moderately high so that the food heats up evenly.
Over To You
Although you can surely store and freeze Indian food, it always tastes better when it's served fresh.
The freshness factor is one of the most important parts of Indian cuisine.
Therefore, you should strive to consume as much fresh food as possible.
And if you don't want to throw away the leftover food items, you should definitely freeze them for a few days or weeks. 
The above tips will guide you in this process.
Moreover, if you have any questions or want to know more about the freezing techniques, please let me know in the comments below.
I will do my best to help you out.
If you liked this guide, do share it with your friends and family.