Ghavan (Tandalache Ghavan) is a popular Maharashtrian Rice Crepe recipe, which is also known as Neer Dosa in the Southern part of India.
It is generally served with Coconut Chutney, but you can also enjoy it with Malvani/Konkani vegetarian and non-vegetarian curries.
It also tastes amazing with Bhajiyas!
I know it's an odd combination, but I do like to have Ghavans with crispy Bhajiyas and Chutneys.
You can also have it with just a hot cup of Chai or Sweetened Milk. Traditionally, Maharashtrians serve Ghavans with delicious Coconut Ras (Juice).
Well, as you can see, Ghavan or Neer Dosa can be enjoyed with pretty much everything.
And that's why I love these soft and delicate Rice Crepes so much!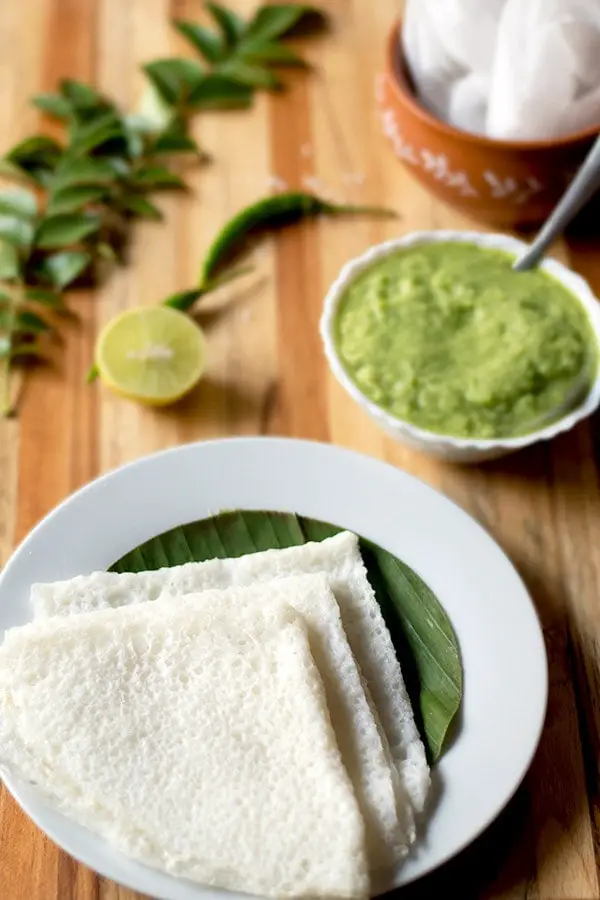 Can I make Ghavans At Home?
Of course, yes!
If you have a good quality of Dosa Tawa, you can make these Ghavans on the same Tawa. You can also use a Cast Iron Tawa to prepare this Dosa recipe.
Note – It's important to have a good quality of Tawa for this recipe. If you use a Roti Tawa or scratched Pan, your Ghavans will stick to the base due to high-flame cooking and uneven surface.
Step By Step Recipe
Firstly, you will need to get Surti Kolam rice in a bowl. Rinse the rice with water until you remove all the starch from it.
Once you're done, soak it in water for at least 5-6 hours or overnight.
Rinse the soaked rice again and grind them into a fine paste.
Then, add some salt and water into it to make a thin batter. Please refer to the following recipe video for accurate consistency.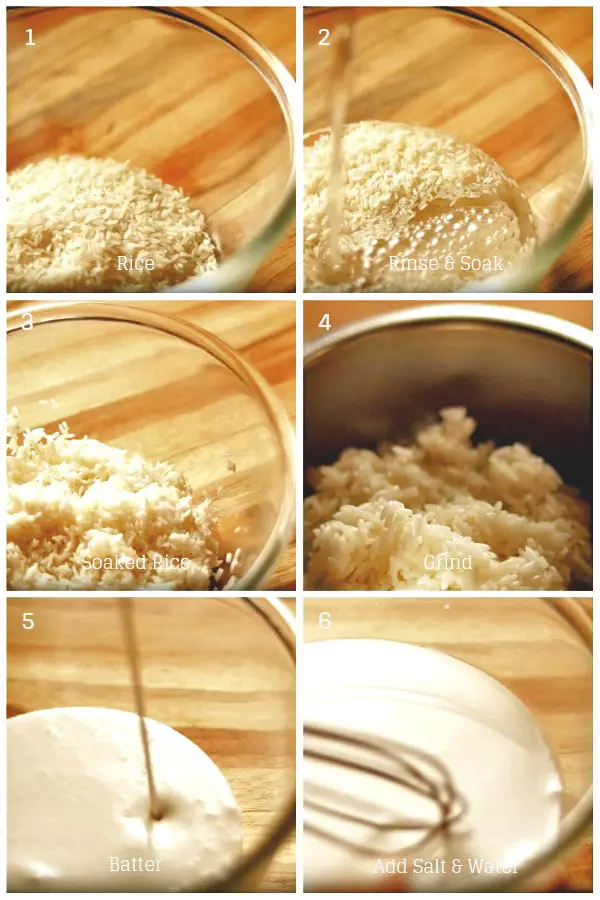 Heat a pan on medium-high flame.
Once it turns hot enough, grease it with some Oil or Ghee.
Traditional Method To Grease The Pan: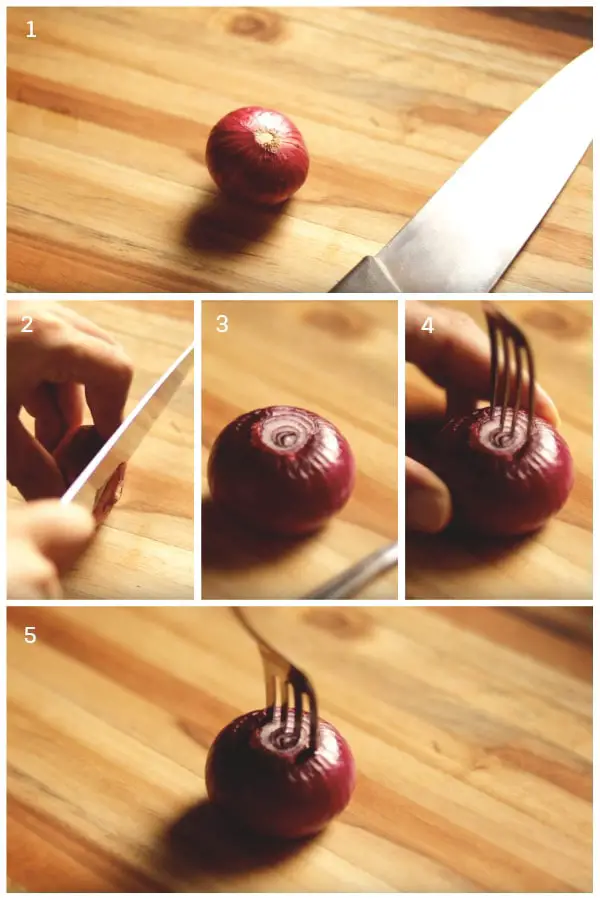 Now, get a ladle and mix the batter thoroughly.
(If you forget to mix the batter, you may not get the right consistency and thickness to the crepes.)
And finally, start making Ghavan on the pan.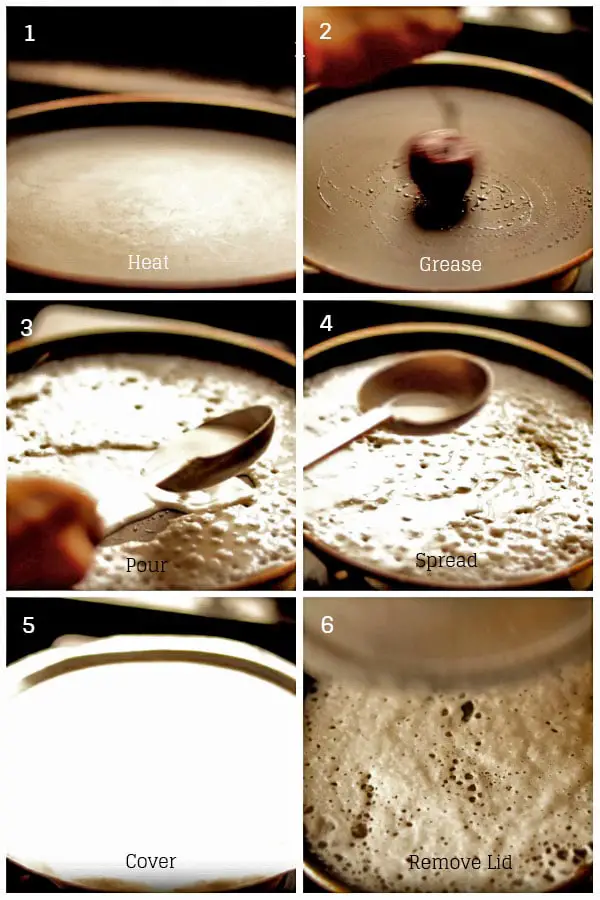 When Ghavan starts leaving the edges, fold it into two halves as shown below.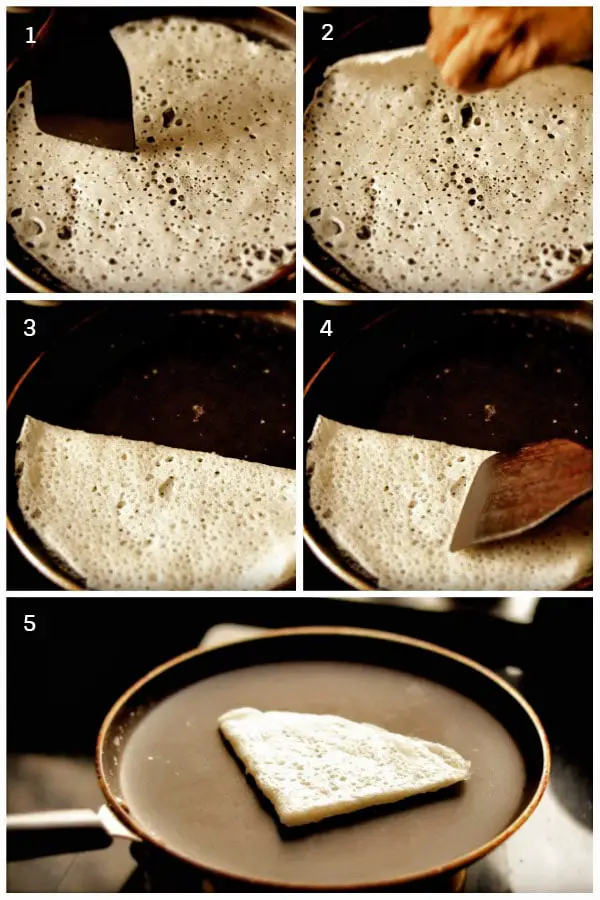 Serve Ghavan on a plate with Coconut Ras or Coriander Chutney or Coconut Chutney.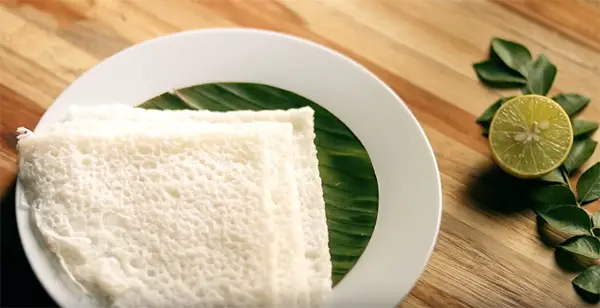 Things To Do When Ghavans Stick To Your Tawa
If your Ghavans start sticking to the surface, use the following tips –
Remove the Dosa from Tawa.
Lower the heat and sprinkle some water on the Tawa.
Carefully clean the Tawa using a Kitchen Paper or Onion. Do not use a metal spatula or spoon to scrape the surface.
Once the Tawa is clean and shining, spread some Oil on the surface using the same Kitchen Paper or Onion.
Increase the heat and start making your Dosas again.
You may repeat this process again if needed.
Notes:
Apart from your Tawa, you should also check the batter consistency. If it's too thin or thick, your Dosas won't come out easily. The batter consistency plays a huge role in making a perfect Ghavan or Neer Dosa.
Do not use the refrigerated batter to prepare these Crepes. Let the batter's temperature come down to room temperature.
You can also prepare these Crepes using Rice Flour.
Now, you can check the detailed recipe along with a video presentation below.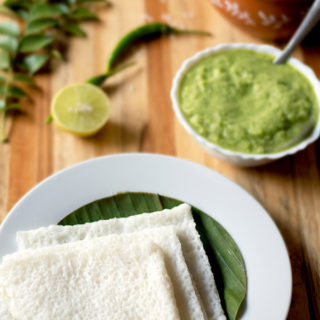 Ghavan Recipe
Ghavan is a Maharashtrian Rice Crepe, which can be enjoyed for breakfast, lunch, and dinner. 
Ingredients  
100

gm

Surti Kolam Rice or Dosa Rice

soaked in water for 5-6 hours

250

ml

Water

to prepare the batter

Oil

for greasing

Salt

as per taste

1

Onion

(Optional) to spread Oil across the Tawa
Instructions 
Soak the Rice for 5-6 hours or overnight.

Get a mixer grinder and grind the soaked Rice into a fine paste. Don't forget to add some Water (~ 50 ml) or as needed.

Add Water (200 ml) and Salt to this mixture and mix it well. Make sure you get a very thin consistency for the batter.

Heat a Dosa Tawa on medium-high flame and grease it nicely with some Oil. You may use an Onion, Pastry Brush or Kitchen Paper to grease the pan.

Once the Tawa is hot enough, pour the batter and spread it evenly on the surface.

Cover the Tawa for 2-3 minutes and wait for the Ghavan to cook thoroughly.

When the Ghavan starts leaving the edges, take it out in a plate and serve it with Coriander Chutney or Coconut Ras.
Notes
There is no need to flip this Dosa. You just have to cook it properly on one side.
You can also make these instant Crepes by soaking the Rice grains for 30-40 mins. 
Use 1:2.5 Rice to Water ratio to prepare a very thin consistency batter.