Did your ghee turn white?
Ghee, also known as clarified butter, tends to go rancid if you don't store it well.
After all, it's just another natural product that we get from the processing of cow or buffalo milk.
But why does it change its color suddenly?
Is there any way to fix this problem?
I know you might be eager to learn more about it.
So, let's try and understand the reasons for this issue in the following guide.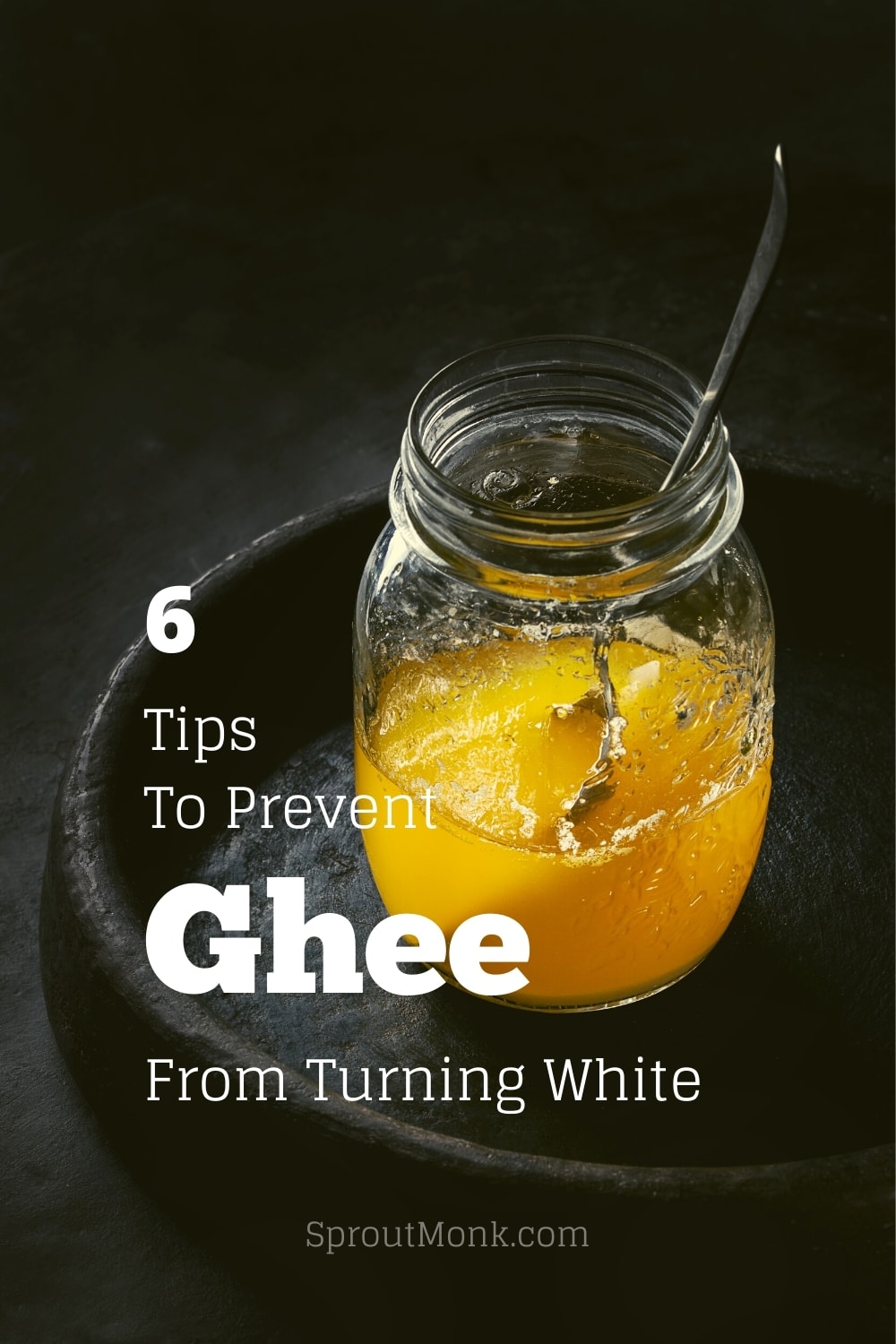 Why Does Ghee Turn White?
Ghee turns white because of the oxidation process.
Now, what's oxidation?
In simple terms, it's a chemical reaction that takes place when you allow the air to get into the storage bottle of ghee.
If you want to read more about oxidation, you can check out this article.
But does this mean your ghee has gone bad?
Many believe that clarified butter has a long shelf life, and it never goes bad.
Well, it's just the half-truth.
Ghee does last long, but it'd not be appropriate to say it will be in good condition forever.
Like any other perishable goods, it does have an expiry date.
Generally, it stays fresh for up to 6-8 months if you keep it at room temperature.
However, if you see it has turned white, it means you need to think twice before using it.
Should You Be Using Rancid Ghee For Cooking?
It really depends on the condition of your ghee.
Ideally, you shouldn't be using rancid food items for cooking or any other purpose.
But ghee is a little different from most food items.
It can be used even when it's not fresh.
Yes, it's one of those rare ingredients that can still lend its flavor and taste to your preparations.
Having said that, you need to be careful while using such ingredients.
If your ghee has turned white, you should check its taste and smell.
These are the two tests you need to perform to see whether it's in good condition or not.
Without these tests, you shouldn't be using such ghee for cooking.
Also, if you experience a foul smell, you should throw it away entirely.
Important: 
I know many people suggest reheating ghee to make it 'usable' again.
However, the reheating method can't reverse the oxidation process.
You can't make rancid ghee fresh again with this type of technique.
It won't make any difference to its present state.
Therefore, it's better to avoid this step completely.
White Ghee vs. Yellow Ghee
Is there any difference between white ghee and yellow ghee?
Many times we see these two different types of ghee on the shelves of grocery stores.
And if you are someone who doesn't have much experience in Indian cooking, you are likely to get confused with these varieties.
So, what's the difference between them?
Well, Yellow Ghee is a byproduct of cow milk, whereas White Ghee comes from the processing of buffalo milk.
That's the main differentiating factor between these two types of ghee.
Of course, there are many other contrasting factors as well.
But I will discuss them in some other posts.
For now, let's focus on the topic of this guide.
Talking about the white ghee, i.e., the rancid ghee, you shouldn't confuse it with Buffalo ghee or any other ghee.
The discoloration of ghee has nothing to do with the type of ghee you've got from the market.
Both Buffalo Ghee and Cow Ghee will go rancid if you don't store them properly.
In the following section, I have shared some tips on how you should go about storing ghee at home.
Hopefully, it should prevent the discoloration issue in the future.
Tips To Prevent Ghee From Turning White
Here's what you need to remember while storing ghee for later use –
1. Check The Best Before Date On The Package
First thing first, check the best before date or expiry date on the ghee container.
When you visit a grocery store, make sure you confirm this date while purchasing ghee.
This will help in preventing it from turning rancid.
Also, you should check the consistency and color of ghee if the container is transparent.
Apart from that, you should also take a look at the seal of the jar.
It should be sealed from all sides.
Otherwise, ghee will not last for very long.
2. Avoid Placing It In Direct Sunlight
You should never place ghee in direct sunlight.
If you do, it will result in the same oxidation process.
Ultimately, you will have to deal with white-colored ghee.
Keep it in the pantry or refrigerator so that the direct light won't reach the ghee container.
3. Avoid Humid Places For Storage
Humidity is another important factor that can make your ghee go bad in no time.
When you store ghee in a humid place, it increases the probability of fungal growth on the surface and edges of the container.
Therefore, the only way to avoid this issue is to keep it in a cool and dry place.
This way, you will be able to prevent any such growth on your ghee.
4. Refrigerate Your Ghee If You Don't Consume It Too Often
Refrigeration is a proven method to store perishable food items for a long period.
So, you don't have to think a lot about it.
Once you open the lid of the ghee container, you can simply put it in the refrigerator.
It will surely last for many months.
5. Close The Lid Properly
Yes, you should always close the lid of the ghee container tightly.
There shouldn't be any gap left between the container and lid, as it will allow the air to enter into it.
If the lid is not closing properly, you may also seal the edges of the container with a kitchen towel.
6. Avoid Used Spoons To Scoop Out Ghee From The Container
Ghee should only be handled with clean spoons.
You should never use the spoon that is used for some other task in the kitchen.
If you use the same spoon to remove ghee from the container, it will spoil ghee entirely in a few days, if not weeks.
This is also true for wet spoons!
It would be best if you always used dry spoons to get ghee out of the container.
Overall, these are the few things you need to remember while storing and handling ghee at home.
In the next section, I have answered some FAQs related to this topic.
If you have any similar questions in mind, do take a look at them.
FAQs
1. How Can You Tell If Ghee Is Rancid?

You can easily recognize it by checking the smell, taste, and color of your ghee.

All these three factors can tell you whether you should use such ghee or not.

Generally, you can decide by looking at the color of ghee.

If there's a layer of white or gray color on top of the surface, it's a sign of rancid ghee.
2. Is Ghee White Or Yellow?

Cow ghee should always be in yellow color, while Buffalo one has a white color to it.
3. What Color Should Ghee Be?

Ghee color depends on the milk used at the time of processing.

However, in most cases, it should have yellow or white color.
4. Why Is My Ghee Cloudy?

Ghee turns cloudy when the milk solids accumulate in one place.

You can use this ghee without any issues.
5. How Can I Keep Ghee Fresh Longer?

You can keep it in an airtight container so that it can last for months.

You should also consider storing it in a dry and cool place, especially when the outside temperature soars in the summer.

For better storage life, you may also keep it in the refrigerator.
Over To You
Ghee is one such ingredient in Indian cooking that can last really long if you store it well.
It won't turn white or gray when conditions are perfect for storage.
So, do think about the suggestions I have shared in this guide.
I am sure you will find them useful.
In the meantime, if you have any questions, please let me know in the comments below.
If you liked this guide, do share it with your friends and family.