Ever wondered why your homemade Ginger Garlic paste turns green?
Well, it's one of the most used ingredients in Indian cuisine. 
But when it starts to change its color, you do wonder if there is anything wrong with it.
So, what's the problem here?
Let's find out in the following guide!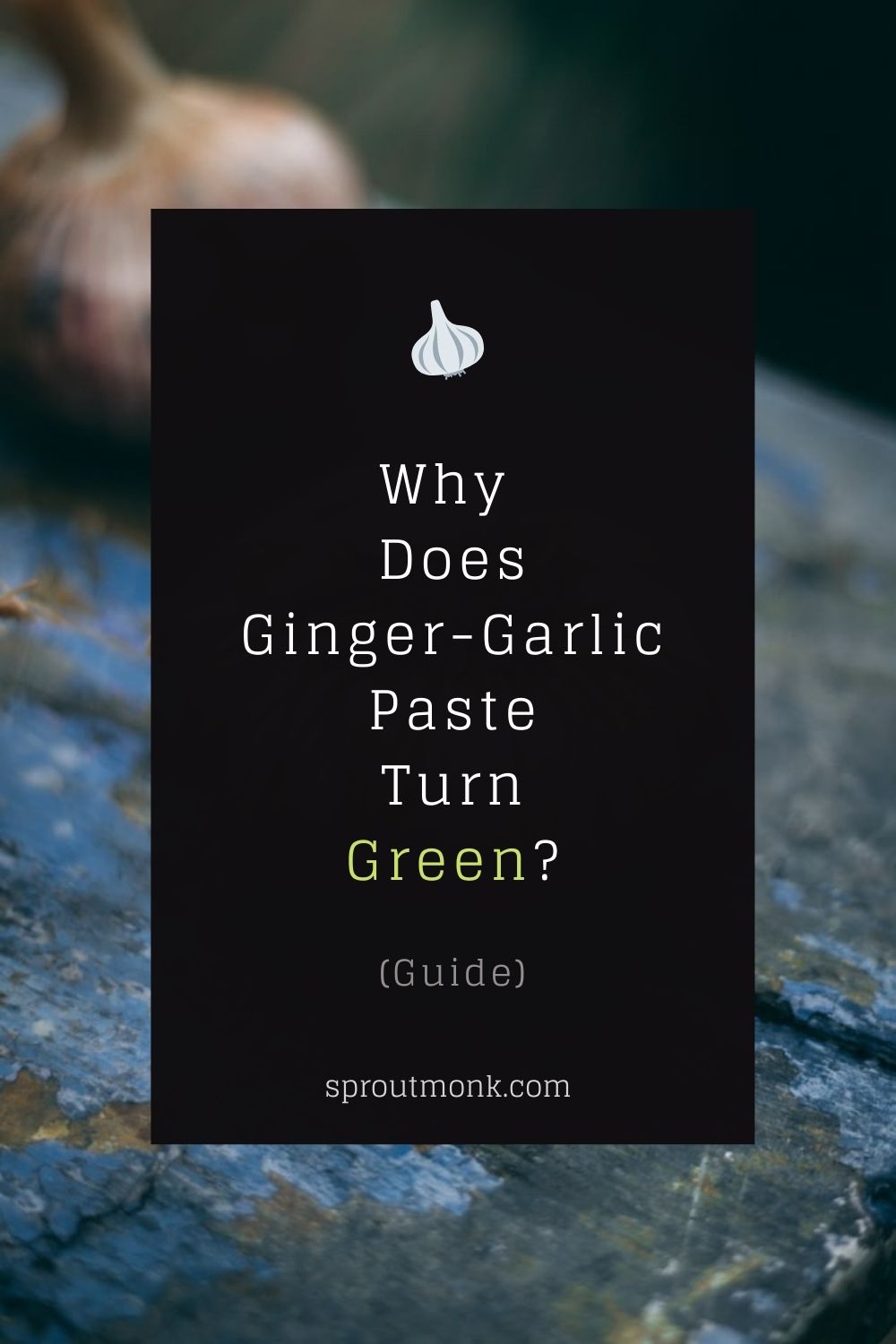 Why Does Ginger Garlic Paste Turns Green?
Here's a list of reasons why it turns from white/pale yellow to green or blue –
1. There Might Be Excess Water Content In The Paste.
As you know, Ginger Garlic paste is one of the key ingredients in many of our Indian dishes.
And if you want to prepare it in bulk quantity, you will need to use a bit of water during the grinding process.
This is where things can go wrong for your paste! 
If you add too much water to it, it will not last long.
The excess water content will always promote bacterial growth, which often results in color transformations or similar issues.
2. You May Have Used A Rotten Piece Of Ginger Or Garlic In The Paste.
That's true! 
When we are in a hurry, we often overlook the quality of ingredients.
And it can happen in the case of Ginger Garlic paste as well.
If you use a rotten piece of any of these ingredients, it might promote bacterial growth in your paste.
Even a small piece of such ingredient can ruin all your efforts. 
So, be careful while using raw ingredients for this type of paste.
Also, there is no way to fix this issue if you have already used such pieces for the preparations.
Ultimately, it's better to throw it away in the bin.
3. You Use Wet Spoon To Take Out The Paste From Your Container.
Similar to the pickles, you should not use a wet spoon or similar tool to remove the paste from your container.
As mentioned in the first point above, water content or moisture is the leading cause of turning your paste green or blue.
Therefore, you should be careful while handling such perishable food ingredients.
4. You Open The Storage Container Too Often.
If you like to use this paste for several dishes every day, there is a chance that you might open its container multiple times.
And that's not a good thing to do! 
Why?
Well, when you open the container on multiple occasions, it allows the air and moisture to enter into the empty space inside the container.
Once these two elements enter in the container, the storage life of your paste decreases significantly.
And as you know, it might change its color after a few days.
5. You Do Not Store It Properly.
For Ginger-Garlic paste or any similar ingredients, you will need a specific room temperature for a better shelf life.
But if you don't provide the right conditions, it's going to affect the overall quality of your paste.
And it will surely lead to many issues, including the paste turning green, blue, or black.
Generally, these problems arise when you expose the paste to humid conditions.
So, if you live in cities like Mumbai, Bangalore, or Chennai, you will need to be a little more cautious while storing your pastes, chutneys, and pickles.
6. You Do Not Use Airtight Container To Store The Paste.
Whether you are storing it in a refrigerator or freezer, you must use an airtight bottle or jar to keep this type of food item.
If you use any other storage container, you will probably have to face various issues, including the color transformation.
Also, whenever you use such containers for storage, make sure you close the lid tightly.
Often, we tend to forget to perform this important task, but it does prove costly later on.
So, do keep it in mind as well.
In the next section, I have shared a few useful tips to prevent green color from your Ginger Garlic paste.
I hope you find them useful.
5 Tips To Prevent Ginger Garlic Paste From Turning Green
Here are the tips you need to avoid any color transformation from your paste –
1. Use Oil Instead Of Water.
As you know, water content is the main cause of food spoiling.
So, the best way to avoid it is by reducing its usage in our food items and recipes.
Hence, if you are looking for a quick fix for this issue, I'd suggest using oil instead of water while grinding the Ginger and Garlic pieces.
Oil helps in forming a protective coating on the food particles, and it works great to prevent such issues too.
2. Use Salt.
Salt is a natural preservative.
It helps in preserving various ingredients, including pickles, vegetables, fruits, meats, etc.
So, you can also use a bit of salt while preparing the Ginger Garlic paste at home.
It will do the same job for you.
And most importantly, it will prevent your paste from turning green.
3. Use Turmeric Powder.
Although you won't see many people using Turmeric powder in their pastes, you can think of using it for this preparation.
It has many beneficial properties, which can protect your paste from turning green or blue.
The only thing you need to remember here is to use it in a limited quantity.
If you use a lot of Turmeric powder, it might add a slightly bitter taste to the paste.
So, do keep it in mind.
Note: You can also use some spices along with the Turmeric powder. 
4. Store It Properly and Use When It's Fresh.
That's right!
It's one of the most important parts of the preservation method! 
If you don't store it well, you are going to face some issues with it.
Therefore, it's better to store it in the freezer.
The other thing you can do to prevent it from turning green is to use it when it's fresh.
When you store such pastes or chutneys, they tend to lose their flavors and characteristics over the period.
This generally happens due to the bacterial process and exposure to the outside environment.
To avoid such situations, it's good to use the fresh paste as and when possible.
5. Use Dry Ginger And Garlic. 
It's not the ultimate solution to this problem.
But it can definitely help increase the overall shelf life of your Ginger-Garlic paste.
When you use dry ginger and garlic pieces, it helps in removing excess moisture from the preparation.
And that's the key to prevent any unwanted bacteria or fungus from growing on such perishable ingredients.
Quick Tip: If you don't have access to the dry ginger and garlic, you can dry the fresh ones under the sun for a couple of days.
It will significantly remove the moisture content from these two ingredients.
Also, the best part of the drying process is you get the intense flavors in your preparations.
So, that's an added bonus for your extra efforts!
Should I Use Ginger Garlic Paste That Has Turned Green?
I know you must be wondering what to do with the paste that has changed its color.
Well, I'd not recommend you to use such paste for other food preparations.
The color transformation is a good indication that the paste has turned bad.
And it won't be much of use for any further use.
So, throw it away and prepare a fresh batch of paste for your curries or any other preparations.
Also, if you are not too sure about the color transformation, you can scoop out a spoonful of paste and smell it from a distance.
If you notice any sharp smell or no smell at all, it's an indication that the paste is not good for use.
Always remember, the paste should smell fresh whenever you remove it from the container.
If it doesn't, you know it's time to throw it away.
In the next section, I have shared a few answers to the commonly asked questions.
If you have any such queries in mind, do take a look at the following section.
FAQs
1. Why Does Garlic Turn Green In Vinegar?

It changes its color due to the chemical reaction that takes place between amino acid and acetic acid.

Therefore, when you put the garlic in your vinegar-based pickles, it tends to change its color to green or blue.
2. How To Make Ginger Garlic Paste Without A Blender?

Don't have a blender?

No problem! 

You can use mortar and pestle to prepare this paste at home.

If you don't have this kitchen tool, you can simply crush them using a ladle.

Of course, it won't look like a fine paste, but it'd be good enough to use in various Indian dishes.
3. How To Preserve Ginger Garlic Paste Without Refrigerator?

The best way to preserve this paste is using salt and spices.

If you don't want to use spices, you can use green chillies as a replacement.

Still, the shelf life of such paste won't be as good as the one you store inside the refrigerator.

And therefore, it's better to make small batches for the desired use.
4. How To Preserve Ginger Garlic Paste?

The best way to preserve Ginger Garlic paste is to store it in the freezer.

The low temperature inside the freezer's compartment helps in decreasing the decomposition rate of food ingredients.

Thus, it helps in increasing the overall shelf life of such food ingredients.

Also, as I've mentioned in the guide earlier, you can avoid using a lot of water in your paste.

Apart from that, you can also use spices, salt, and other such ingredients that help in the preservation process.
5. Does Ginger Garlic Paste Spoil?

Yes, it does!

Like any other food ingredient, the Ginger Garlic paste is a perishable item.

And if you store it for too long, it's going to get spoiled.

So, as I have mentioned several times in this guide, always use fresh paste for your preparation.

And make sure you prepare it in small batches only.
Over To You
When you see a food ingredient changing its color, it's more to do with the chemical reaction than anything else.
And it often happens due to the acids present in the food or produced by external factors.
So, whenever you see such changes in your food, there is no need to worry at all.
It's just a natural process, and you can simply throw the food away to be on the safer side.
On that note, I hope you liked this guide.
If you have any more questions, feel free to leave a comment below.
And don't forget to share this guide with your friends and family.