Want to know the common Gulab Jamun mistakes?
Gulab Jamun is one of the most favorite dishes in Indian households.
It's an easy-to-make dish at home, but you need to know the secrets to make them perfectly like halwais. 
If you're not aware of these secrets, you may end up making hard Gulab Jamuns.
So, here's a guide that will help you understand and fix the common mistakes while making Gulab Jamuns.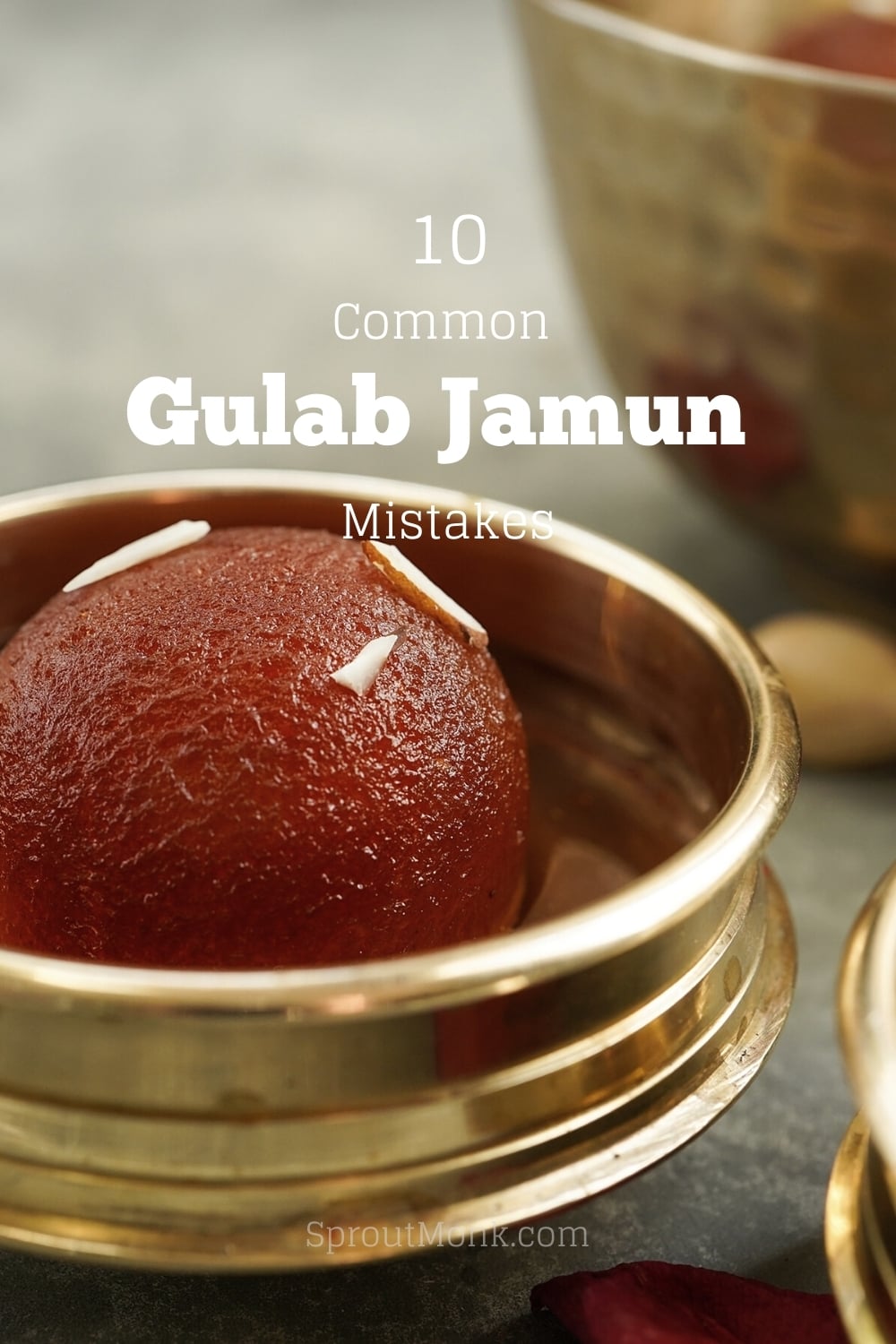 Gulab Jamun Mistakes And Fixes
Let's look at the things that can go wrong when you make Gulab Jamuns at home.
1. Your Gulab Jamun Mix Proportion Is Incorrect
If you are making this sweet with the packaged mix, you won't find much difficulty during the preparation.
However, the same can't be said for the mix you make on your own.
If you add more baking soda or all-purpose flour than the required amount, the Jamuns will turn hard and not soak enough juices when you put them in the syrup.
So, make sure you get the proportion right for this mix.
Otherwise, you will have to deal with a lot of issues later.
This is also the reason why you should make Gulab Jamuns with the readymade mix or mawa (dried evaporated milk solids). 
2. You Have Not Kneaded The Dough Well
It's the most certain way of seeing the cracks on the Jamun balls.
If you don't knead the dough well, it will cause lumps in the balls.
These lumps will automatically form cracks while frying.
So, you should focus on preparing a nice and smooth dough for this preparation.
If you use mawa or khoya, you will have to put more effort into the kneading process.
Generally, khoya has a firm texture, which can only be softened through kneading.
It may take 10-15 minutes, depending on the quantity of khoya, but you shouldn't skip this process at all.
The same thing applies to Paneer pieces.
You should grate the Paneer chunks first and knead them well till it turns absolutely soft.
3. You've Kneaded The Dough Too Firmly
This is another common mistake that people make when they prepare Gulab Jamuns at home.
While making the dough for this sweet, you shouldn't prepare a firm dough.
It should be slightly soft and shouldn't form any wrinkles or lumps when you shape it.
That's the only way you can expect to make picture-perfect Gulab Jamuns in your kitchen.
In case your dough has turned a bit stiff, you can use water, rose water, or milk to gain the perfect texture.
Also, make sure you cover the dough with a wet muslin cloth.
This will help keep it moist for a long time.
4. There Is Too Much Water Content In The Dough
If you add too much water to the flour mix, it can also create problems during the preparation.
When the dough turns very soft, you may not be able to form the balls properly.
They will lose their shapes as soon as you keep them on the plate.
Other than that, they will also change their shape while frying in the Kadai.
And yes, they may even form cracks due to the soft outer layer.
So, how do you tackle this issue?
Well, you can make use of maida to absorb excess moisture from the dough.
Do not add a lot of maida at a time, though.
5. You Have Added A Lot Of Maida To The Dough Mixture
Maida can be a useful ingredient if the dough becomes too soft while kneading.
It also helps in binding the milk powder or khoya mixture.
But there is always an issue with using it in making Gulab Jamuns.
If you use it in large quantities, it quickly turns the dough dry and hard.
So, it's important to keep an eye on how much maida goes into making Gulab Jamun dough.
6. You Keep The Gulab Jamun Balls In The Open
Seeing cracks on your Gulab Jamuns?
Then, this could be the possible cause for it.
When you keep the balls in the open, they become dry and lose moisture pretty quickly.
If you fry these balls in the oil, you will surely see some cracks developing on their surface.
To avoid this problem, you should keep the dough balls covered with a muslin cloth.
The cloth should be slightly moist so that it can lend a bit of moisture to the balls and keep them from getting dry in the process.
7. You Fry Them At High Temperatures
Gulab Jamuns should never be fried at high temperatures.
If you do, they will cook unevenly.
They may get the perfect color from the outside, but the inside dough will remain undercooked.
Eventually, it will lead to several issues.
For e.g.,
These balls will not soak enough syrup afterward.
They may also develop cracks and turn dark brown.
Therefore, fry them at medium-high temperature and keep moving them while frying.
If you let them sit in one position, they will get uneven color.
8. You Keep Them In The Open After Frying
Do not keep the fried Gulab Jamun balls on the plate for too long.
Instead, move them quickly into the syrup mixture and let them soak the syrup when they are relatively hot.
If you feel there is too much oil in them, you can remove them on a kitchen towel and put them into the syrup bowl immediately.
The temperature plays an important role here.
If you let them cool down, they will not absorb the syrup mixture completely.
As a result, you may find your Gulab Jamuns hard and doughy to taste.
9. Your Sugar Syrup Is Thick
Whenever you prepare syrup mixture for Gulab Jamuns, it shouldn't have a thick consistency.
When it turns thick, it becomes difficult for the fried balls to absorb the liquid content from the syrup.
This is why you don't get the perfect soft texture to the Gulab Jamuns balls.
So, do check the consistency of syrup while making it.
You can add some rose water to the syrup if it appears more viscous.
10. The Temperature Of Sugar Syrup Is Not Appropriate
Finally, the temperature of sugar syrup can also play a role in making Gulab Jamuns soft and juicy.
If you put the fried balls in a cold syrup, they won't absorb the liquid content properly and turn a bit doughy.
To fix this problem, you should put them in the syrup at a lukewarm temperature.
The ideal temperature should be around 50-60°C.
You can find the correct temperature using a food thermometer.
If you don't have this tool, you can simply check the temperature using a spoon.
It should be lukewarm and shouldn't feel too hot.
On that note, these are the common Gulab Jamun mistakes that we make while preparing this amazing sweet dish.
In the following section, you will find some FAQs related to this topic.
Do check them out if you have any similar queries in your mind.
FAQs
1. Why Does My Gulab Jamun Break?

Gulab Jamun can break due to many reasons.

The most common reason, though, is hard dough balls.

The other reason is the continuous stirring of the balls in hot oil.

Apart from that, if you allow the balls to be in the syrup for too long, they will surely lose their texture and may break apart in the process.
2. Why My Gulab Jamun Does Not Absorb Sugar Syrup?

There are a couple of reasons why your Gulab Jamun doesn't absorb the syrup well.

The first reason is the consistency of the syrup.

If it's too thick, the balls will not soak in the liquid content.

Similarly, if the fried Gulab Jamuns are hard, they will show a similar characteristic.
3. What Do You Do If Your Gulab Jamun Is Too Soft?

There isn't much you can do to fix this problem.

If they turn too soft, you can remove them from the syrup and keep them aside in a separate container.

In case they have turned soft prior to the frying process, you can use maida to remove excess moisture from the dough.
4. What To Do If Gulab Jamun Dissolves While Frying?

Gulab Jamun dissolves when there is too much moisture in them.

You will have to add more milk powder or maida while preparing the dough.

This should help fix the problem.
5. What Happens If Water Is More In Gulab Jamun Mix?

As mentioned earlier, you should add more maida to such a mix.

The flour will absorb excess water content and help you shape Gulab Jamuns properly.

However, you shouldn't put a lot of flour into it. 

If you do, you will not get the desired texture, and the balls will get a firm body. 

So, it'd be best if you could prepare the dough with appropriate proportions.
Over To You
Even though Gulab Jamun making process seems easy, you will always find things that are quite challenging.
In the above guide, I have explained some of the common mistakes and their fixes for reference.
If you have any more doubts or questions, please let me know in the comments below.
I will help you resolve them for you.
Moreover, if you found this guide useful, do share it with your friends and family.