Cucumber salad is one of those recipes that are easy to make at your home.
But when it comes to storing it, you will have to be a little cautious in your approach.
So, how do you ensure more shelf life for your cucumber salad?
Let's find out in this guide today.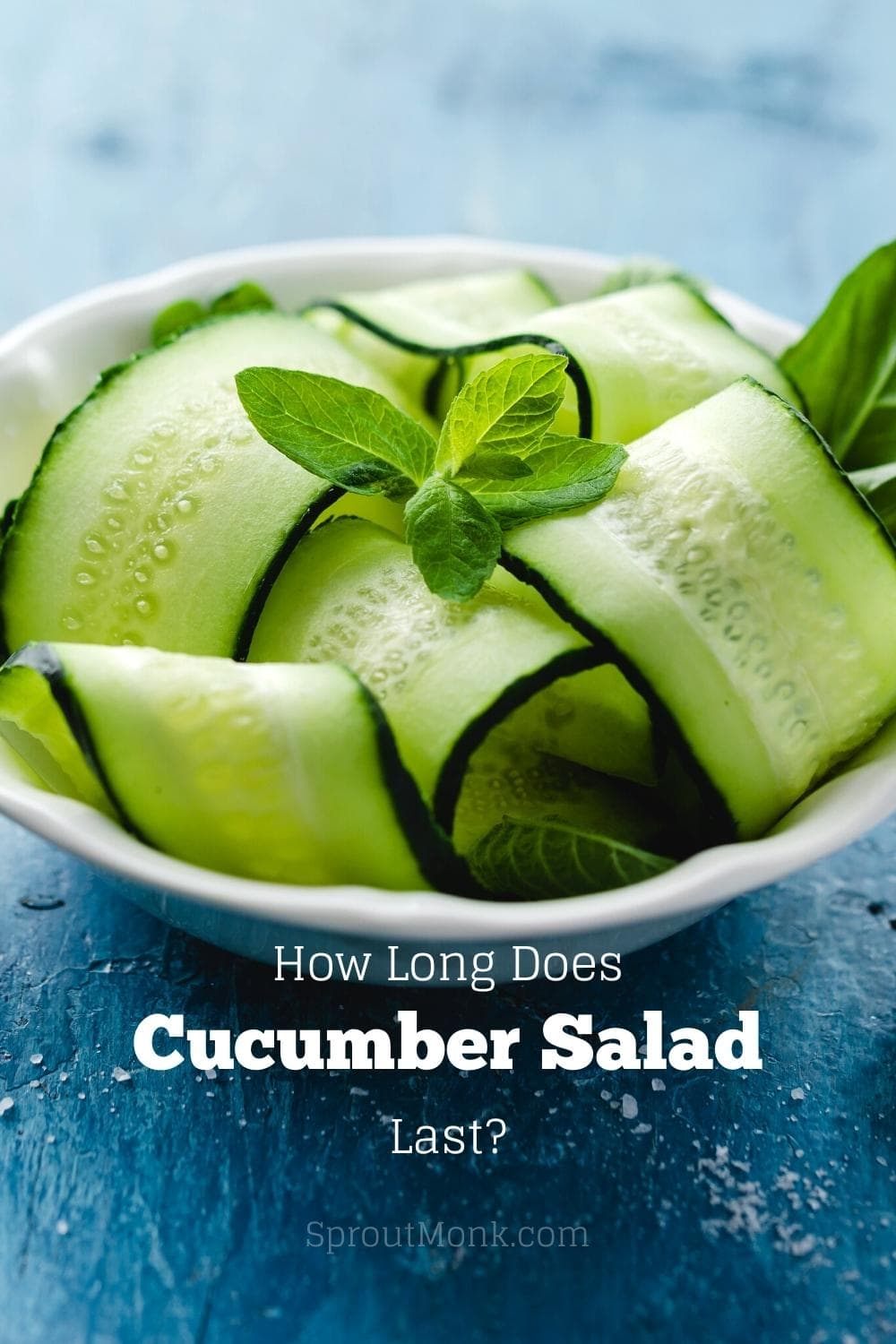 How Long Does Cucumber Salad Last?
Cucumber Salad stays fresh in the refrigerator for 3-5 days, but you can also store it for up to a week.
Its freshness will depend on many factors, including the type of cucumbers, storage container, other ingredients, etc.
You cannot store this salad at room temperature because the cucumbers get spoiled easily.
Since they contain a lot of water content, you can expect a rise in bacterial activity pretty quickly in this type of salad preparation.
Quick Tip: Always add some vinegar to your cucumber salad recipe.
It not only helps in getting the quintessential sour taste but also acts as a natural preservative.
How Long Does Cucumber Tomato Salad Last?
Like cucumber salad, you can store cucumber tomato salad for 3-5 days.
You need to store this salad in the refrigerator.
Do not keep it outside, as it won't stay fresh at room temperature.
You can also put it inside the freezer, which will help in extending its storage time.
Important: Salads taste better when you have them fresh.
If you store them for a long period, you will not get the same taste and texture.
The fridge does the job of keeping food ingredients fresh for some time, but it's not going to help much in retaining the taste.
Now, let's look at the steps involved in storing your cucumber salad in the refrigerator.
How To Store Cucumber Salad In Refrigerator
For this process, you will need to ensure that the salad is fresh and can be stored in the fridge.
If it's not looking good or there is too much water content in it, you should avoid storing it altogether.
Also, if you have used different spoons to serve the salad, it may not be a good idea to store such salad.
Alright, let's quickly check out the steps required for this task – 
1. Remove Excess Water From Your Cucumber Salad
When we make cucumber salad, it often releases a lot of liquid into the bowl.
This generally happens due to the addition of salt to the salad.
Now, you don't want to keep this excess water in your salad, as it can hamper the overall storage life.
So, make sure you drain out the liquid from the bowl.
2. Transfer It In A Small Bowl Or Container
Yes, you should transfer the leftover cucumber salad to a new bowl or container.
If you are going to store it in the container, make sure it's an airtight one.
Do not use any other container for storage.
As for the small bowl, it should be dry and clean.
There shouldn't be any moisture or stains in this storage bowl.
In case you don't find a new bowl or container, you can use the same existing bowl as well.
3. Store It In Small Batches
This is good for those who make the salad in large quantities.
When you make it in a large quantity, you should always go for batch storage.
The batch storage method only helps you use the required quantity, which means the rest of the salad stays untouched in the fridge.
Furthermore, you can also store veggies for the salad in this style.
When you want to make the salad, you can just take out the required containers and start the preparation.
Do follow this step if you're not sure about the storage of large quantities of salad or vegetables.
4. Cover The Bowl With A Cling Film Or Put The Lid On
Finally, you will need to cover the salad bowl with cling film.
If you don't have this film in the kitchen, wrap the bowl with aluminum foil.
It's a required step, so do not skip it at all.
If you are using a container, put the lid on and secure it properly.
You don't want the air to reach the salad in any possible way.
5. Place It In The Refrigerator
Once you've secured the lid on the container or placed the film on the bowl, you can put it inside the refrigerator.
If you wish to store it for a longer period, keep it in the freezer.
And that's pretty much about this whole process!
In the next section, you will find some tips on how to use the refrigerated salad again.
Tips To Reuse Refrigerated Cucumber Salad
Do not use the salad directly after removing it from the fridge.
Let it rest for a while so that it can reach room temperature.
Smell the salad before using it again. Sometimes, it might go bad, and you may experience an off smell coming out of it. Do not use such salad for your meal.
Check the seasoning and adjust it accordingly. When you store salad for a long, you can expect no or bland taste. It's pretty normal, as cucumbers and other ingredients will soak up most of the flavors during the storage period.
Drain out the liquid accumulated at the bottom of the bowl or container.
These are the few things you need to remember whenever you want to use the salad again.
You can use these guidelines for other salads too.
I have shared some FAQs in the following section.
Take a look at them if you have any more queries related to this topic.
FAQs
1. How Long Will Cucumbers In Vinegar Last In Refrigerator?

The cucumber placed in vinegar will last for 2-3 months.
2. Is Cucumber Salad Good The Next Day?

It depends on how you store it and what all ingredients you've used for its preparation.

Generally, the salad should remain fresh the next day if you keep it in the refrigerator or freezer.

If you keep it outside for too long, it might go bad. 

And you shouldn't be using such salad for your next meal.
3. How Do You Preserve Cucumbers?

There are many ways through which you can preserve cucumbers.

But if you wish to keep them in the raw fresh form, you will have to keep them in the refrigerator or freezer.

If you want to store them in processed form, you can powder or pickle them.

You can also prepare a pureé and preserve them in the form of ice cubes.

You can use these cubes for fresh cucumber juices and other similar recipes.
4. How Long Does Creamy Cucumber Last In Fridge?

If you keep it in an airtight container, it will last for up to a week, but it's better to finish it as early as possible.
5. How Do I Store Cucumbers For A Month?

You can store cucumbers in the freezer for a month. 

It's the best way to preserve them fresh for so long, though you might notice a difference in taste and texture when you store them using this method.

However, there are many other alternative methods like fermenting and pickling that can help extend the shelf life of cucumbers.
Over To You
Storing cucumbers or cucumber salad can be tricky for beginners, but you just need to follow the basic guidelines for this process.
Once you get hold of them, you can become a pro in no time.
Now, in case you come across any difficulties, do let me know.
You can leave your comment below, and I will try to resolve your queries as soon as possible.
Do share the above suggestions and tips with your friends and family if you find them helpful.