What do you do when you make some extra dough in the kitchen?
Well, the obvious answer is to store it in the fridge.
But does it remain fresh in such conditions, and how long does it stay fresh in it?
If you are a beginner, you might have these questions in mind.
So, I've tried to share a few details on this topic, which might help you understand this process better.
Let's check out the guide below and see what you can do about the excess dough.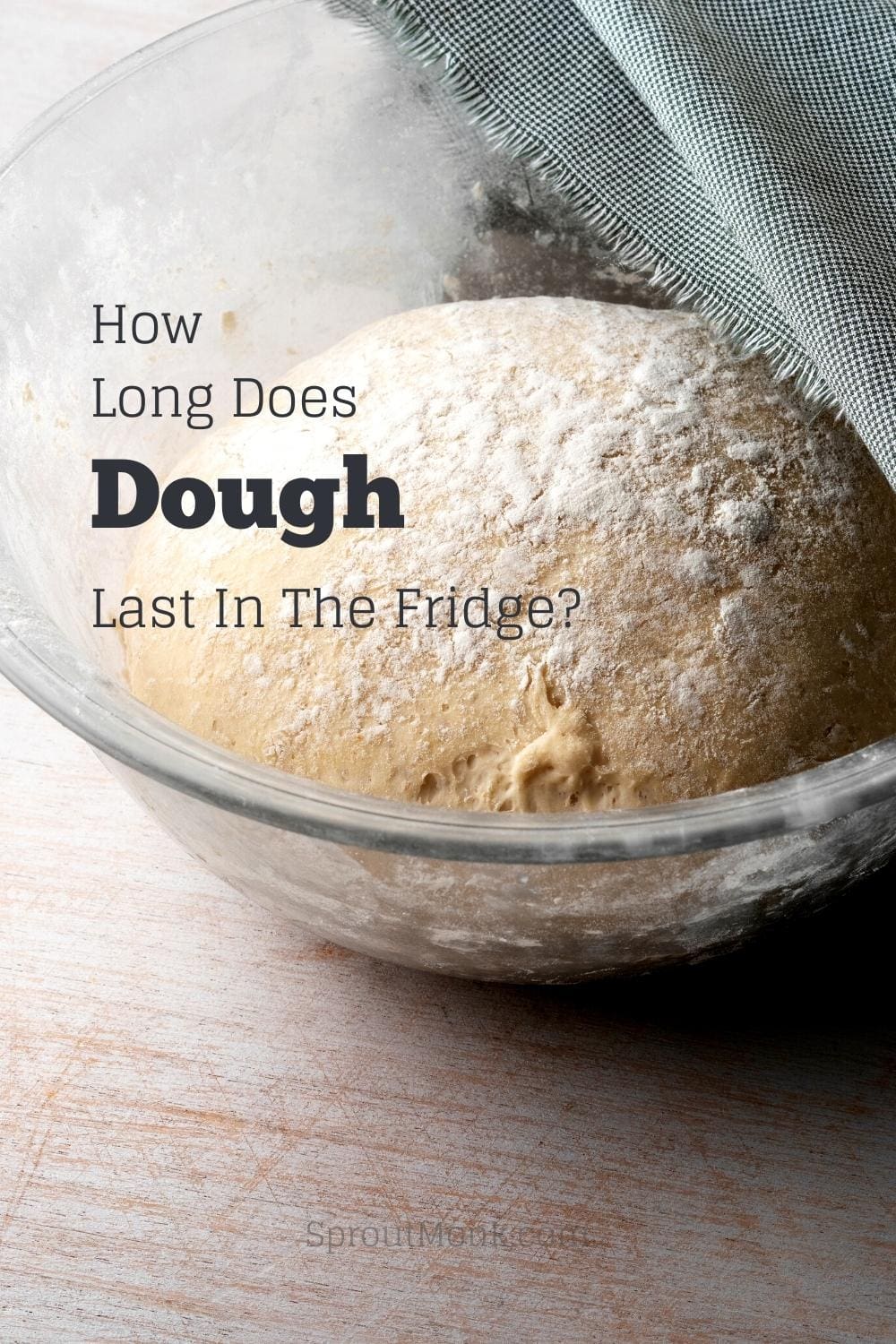 How Long Does Dough Last In The Fridge?
There are many factors involved when it comes to how long you can store the dough in the fridge.
But the two most common factors are moisture content in the dough and weather.
Both these factors are related to moisture, and that's quite significant in considering the storage time of your dough.
In general, though, you can store the dough in the refrigerator for 2-3 days.
This is an ideal time to store the dough, and you won't notice much difference in taste as far as the end result is concerned.
As for the freezer, you can store it in this section of the fridge for up to 2-3 months.
However, this period is good for the ones that only contain flour, salt, water, and oil.
You shouldn't be using any other ingredients in it.
Otherwise, it might not remain fresh for such a long period.
In the following table, I have shared the storage time of some of the most popular doughs in the world.
So, I hope you find it easy to understand the whole process. 
| Dough Types | Refrigerator Time | Freezer Time |
| --- | --- | --- |
| Bread Dough | 2-3 days | 6-8 months |
| Pizza Dough | 2-3 days | 2-3 months |
| Pastry Dough | 2 days | 6 months |
| Biscuit Dough | 3-5 days | 2-3 months |
| Cookies Dough | 3-5 days | 3 months |
| Chapati/Roti/Paratha Dough | 3-4 days | 2 weeks |
| Naan/Kulcha Dough | 2-3 days | 2-3 months |
| Bhakri Dough | 1-2 days | not recommended |
Important – If you mix any fresh ingredients while making the dough, it can impact its overall shelf life.
Fresh ingredients like veggies and fruits contain a lot of moisture in them.
And as you know, it's one of the main reasons why most food items go bad within a few days.
So, do not use veggies or fruits in your dough if you're going to store it for a long time.
How To Store Dough In The Fridge
Now, there are a few things you need to remember while storing the dough in the fridge.
Let's learn more about them in this section.
1. Place The Dough In A Dry Container
Once the dough is ready, you can place it in a container of your choice.
Do not keep it on a plate or any such flat utensil.
If you use a plate, the dough will get exposed to the outside atmosphere.
And you don't want that to happen with your dough.
Instead, get a container or bowl and place the dough in it.
2. Apply Some Oil On The Top Of Dough
Before you put the dough in the fridge, you should apply some oil.
Oil helps form a protective layer on the dough, which essentially prevents harmful bacteria.
For this purpose, you can use any vegetable oil or clarified butter.
Note – You don't have to pour a lot of oil on the surface.
Just use a few drops to glaze the dough.
3. Cover It With A Cling Film Or Plate 
Finally, cover the container or bowl with a cling film.
You can also cover the dough directly with this film and then place it in the container if you want.
Both the methods are equally good and help keep the dough safe and secure.
In case you don't have the film, you can place a plate or lid on the bowl.
But the film will provide more protection and extend the storage period by a few more days.
Overall, these are the three easy steps you should follow if you want to keep the dough fresh in the fridge.
In the next section, let's learn about the things you should do during this process. 
4 Things To Do While Storing Dough In The Fridge
Here's the list of things you need to follow –
1. Your Dough Should Be Moist
That's right!
The dough should always be moist when you keep it in the refrigerator or freezer.
When you store it at a cold temperature, the fridge will absorb the moisture from the dough and will turn it dry in the end.
So, it's good to have a bit of extra moisture and softness in your dough.
Quick Tip – If the dough turns dry in the fridge, you can knead it again with some water and oil.
2. Knead The Dough Properly Before Storing It In The Fridge
Kneading is always an important step in making a perfect dough.
It becomes even more important when you want to store it for some time.
Wondering why?
Well, you can't get the same texture to your dough once it goes in the fridge.
So, you need to achieve the best possible texture and consistency to your dough before putting it in storage.
3. Make Sure The Storage Container Is Clean
Whether it's the bowl or container, you should ensure that it's clean.
You should never keep your dough in a stained or used container. 
Otherwise, the dough will go bad quickly.
For more protection, you can also wrap it in a cling film and place it inside the container.
4. Store It In Small Batches
It's the one thing that many people forget while storing the dough in large quantities.
If you store it in a large container, you will have to open the container each time you want to use the dough.
And that's not the wise thing to do!
If you want to preserve the dough for a long, keep it in separate containers and small batches.
This way, you can only use the dough required at the time and leave the rest untouched.
FAQs
1. How Can You Tell If Dough Has Gone Bad?

There are some peculiar signs that help in knowing whether the dough has gone bad or not.

The first sign is obviously the appearance of dough.

If you see any large dark spots on the surface, it might be a sign of mold growth.

The other thing is the smell.

You can smell the dough and see if you experience any foul odor coming out of it.

It's a good indication that your dough is not fresh and should be discarded entirely.

Never use such a dough for any bread or pizza preparations.
2. How Long Can You Store Bread Dough In Fridge?

You can store the bread dough in the fridge for 2-3 days. 

But it's always a good idea to use the fresh dough for your bread preparation.

If you use leftover dough or frozen dough, you will have to knead the dough again, and that too with some extra flour.

This process generally leads to different results.

And that's why professional bakers don't prefer this method regularly.

However, you can use the same method for homemade bread recipes.
3. Is It Bad To Refrigerate Dough?

No, you can surely refrigerate your dough without any issue.

In fact, it helps you store it for a longer period.

So, do use your refrigerator to extend the shelf life of dough.
4. Can You Refrigerate Dough After It Rises?

Yes, you can surely refrigerate the dough after it has risen well.

Just make sure you cover it nicely in a closed container so that it remains fresh till the time you wish to reuse it.
5. Why Does Dough Get Black Spots?

There are a couple of reasons for the black spots' appearance on the dough.

The first reason is the oxidation process that happens due to the bran present in the dough.

When this process takes place, you will see tiny black spots on the dough.

It is a normal appearance, and you can use the dough without any issues.

The second reason is related to mold overgrowth.

When you store your dough for long, it allows bacterial/fungal growth on its surface.

This causes black spots formation on the dough.

Moreover, you shouldn't be using this dough for baking or cooking purposes.
Over To You
Making dough for your bread, cookies, or flatbreads can be a fun activity in the kitchen.
However, as you can see, you will need to be more careful while storing it for longer use.
Otherwise, you will always end up tossing the excess dough in the bin.
So, do use the tips and suggestions shared in the guide.
If you come across any difficulties, feel free to ask them in the comments below.
I'd do my best to solve them for you.
In the meantime, if you enjoyed this guide, do share it with your friends and family.