Paneer is one of those ingredients that require a bit of practice and experience to master its cooking.
You need to know how to cook it properly to be able to present it in the best possible way.
But how long should one cook Paneer for?
Well, that's what we are going to find out in the guide below.
So, let's get started.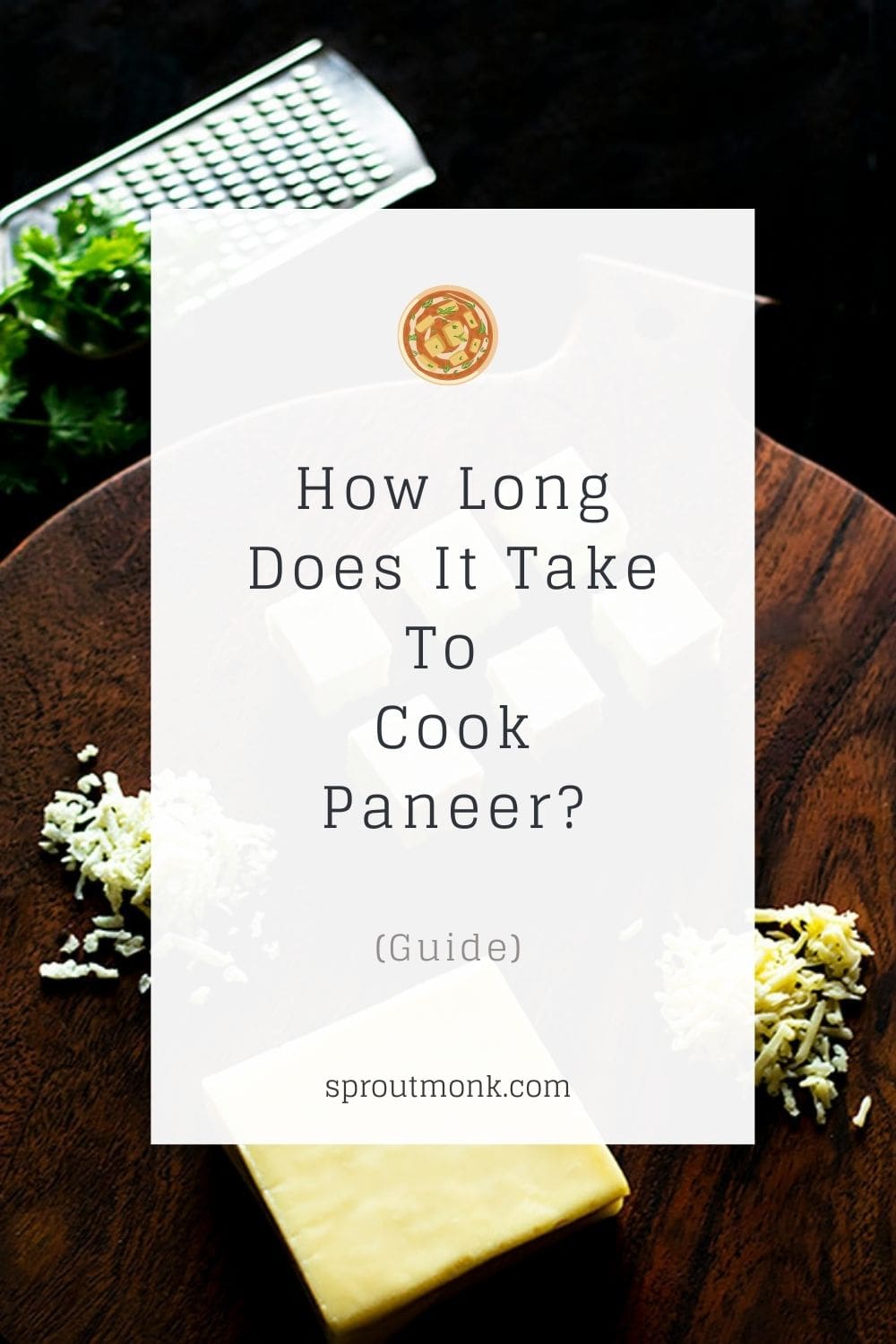 How Long Should You Cook Paneer For?
If you are looking for a quick answer, Paneer takes around 10 minutes to cook completely on medium flame.
Yes, it doesn't require a lot of cooking time as compared to vegetables or meats.
But still, there is more to it.
Since Paneer mostly has a bland taste, you need to also look at some of the other factors that help in infusing more flavors to it.
For e.g.,
The longer cooking time is a tried and tested method to get more flavor and taste to different Paneer pieces.
You can also marinate them with some of the Indian spices and other flavoring ingredients.
So, as you can see, the cooking period greatly depends on the type of dishes you're making in the kitchen.
Below, I have shared some detailed tips on how long you should cook Paneer with different preparations.
1. For Kebabs And Tikkas
Both these delicacies require a similar cooking time, i.e., around 10 minutes or so if you are cooking on the pan.
However, when we talk about the Tandoor-based tikkas, the cooking time reduces even further due to the high heat cooking.
You can keep them in the Tandoor for 5-6 minutes, and they will be ready to serve immediately.
For Microwave Ovens, the cooking time might differ a lot. 
And it depends on the model as well as the temperature generated inside the chamber.
So, you need to check the instructions manual of your device to prepare it accordingly.
2. For Curries And Stir-frys
There are many ways to use Paneer in Indian curries and stir-frys.
So, the cooking time really depends on how you want to use the Paneer cubes.
For curries like Kadai Paneer and Tawa Paneer, you can cook them directly with the Onion-Tomato base masala.
And it shouldn't take more than 10-12 minutes to cook the medium-sized pieces.
Note – You should add these pieces at the end of the preparation of base masala.
It will help in retaining the soft texture of the Paneer cubes in the curry.
For tikka-based curries, you need to wait for even further.
You have to prepare the curry entirely in the beginning.
Once it's ready, you can release the Tikkas in the curry.
Here, you don't have to cook them for 10 minutes.
You only need to sauté them for a couple of minutes so that they are coated well with the curry sauce.
For stir-frys, though, you don't have to wait for so long.
You can cook them along with other ingredients too.
And as I mentioned earlier, it takes about 10-12 minutes to cook the Paneer pieces in such dishes.
It is also one of the reasons why the Paneer cubes taste great when you use them in stir-fry preparations like Paneer Tawa or Paneer Chilli.
3. For Biryanis And Fried Rice
Generally, many chefs and food experts recommend frying Paneer cubes prior to Biryani making process.
It helps in getting the crispy layer golden brown layer to the pieces.
So, if you are going to fry the pieces beforehand, make sure you don't put them early in the Biryani gravy.
Otherwise, they will turn soggy and will also lose the crispy texture during the cooking.
For this method of cooking, you only need to cook them for a couple of minutes on each side.
And that's more than enough at this stage of cooking.
Because the pieces will cook further along with the Biryani rice and other ingredients as well.
But if you are using them directly, you can add them in the end.
When you have prepared the gravy mixture for Biryani or Pulao, you can sauté the pieces for a couple of minutes.
Later, you can cook them further using the Dum style cooking or pressure cooking.
Talking about the Fried Rice preparation, you will need to cook them like a stir-fry style of cooking.
So, the general cooking time for this method is about 10 minutes or so.
But if you like a richer texture and taste to the Paneer pieces, you can also fry them in hot oil.
For this method, though, you only need to fry them for a couple of minutes.
Quick Tip: You can also dust the pieces with some maida/cornflour and spices.
It will help in bringing an added layer of crispy texture to the cubes.
4. For Other Preparations
Apart from these popular preparations, there are some other ways of using Paneer in Indian food culture.
In case you don't know, we also use them in grated form for different curries.
When you grate the Paneer, the large cubes turn into small-sized particles.
And if you know a bit of Science, the small surface area always reduces the time required for cooking.
So, in our case, the grated Paneer won't require as much time as you need for other recipes mentioned above.
For this type of preparation, you only need to cook it for 5-6 minutes.
Note – You can use this tip for Paneer Bhurji preparation.
3 Useful Tips For Fresh Paneer
Well, the cooking time is something you should always remember while making Paneer dishes in the kitchen.
But alas, it's not just about the cooking time here!
The softness also depends on how fresh your Paneer is!
After all, it's a type of fresh cheese.
So, here are some tips for you – 
1. Check The Best Before Date While Purchasing The Paneer Cubes From Stores.
It's quite essential to know the best before date or packaging date of such perishable goods.
You can find these details at the back of the packaging cover. 
If the Paneer package is nearing its expiry date, do not buy it.
It might have already turned hard in texture.
So, what's the best option?
If you can procure it from a nearby dairy, there is nothing like it.
In India, we are fortunate to have so many dairies around us that offer fresh milk and other milk products.
Therefore, in my opinion, there can't be an alternative to the freshly brought Paneer from dairies.
2. Keep It In The Freezer.
The freezer is the best place to store your Paneer.
If you are not going to use it immediately, you need to store it in your fridge's freezer section.
It not only helps in retaining the freshness and softness but also increases the overall shelf life.
So, there are dual benefits of keeping it in the freezer.
3. Prepare It At Home.
Yes, you can also make it at home using Lemon Juice or Vinegar.
It's also the best way to get fresh Paneer for your preparations, especially for dishes like Paneer Bhurji.
The crumbly texture you get with it is simply incomparable with any store-bought fresh cheese. 
Well, if you follow these tips, I am sure you don't have to worry too much about how long you should cook Paneer.
When it's fresh homemade Paneer, it won't make much difference if you cook it for a bit longer.
FAQs
1. Do You Cook Paneer Before Putting In Curry?

As explained in the guide above, it depends on the type of curry you are making.

If you are preparing something like Paneer Tikka Masala or Butter Paneer Masala, you need to cook them separately.

This step essentially helps in making Paneer cubes more flavorful.

However, if you are looking to make homemade style Paneer dishes, you can skip this step and cook them along with other ingredients.

It will also save a lot of your time in general.
2. Why Does Paneer Need To Be Cooked?

Paneer needs to be cooked because it's a milk product.

And more importantly, it often gets exposed to the outside environment.

So, the cooking process helps in getting rid of any bacteria that may be present inside the pieces.

Also, during the process, it helps in turning them soft.
3. How Do You Soften Paneer Before Use?

There are a couple of methods to soften it before using it in the Curries or Biryanis.

The first method is the marination.

You can marinate it with something as simple as the fresh Lemon Juice, Turmeric Powder, Red Chilli Powder, and Salt.

If you want a more creamy texture, you may also use Yogurt.

You can mix everything with the Paneer cubes and allow it to marinate for at least 30 minutes.

Since Paneer cubes are hard in texture, they do require more time for the marination.

The second method is to soak them in water for a few minutes.

When the water starts to enter into the pores of Paneer, it automatically swells up a bit and makes it softer in the process.

There is another interesting way that many Halwais use to soften the Paneer texture.

Here's what they do – 
1. They fry the Paneer in a Kadai till golden brown.
2. Once the pieces get a nice crisp color, they remove it in a bowl of cold water.

Well, this step works in two ways.

Firstly, you get the right texture and flavor to the pieces.

And secondly, the excess oil gets released in water as Paneer turns soft.

So, you can try any of these methods to soften the Indian cottage cheese.
4. Can We Eat Paneer Raw?

Yes, you can eat raw Paneer!

In fact, you can use it in many recipes, including Salads and Raitas.

It tastes absolutely amazing with some Lemon Juice, Salt, Black Pepper Powder, and fresh microgreens.

You can also add honey if you like a more balanced taste.

But more importantly, the Paneer cubes should be fresh in the first place.

Do not use stale pieces for such fireless preparations.
Over To You
Now, I hope you got the answer to the above question.
I have tried to share as many details as possible in the above guide.
But if you still have any more questions or doubts, you can ask them in the comments below.
I will surely try to resolve them for you.
And yes, if you liked this guide, do share it with your friends and family.
I also share email updates through my newsletter, and you can subscribe to it below.