When it comes to making Biryani or any such rice dishes, many people always get confused about the quantity of rice required for the preparation.
This generally happens when you're not used to serving or hosting too many people.
And if you don't know the correct answer, you always end up making mistakes while preparing the rice.
So, how do you tackle this problem?
The only way to get this thing right is using the measurements, and that's what we are going to learn in the following guide.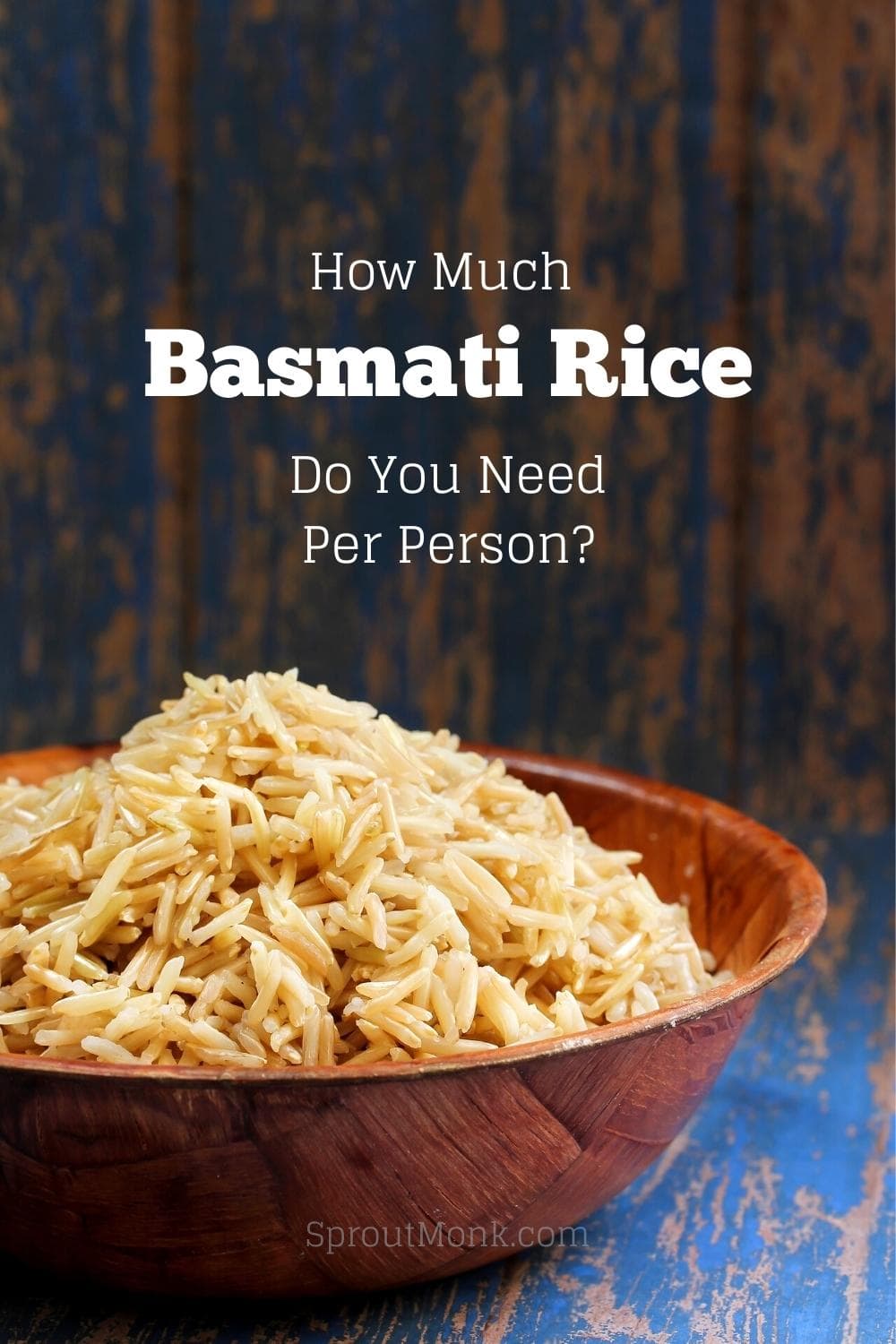 How Much Basmati Rice Per Person
As mentioned earlier, you will need to use some tools to know how much Basmati rice is required per person.
For this purpose, you can either use a small bowl or a weighing scale.
Both these tools can give you the right measurement for preparing Basmati rice or any other rice variety.
And most importantly, you will never go wrong with these tried and tested tools.
But how do you know how much Basmati rice you need per person?
You can use this formula – 
1 cup raw rice = 2 people; 
(where 1 cup = ~ 200 gm)
That's the basic formula for making Basmati rice per person!
Of course, it's not the perfect formula, but it's commonly accepted and used in professional kitchens.
So, you can definitely use it for making this rice at your home as well.
But you will need to tweak this formula a bit depending on the individuals you're going to serve for lunch or dinner.
Since each individual has a different appetite, you will need to adjust the quantity of rice accordingly.
And in general, we Indians love our rice, so it's always better to prepare rice in slightly more quantity.
For that, you can increase the rice quantity to 225 gms or 250 gms for two people. 
Apart from this, you should also remember that Basmati grains increase in size twice or thrice after cooking.
So, you will have to keep this factor in mind too.
7 Things To Remember While Cooking Basmati Rice Per Person
Now, let's quickly take a look at the things that you need to remember – 
1. Always Prepare More Rice Than Required
I have already mentioned this point earlier, but I feel it's important to reiterate here.
You should always prepare more rice than needed because you don't want to keep your guests hungry.
And this applies to all the kitchens, including the professional ones.
You can prepare a bit of extra rice, which can be served to the guests with more appetite.
2. You Can Repurpose Cooked Rice In Many Dishes
The best thing about Basmati rice is you can repurpose it however you want.
There is no limit to what you can do with the excess rice.
So, don't worry too much about making some extra Basmati rice at home.
3. You Can Store Basmati Rice For Long Duration
Yes, you can store cooked rice too!
If you make extra rice mistakenly or purposely, you can store it in the refrigerator or freezer for later use.
It stays fresh for a couple of days if you keep it in the refrigerator, whereas the freezer keeps it fresh for up to a week.
Now, this may not be a great idea to store rice for so long, but it's better than throwing it away.
While using the refrigerated rice, you will need to sprinkle a bit of water on the grains.
This helps rejuvenate the grains and attain their same soft texture.
So, do keep it in mind whenever you use leftover rice for new dishes.
4. Count Adults And Children Separately
As you know, each individual eats food differently.
The same applies to rice as well.
When you want to prepare Basmati rice for an event, you should try to count adults and children separately.
This will give you an idea about the amount of rice you need to make for the event.
It will also help avoid any wastage, which is always a concern while serving food at such events.
5. Rice Takes Less Time To Cook
Rice cooking doesn't need much time because it gets ready to serve within 15-20 minutes of putting it on the flame.
So, if you are worried about whether the cooked rice will be enough for the guests, you can always prepare more rice in no time.
Meanwhile, you can soak some excess rice at the time of preparing the first batch and cook the excess rice later on as needed.
Many chefs follow this technique, as you essentially eliminate the soaking period for the upcoming batches.
That said, you shouldn't be soaking the grains for too long.
They may turn brittle and break into tiny pieces after cooking.
6. Basmati Rice Doubles In Size After Cooking
It's a peculiar characteristic of any good quality Basmati rice.
When you soak the rice well and cook it in a pressure cooker or pot, the grains get bigger in size during the cooking process.
You will need to remember this characteristic while preparing such rice.
If you prepare it like any other white rice, you will have more cooked rice in the end.
And that's something you should try to avoid at any cost.
7. Rice Absorbs Water
Finally, it's the most important thing you need to remember while making Basmati rice.
Rice absorbs water and swells in size and weight.
So, when you get 1 cup of raw rice for the preparation, it generally turns twice the actual size.
Some of the rice varieties may also hold more water and increase in size and weight more than usual.
You will need to understand this rice behavior well so that you won't go wrong in preparing it in large quantities.
On that note, let's look at the FAQs below.
FAQs
1. How Many People Does 1 kg Basmati Rice Serve?

You can serve 1 kg of cooked plain rice to 5-6 people. 

However, if you are serving it as a Biryani or Pulao, it should be good enough for 8-10 people.

Generally, in the restaurant world, 1 kg Biryani includes 1 kg of rice and 1 kg of meat/veggies.

So, you should consider this factor if you're thinking of ordering such dishes for your house parties.
2. How Much Rice Do I Need For One Person?

You can't really guess the amount of rice you'd require for one person, as each individual's appetite differs from another.

Some people enjoy more rice than others, so you will have to keep this thing in mind for sure.

Still, if you want to know the exact measurement, you can prepare 200-250 gms of cooked rice for each person.

This quantity will allow you to serve the rice in two portions.

But as mentioned earlier, some people love their rice, and you will need to be more generous while making rice for such people.

The quantity also changes when serving rice as a main dish or part of a full course meal.
3. How Do You Cook Small Amount Of Rice?

For a small amount of rice, you can use a small pot or pan to prepare the rice.

All you need to remember here is to use water appropriately.

Once you do that, you will not have an issue cooking any quantity of rice in any utensil of your choice.
4. How Much Water Do I Use For 2 Cups Of Rice?

It depends on the type of rice as well as the method you're using for cooking.

If you are using the pressure cooker method, you should fill the pot with water till it comes above the half-inch mark from the rice grain layer.

For the pot-boiling method, you will need a substantial amount of water to cook the rice perfectly.
5. How To Cook Basmati Rice?

Basmati rice can be cooked the same way we cook any other white rice.

However, the taste and texture depend on your technique for this type of long-grain rice.

If you want to make Biryani rice or Pulao, you will need to have grains separated from each other.

It can only be achieved when you use the boiling method instead of the steaming method.

With this method, you can cook the rice grains until they are almost done and repurpose them for your favorite dishes later.
Over To You
Making Basmati rice is not as easy as it seems, but you can always get better at it.
Once you start using the above-mentioned formula, you will learn the trick to make this rice perfectly.
Then, you just need to practice a bit and adjust the quantity according to your need.
Try the above formula and let me know if you encounter any difficulties.
You can ask your questions in the following comments section, and I will try to resolve them for you.
Please share this guide with your friends and family if you enjoyed this guide.