Want to start a food blog in India?
Awesome!
In the following guide, you will learn the exact step by step method I've used to begin my food blogging journey.
Best Part: I'm also going to share some tips in this guide, which will help you save a few dollars in the process.
So, let's get started.
What Is A food blog?
In simple terms:
If a blog covers anything related to FOOD consistently, you can call it a food blog.
In general, there are three types of food blogs on the internet –
Recipe Blog
Food or Restaurant Review Blog
Food and Travel Blog
Recipe Blog is the most popular form of food blogging in the world.
And as the name says, you will mostly find food recipes on this type of blogs.
Food or Restaurant Review Blog caters a specific audience, which loves to read about different cuisines and newly-opened cafes/restaurants.
Food and Travel Blog is all about the experiences.
In this type of blog, the blogger shares his views and experiences on different food cultures and cooking methods found during his recent travels.
Well, you may wonder if there is a difference between a food blog and other blogs.
Here's a quick comparison:
Regular Blog vs. Food Blog
| | Regular Blog | Food Blog |
| --- | --- | --- |
| Design/Theme | Can work with avg. looking theme | Requires aesthetically beautiful theme |
| Content Production Time | Less | More |
| Recipe Plugin | Not Required | Required |
| Photography Skills | Not Required | Required |
| Traffic | Depends on niche | Relatively High (if you optimize your blog properly) |
| Other Expenses | Not Much | Food, Camera Equipments and Tools, etc. |
Starting A Food Blog In India
Nowadays, it's easy to start a blog in India.
But you need to be a little cautious while choosing your domain name and web hosting provider.
In short, don't fall for cheap marketing gimmicks.
Also, you should always look for internationally approved services.
In this guide, I have shared the detailed information on two of my trusted service providers, which I've been using for 10+ YEARS of my blogging career.
I have tested these services in different situations over the years.
So, you can trust them too.
Register A Domain Name
This is the first step (or Shree Ganesha as we call it in India) of your food blogging journey.
Once you have decided the topic for your blog:
Step 1: Note down the related keywords on a paper.
Step 2: Create a list of at least 10 unique keywords.
Step 3: Then, do the brainstorming and come up with a brandable domain name.
What Should I Name My Food Blog
Struggling to find a good food blog name?
Let's have a look at the Domain Name examples:
Generic Domains – Mostly taken (Eg., VegRecipes.com, Recipes.com, BreakfastRecipes.com)
Exact Match Domains (EMDs) – Not recommended, as it may hurt your blog's search rankings in the future. (Eg., BestOvens.com, BestCoffeeMachines.com, TopCafesInIndia.com)
Brandable Domains – Best choice! (Eg., PinchOfYum.com, SpicedBlog.com, SproutMonk.com)
I suggest you go for a brandable domain name only.
Here's why:
Easily available for registration (.COMs)
Easy to remember
Helps you create a brand identity
Allows you to expand your blog's niche
These factors are quite important if you want to build a long-term business around the blog.
For Domain Name Registration:
I use Name.com!
I have been using their services for more than a decade now.
Tip: If you want a FREE domain name, try Bluehost.com.
On the other hand, it will cost you up to $10-$15 on various domain name registration sites.
How To Register Your Domain Name On Name.com
Step 1: Visit name.com and enter your desired name in the search bar.
Step 2: Check availability of the .COM domain.
Step 3: If available, click on the Add To Cart button and place your order.
Done.
Just three steps and you'll get access to your domain name.
This leads us to the next important step: Web Hosting!
Get A Web Hosting Service
I recommend Bluehost.com for web hosting services.
I use their services on this blog as well.
And I haven't come across any significant issue while using their platform and services.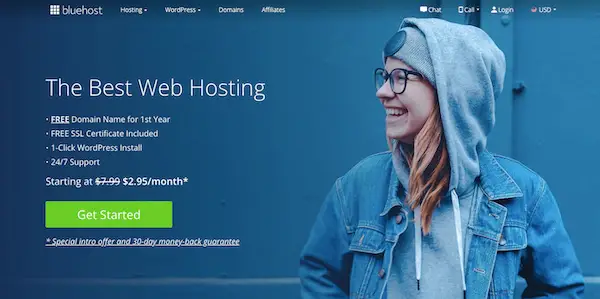 Why I like Bluehost:
Very reliable and secure platform
Consistent Uptime
Tailored hosting plans as per your need
Easy to use
Recommended by WordPress.org
Well, now you know why I selected them for my blog.
So, go ahead and get your WordPress Hosting account with Bluehost.
How To Select The Best Hosting Plan On Bluehost:
For a new blog, I won't ask you to waste money on premium web hosting services like VPS hosting or Cloud hosting.
Once your blog reaches 1000s of visitors/day, you can consider these options.
For now, just go for the shared WordPress Hosting service.
And if you are not well-versed with the WordPress platform, no worries.
As mentioned earlier, Bluehost offers a customized plan called WordPress Hosting.
And it's really amazing!
You just need to follow a few steps, and your blog will be live in minutes.
Follow These Steps To Set Up Your WordPress Hosting Account:
Step 1: Go to Bluehost.com and select WordPress Hosting.
Step 2: Click on the Choose Plan button.
Step 3: Select your WordPress Hosting plan.
(I'd suggest you choose the 'Basic' hosting plan. It has everything you need for your new food blog.)
Step 4: Enter your desired domain name in 'Create a new domain' field.
If you have already registered a domain name, you may enter it in the second box.
Step 5: In the next step, you will have to create your account for hosting services.
Note – Don't forget to check the Package Information and Package Extras information on this page.
That's all!
Once you finish the account creation process, you will receive an email from Bluehost with all your account details.
Need more help?
Bluehost also has a dedicated support team, which does an excellent job of solving your hosting related queries.
If you're stuck with some issue, just contact them here.
Install WordPress
This is obviously the next step, right?
Nope.
Well, the best thing about WordPress Hosting is you don't have to install WordPress separately.
It's pre-installed on your account.
Just use the credentials received in your email and sign-in to your WordPress dashboard.
Security Tip: Do change the login credentials as soon as you get access to the account.
For others who have not gone for the WordPress Hosting account:
You can install this software using cPanel.
OR you can use this official installation guide to save a few technical steps.
Again, if you come across any difficulties, raise a ticket with Bluehost.
I'm sure you will get professional help from the team.
Select A WordPress Theme
Like I said before, don't spend too much money at the beginning of your food blogging journey.
But if you DO have the budget, don't look anywhere else.
Just close your eyes and go for the Genesis Framework by StudioPress.
Genesis Framework is the best investment for your business.
It is a professionally designed framework for WordPress.
Besides, it also takes care of most of your important SEO requirements.
Along with this framework, you will also need to install a child theme on your blog.
StudioPress offers some really drool-worthy themes for food bloggers.
I use the Brunch Pro theme on Sprout Monk, which is also available on their website.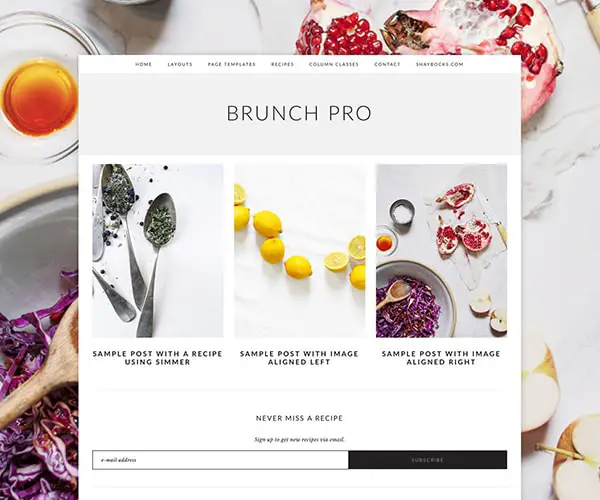 Download And Install WordPress Plugins
WordPress Plugins help you add more functionalities and features to the blog.
So, you must install them on your blog.
I have listed out both free and premium plugins for new food blogs.
Have a look:
Top Free WordPress Plugins:
Top Premium WordPress Plugins:
Make Money From Your Food Blog
No kidding!
You can make money from your food blog.
And that too a decent amount of money!
Here's how:
1. Display Advertising
It is a popular income generation method on the Internet.
Because it's easy!
And it doesn't require a lot of effort from your side.
All you need to do is sign-up for the advertising platform.
Once you get the approval, you can display ads on your blog and start making money.
Note: In this format, the advertisers pay you for clicks and impressions.
Trusted Display Ads Platforms for Food Bloggers:
Important: Mediavine and AdThrive require a certain number of monthly traffic views for approval.
2. Affiliate Marketing
My favorite!
Affiliate Marketing allows you to generate income through leads or sales.
In this format, you get paid in the form of commissions.
For eg., Amazon Affiliates
When someone buys an Amazon product from your referral link, you get paid up to 12% commission on the referral sale.
The best thing about affiliate marketing is:
Unlike display ads, you can increase your affiliate income by increasing referrals from your blog.
Many affiliate companies reward their marketers on a performance basis.
So, if you want to try affiliate marketing, start with Amazon affiliates.
It's the best platform to learn a thing or two about affiliate marketing.
3. Sponsored Work
This is a hidden gem of sorts!
And you can really make thousands of dollars through sponsored activities on your food blog.
But before we get into the details, here are some of the opportunities in this field.
Types of Sponsored Work:
Product Reviews
Restaurant Reviews
Restaurant Food Reviews
Food Service Reviews
And from the above list, the most popular one is…
….Product Reviews!
Here's how you can make money with these reviews:
You get the product from the partnered company
You use the product and publish an unbiased review on your blog (or social media channels).
Simple.
Just two steps, and you'll have money in the bank.
Note – In some cases, the companies may ask you to return the product after the review process.
However, it only happens when it's a high-end premium product.
If you want to be successful in this type of revenue model, you need to have excellent communication skills.
Similarly, you will also need to build great relationships with marketers and advertisers.
And in return, you can expect some exclusive opportunities and partnerships from them.
Pro Tip: You can also take things further with your social media following on Instagram, Facebook, Pinterest, and YouTube.
Or even Email Subscribers…
If you have decent followers on any of these platforms, leverage it.
Show these numbers to the advertiser, and I'm sure it'll improve your chances of securing the deal (or getting a hike in the current contract).
4. Sell Your Product
…if your blog gets thousands of visitors a day.
Yes, you will need a very high traffic blog to be able to create a sustainable income from your product/s.
If your blog gets a few hundreds of visitors per day, it may not be worth to put efforts here.
Instead, you can focus on other blog income generation methods mentioned in this guide.
But if you do plan to launch your product, check out the following ideas.
Digital Products – eBooks, Paid Webinars, Workshops
Service – Food Photography, Food Styling, Consultancy
Consumable Products – Spices, Pickles, Honey, Coffee, Organic Foods
These are some of the tried and tested product ideas in the blogging field.
So, do consider these ideas whenever you wish to introduce your product or service on the blog.
If you are just starting out in food blogging, don't worry too much about it.
Just work on improving your traffic numbers.
(Most importantly, the top three income channels are good enough to create a full-time income from food blogging.)
Resources
If you want to learn more about blogging and photography in general, you can refer to the following links.
Start Your Blog Today!
Did you enjoy this guide? I'm sure you did.
But don't stop here!
Follow all the steps above and start your food blog today.
If you still have a question, do let me know in the comments section below.
Happy Blogging!