Quinoa is a delicious grain that can be used in a variety of recipes.
But it's not a part of traditional Indian cuisine.
So how can you work quinoa into your Indian food repertoire?
Well, there are some Indian quinoa recipes that you can make and enjoy at home.
So, let's quickly go through a few of them.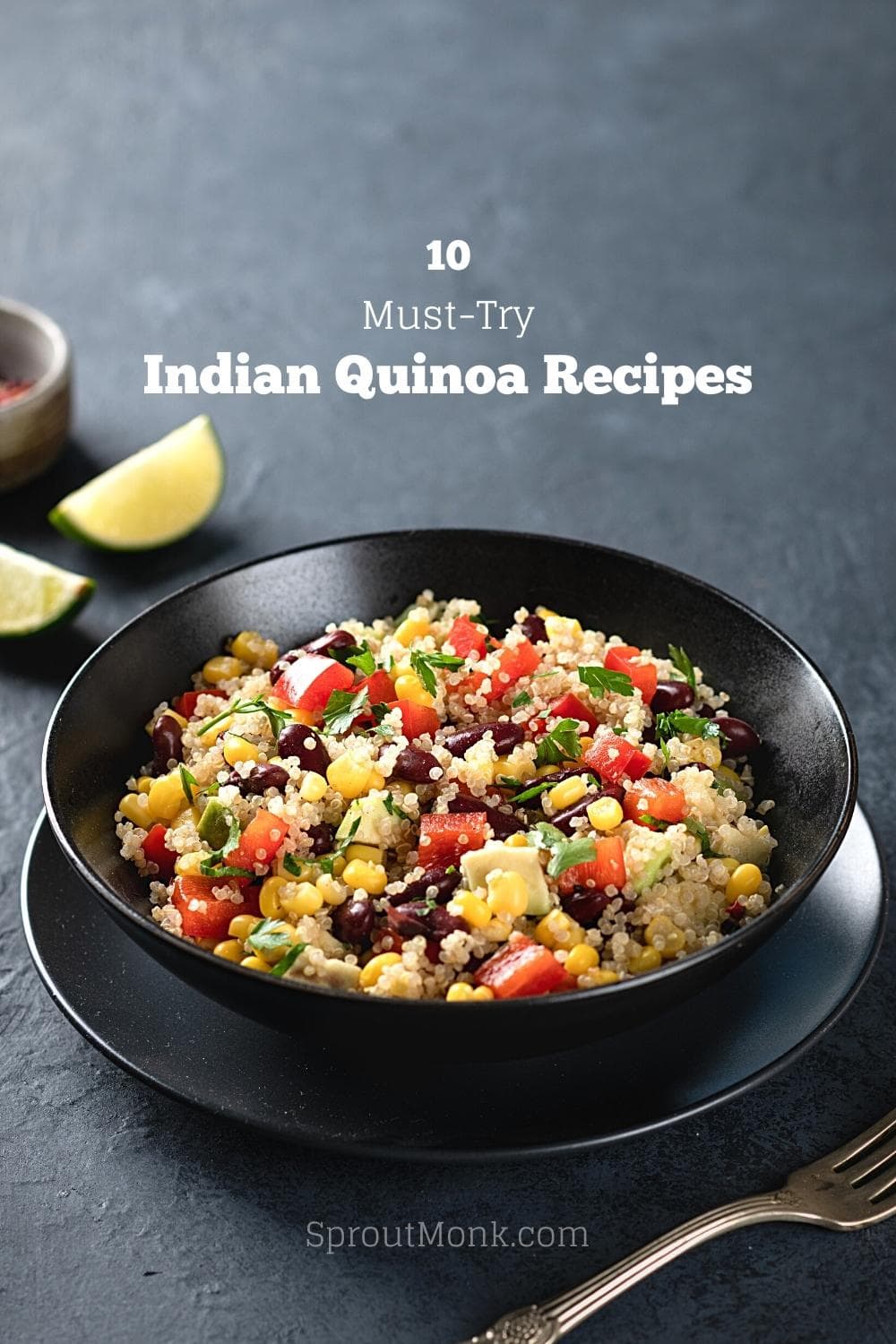 Indian Quinoa Recipe Ideas
As I mentioned earlier, quinoa is not a typical Indian grain.
It comes from the Andes in South America and was only recently introduced to India.
But that doesn't mean it can't be incorporated into Indian cuisine.
You just have to be a little creative and think outside the box.
So, here are some of the Indian quinoa recipe ideas for you –
1. Quinoa Pulao
That's the first thing that comes to mind when I think of Indian quinoa recipes.
Pulao is a rice dish that is typically made with aromatic basmati rice.
But you can easily substitute quinoa for rice and make an interesting pulao.
For this recipe, you will need to cook the quinoa in a seasoned broth.
This will give it a nice flavor and make it more palatable.
Then, you can add veggies of your choice to the quinoa and cook it till done.
This recipe is quite simple, as the only difference is the grain you use.
So, if you are looking for something easy and tasty, you should certainly try this quinoa pulao recipe.
2. Quinoa Biryani
When we think of a pulao, we can't forget about biryani.
It's another popular rice dish from India that can be made with quinoa.
Note: Biryani is one of those dishes that tastes authentic when you make it with classic Basmati rice and other ingredients.
Therefore, don't expect a lot from this recipe if you're looking for an authentic biryani flavor.
Still, if you want to experiment and have a different version of Biryani, you can surely make this recipe at home.
3. Quinoa Upma
How about using quinoa for breakfast?
Well, you can certainly do that by making quinoa upma.
Upma is one of the most loved breakfast dishes in India.
It's made with semolina or Rava, which is a coarsely ground wheat.
But you can use quinoa instead to prepare this dish.
As for the recipe, it's quite simple and similar to the traditional upma recipe.
Initially, you can toss the veggies in mustard seeds and chilies tadka.
Then, you should add the quinoa to this mixture and cook it with sufficient water.
It takes about 15-20 minutes for the quinoa to get cooked properly.
So, you should add the water accordingly.
You can serve this delicacy with some sev and lemon.
4. Quinoa Cutlets
Why make boring recipes with quinoa when you can make cutlets with it?
Indians love cutlets, and they are often served as starters or snacks.
You can use quinoa to make these cutlets and give them a nice twist.
To make quinoa cutlets, you will need to cook the quinoa first.
Then, you should mix it with veggies like carrots, peas, potatoes, and any other choice of boiled veggies.
Once the mixture is ready, you can shape them into cutlets, and shallow fry them.
You can also bake these cutlets if you want.
These cutlets can be made with paneer and cheese as well.
And you can serve them with mint chutney, ketchup, or schezwan chutney.
5. Lemon Quinoa
Another breakfast option!
Well, you can also prepare this delicacy for lunch or dinner.
Lemon quinoa is derived from the South Indian Lemon Rice recipe.
For those who don't know, lemon rice is a basic recipe where rice is flavored with lemon juice, chilies, and spices.
You can do the same with quinoa and make this simple yet tasty recipe.
For Lemon quinoa, you will need to cook the quinoa and temper it with mustard seeds, chilies, and curry leaves.
Don't forget to add the fried peanuts, which give the dish a nice crunch.
Finally, add some lemon juice, and your recipe is ready.
Turmeric powder also plays an important role in this recipe, so don't forget to add it.
Also, refrain from using artificial colors for this recipe, as the turmeric powder does the job well.
6. Quinoa Idli
Sounds interesting, right?
Well, you can use quinoa to make idlis as well.
Idlis are generally made with rice batter.
But you can experiment with this dish and use quinoa instead of rice.
And unlike most of the variations, the quinoa idli does look and taste quite similar to the traditional idli.
So, you won't feel like you're eating something different.
7. Quinoa Dosa
Don't like Idlis?
How about trying quinoa dosa?
Again, it's a rice batter dish that can be made with quinoa.
And there is not much difference in the preparation style as well.
You will have to soak the quinoa and grind it to make a batter.
The soaking and batter fermentation periods are the same as that of rice.
You can add the other required ingredients later and prepare the dosa as you would usually do.
This dosa tastes amazing with coriander chutney and podi chutney.
8. Quinoa Kheer
Do you want to try something sweet with quinoa?
If yes, you should make a quinoa kheer with it.
Kheer is an Indian rice pudding that is usually made during festivals.
It's made with milk, rice, sugar, and some flavoring ingredients.
You can follow the same method to make your quinoa kheer.
But do rinse the quinoa properly to get rid of its bitterness.
And don't forget to add saffron strands, which give the kheer a nice color and flavor.
9. Quinoa Egg Bhurji
If you love eggs, there can't be a better recipe than this one.
Egg bhurji is a very popular dish in India, and it's often eaten for breakfast.
While making quinoa egg bhurji, you will have to cook the quinoa first.
This is important because these grains take more time to cook than other ingredients in this recipe.
Do add some turmeric powder and salt to the quinoa while cooking.
Once the quinoa is ready, you can prepare the egg bhurji as you normally do.
Since the quinoa grains are already cooked, you can add them in the end and sauté them for a couple of minutes.
This way, they will get a nice flavor from the other ingredients.
Try this Indian quinoa recipe, and you will surely love it.
10. Quinoa Chicken
Chicken and rice is a classic combination, but have you tried chicken with quinoa?
It's quite tasty, and you can prepare it in different ways.
That's true!
But if you don't want to complicate it too much, you can make it in Mangalorean Chicken Sukka or Andhra Chicken Dry style.
For this recipe, you can either cook the chicken and quinoa together or separately.
It's entirely up to you.
If you cook them together, the quinoa will absorb all the flavors of the chicken.
So, that's an added advantage.
Tip: Do not add too much quinoa to this recipe, as it will taste quite different.
Tips To Make Indian Quinoa Recipes At Home
Here are some useful tips for you –
Quinoa is a good replacement for rice, so you should start experimenting with the dishes that you usually make with rice.
Quinoa does have a bitter taste, so it's important to rinse it properly before cooking.
You can cook quinoa in a pressure cooker to save some time.
There is no need to soak quinoa unless you're making a batter out of it.
It takes a while to understand the taste of this grain, so don't be discouraged if you don't like it the first time. Keep trying and see how you can incorporate it into your daily meals.
I hope these tips help you make some delicious Indian quinoa recipes at home.
Do let me know how it goes!
Meanwhile, let's check out the FAQs section to know more about this grain.
FAQs
1. What Tastes Good With Quinoa?

There are a number of things that go well with quinoa.

You can add vegetables, fruits, nuts, and even meat to quinoa to make a delicious meal.

There is no end to the possibilities when it comes to quinoa.

So, get creative and experiment with different flavors to find what you like best.
2. Is Quinoa An Indian Food?

No, quinoa is not Indian food.

It is, however, becoming increasingly popular in India.
3. What Can You Add To Quinoa To Make It Better?

Quinoa is pretty much like rice.

It is a blank canvas that you can add anything to.

If you want to make something with vegetables, you should consider using crunchy veggies like carrots, peas, and corn.

It will add more taste and crunch to the preparation.

Similarly, you can add chicken or shrimp to get more out of your quinoa recipe.
4. Should Quinoa Be Soaked?

No, quinoa does not need to be soaked.

It is a grain that cooks quickly and doesn't require any such pre-processing.

If you soak the quinoa, it will become mushy, which is not what you want.
5. What Is Quinoa Called In India?

Since it's not a traditional Indian food, there is no specific name for quinoa in India.

It is simply called quinoa.
Over To You
When it comes to experimenting with new ingredients, quinoa is a great option.
It is a versatile grain that can be used in different ways.
Whether you want to make a simple dish or something more elaborate, quinoa can be a part of it.
So, do try out some of the above Indian quinoa recipe ideas.
I'm sure you will love them!
Do you have any other ideas for quinoa recipes?
If yes, please share them with us in the comments section below.
I'd love to hear from you.
Do share this guide with your friends and family if you find it helpful.