What are the Instant Pot differences?
Is there even a difference between some of these multi-cooker models?
In today's guide, I'm going to share insightful details on these commonly asked questions from the readers.
If you are interested in buying an Instant Pot model, do read this guide till the end.
Alright now, let's take a quick look at how Instant Pots differ from each other.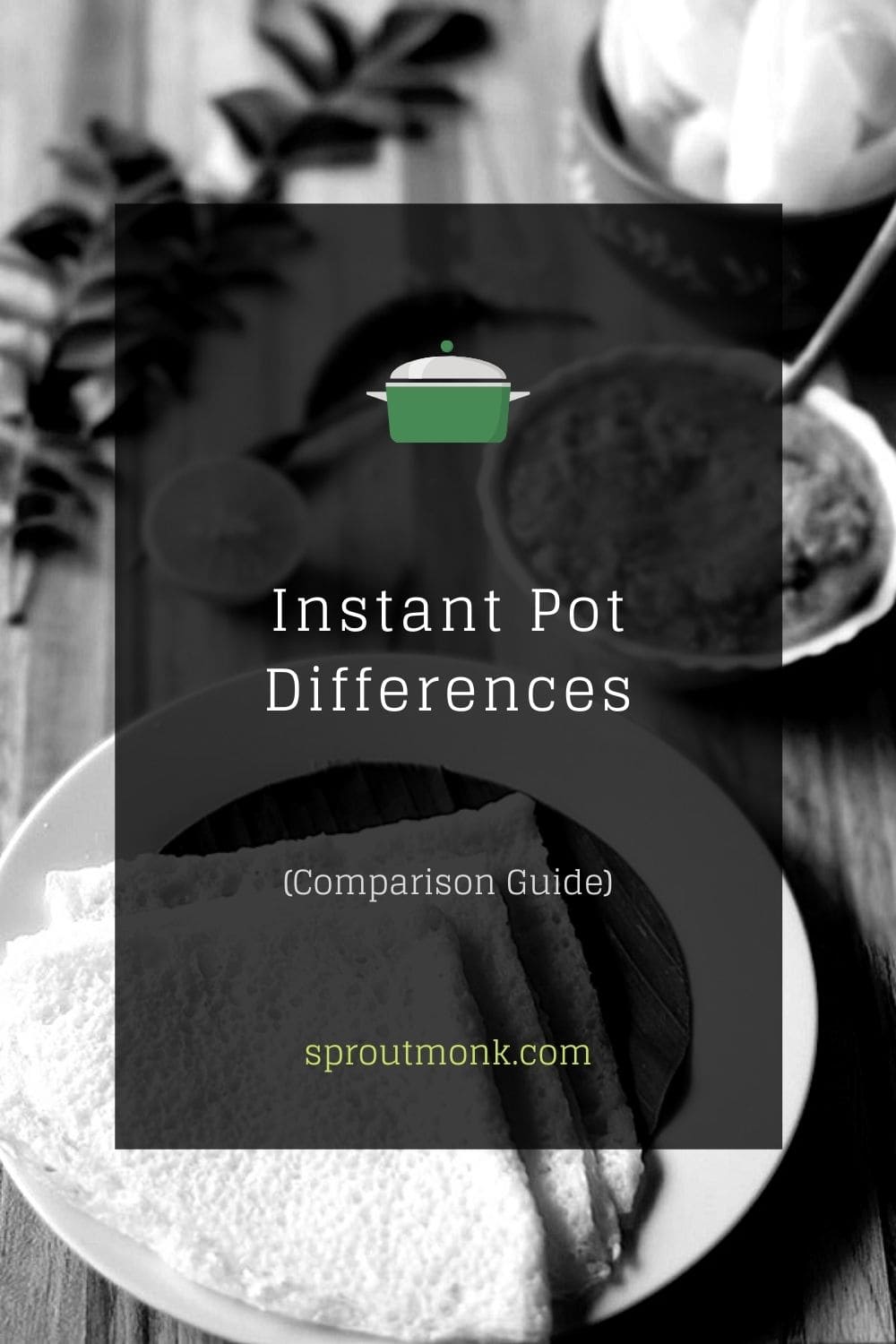 Instant Pot Differences
The basic difference between all these models is the features!
Instant Pot team has designed these models based on the requirement of each user.
Therefore, you will always find a couple of exclusive features in most of their models.
For eg., 
The Airfryer feature is only included in the Duo Crisp model, and you won't find it in any other Instant Pot model.
Now, let's check out the detailed comparison table to understand the Instant Pot differences.
| | Lux | Duo | Duo Nova | Max | Duo Plus | Smart WiFi | Ultra | Duo Evo Plus | Duo Crisp |
| --- | --- | --- | --- | --- | --- | --- | --- | --- | --- |
| Capacity | 6 in 1 | 7 in 1 | 7 in 1 | 9 in 1 | 9 in 1 | 9 in 1 | 10 in 1 | 10 in 1 | 11 in 1 |
| Sizes | 3,6 & 8 | 3,6 & 8 | 3,6, 8 & 10 | 6 | 3,6 & 8 | 6 | 3,6 & 8 | 6 & 8 | 8 |
| Sous Vide | No | No | No | Yes | Yes | Yes | No | Yes | Yes |
| Yogurt Maker | No | Yes | Yes | No | Yes | Yes | Yes | Yes | No |
| Additional Sealing Ring | No | Yes | Yes | No | Yes | No | Yes | Yes | No |
| Cooking Indicator | No | No | Yes | Yes | Yes | Yes | Yes | Yes | No |
| Air Frying | No | No | No | No | No | No | No | No | Yes |
| Diffused Pressure Release | No | No | No | Yes | No | No | No | Yes | No |
| Quick Cool Lid | No | No | No | No | No | No | No | Yes | No |
| Stovetop Friendly | No | No | No | No | No | No | No | Yes | No |
| Sauté | Yes | Yes | Yes | Yes | Yes | Yes | Yes | Yes | Yes |
| Slow Cooking | Yes | Yes | Yes | Yes | Yes | Yes | Yes | Yes | Yes |
Liked the above informative chart?
Well, I hope it solves some of the doubts in your mind.
Instant Pot is a pretty compelling device when it comes to pressure cooking foods.
Its innovative functions let you perform many advanced levels of tasks without any hassle.
But if you need more information on each Instant Pot model, continue reading this guide.
In the following section, I'm going to share a few more details on the differentiating factors of each model.
Instant Pot Features Comparison With Pros And Cons
The following information on different Instant Pots should help make your buying decision a bit easier.
1. Duo
It is the classic model in the Instant Pot series.
So, it means you won't get the best features of this electric pressure cooker lineup.
However, if you compare it with general cooking standards, it still cooks 70% faster than the traditional cooking methods.
And more importantly, all other models also offer similar cooking efficiency.
As for the features, this model doesn't come with a cooking progress indicator.
So, it might be a little inconvenient for new users.
It also doesn't have the LED display and EasySeal Lid feature.
Pros:
Available in different sizes
Cooks food faster 
Extra sealing ring is available
One-touch cooking
Cons:
Doesn't support LED display
No EasySeal lid
No cooking progress indicator
2. Duo Nova
Duo Nova is the next model in the Duo series.
It comes with more advanced features than Instant Pot Duo.
These additional features include Cooking Progress Indicator, Easy Steam Release, and New LED display.
So, if you look at some of these improved additions, it's a lot better model as compared to Duo.
Also, similar to Duo, it is a 7-in-1 model.
Pros:
Cooking Progress Indicator
Easy to read LED display
Easy steam release feature
Available in different sizes
Cons:
No cake maker and egg maker
No Sous Vide feature
3. Duo Plus
Duo Plus is another offering in the Instant Pot Duo series.
It is quite similar to the Duo Nova model, but it comes with a couple of more features.
These features include Egg Maker and Cake Maker.
It also comes with an additional Sterilizer feature.
And if you compare this model with other models, it has most of the advanced features you get to see in other high-end models.
Pros:
Available in different sizes
Cake Maker
Egg Maker
Sterilizer Feature
Sous Vide
Cons:
No Airfryer
Customizable programs not available
4. Lux
Instant Pot Lux is the basic model in this product lineup.
It is a 6-in-1 model, which means it's capable of doing the job of six different kitchen tools.
However, its features are not as great as some of the newly launched models in this series.
It lacks many essential features like Easy to Read LED display, Yogurt Maker, EasySeal Lid, etc.
So, if you are not a daily pressure cooker user, you can consider this model for your kitchen.
On the other hand, if you want to use it regularly for different tasks, I'd suggest you look for other available models.
Pros:
Cooks up to 70% faster than other methods
One-Touch cooking program
Available in different sizes
Cons:
Lacks many new features
Doesn't support EasySeal lid
No cooking progress indicator
5. Max
Max is a specifically designed product for those who prefer canning their foods.
It offers 15psi pressure cooking capability.
It is a 9-in-1 model, which comes with Sous Vide feature.
Currently, this model is only available in the 6-quart size.
Pros:
Supports Pressure Canning 
Sous Vide feature
1100W heating element
Cons:
Not available in different sizes
6. Ultra
Ultra is one of the most preferred models for home chefs.
The reason behind its popularity lies in the 10-in-1 capacity.
It has all the features you'd want to see in an Instant Pot model.
The only couple of things it doesn't have is an Airfryer and Sous Vide feature.
Other than that, you won't notice any issue with this multi-cooker model.
It is also available in three different sizes, which are good enough for home users.
Pros:
10-in-1 capacity
EasySeal Lid
Supports cooking pressure indicator
Easy steam release feature
Customizable programs
Cons:
No Sous Vide feature
No Airfryer
7. Duo Crisp
Duo Crisp is a combination model, which allows you to perform two different types of cooking, i.e., Airfrying and Pressure Cooking.
Also, it is the only model in the Instant Pot lineup that comes with AirFryer support.
You won't find another multi-cooker model that supports such dual functionalities.
Apart from the Airfryer function, this model allows you to perform different Pressure Cooking tasks like any other model.
Pros:
Airfryer 
11-in-1 capacity
Sous Vide feature
Cons:
Not available in multiple sizes
No Yogurt maker
Requires two separate lids for airfrying and pressure cooking
8. Duo Evo Plus
Duo Evo Plus is the most advanced multi-cooker model in this series of products.
There is no other Instant Pot model that can match the capacity of this model.
It offers 10-in-1 features, which are backed up with the most innovative technology as well.
So, what does it lack?
Well, it doesn't support Airfryer and Wi-Fi features.
These two features are available in different models, i.e., Duo Crisp and Smart WiFi.
Meanwhile, the Duo Evo Plus model is available in two different sizes of 6 and 8-quart.
Pros:
Equipped with most of the advanced and innovative features
Available in multiple sizes
Easy-Grip cooking pot
Quick Cool Lid
Works on the stovetops
Cons:
No Airfryer and WiFi features
9. Smart WiFi
As the name says, the Smart WiFi model is meant for those who like the convenience of operating their pressure cooker from smartphones.
Yes, it comes with Wi-Fi support, and you can easily operate it from your Android or iOS smartphone.
As for the features, it is an 8-in-1 model.
Therefore, it performs most of the advanced level of pressure cooking tasks.
This model is only available in 6-quart size.
Pros:
Cooking progress monitoring
Smartphone support
Pre-programmed recipes
Cons:
Wi-Fi feature doesn't offer more control or customizations
Limited size option
Done!
I hope the above guide helps you in selecting the perfect Instant Pot device for your home kitchen.
I know some of you may still have a question or two in your minds.
So, check out the following section where I've tried to cover most of the general questions related to this topic.
FAQs
Here's a list of some of the frequently asked questions from readers –
Is Instant Pot Good For Indian Cooking?
Yes, it's quite efficient in making some of the most delicious Indian dishes.
I have shared a detailed guide on this topic on the blog, which you can check out here.
What Comes With Instant Pot?
If you want to know more about the accessories included with each Instant Pot model, take a look at this guide.
In this guide, you will find an extensive list of Instant Pot accessories and tools.
Which Instant Pot Is The Best?
It really depends on your requirement. 
However, the Instant Pot team has done a great job by releasing different models in recent years.
And here's how they promote some of their models –
1. Duo Nova – For beginners
2. Smart WiFi – For tech chefs
3. Ultra – For home chefs
4. Duo Plus – For parents
5. Max – For canning
6. Lux – Basic model
7. Duo – Classic model
Now, I hope you got the basic idea of how each Instant Pot model is designed as per the requirement of individual users.
If you are only looking to use this pressure cooker for home use, I think you can go for the Ultra or Duo Plus model.
Is Instant Pot worth it for one person?
If you like pressure-cooked food at home, you can surely go ahead and get a small-sized Instant Pot for yourself.
You will find many Instant Pot variants that are available in 3-quart size.
I think this model size is quite good for relatively low usage.
It also costs less than most of the other models.
What's the difference between high and low pressure in Instant Pot?
It simply indicates the pressure generated inside the cooking pot.
Most of the Instant Pot recipes require a high pressure to cook the food thoroughly.
The low-pressure setting is useful in preparing foods like Eggs.
If you want more information on this topic, check out this article from The Kitchn.
Over To You
Instant Pot is one of the best innovations of our times.
It makes things easier and saves time in the kitchen.
Still, if you are a new buyer, you can easily get overwhelmed with their product lineup.
In the above guide, I have tried to share as much information as possible related to these kitchen gadgets.
And I hope you were able to spot the Instant Pot differences in each model.
If you have any more queries, do let me know in the comments section below.
If you enjoyed this guide, don't forget to share it with your friends and family.
Meanwhile, you can also subscribe to my weekly newsletters here.