Is Instant Pot good for Indian cooking?
Can you make Indian dishes in Instant Pot?
These are some of the commonly asked questions from Indian Instant Pot fans who are looking to get this gadget for their daily cooking needs.
So, I felt I should talk about this topic in detail in this guide.
If you want to know more about this nifty kitchen gadget, do read this guide till the end.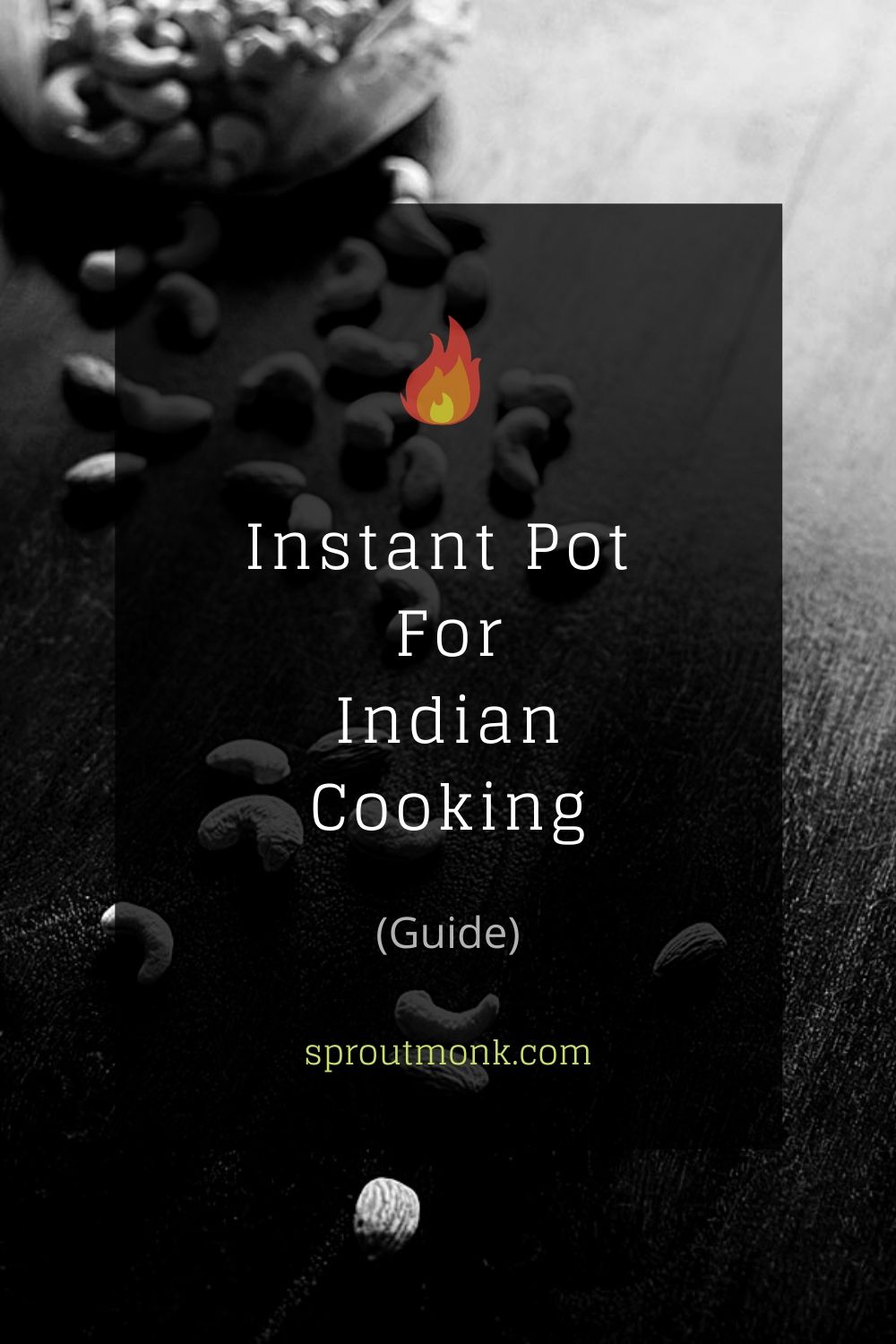 Instant Pot For Indian Cooking
Let's address this topic quickly.
The answer to the above questions is YES!
You can certainly make delicious Indian recipes in Instant Pot.
And you can make pretty much all the recipes you prepare in Pressure Cooker and Slow Cooker.
What Is An Instant Pot?
In simple language, Instant Pot is an electric pressure cooker.
However, it performs many different tasks than just pressure cooking the food.
Here are some of the popular features of Instant Pot –
Sauté
Pressure Cook
Keep Warm
Delay Start
These are the functions that play a big role in making it one of the most loved inventions of our times.
But how does it work?
Let's find out below.
Working Process Of Instant Pot
As stated above, Instant Pot uses electricity instead of flame to heat the equipment.
Once enough heat is generated inside the unit, it starts the cooking process as per the programmed inputs from the user.
Here's how the panel looks on the device –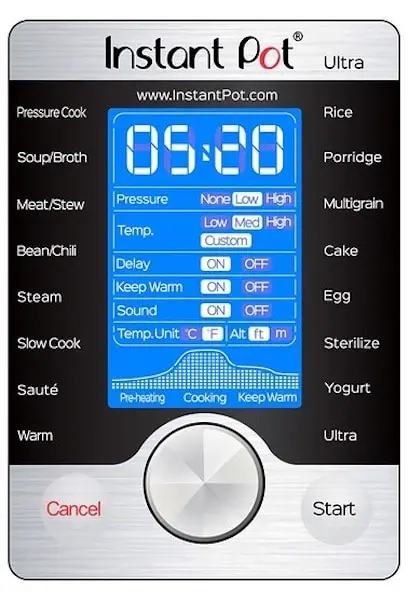 And that's all you need to do to use this electric cooker.
Simple, right?
On the whole, Instant Pot is a good investment if you are new to Indian cooking.
It makes everything easy.
Most importantly, you won't feel intimidated by the number of processes involved in many traditional Indian dishes.
Benefits Of Using Instant Pot For Indian Cooking
Now, here are some of the reasons why I feel Instant Pot can be a great choice for Indian cooking.
1. No Noise 
You can't imagine Indian homes without pressure cooker whistles.
The hissing sound and the whistles have now become synonymous with Indian cooking.
But if you are someone who loves the peaceful cooking experience, I think you will fall in love with Instant Pot.
This nifty kitchen gadget doesn't make noise and cooks your meals without any troubles.
So, if you are not too concerned about the nostalgic 'seetis' of the pressure cookers, you can consider getting an Instant Pot for your home.
2. Even Cooking
Like pressure cookers, Instant Pot also cooks food evenly. 
The steam generated inside the pot helps in the cooking process.
Hence, you don't have to worry about uncooked and raw food after cooking.
You only need to set the timer, and it will do the job accordingly.
3. Multifunctional
If you are considering Instant Pot for Indian cooking, you will be delighted to know it's a multifunctional device.
It operates on different modes, which are useful in preparing various dishes.
For eg.,
Pressure Cook
Rice
Porridge
Cake
Egg
Multigrain
Soup/Broth 
Meat/Stew
Bean/Chilli
As mentioned earlier, it also has a feature to keep your food warm for some time. 
So, if you like enjoying your steaming hot homemade meals, it will serve the purpose.
You don't have to take out any other kitchen tool to reheat the dishes.
4. Easy To Use
I think one of the biggest reasons why Instant Pot is so popular in the United States and other countries is because of the ease of use.
You don't have to worry about the heat levels and cooking timings while using this device.
Apart from this, their Smart Wifi model also allows you to operate Instant Pot from your mobile phone.
With this feature, you can cook, schedule, and monitor the system on your smartphone while working on other chores.
Well, what more you want from a kitchen device, right?
It makes the whole cooking experience far more pleasant as compared to traditional cooking methods.
And yes, you can clean it easily too!
5. Faster Cooking Time
Many Indian dishes take a long time to prepare and cook, especially if you're not a pro at cooking.
And this is where a multifunctional Instant Pot can help in saving your precious time.
Meanwhile, if you have been using a pressure cooker to prepare different dishes, you may not notice much difference between these two kitchen gadgets.
Both the cookers will need nearly a similar time to prepare the meals.
However, the only thing where Instant Pot scores an extra point is the accuracy.
It eliminates the guesswork, which is an integral part of stovetop cooking.
With Instant Pot, all the ingredients cook at the optimum temperature and time. 
Therefore, it turns out to be a time-saver gadget for Indian cooking.
6. Dishwasher-Friendly
It is a dishwasher-friendly gadget.
It means you don't have to put your efforts and time into cleaning the Instant Pot.
You just have to read the cleaning guide for your unit, and you should be good to go.
These are some of the benefits of using Instant Pot at home.
But there are other factors too!
These are obviously not the negative factors, but it sort of gives you an idea about the whole product.
So, I thought I should mention them in this guide as well.
Things To Consider
The following points will give you a brief idea about some of the less talked about characteristics of Instant Pot.
I hope you find them useful while making the buying decision.
1. No Traditional Cooking Feel
Since Instant Pot is a complete electric device, it lacks the human touch and the feel while cooking the food.
To a certain extent, it also happens with conventional pressure cookers.
These devices perform a set of tasks, and you can't interfere with them in between.
You can't even check the taste once you close the lid for steaming or cooking.
So, if you like the stovetop cooking techniques, you will feel a bit disappointed by this modern electric kitchen gadget.
2. Price
It's not a huge factor, especially if you look at the features and convenience.
Still, it's not a cheap kitchen gadget.
It costs more than any traditional pressure cooker in the market.
Therefore, you will need to decide whether it's a good idea to invest in this sophisticated pressure cooking device.
In my opinion, though, there is no harm in trying out the Instant Pot. 
I know it works, and you can also see hundreds of positive reviews about it on Amazon.
Instant Pot vs. Pressure Cooker
Is there a difference between Instant Pot and Pressure cooker?
Even though both these kitchen tools have similar functionalities, there are some fundamental differences between them.
And if you are looking to get Instant Pot soon, you should also know these differentiating factors.
So, check out the following comparison table. 
It will help you clear some of the doubts.
| | Instant Pot | Pressure Cooker |
| --- | --- | --- |
| Electricity Required | Yes | No |
| Easy of Use | Very Easy | Easy |
| Multifunctional | Yes | No |
| Meat Cooking Time | Fast | Relatively slower than Instant Pot |
| Can Cook Different Meals | Yes | Limited to pressure cooked meals |
| Mobile Control | Available | Not Available |
| Manual Error Possibility | Low | Moderate |
| Availability | Limited to select retail and online stores | Almost all large retail and online stores |
| Price | High | Comparatively Low |
Enjoyed this comparison table?
I hope you learned a thing or two from it.
Things You Can Cook In Instant Pot
From Sambar to Biryanis, you can cook pretty much everything in Instant Pot.
Ultimately, it works like a pressure cooker.
So, the dishes you prepare in traditional cookers can be made in this new-age electric cooker.
Here's a list of some of the Indian preparations you can make in Instant Pot –
Rice – Most Indian rice dishes including Kheer and Payasam
Curries – Dals, Sambars, Rasam, and other Vegetable Curries
Soups – Traditional Indian soups like Mulligatawny soup
Stews – Vegetarian and Non-vegetarian stew recipes
Cakes – Sweet and Savory cakes
Dosa Batter (Works best for cold temperature zones)
How To Get Instant Pot In India
Fortunately, the Instant Pot models are now also available in India.
You can get the latest models from Amazon India store here.
If you are in the US, you can buy these devices from most of the retail as well as online stores.
FAQs
Can Instant Pot Be Used In India?
Yes, you can use Instant Pot in India.
Can you smell food cooking in an Instant Pot?
No, you can't smell food while pressure cooking the food inside an Instant Pot device.
Which Instant Pot Is Best For Indian Cooking?
It really depends on your usage, but you can go for the Duo Plus model.
Over To You
As you can see, it's an amazing piece of invention from the Instant Pot team.
They have done a great job of simplifying some of the complex cooking tasks.
And I think it's the right time to get something as useful as Instant Pot for your kitchen.
It will change the way you cook, and you will probably not want to go back to time-consuming cooking techniques.
Now, if you've been using this device for some time, do share your experiences in the comments below.
Your feedback and guidance will help many new users in the future.
If you liked this guide, don't forget to share it with your friends and family.