Is Instant Pot really a Pressure Cooker?
Is it better than the traditional pressure cookers?
If you are looking to buy a new Instant Pot, you might be thinking about these questions.
So, let's address these queries in today's guide.
Hopefully, it will also help you learn more about these two kitchen gadgets.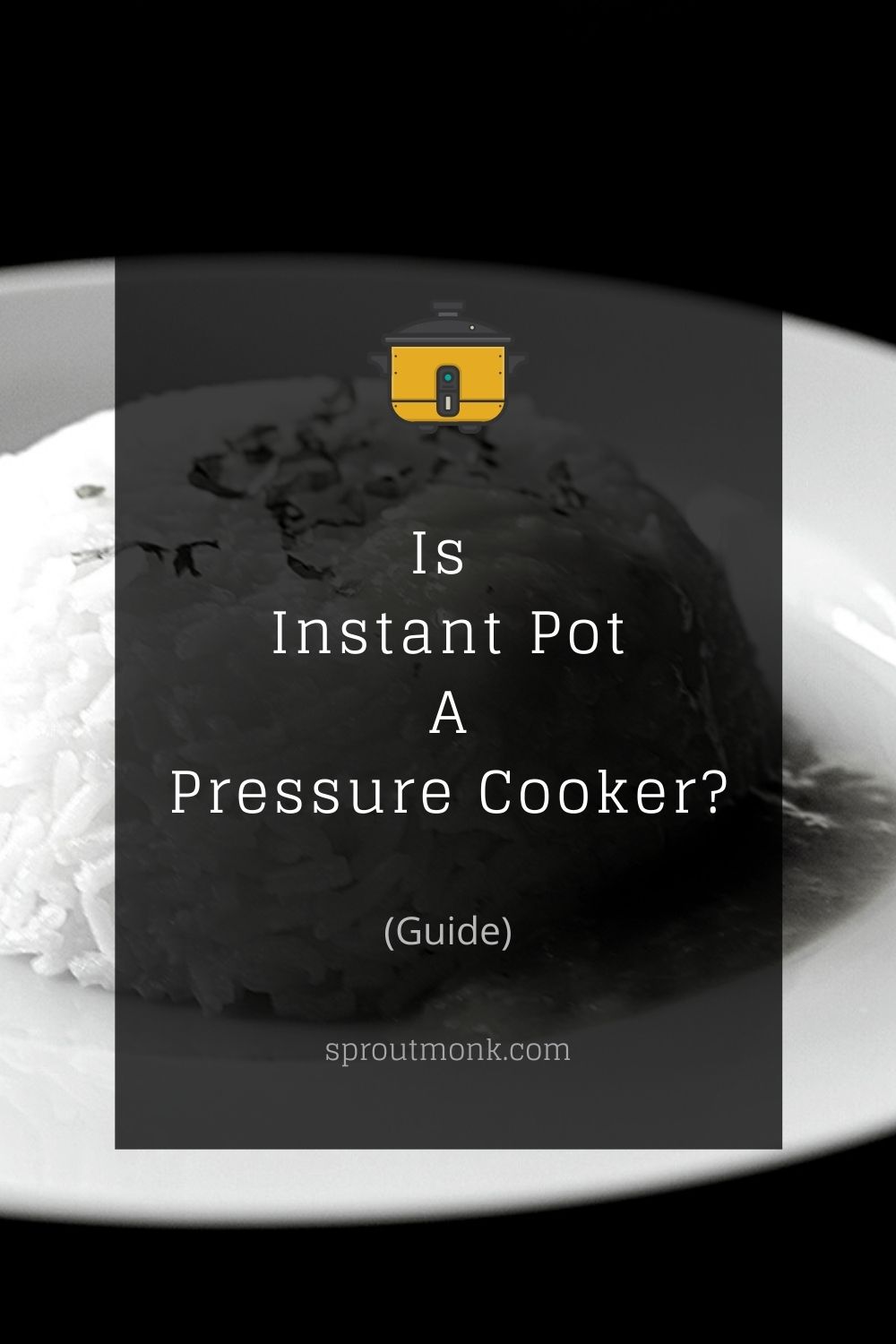 Is Instant Pot A Pressure Cooker?
The answer is Yes!
BUT there is more to it.
It is more than just a pressure cooker.
Instant Pot is a new-age kitchen gadget, and it comes with a lot of new features.
Here are some of the most popular features in Instant Pot –
Pressure Cooker
Slow Cooker
Cake Maker
Yogurt Maker
Sous Vide Support
One-touch Programming Functions
Coming back to the question, Instant Pot is truly a programmable multicooker.
And as you can see above, it is capable of performing many tasks that we can't even imagine with traditional pressure cookers.
Most stovetop pressure cookers can perform only one task, i.e., pressure cooking the food.
Is Instant Pot Better Than Pressure Cooker?
Technically, I do feel Instant Pot is far more superior than a pressure cooker.
Like I said above, it does more than just cooking food under pressure or steam.
Here's why I feel Instant Pot is better than Pressure Cookers
1. Efficiency
So, one of the first things I look at while buying a new gadget is its efficiency.
And I ask this question to myself –
Is it good enough to perform the featured or advertised tasks?
If the answer is yes, I go ahead and purchase the product.
As for the Instant Pot, it does what it says.
It is a multi-functional pressure cooker.
And it works efficiently by performing the tasks mentioned on the package.
You can also check out the reviews on Amazon to see how it's working for many other people as well.
But how does it fare when you compare it with traditional cookers?
Both the kitchen tools are meant to do a specific job, i.e., pressure cooking the food.
And both of them do a decent job if you look at them individually.
The only reason, however, I'd go for Instant Pot is the additional features.
As mentioned above, it works efficiently and also eliminates the need for having multiple tools for different tasks.
It literally frees up space in the kitchen.
2. Time Saver
Another thing I liked about Instant Pot is its ability to save time.
It saves a lot of time while preparing meals for the family.
With this programmable cooker, all you have to do is follow the recipe and set the timer.
And then, you don't have to look at this tool again.
On the other hand, the stovetop pressure cookers take significantly more time to cook specific foods.
Also, you will need to adjust the heat as per the requirement of your dish.
Apart from the heat adjustment, you will also need to know how long it's going to take for the dish to cook thoroughly.
So, again, Instant Pot turns out to be a winner in this comparison.
3. Wi-Fi Functions
Well, not all Instant Pot models are capable of receiving commands over Wi-Fi.
You will need to get the Smart WiFi Instant Pot model to use the device using your smartphone.
Still, the idea of operating a kitchen device using wireless communication makes it better than any pressure cooker in the world.
And the good thing is it even opens many doors for future innovations.
4. Easy To Clean
All of us look for products that can solve some of the problems in our daily lives.
And that's what Instant Pot team has done with this kitchen gadget.
It is an easy to clean product.
Now, you don't have to waste your time in scraping and cleaning pressure cookers in the kitchen.
You can easily clean it in your dishwasher machines.
Also, the inner cooking pot swiftly comes out from the system.
Hence, you don't have to put any more effort into preparing this tool for cleaning.
Apart from these points, there are some other aspects that make it one of the best electric pressure cookers in the world.
For eg.,
Instant Pot is so popular among food makers that you will find all the recipes on the Internet.
You don't have to rely on the cookbook you get from the manufacturer.
If you want to make any specific regional dish in your Instant Pot, you just have to Google it.
And you will come across many recipes for your new kitchen gadget.
Moreover, the popularity of the product also results in community support.
You will find many helpful websites, blogs, and videos if you encounter any error or issue in the system.
So, the product popularity plays a big role in making the final buying decision.
Overall, Instant Pot can be a great choice for you if you're looking to upgrade the old pressure cooker at your home.
Difference Between Instant Pot And Pressure Cooker
Although the above guide helps a bit in understanding the two kitchen gadgets, I think the following table will help even more.
In this comparison table, I have tried to present a few more differentiating factors between the two systems.
| | Instant Pot | Pressure Cooker |
| --- | --- | --- |
| Electricity Required | Yes | No |
| Easy of Use | Very Easy | Easy |
| Multifunctional | Yes | No |
| Meat Cooking Time | Fast | Relatively slower than Instant Pot |
| Can Cook Different Meals | Yes | Limited to pressure cooked meals |
| Mobile Control | Available | Not Available |
| Manual Error Possibility | Low | Moderate |
| Availability | Limited to select retail and online stores | Almost all large retail and online stores |
| Price | High | Comparatively Low |
As you can see above, the table does give you an idea of how these two kitchen gadgets differ from each other.
In conclusion, I think it'd be fair to say Instant Pot is better than traditional pressure cookers.
Should I Throw Away My Old Pressure Cooker?
I'd not recommend you to throw away your old pressure cooker.
If the old one is functional, you can keep it as a secondary cooker.
Also, if you don't have an issue with kitchen space, there is no harm in keeping it for a long period.
Now, you'd ask why I suggest keeping the old one in the kitchen.
Well, Instant Pots are just like any other pressure cookers when it comes to cooking food in the container.
You can only cook one dish at a time.
Therefore, I feel it's better to have another cooker to prepare more dishes at the same time.
It will also help in saving more time, especially if you are preparing food for a party or a large family.
Ultimately, I'll leave it to you, but the option of having two cookers is always better than one.
So, do give it a thought before throwing away the old one.
If you have skipped reading the above guide, here is a quick look at the frequently asked questions from readers.
FAQs
Is Instant Pot Just A Pressure Cooker?
Like I stated above, Instant is not just a pressure cooker. It is a multi-functional pressure cooker, which performs various tasks as per the requested instructions from the user.
Are Electric Pressure Cookers And Instant Pot The Same Thing?
As explained in the guide, Instant Pot is a type of electric pressure cooker. You will find many such brands of pressure cookers in the market.
Are all Instant Pots pressure cookers?
Yes, all Instant Pots can perform the task of pressure cooking the food.
Can the Instant Pot replace a pressure cooker?
Yes, it can very well replace a pressure cooker.
It is also capable of performing other tasks like Sauté, Cake Maker, Sous Vide, etc.
You won't feel the need to go back to your traditional cooker after using this programmable cooker.
Can you use Instant Pot recipes in a pressure cooker?
Yes, you can try some of the Instant Pot recipes in a pressure cooker, but it's necessary to know how these two devices work in the first place.
If you are only looking for a kitchen experiment, I'd suggest you read the guidelines shared by the respective manufacturers.
Over To You
I hope you liked this quick and simple guide on Instant Pot.
Instant Pot is a useful device if you are someone who loves cooking at home.
It can perform many tasks, which are essential in preparing different types of dishes in the kitchen.
So, if you are looking to get one for yourself, go ahead.
You will love this product!
If you have any more questions related to Instant Pots, leave a comment below.
And if you found this guide useful, do share it with your friends and family.