Kanda Poha is a Maharashtrian delicacy, which is often made with Onions (Kanda) and Flattened Rice (Poha).
You can have this dish as breakfast or tea-time snack, but most of the time it is served as a breakfast dish across India.
Since we use Flattened Rice in the recipe, it is packed with Carbohydrates. And that's why many people prefer having Kanda Poha to kickstart their day.
You can also have Poha for breakfast if you're experiencing indigestion or similar issues.
Important: However, do not use Green Chilies, Potatoes, Green Peas, and Peanuts in your Poha. It won't serve the purpose at all.
We also make Kanda Poha at home, and it has now become our regular breakfast dish for Mondays.
After savoring the heavy meals on a lazy Sunday, I think you can go easy on your tummy the next morning.
And therefore, Poha makes a perfect light breakfast option.
In the following post, I have shared a traditional version of Kanda Poha recipe.
Step By Step Recipe
Alright, let's quickly take a look at the recipe preparation: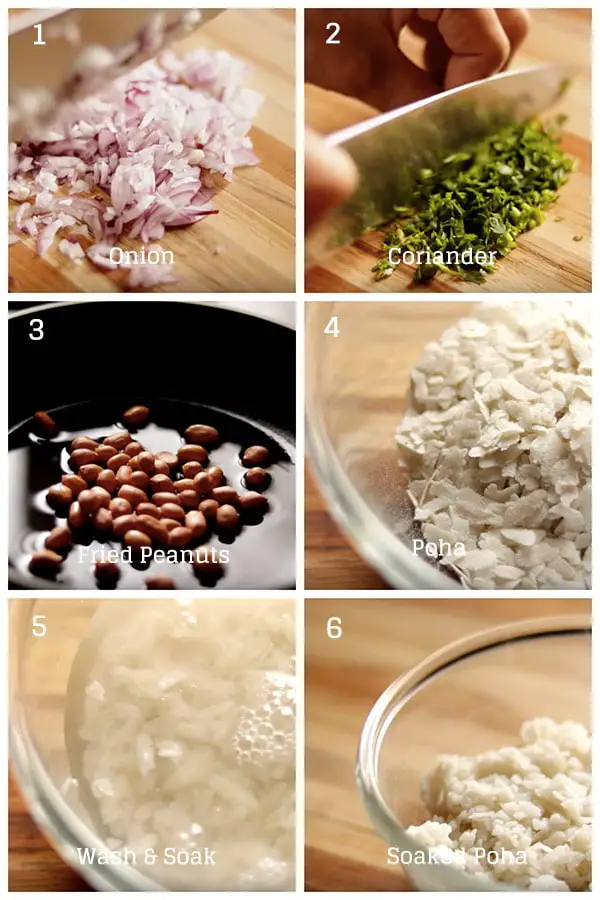 In this recipe, I have used Fried Peanuts as well as Boiled Potatoes. You can add or remove them as per your taste.
Both these ingredients bring nice taste and texture to this dish.
Now, in the next step, you will need to prepare a base mixture with Mustard Seeds, Curry Leaves, Green Chilies, Onion, Salt, Turmeric Powder, Fried Peanuts and Boiled Potatoes.
This mixture helps in creating a delicious base for the Poha recipe.
So tempting, right?
Tips To Make Kanda Poha
Wait till the Mustard Seeds crackle in hot Oil. If you put other ingredients immediately after adding the Mustard Seeds, your Kanda Poha will not get the desired taste to it.
Always use Thick Poha to prepare this recipe. If you're planning to buy it from a local store, make sure you check the label on the packet.
Don't forget to put the lid on after stirring the Poha gently. It helps in getting the quintessential Yellow color to this dish.
Sugar and Lemon Juice are the two secret ingredients of this recipe. So, don't miss out on them. (If you prefer the salty taste, you can avoid Sugar from this recipe.)
Don't use a high flame to prepare the Onion base, as it gives a slightly bitter taste to the dish.
If you want to have the prepared Kanda Poha after a few hours, sprinkle some water on it and reheat on a medium flame. And yes, don't forget to check the taste in between.
Well, let's not waste more time now.
Here's the detailed recipe of Kanda Poha for you:
Kanda Poha Recipe
Kanda Poha is a traditional Maharashtrian breakfast recipe, and it goes well with a hot cup of Chai or Coffee.
Print
Pin
Rate
Ingredients
100

gm

Flattened Rice (Poha)

1

Onion( Pyaz); medium sized

finely chopped

2-3

tbsp

Raw Peanuts (Singdana)

1/2

Potato (Aloo); medium sized

boiled and peeled

2

tsp

Mustard Seeds (Rai Dana)

6-8

Curry Leaves (Kadi Patta)

2

tsp

Fresh Lemon Juice (Nimbu Juice)

5

gm

Coriander Leaves (Dhaniya Patta)

finely chopped

1

Green Chili (Hari Mirch)

roughly chopped

2

tsp

Turmeric Powder (Haldi Powder)

2

tbsp

Oil

2

tsp

Sugar

Salt

as per taste

Water

as needed

2

tsp

Grated Coconut (Kasa hua Nariyal)

for garnishing

Nylon Sev

as needed
Instructions
Get a bowl and rinse the Poha with some Water. Soak it in Water for 1-2 minutes and remove the excess Water later. Keep it aside once you're done.

Heat a Pan or Kadai on medium flame.

When the Pan turns hot enough, add some Oil to it.

As the Oil turns hot, add the Raw Peanuts and fry them till you get the golden brown color. Remove them from Pan and keep aside.

In the same Pan, add the Mustard Seeds and wait till they crackle.

Once you hear the crackling sound, add the Curry Leaves and Green Chilies. Sauté them for a couple of seconds.

Now, add the chopped Onions and Salt to it. Sauté the Onions till they turn translucent.

Add the Turmeric Powder, Boiled Potatoes, and Fried Peanuts to it. Mix everything well.

Finally, add the soaked Poha, chopped Coriander Leaves, fresh Lemon Juice, and Sugar to it. Mix again. (You can also sprinkle some Water here if the Poha looks too dry.)

Lower the flame and let it cook under the lid for 3-4 minutes.

Serve the Kanda Poha in a plate and garnish it with the grated Coconut, Coriander Leaves, and some Nylon Sev (optional).
Nutrition
Calories:
323
kcal
|
Carbohydrates:
45
g
|
Protein:
6
g
|
Fat:
14
g
|
Saturated Fat:
2
g
|
Sodium:
59
mg
|
Potassium:
324
mg
|
Fiber:
4
g
|
Sugar:
5
g
|
Vitamin A:
190
IU
|
Vitamin C:
50.7
mg
|
Calcium:
38
mg
|
Iron:
12.8
mg
Liked this recipe?
Please leave your ratings above.
Kanda Poha Variations
Yes, you can make this dish in quite a few styles and techniques!
Here are some of my favorite alternatives to the traditional Kanda Poha –
Vegetable Poha
Want to give a more interesting touch to this recipe?
Try mix vegetable Poha!
In this, you can add some fresh Carrots (Gajar), Green Peas (Matar), and Tomato. All these vegetables taste quite amazing with Poha.
It's pretty similar to Vegetable Pulao where you can add your favorite veggies to the cooked Rice. However, both the delicacies taste different due to the use of Indian spices.
Tip – Use shallow-fried vegetables for this recipe, as it gives a better taste to the dish.
Dadpe Pohe
Dadpe Pohe is just another version of Kanda Poha where you don't have to cook the Poha with Onion and Mustard Seeds base.
You just have to make a Tadka separately, which should be added later to the prepared mixture of Poha, Chilies, Onions, Tomatoes, Fried Peanuts, etc.
I'll be sharing this recipe on Sprout Monk soon. So, stay tuned!
How do you make Poha at home? Do you use any special ingredients?
Let me know in the comments section below.