Kashmiri Chili Powder is one of the most used chili powders in India.
This powder is mostly used to prepare north Indian style food, but you can use it in any type of cuisine as long as the color of the dish is red or dark orange. 
That said, it may not be easier to find this powder all the time, especially if you're living in some of the western countries.
Hence, you will need to know the workarounds and substitutes for Kashmiri Red Chili Powder.
In today's guide, you will find more details on the same topic.
So, let's not waste any more time and get started with the guide.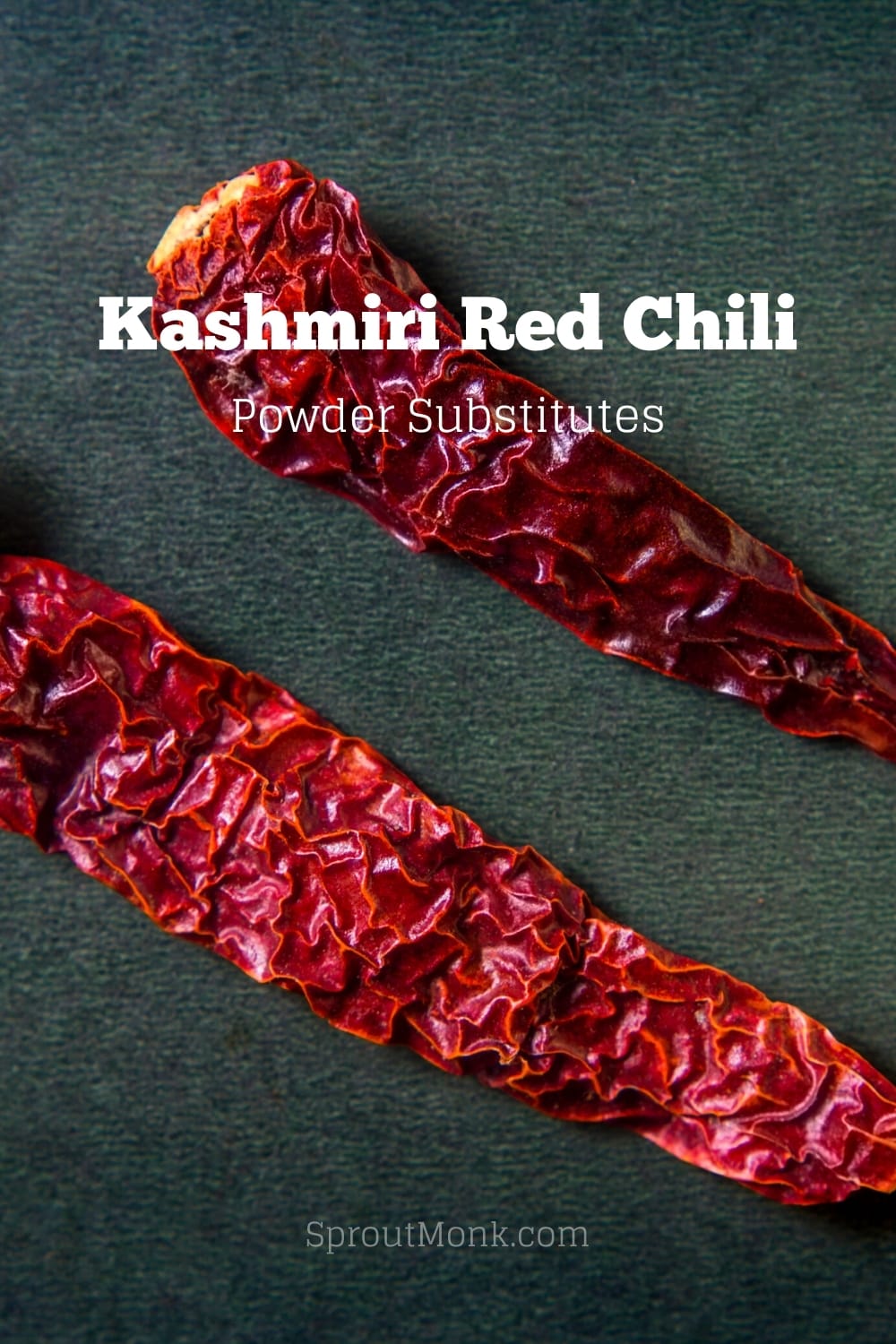 Kashmiri Chili Powder Substitutes
Here are the best substitutes you can use for the Kashmiri Chili Powder –
1. Byadgi Chilies 
Byadgi chilies are the best alternative for Kashmiri chilies.
These chilies are not too hot, and they lend a nice bright color to the preparations.
So, you can surely use these chilies as a good option for the Kashmiri ones.
For an even better shade of color, you can dry roast the chilies for a bit and put them in the grinder for making the powder.
Similarly, you can soak these chilies in water for half an hour and grind them with other spices to make the paste.
Both these techniques are useful in extracting the vibrant color shade from these chilies.
2. Deggi Mirch
Deggi Mirch is a commonly used chili in India.
This chili powder is prepared using a special blend of chilies found in northern regions of the country.
Kashmiri chili also goes into the making of deggi chili powder.
This mix is a bit spicier than Kashmiri chili, but you can definitely use it as a substitute. 
In fact, many Indian households use this chili powder for their daily preparations.
The good thing about it is it's easily available in the market.
3. Use Soaked Red Chilies
As mentioned earlier, the soaked chilies can also help you achieve the perfect shade of color.
While soaking the chilies, you should select the ones that are not hot and known for their color.
Once that's done, you can deseed the chilies and put them in cold water for up to half an hour.
It's an ideal time to soak the chilies.
After this, you can grind the chilies and turn them into a paste.
You can use this paste as a substitute for Kashmiri Chili powder.
For longer shelf life, you can use oil and salt in this paste.
Both these ingredients will help extend the shelf life of freshly prepared paste.
Alternatively, you can also fry this paste in a pan and reduce it to a thick consistency.
The frying technique will help store this paste for an even longer time, as you essentially reduce the water content using this method.
4. Food Colors
If you only need bright red color for your curries or any other preparations, you should think of using food colors.
I generally don't like using food color in my food preparations.
So, it's really up to you.
You can use the red food colors as per your liking.
It may not be a great substitute for natural Kashmiri Red Chilies, but you can surely use them for making dishes like Pav Bhaji and other North Indian curries.
5. Rogan
This is mainly used in restaurants.
For those who don't know, Rogan is nothing but the layer of oil that separates from the gravy.
It's an essential part of many Indian curries, as it adds to the color and taste of the preparation.
Since you are looking for the Kashmiri chili substitute, you can prepare the Rogan separately using your favorite red chili powder.
For this purpose, you should only use the chilies that lend color to the preparation.
Don't use the hot chili powder here.
Now, here are the steps you need to follow – 
Heat some oil in the tadka pan or small Kadai.
Switch off the flame and let the oil cool down a bit.
Add the red chili powder and stir it immediately.
Once the oil attains a beautiful red color, you can take it out and store it in an airtight container.
This is a quick method to prepare Rogan for your dish, but you need to be careful with the temperature of the oil.
If it's too hot, the red chili powder may get burnt and turn brown or black in no time.
There are, of course, other ways to prepare Rogan for Indian dishes, and you can use those methods as well.
6. Beetroot
Beetroot is another interesting natural ingredient that can be used to get the desired color for your dishes.
You can use it directly into the preparation or boil it separately for later use.
But there is one thing you need to remember while using this ingredient.
The beetroot has a slightly earthy taste, which can ruin the taste of some of the preparations.
So, you should only use it sparingly.
It can be a great option for different vegetable preparations that are prepared in red gravy.
You can also use beetroots in Pav Bhaji, as it enhances the color of this dish beautifully.
7. Other Chilies And Chili Powders
In India, we mostly use Deggi or Byadgi chilies as alternatives to Kashmiri red chili powder.
But if you are living outside India, you may face an issue finding these chilies near your place.
In such a case, you can experiment with the available chilies in your local stores.
You can also ask for the less pungent chilies in your grocery stores.
These chilies are good enough to use as substitutes for Kashmiri red chili powder.
In the following section, I have shared some FAQs related to this topic.
You can check out this section if you have any similar queries in your mind.
FAQs
1. Can You Use Chili Powder Instead Of Kashmiri Chilli Powder?

Yes, you can use any other chili powder as an alternative for your preparation.

However, as discussed in the above guide, you will have to choose the chilies that are not too hot to taste.

You can powder these chilies and use them whenever you want.
2. Is Kashmiri Powder Same As Paprika?

No, they are different. 

But, more importantly, you can surely use it as an alternative for Kashmiri chili powder.

You won't get the same taste or color as Kashmiri chilies, but something is always better than nothing.
So, do try it out.
3. Is Cayenne Pepper Same As Kashmiri Powder?

Cayenne is a hot pepper, so you will have to remember this while using it for the alternative of Kashmiri red chili.

You can limit the quantities of these peppers if you really want to use them for your Indian curry preparation.
4. What Does Kashmiri Chili Powder Taste Like?

Kashmiri Chili Powder doesn't have a particular taste.

These chilies are mild in taste, so you won't feel anything while tasting the dish made out of the same chili powder.

For taste, you will need to use other spices and ingredients in your preparation.
5. What Can I Substitute For Indian Chili Powder?

You can use any of your favorite local chilies to replace the Indian chili powder.

You may not get the same taste, but balancing the flavors with local ingredients is always a good idea.

For the color, you can either use chili pastes or sauces that will complement the dish.
Over To You
Looking for a Kashmiri Chili Powder substitute?
Well, I'm sure the above guide help in this process of finding the right substitute for this chili powder.
Since these chilies are only known for their colors than flavors, you can easily find other chilies and ingredients to get you the desired color for your preparation.
But if you're still struggling to find the right one, do let me know in the comments below.
I will surely try to help you out.
Now, if you enjoyed this guide and found these suggestions helpful, please share them with your friends and family.