Is it possible to keep your vada crispy for a long time?
Whether you make Moong Dal Vada or Medu Vada, these deep-fried snacks always taste great with a crispy and crunchy texture.
It's the right texture that makes you want to have them more each time you make them at home or visit your favorite snacks shop.
But how do you retain this texture for long?
Well, there are certain techniques and methods that play a crucial role in achieving these results.
Let's get to know about them in the following guide.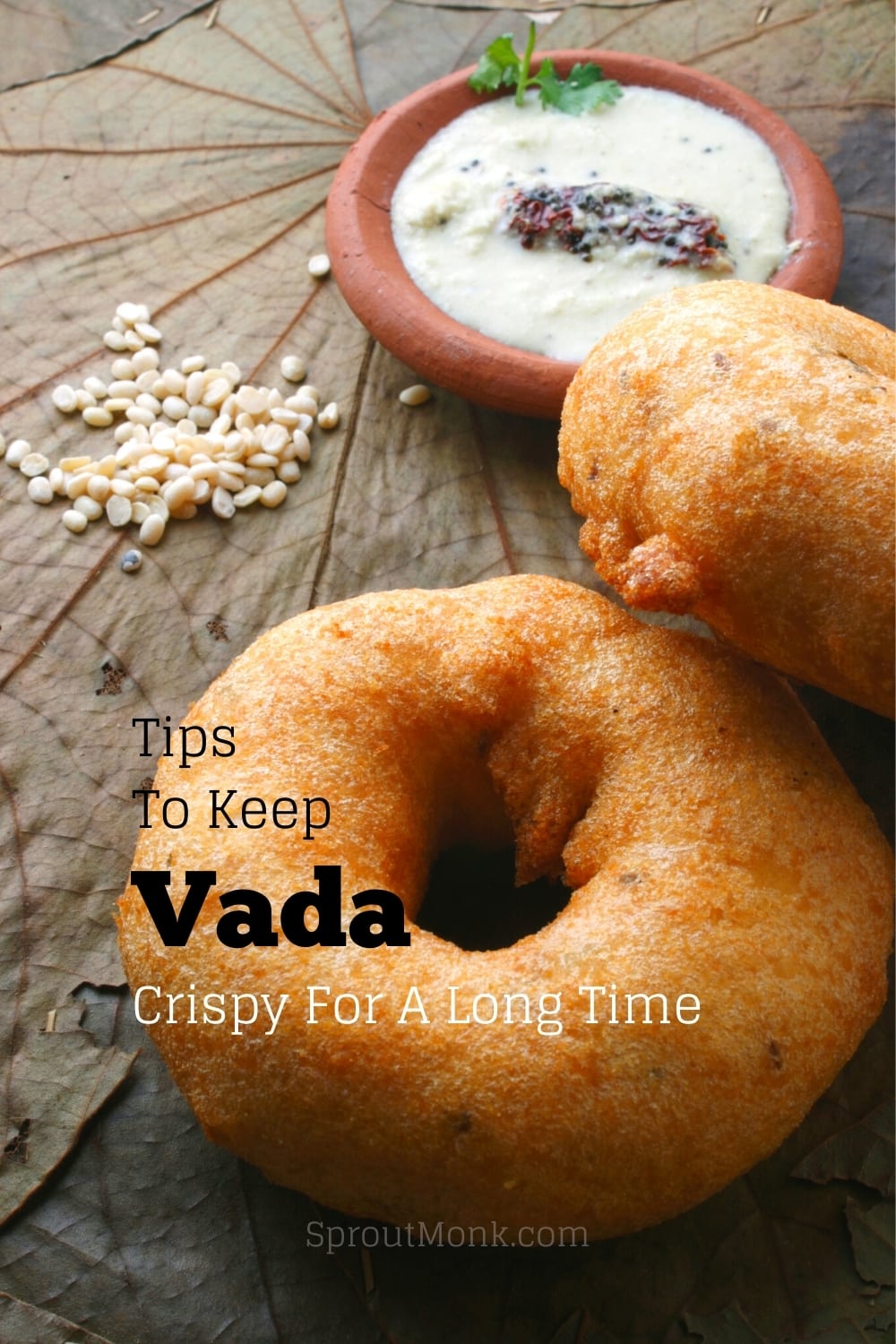 How To Keep Vada Crispy For A Long Time
In this guide, I have tried to share some of the secrets that Halwais use for making and keeping their fried food items crispy for a good amount of time.
So, let's quickly take a look at them.
Note: The following suggestions can be used for other deep-fried snacks too.
1. Prepare A Thick Batter
Yes, you need to start from scratch if you want to keep the vadas crispy for a long time.
And this is the first step of this process.
If you feel your vadas often turn soft, it's mostly because of the inaccurate consistency of the batter.
When you add too much water to the dal mixtures, it makes the vadas more spongy and soft.
To avoid this mistake, you should simply reduce the quantity of water from the batter.
Alternatively, if you are not too sure about the water quantity, you can add a little water at the time of mixing the batter.
Follow this method a few times, and you should be able to achieve the right batter consistency.
2. Use Corn Flour Or Rice Flour
Both these flours can get you the right amount of crispiness to the vadas.
However, you shouldn't be using them in large quantities, as it might change the taste of your delicacy.
Also, do not use both the flours together. 
Just use any one flour so that it doesn't alter the taste of the vadas.
Apart from the crispy texture, you can also use these flours if you have added excess water to the batter.
3. Use Semolina To Get The Right Texture
Semolina is a proven ingredient to get the crunchy and crispy texture of various fried items.
It works so beautifully that you won't even need any other ingredients to solve this issue.
The other thing about Semolina is it doesn't have its own taste.
So, if you mix it with the batter, it won't interfere much with the taste of your vadas.
But again, this doesn't mean you should use it in excess.
The Semolina does have a bit of grainy texture, which might ruin the experience of having perfect vadas.
4. Use Baking Soda
Baking Soda has always been the secret ingredient of many professional kitchens.
It works great for fried items and gives them a nice crunchy texture.
But you need to be careful while using it in the batter.
Do not add too much baking soda to it.
If you do, the result won't be very appetizing for sure.
5. Fry The Vadas On A High Flame
That's right!
When you fry the vadas on a low flame or uneven flame, you will always face difficulties making and keeping them crispy for a long duration.
The uneven temperature doesn't allow the vadas to cook properly.
So, try to fry them at a high and consistent temperature.
There is one more thing you need to understand while frying the vadas in oil.
Whenever you make them at home, make sure you do not add too many of them at a time.
It's always a good idea to fry only a couple of pieces in your Kadai or deep fryer.
If you fry multiple pieces in one go, it might save some of your time in the kitchen.
But eventually, you won't feel happy with the end result.
Do remember this suggestion whenever you make vadas at home.
6. Deep Fry The Vadas
Well, it doesn't need an explanation, but you should always prepare vadas using the deep-frying method.
The shallow-frying technique is generally effective for making tikkis and similar snacks.
However, when it comes to vadas, you must opt for the deep-frying technique.
7. Place The Vadas In A Bowl
Done with the frying process?
Now, do not keep the deep-fried vadas in a closed container.
You should always keep them in the open, i.e., without placing the lid on the container or bowl.
But why is it so important?
As you know, the deep-fried items continue to cook even after you remove them from the flame.
If you cover them with the lid, the steam generated from these items will transform into moisture.
In the end, the moisture will make the coating and mixture turn soggy.
So, it's essential to ensure that you don't keep your vadas in a closed container.
Keep them in a bowl, and I'm sure they will remain crispy for a reasonable amount of time.
The halwais and snacks sellers always use this technique, and you will never find them storing the deep-fried snacks in closed containers.
8. Do Not Add Vegetables While Making Vadas
Even though vegetable fritters taste great, you cannot keep them for too long.
The vegetables generally release juices during the cooking process.
When you remove them off the flame, the cooking process continues to take place outside as well.
This is why the vegetable pakoras always turn soggy after cooking.
Hence, you should avoid adding veggies while preparing vadas at home.
Having said that, you can add some onions to the batter. 
It will surely help get a bit of crunchy texture to the vadas.
Overall, these are the few things you can do to keep your vadas crispy for long.
The crispy texture of these snacks will always depend on the making process than the things you do after taking them off the flame.
So, try to work on it as much as you can.
In the following section, you will find some FAQs related to this topic.
Let's check them out below.
FAQs
1. How Do You Reheat Vada In Oven?

The process of reheating vadas is pretty similar to other fried foods.

If you have frozen vadas, you should place them on the baking sheet and reheat them in a pre-heated oven at 200°C for 6-8 minutes.

For the ones that are at room temperature, you should reheat them for 3-4 minutes.

You may adjust the temperature later if you feel they are not hot enough.
2. Why Is My Medu Vada Not Crispy?

It depends on the making process of Medu Vada.

If you make these vadas without baking soda and rice flour, you may not be able to achieve the right texture.

Also, as I've mentioned in the guide, the frying temperature is equally important here.

You need to fry them at high flame all the time.
3. How Long Can You Keep Vada Batter In Fridge?

It should stay fresh in the refrigerator for a couple of days, but do not extend this time period.

Because the batter will turn sour, as the bacterial process will continue to take place in the container.

For the container, though, you should choose an airtight container for sure.

Do not store it in any other container.
4. What To Do With Leftover Medu Vada Batter?

You can use it to make regular fritters.

If you want to experiment with it, you can add some of your favorite veggies and chilies to make vegetable fritters.

You can also add a few chunks of paneer to it, which will go well with the combination of dal mixture.

Similarly, you can steam this batter to give it an even more interesting touch.
5. How To Store Dahi Vada For Next Day?

Ideally, you shouldn't store Dahi Vada for the next day.

There are a couple of reasons for it.

Firstly, the vadas will soak up all the water content from Dahi and Chutneys.

It will make them soggy and tasteless.

Secondly, there is a high probability of Dahi turning sour the next day.

So, it doesn't make sense to store it for another day.

If you still want to go ahead with it, make sure you keep the vadas and yogurt separately.

You can mix them together while serving.
Over To You
Keeping vadas crispy can be a challenging task for many beginners, but it's not as difficult as it sounds.
If you can make a perfect batter and fry the vadas with the appropriate technique, you will not have any issues keeping them crispy for a long time.
So, do try out the tips and suggestions shared in this guide.
If you still face any issues, I will always be there to help you out.
For any queries, leave a comment below, and I will get back to you soon.
Do share this guide with your friends and family if you found it helpful.