When you talk about Mumbai's food culture, you can't forget the Gujarat special Khaman Dhokla!
The Gujarati community, which has been an integral part of this city's history, has popularized this snack in the city and suburbs.
And today, you can find Khaman in pretty much all snack shops that sell Vada Pavs and Samosas.
Generally, the vendors serve this snack with Raw Papaya Chutney and fried Green Chilies.
Some of them also offer their specially made Dhokla Chutney, Coconut Chutney, and Coriander Chutney with it.
However, I always prefer traditional Papaya Chutney whenever I feel like having this snack.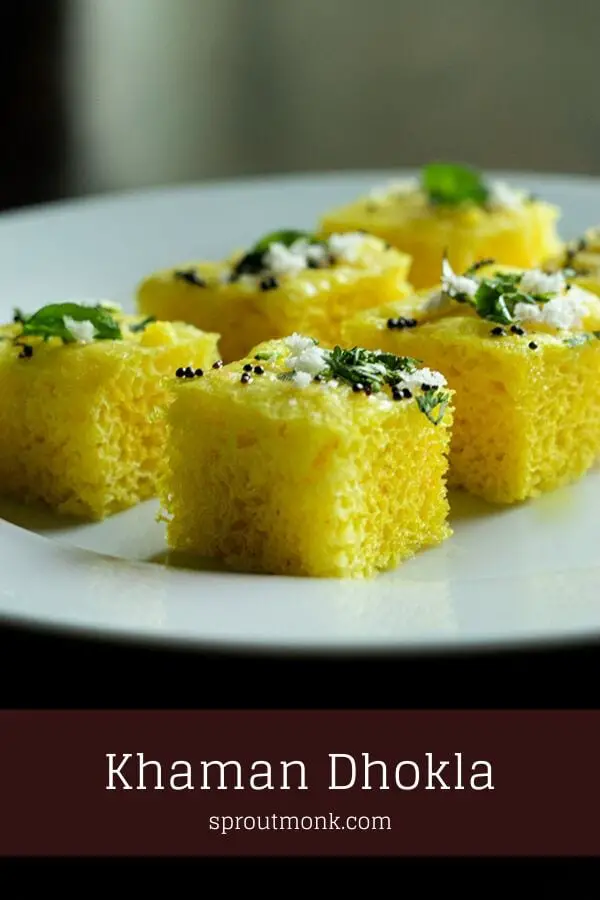 Khaman Dhokla is a light snack, which means you don't have to worry about the 'good things' that go into deep-fried snacks.
You can savor it anytime you want.
And if you want to make it even more delicious, you can prepare it at home.
Yes, it's quite easy to make Khaman Dhokla using a pressure cooker. You can also make it in a Microwave Oven.
In the following post, I have shared an instant Khaman Dhokla recipe.
I have used Talod's Nylon Khaman mix flour for this recipe, as it gives the best results for homemade Dhokla recipe.
You may use any mix of your choice, though make sure you read and follow the recipe given on the packet.
Although most of the time you'll find a similar recipe on these packets, it's always good to go through the additional details.
Those tips might help you avoid errors and mistakes while preparing this delicacy.
How To Make Pressure Cooker Dhokla – Step by Step Method
As you know, the first step to prepare Khaman Dhokla is the batter preparation.
So, prepare a smooth batter using the Dhokla flour.
How To Prepare A Dhokla Flour Batter
Step 1 & 2: Get flour in a mixing bowl and mix it with some water.
Step 3: Get the rising mix in a Katori and prepare a slightly thick mixture with the help of water.
Step 4: Pour this mixture into the Dhokla flour batter.
Step 5 & 6: Whisk it thoroughly and pour it in a container.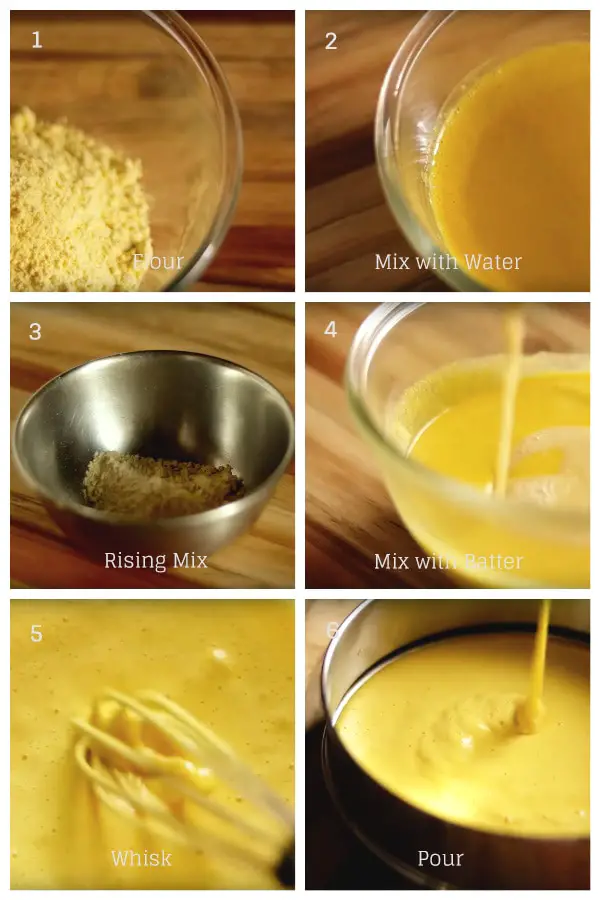 In the next steps, you will need to steam the Dhokla batter in a pressure cooker.
How To Steam Dhokla Batter In A Pressure Cooker
Here's how you can steam the batter in a standard Pressure Cooker –
Step 1: Heat a Pressure Cooker on high flame and pour 2 glass of water in it.
Step 2 & 3: Place the batter-filled container in the Pressure Cooker.
Step 4: Let it steam for 20 minutes.
Step 5: Remove the steamed Dhokla from Pressure Cooker and let it cool down for a bit.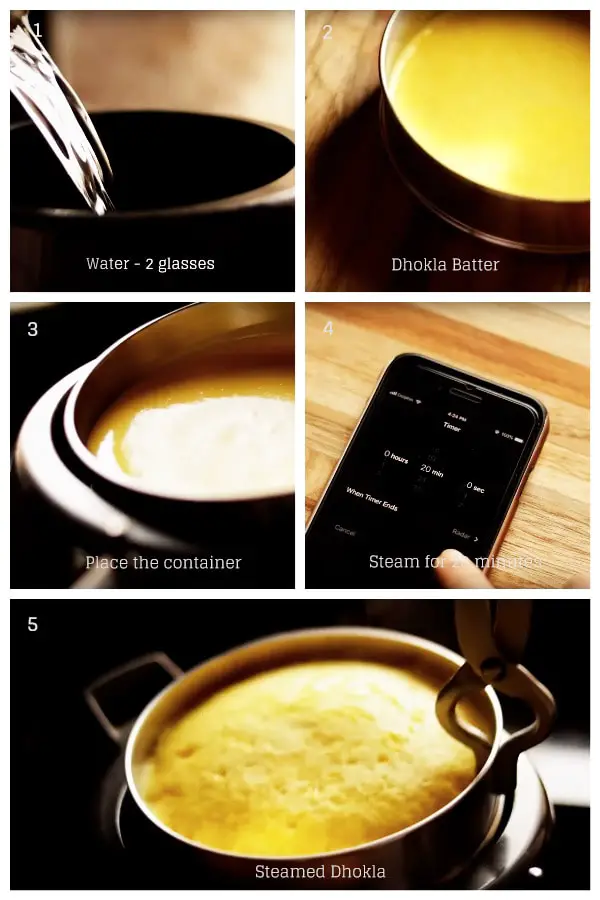 In the final steps, you will need to prepare the Tadka with some spices and hot oil.
How To Prepare Tadka For Khaman Dhokla
Let's take a look at the final and important steps of this preparation –
Step 1 & 2: Prepare Tadka with Oil, Green Chilies, Mustard Seeds, Curry Leaves, and Asafoetida.
Step 3: Pour it on the steamed Dhokla.
Step 4 & 5: Cut the Dhokla into pieces using a serrated knife.
Step 6: Garnish the prepared Dhokla with freshly chopped Coriander Leaves and grated Coconut.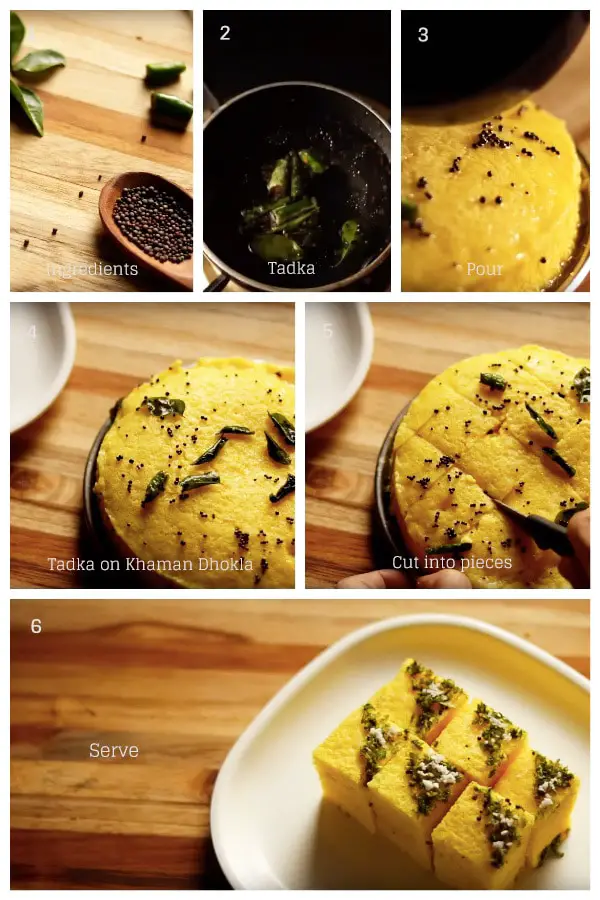 Foodie Tips
If you like this snack, don't forget to try Sandwich Dhokla. It's an amazing combination of Khaman and Dhokla.
You can also make it using Besan at home, though it takes a bit more time than the instant recipe.
Do not store this snack for more than 5-6 hours at the room temperature, as it starts losing its soft texture and taste.
Now, check out the following detailed recipe and delight everyone with your homemade pressure cooker Dhokla –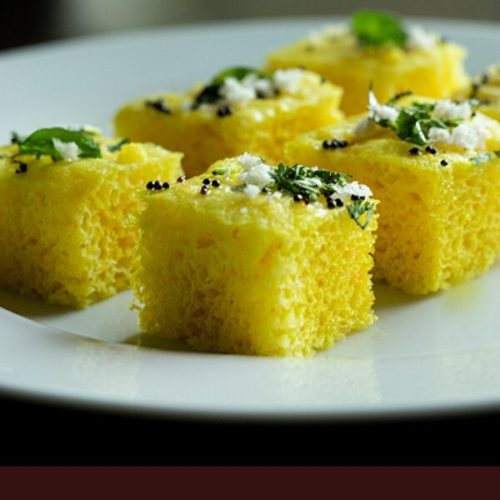 Khaman Dhokla Recipe
Instant Khaman Dhokla is a popular Gujarati snack in India. It can be made at home using Pressure Cookers and Microwave Ovens. 
Ingredients  
For Khaman Dhokla Batter:
200

gm

Instant Nylon Khaman Dhokla Mix

170

ml

Water

to prepare the batter

25

ml

Water

to prepare the paste using small sachet

50

ml

Water

to pour on the steamed Khaman
For Tadka (Tempering):
1

tbsp

Mustard Seeds

1/4

tsp

Asafoetida

10-12

Curry Leaves

2

Green Chilies

3-4

tbsp

Oil

50

ml

Water

for Tadka mixture
For Garnishing:
10

gm

Coriander Leaves

finely chopped

2

tbsp

Grated Coconut
Instructions 
For Steaming:
Get a mixing bowl. Use a sieve to pour the Nylon Khaman Mix in it. Note – Do not use the small sachet mix in this mixture.

Add Water (170 ml) to this powder mix and prepare a smooth batter. Keep it aside for 5 minutes.

Cut the small sachet and pour its content in a small bowl.

Add Water (25 ml) to this bowl and prepare a smooth paste.

Add this paste to the prepared Khaman Dhokla batter. Mix it thoroughly to get the paste-like consistency.

Get a plate and brush it with oil. Pour the batter in it.

Put this plate in a pressure cooker and steam it on high flame for 20 minutes.

Remove the plate and let it cool for 5 minutes.

Sprinkle Water (150 ml) on the plate and cut Khaman Dhokla into small pieces.
For Tadka (Tempering):
Prepare Tadka using Mustard Seeds, Asafoetida, Green Chilies, and Curry Leaves. 

Add Water (150 ml) to this Tadka and let it boil for a minute or two.

Pour this mixture on top of the Khaman Dhokla pieces.
For Garnishing:
Garnish it with finely chopped Coriander Leaves and grated Coconut. Serve immediately.
Notes
You can add 2 tsp of Sugar to the Tadka mix. It gives more sweetness to Khaman Dhokla.
When you are preparing Dhokla in Pressure Cooker, don't forget to remove its whistle from the lid.
Always serve the Dhokla hot or warm with some raw Papaya Chutney and Fried Chilies.
Don't pour too much water in the end, as it may turn your Dhokla a little soggy in texture.
If you want to store Dhokla, refrigerate it. It remains fresh for 10-12 hours in the refrigerator.
Update Notes: Updated on May 2020 with new Dhokla photo.