As you know, Chaat dishes are hugely popular in India.
It is also one of those snacks that should be savored only at the Thelas or Chaat shops.
But how do you make Chaats at home?
Well, if you are looking for the recipe, you should check out my Papdi Chaat recipe.
It's one of my favorite Chaat recipes, and I'm sure you will like it too.
In this post, I'm going to share some simple guidelines to make ANY Chaat recipe at home.
You can use the following tips to make these recipes at your home kitchen.
Sounds interesting?
Let's begin with the guide!
Things You Need To Make Chaat At Home
For any Chaat recipe, you will need to have all your ingredients available in one place.
If you have ever noticed, this is what the Chaat sellers do. They always keep things ready to serve their customers immediately.
Keep everything ready, and you will not have any difficulty while assembling the dish.
So, what do you need to make Chaat at home?
Each Chaat preparation consists of a couple of main ingredients and other common ingredients.
Therefore, you just need to play with your creativity to make your favorite Chaat at home.
Main Ingredients
Whether it is Papdi Chaat or Aloo Tikki Chaat, you will always have to prepare the main ingredient separately.
For eg.,
In Aloo Tikki Chaat, you will need to make crispy Aloo Tikkis along with some Chana Masala.
These are the star ingredients of Aloo Tikki Chaat.
And you can't make this Chaat without these two ingredients.
So, as you can see, there will always be a couple of ingredients that you will have to prepare in addition to the common ingredients.
Other ingredients are pretty much standard in all the recipes.
And therefore, you should always keep a stock of these ingredients whenever you want to make Chaat recipes.
Common Ingredients
Here's a list of ingredients that you will find in most of the Chaat dishes –
1. Boiled Potatoes (Aloo)
It is the base ingredient of most of the Chaat recipes in the world.
The comfort feeling you get while savoring the Chaat dishes is because of the boiled potatoes.
So, make sure you boil the potatoes in advance.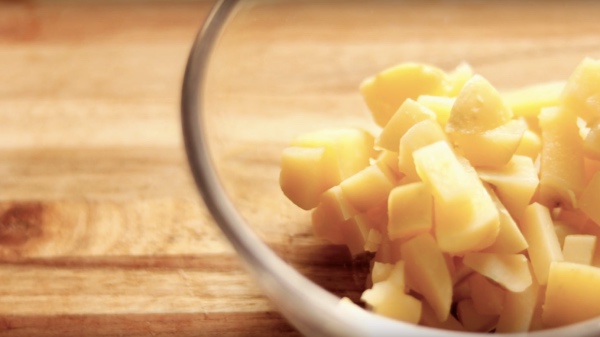 Tip – Boil 1-2 potatoes more than the recipe's requirement.
Because as they say in Hindi – "Ek plate se pet nahi bharta!"
You will always get a request from someone to make another plate at your Chaat party.
Also, the good thing about the boiled potatoes is you can store them in the refrigerator for at least 3-5 days.
So, even if you don't get a request to make another Chaat dish, you can easily store them for later use.
2. Chaat Masala Powder
It is a must-have ingredient in all Chaat recipes.
Chaat Masala Powder brings the quintessential taste to your Chaat preparations.
You can get this flavorful masala powder from any Indian grocery store.
I use Everest Chaat Masala Powder for my chaats.
3. Chaat Chutneys
Talking about the Chutneys, you will need two Chutneys for any Chaat recipe.
1. Green Chutney (Coriander Chutney)
It is made using Coriander Leaves, Mint Leaves, and Green Chilies.
And this Chutney goes with quite a few Indian snack dishes.
2. Tamarind Chutney
As the name says, Tamarind Chutney is made using Tamarind Pulp, Jaggery/Sugar, and some ground spices.
You can also serve this Chutney with Samosas, Aloo Tikkis, etc.
Also, it lasts really long!
And you can store it in the refrigerator for a couple of weeks without any issue.
Apart from these two Chutneys, you may also make Teekhi Chutney (Red Garlic Chutney). It helps in adding spiciness to the Chutney.
4. Sweetened Yogurt
Sweetened Yogurt or Meetha Dahi is an essential ingredient in many of the Chaat preparations.
And it doesn't even take long to prepare while making chaat at home.
All you need is some Whisked Yogurt and Sugar.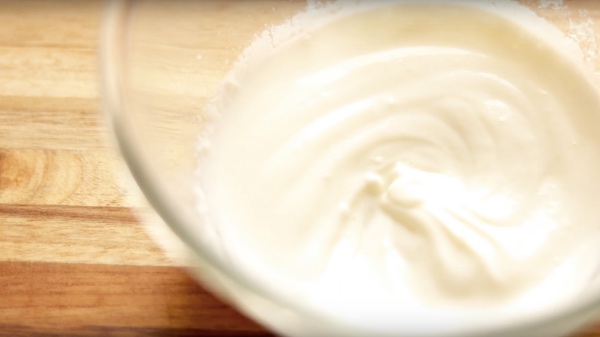 Mix these two ingredients nicely and keep it in the refrigerator.
Note – The Sweetened Yogurt should always have a slightly thin consistency, as it becomes easy to pour it on the Chaat.
I also like to add a pinch of salt to the sweetened yogurt. It just elevates the taste altogether.
You can also add Chaat Masala Powder to it if you want.
5. Chopped Onions
If you want to bring a crunchy texture to the base masala mixture, you need to use the chopped Onions.
Along with Papdis and Sev, the Onions help in getting the desired crunchiness to Chaat dishes.
6. Chopped Tomatoes
If you don't have all the ingredients to make Chaat at home, you can think of using Tomatoes.
Generally, Tomatoes are used to give body to any masala (base mixture) and curry preparations.
And therefore, you can use the same concept here. It will help in filling up space in your Chaat preparation.
Tomatoes also give a bit of tangy taste to the mixture.
And it goes well with the combination of Onions, Potatoes, and other ingredients.
Also, it balances the colors of your dish beautifully.
7. Lemon Juice
My favorite ingredient!
It's a must-have ingredient to give the finishing touch to your Chaat preparation.
However, if you are going to use Tamarind Chutney, Tomatoes, and Chaat Masala Powder, don't use Lemon juice.
It will make your Chaat a little too sour to taste.
8. Nylon Sev and Coriander Leaves
The garnish!
You can't complete your Chaat preparation without these two ingredients.
Both these ingredients should always be there when you want to make Chaat at home.
Nylon Sev adds the crunchiness to the Chaat dishes.
On the other hand, Coriander Leaves also brings its distinct flavors and freshness to the preparation.
So, don't skip these two ingredients from your Chaat dish.
Tip: You can also use Teekha Sev if you can't get hold of Nylon Sev.
How To Make Chaat
Finally, when everything is ready, you can start assembling the Chaat.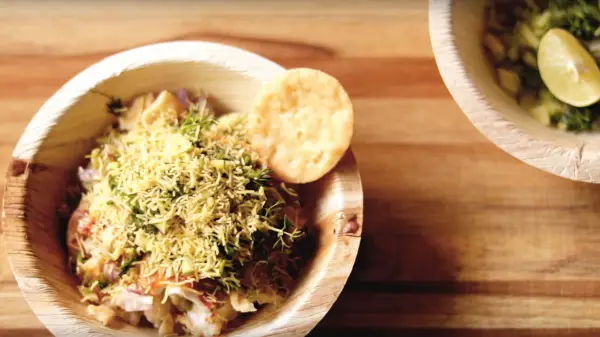 Note: Some Chaat dishes taste better when they are served hot.
For eg.,
Ratalu Chaat or Garadu Chaat should be served with moderately-hot boiled Ratalu or Garadu pieces.
It tastes amazing with chilled Yogurt and Chutneys. So, make sure you do these changes to your Chaat accordingly.
And that's pretty much about the Chaat making process.
Now, follow any Chaat recipe you like, and you should be able to make your favorite Chaat at home.