Do you want to make frozen peas taste better?
When we get peas from the grocery store, they often come in frozen packets.
While this can help preserve their freshness, they lack flavor.
So, how do you get more flavor to your frozen peas?
Let's find out in today's guide.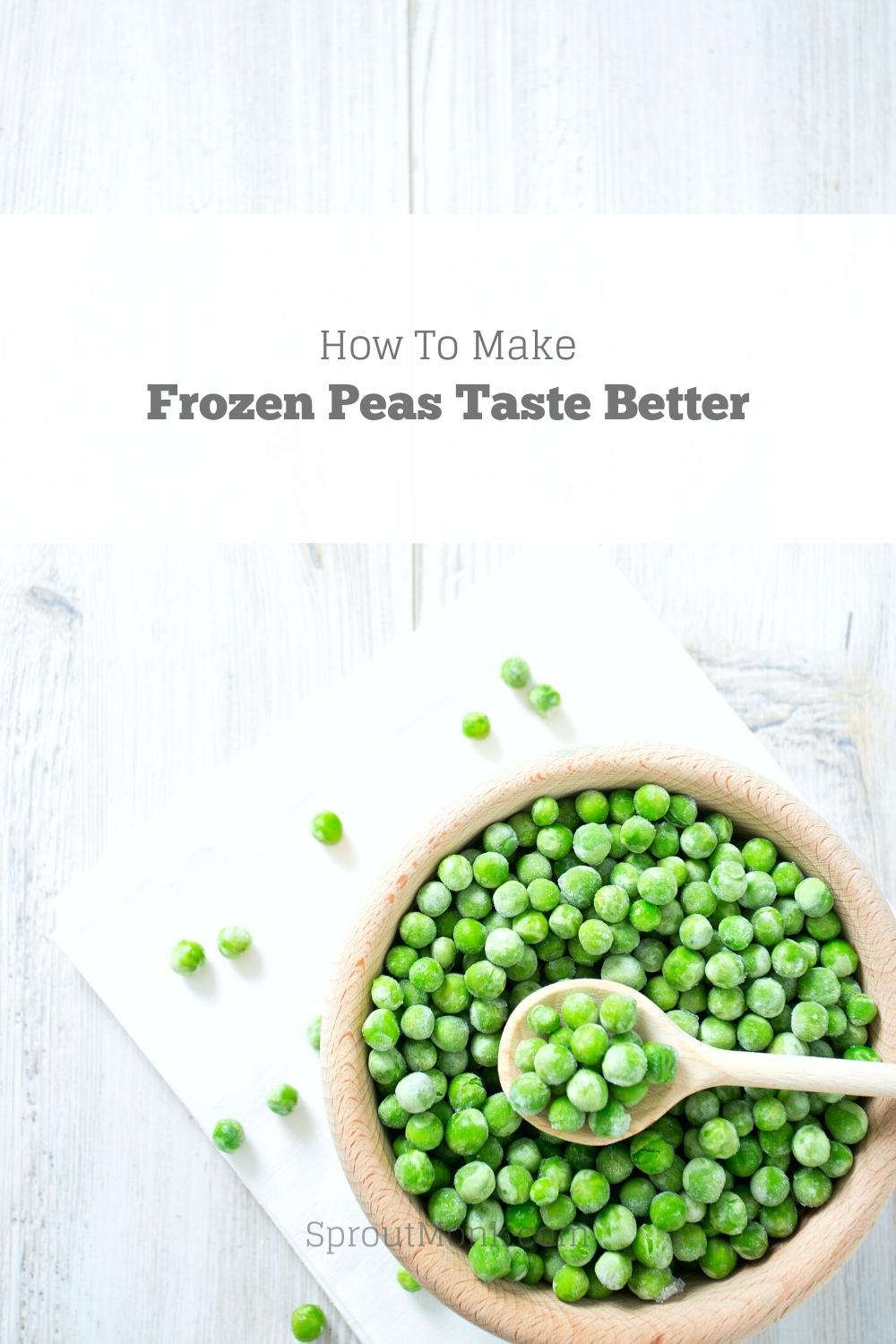 How To Make Frozen Peas Taste Better
Fresh peas have a relatively sweet flavor.
When they are frozen, this flavor can get muted.
So, here are some ideas to make your frozen peas more flavorful –
1. Add Salt To The Peas
Salt is known to enhance the flavors of food.
So, add a little pinch of salt to your frozen peas.
This should be done when you're boiling them separately.
There is no need to add extra salt if you're cooking them with other vegetables.
Note: If you are boiling them separately and have already added salt to the water, adjust the salt quantity in your main preparation.
Otherwise, the overall dish can become too salty.
And you can use any type of salt for this preparation.
2. Add A Pinch Of Sugar To Your Preparation
Sounds strange, right?
But a little sugar can help make the frozen peas taste better.
As you know, peas have natural sugars.
When they are frozen, these sugars can get dulled.
So, a little extra sugar can help bring out their sweetness.
But don't add a lot of sugar.
 It will affect the taste of your dish.
In case you're not sure, you can add sugar at the time of cooking the peas.
3. Sauté Them In Butter
I like to sauté my frozen peas in butter.
This gives them a lovely flavor and helps them retain their bright green color.
You can also use a combination of butter and olive oil.
When cooking peas with these ingredients, you shouldn't cook them for too long.
Just a light sautéing will do.
And if you want more flavor, you can also sauté them in flavored oils of your choice.
Tip: Butter contains salt, so adjust the quantity of salt in your overall dish accordingly.
4. Add Them To Soup
Well, if you don't want to enjoy them as a side dish, you can add them to soups.
This will be a good idea, especially in winter.
Frozen peas go well with many soups, such as minestrone, vegetable soup, or even chicken noodle soup.
And these soups will certainly enhance the taste of your frozen peas.
Peas are good at absorbing flavors.
So, when you add them to a soup with strong flavors, they will surely taste better.
5. Adding Garlic And Onion To The Peas
This is a classic combination if you want to make butter-flavored peas at home.
The garlic pods are known for their robust flavor, while onions have a milder taste.
You can sauté these two additional ingredients on medium flame.
And once the onions turn translucent, you can add the peas to the pan.
I don't like too much crunch in my cooked onions, so I cook them till they're soft.
But you can cook them as per your preference.
Note: This is a quick recipe, so you don't have to chop the onions too finely.
You can dice them into slightly larger pieces.
6. Use Fresh Herbs To Enhance The Flavor
Fresh herbs are a great way to enhance the flavor of your peas.
Herbs such as parsley, rosemary, thyme, or basil can do wonders for the taste of your dish.
You can either add them while cooking the peas or, in the end, as a garnish.
If you want more fresh flavors, you can also try using mint leaves.
But mint has a strong flavor, so use it sparingly.
Also, if you want more pronounced fresh flavors, you should always use these herbs in the end.
7. Use Garam Masala
Garam Masala is an Indian spice mix and is quite easily available nowadays.
It can help give your peas a nice flavor.
For those who don't know, it is a blend of different spices like cardamom, cloves, black pepper, nutmeg, and cinnamon.
So, if you want to make your frozen peas taste better, add some Garam Masala while cooking them.
That said, you can't use this masala in all the dishes.
Hence, it should only be used in Indian pea preparations or other dishes with similar taste and flavor profiles.
8. Add Bell Peppers To The Preparation
Bell Peppers are not known for their flavors, but their crunchy texture can help enhance the overall experience.
Colored bell peppers go well with frozen peas.
You can chop them into julienne or small squares.
Bell peppers don't take much time to cook.
So, you can add them at the end.
This way, they can retain the crunchy texture.
9. Add Your Favorite Spices
Peas don't have their own flavor, so they can go well with many spices.
I like using black pepper powder and cumin powder while cooking my peas.
But you can use any other spice of your choice.
The peas will also go well with paprika as well as homemade chili powder.
10. Squeeze Some Lemon To Brighten Up The Flavor
Lemon is a great way to brighten up the flavor of your peas.
The best thing about lemon juice is it can complement pretty much any savory dish.
So, if you feel that your peas lack flavor, add some lemon juice.
But don't go overboard with it, as it can make the dish quite sour.
Like fresh herbs, always add lemon juice at the end, so the flavor doesn't get lost during cooking.
11. Grate Cheese Over The Peas
If you want a cheesy flavor in your peas, you can grate some cheese over them.
You can use any type of cheese, such as Cheddar, Mozzarella, or Parmesan.
Cheese can help give the peas a subtle creaminess.
And if you don't have cheese at home, you can use cottage cheese or tofu as an alternative.
Of course, you won't get the same taste, but it can still help balance the flavor of your dish.
12. Cook Them In Vegetable Or Chicken Broth
Why cook your peas in plain water when you have a vegetable or chicken broth in the kitchen?
This is one of the favorite methods of many professional chefs.
And it's quite good to add flavor to the bland peas.
If you want to try this method, cook the peas in broth instead of water.
You can use any leftover broth for this preparation.
Sometimes, the broth may not have enough flavor.
In that case, you can add some spices or herbs to improve the taste.
Note: This additional step is optional and should only be used if you're boiling the peas in the broth.
For the stir-fry method, you just need a couple of spoons of broth.
Tips To Cook Frozen Peas At Home
Here are some tips you can use to cook these peas perfectly –
Boil the water before placing the peas in the pan. The peas will be at a low temperature, and it will take longer to cook if you put them in cold water.
Don't overcook the peas, as they can become mushy.
If you're too concerned about the texture, you can avoid adding salt initially. Salt can make them a little hard and wrinkled. But if you're not too worried about the texture, go ahead and add the salt to the boiling water.
For better color and texture, always pan-fry or saute them. Don't forget to add some butter or olive oil while cooking. 
Also, don't place any lid on the pan if you want more green color in your peas.
You can also microwave frozen peas. But add some water so that they don't become dry.
Add a splash of water or broth if the peas stick to the pan while cooking.
So, keep these things in mind if you really want to cook them nicely!
Next, let's take a look at the FAQs related to this topic.
FAQs
1. Why Do Peas Taste Sweet?

Peas taste sweet because of the natural sugar content present in them.
2. What Flavors Go Well With Peas?

There are many flavors that go well with peas.

You can use some of these ingredients to get more flavors – pepper, garlic, onion, ginger, cumin, curry powder, herbs, spices, etc.

You will need to experiment a little to find the perfect combination for your dish.
3. What Is The Best Way To Cook Frozen Peas?

The best way to cook frozen peas is by boiling or sautéing them.

You can also add them to other dishes while cooking.

But cook them properly, as peas take a bit more time to cook than other veggies.
4. How Long Does It Take To Cook Frozen Peas?

It takes about 5-6 minutes to cook frozen peas.
5. Should Frozen Peas Be Thawed Before Cooking?

There is no need to thaw frozen peas before cooking.

You can add them directly to the pan while cooking.

Or you can cook them separately if required.
Over To You
These were some tips on how to make frozen peas taste better.
Try these tips the next time you cook them at home.
Do you have any more tips or have any questions?
Write them down in the comments below.
I will try to answer them as soon as I can.
Please share this guide with your friends and family if you find it helpful.