Are you looking to make your rice fluffy and non-sticky?
Well, I have faced similar issues with rice until I learned the secrets of making perfect rice at home.
Do you want to learn these secrets too?
You can have a look at the following tips and suggestions to avoid common mistakes.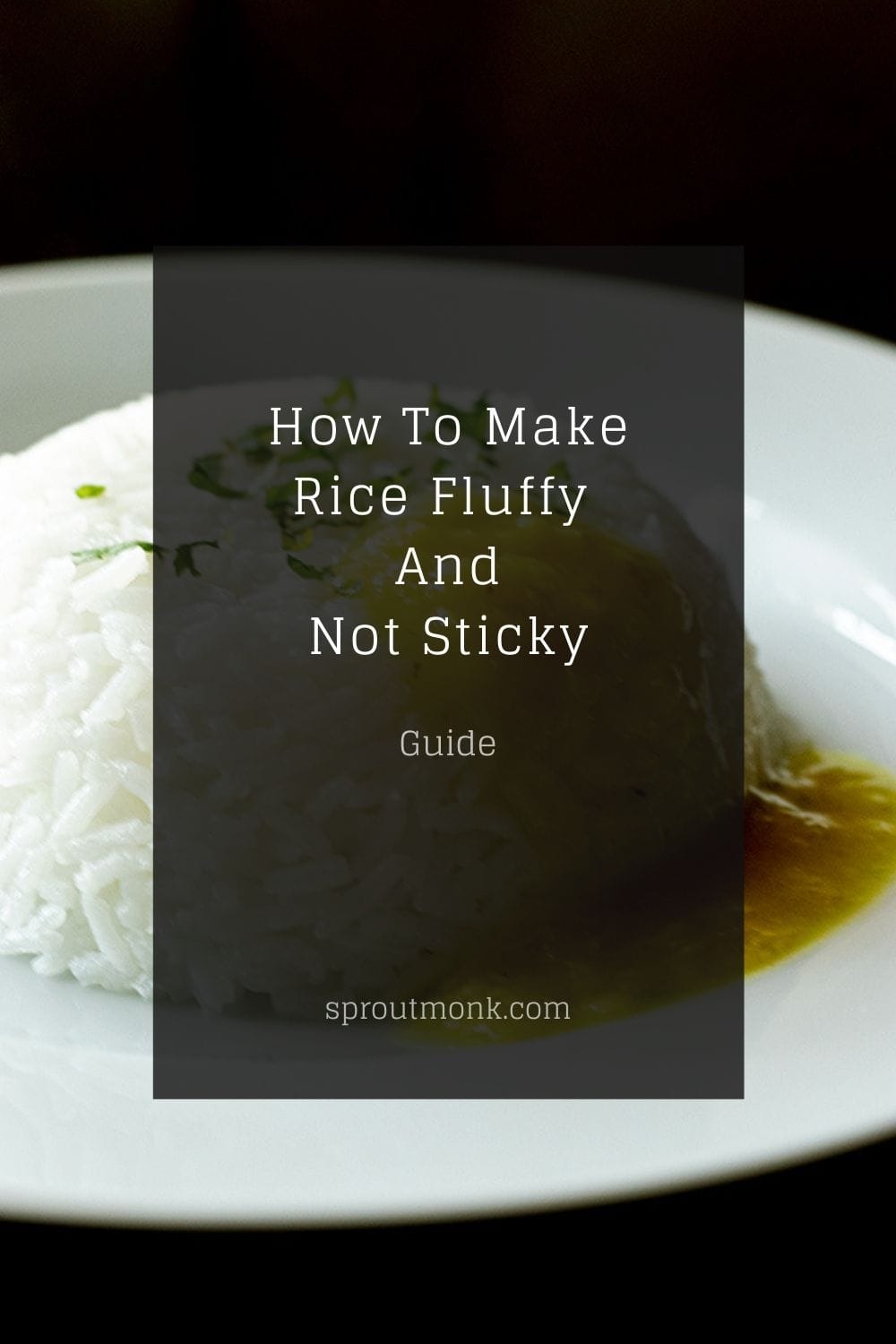 Tips To Make Rice Fluffy And Not Sticky
Here's a detailed list of tips for you – 
1. Rice Selection 
It is the first and one of the most significant steps in making non-sticky rice at home.
If you can get this first step right, you have already won half the battle.
No, I'm not exaggerating at all here.
You must always know what you are going to use in your recipe.
For eg., 
If you are making a Biryani, you have to select the long-grain Basmati rice variety.
The long-grain rice is generally helpful in dishes where you need to get the combination of aroma and texture.
If you use a short-grain or medium-grain rice, you may not be able to achieve the same characteristics associated with the dish.
Therefore, the selection of rice plays a huge role in what type of dish you're making.
Once you know this information, it becomes a lot easier to get the right texture to the rice grains.
And more importantly, your rice will never turn sticky!
Here are the three common types of rice available in India –
Short Grain Rice
Medium Grain Rice
Long Grain Rice
You have to select from one of these types of rice and prepare the delicacy accordingly.
If you are not too sure about the rice selection, take a look at this guide on different types of rice.
It should give you a brief idea of how rice varieties differ from each other in India.
2. Check The Age Of Your Rice
Have you selected your choice of rice?
Great!
Now, check the age details on the rice package.
Whenever you're in the store to purchase the rice, you should confirm this information from the printed details.
Some of you may wonder why I'm asking to check the age of the rice.
Well, it is a huge factor in preparing fluffy and non-sticky rice.
When rice grains are new, they often contain more moisture than the aged ones.
And of course, you don't want too much moisture in raw rice.
Otherwise, it tends to break down easily while steaming in the pressure cooker.
So, make sure you select at least 1-year old rice for such preparations.
In India, we also use 2-year or 3-year old for various dishes.
3. Rinse Properly Before Cooking
Rice contains a lot of starch, which is also the reason for its sticky characteristic.
So, you have to get rid of it as much as possible.
And the best way to do that is by using tap water and your hands.
Here's how I do it –
I take the rice grains in a container and pour enough water into it.
Then, I rinse the grains in the same water until the water turns nearly white.
I drain off this starchy water and repeat the process a couple of times.
You should rinse the rice grains for at least 2-3 times.
If you still see more starchy water, you probably need to rinse it more. 
Here, it's necessary to get clear water on the surface.
And this step also proves to be useful if you want to make non-sticky rice in the end.
4. Soak The Rice For 15 Minutes
I know many people skip this step when they make steam rice at home.
And it's also one of the most common mistakes in the rice making process.
If you don't soak your rice well, it will become sticky after cooking.
It happens with all types of rice.
So, it doesn't matter if you use long-grain rice or short-grain rice for your preparation.
But how does the soaking step helps in this process?
When you soak the rice in water, it starts absorbing water automatically.
Since the absorption has already taken place outside, the grains start to cook faster in the pressure cooker.
And eventually, it results in non-sticky and fluffy rice.
The soaking method also helps in extracting the aromas and flavors of the rice.
Overall, I suggest you soak the rice for at least 15 minutes.
If you have more time, you can also soak them for up to an hour. 
The more you leave it in the water, the more it absorbs the water.
Note – The fluffy texture depends on the water content in the container.  
The above method may not help much if you use less water in the steaming container.
If you want to make your rice fluffy, do check out the following sections.
In these two points (5 & 6), I have shared a couple of useful methods to measure the accurate water content in the container.
5. The Index Finger Method
I use this method whenever I want to make fluffy rice in the 
pressure cooker.
So, what's so special about this method?
Well, it's a unique method of measuring water quantity in the container.
And it has never failed me so far!
How to use this method?
Once you put the rice and water in the container, let it settle down for a few seconds.
And yes, it's important to place the container on a flat surface.
Else, you won't get an accurate idea of water quantity.
In the next step, dip your index finger in the water and let it reach till the surface of the rice grains.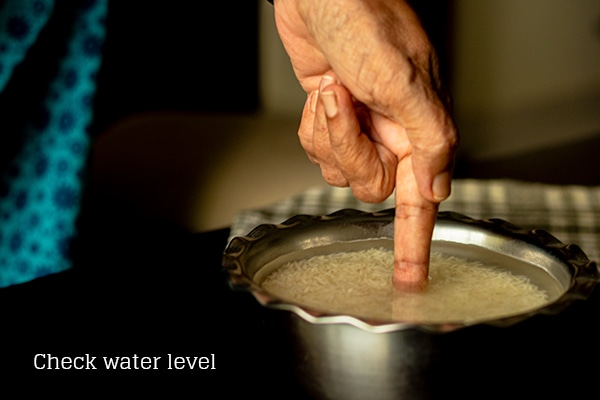 Now, take out the finger and check for the level. 
If the finger shows water level till the half of the first finger joint, you have done a great job.
And you don't have to do anything else.
However, if you miss the mark on either side, you can adjust the water accordingly.
Quick Tip – Don't use a wet finger while testing the water level in the container.
6. The 1/2 inch rule
If you don't like putting your finger in the rice water, you can surely think of using the 1/2 inch rule.
It works quite similar to the finger method.
And you will not go wrong with this method too.
So, what's the 1/2 inch rule?
The rule states that you have to pour water in the container until it reaches 1/2 inch above the rice surface.
Simple, right?
If you have been making rice in the pressure cooker for long, it won't be too difficult to guess the half-inch mark.
But if you are not a pro, you may need to use some measuring tool to check the water level in your rice container.
Here's why I don't prefer this method – 
Even though it works quite well, I don't like the guesswork involved in this method.
If you go wrong, your rice becomes too sticky.
So, you have to be 100% sure about the water level judgment.
Hence, I prefer the earlier method, which doesn't require any guesswork.
Still, I leave it to you, as there isn't much difference between them. 
You can choose any of the methods mentioned above, and it should do the job for you.
7. Use Ghee or Oil
This step is optional, and you can skip it completely.
But if you want perfectly separate grain rice, you will need to add a little bit of Ghee (Clarified Butter) or Oil to it.
Both these ingredients help in separating the grains from each other.
If you are making a Biryani or Pulao, you can make use of this useful tip.
Do you want to know how it works?
Well, it is Science!
When you add oil to the soaked rice, it adds a thin layer of coating to the grains.
And due to this coating, the grains do not stick to each other.
This method also works with the pressure cooked rice, though you will always find a few sticky grains in the container.
If you want even more perfect rice, you will need to boil them in a separate pot. 
In this method, you will need to remove the excess water once the rice has cooked to perfection.
This method is quite useful in making Dum Biryanis.
8. Cooking Time
The cooking time greatly depends on what type of method you're using for the pressure cooking process.
It also depends on the type of grains required for a specific recipe.
If you want to know more about the cooking time, you should check the instructions on the package.
The manufacturers often share cooking instructions or recipes along with other information on such packages.
And this is the best way to know how long it's going to take for you to cook the rice.
Apart from this, you can also check out the instructions shared under most recipes on the Internet.
You can follow those instructions to know the exact cooking time of your rice variety.
There is another way to find more information about it.
If you have bought a new pressure cooker, you can check the user manual or recipe book provided with it.
These informative books are quite useful in understanding the usage details.
Note – In traditional pressure cookers, you may need to wait for a certain number of whistles till the rice is cooked to perfection.
And you can find these details only in the respective device manuals.
Personally, I cook the rice grain for 3-4 whistles in my traditional pressure cooker models.
9. Let It Cool Down
Yes, don't hurry! 
The cooling process is quite essential in making your rice fluffy.
So, don't rush into taking the steamed rice out of the container immediately.
Allow it to cool down for at least 10-15 minutes.
When you let the rice grains sit in the container for a few minutes, it helps them absorb more water from the surrounding.
Also, the steam inside the container assists in cooking the rice even further.
And it eventually helps in achieving the fluffy texture.
If you don't allow it to cool down well, it will turn sticky and mushy.
It will also have a risotto-like texture, which may not be suitable for the dish you're making.
So, let it rest for a bit before you take it out from the container or pressure cooker pot.
Note – This tip is only recommended for the pressure cooking method of rice cooking. 
You shouldn't be using this tip if you've boiled rice separately with excess water.
In this case, you can remove the cooked grains from water and allow them to cool down further in a covered plate or container.
Things To Remember While Making Rice
If you are new to rice making, you need to remember the following points.
These tips should help in preventing some common mistakes.
Always check the rice to water ratio before placing the container inside your pressure cooker.
Do not cook the rice on a very high flame. 
Make sure the container is placed correctly inside the cooker.
If you are boiling the rice separately, you should always heat the water to the boiling point before putting the rice grains into it.
Don't forget to add the salt.
Use a limited quantity of rice in the container or steamer pot. Do not fill it entirely.
If you are going to cook rice again for Fried Rice or Pulao preparation, you should cook it in the pressure cooker till it's 80-90% done. 
For Dum Biryanis, you can cook it till it's 70-80% done.
Always use at least 1-year aged rice for making Biryanis.
While adding salt and oil to the raw rice, add some fresh Lemon Juice to it as well. It helps in removing any impurities from the grains. You may also use Turmeric Powder for color and other beneficial properties.
How To Fix Sticky Rice
Let's have a look at the following suggestions and tips to fix the sticky rice.
1. Cook It For More Whistles.
Yes, you can cook the rice for more whistles to get rid of the excess moisture from the grains.
This tip only works if you have very little water in the container, and your rice is not cooked to the fullest.
If the rice is cooked thoroughly, you shouldn't be using this method.
2. Use Ghee And Oil While Stir-frying Or Mixing.
As mentioned earlier, both these ingredients help in forming a thin greasy layer on the grains.
If your rice has turned sticky, you may apply some Ghee or Oil while preparing stir-fry dishes like Fried Rice.
You can also drizzle some oil on top of the rice as soon as you take it out from the steamer or pressure cooker.
3. Spread The Steamed Rice In A Plate.
When you spread the rice on a plate or any flat surface, it helps in removing the steam.
Essentially, this technique allows you to stop the cooking process, which may take place inside the container otherwise.
You can use this method when the rice is cooked well, and you don't want to cook it further.
Over To You
As you can see, rice making is not as easy as it sounds. 
You need to learn every step in this process to be able to make perfect rice at home.
And once you master these skills, you will not have to rely on anything else.
Well, I hope some of these tips help you in making rice fluffy and not sticky at all.
If you come across any difficulties while making rice, leave a comment below.
I will try to resolve them for you.
If you liked this guide, do share it with your friends and family.
You can also subscribe to my weekly newsletter for more personalized updates.