Do you want to make your Shrikhand thicker?
Whenever we make this delicacy at home, it comes out a little too runny for our liking.
So, how do you fix this problem?
Is there any way to get the right consistency for Shrikhand?
Let's find out in this guide!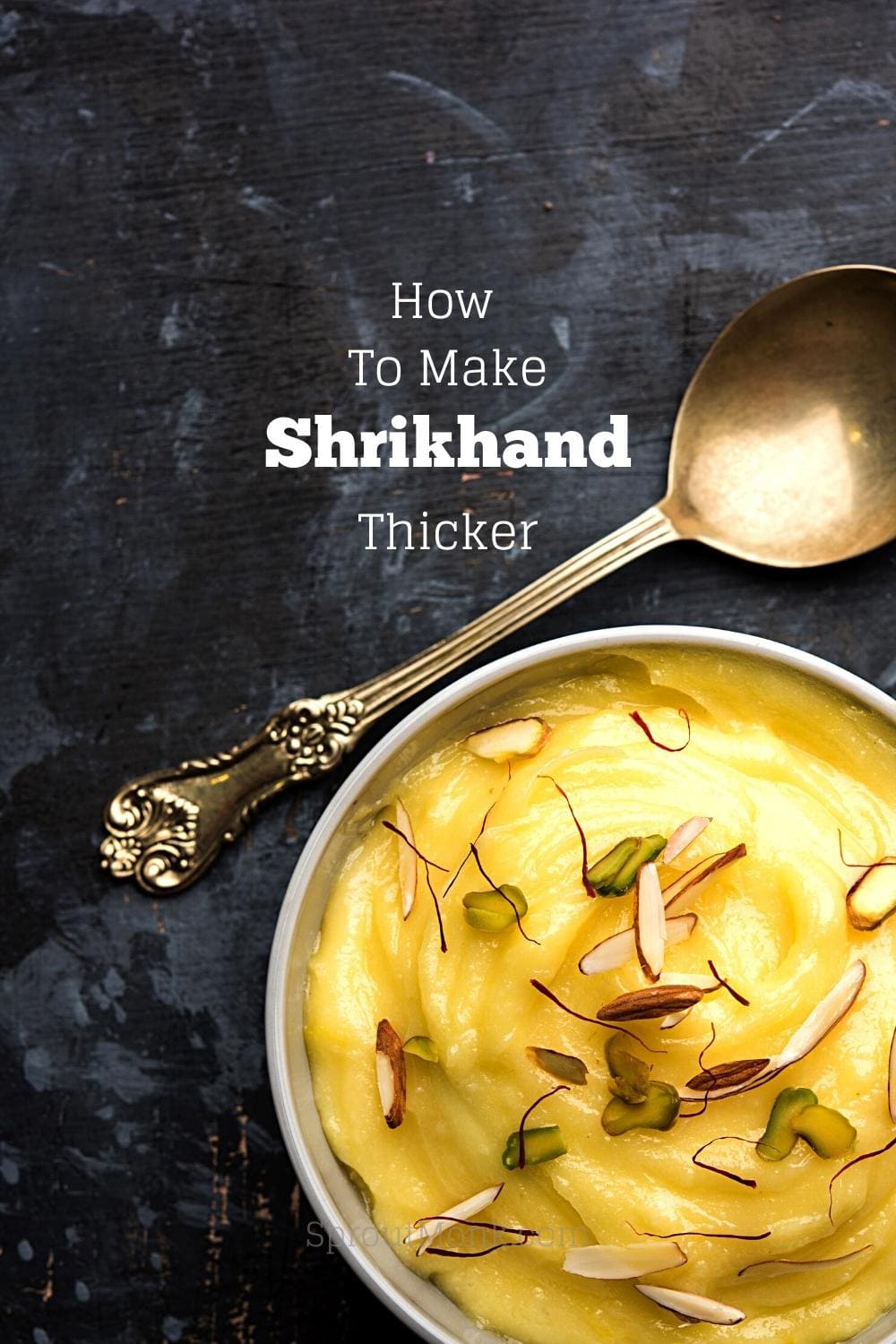 8 Easy Ways To Make Shrikhand Thicker
Shrikhand is a delicious, creamy Indian dessert made with hung yogurt and flavored with cardamom and saffron.
It is often enjoyed as a sweet dish after a meal or as a snack.
So, here are some of the ways through which you can achieve the perfect texture and consistency of this Maharashtrian dessert.
1. Add More Hung Yogurt To It
Shrikhand can be made thicker by adding more hung yogurt to it.
Hung yogurt doesn't have a lot of water content, so it will make the Shrikhand thicker.
Simply add more of it to the mixture and give it a good stir.
It will give a nice body to the Shrikhand and also reduce the sourness.
Of course, don't forget to adjust the sweetness by adding some sugar.
2. Keep It In The Fridge
Sometimes, you can just put the Shrikhand in the fridge for a while, and it will thicken up.
It may not be as thick as you want it to be, but it will be thicker than when it is at room temperature.
So, this is a good workaround if you are running short of time or don't want to add more hung yogurt to the mixture.
Note: You should serve it immediately after removing it from the fridge.
Otherwise, it will start to soften and will become too watery again.
3. Hang Your Yogurt For More Longer Period
This is the best way to get really thick Shrikhand.
If you have the time, simply hang your yogurt for a longer period.
This will remove most of the water content and give you a thick mixture.
Once it is done, you can add other ingredients to it.
In case you already have a runny Shrikhand, you can hang it directly using a clean muslin cloth.
All you need to do is tie the cloth around the yogurt and hang it for a few hours.
Ensure that the cloth is not too tight, or the yogurt will spill out.
Important: If you hang Shrikhand outside for a few hours, it may turn sour.
So, you will have to keep this thing in mind.
In general, it's better to hang it for a few minutes than a couple of hours.
4. Add More Sugar To Your Hung Yogurt
Adding more sugar will also make the Shrikhand thicker.
It is not going to give you the same results as other thickening agents, but you can definitely use it as a workaround.
Of course, if you have already added sugar to your hung yogurt, you can look for some other methods to thicken the Shrikhand.
5. Add Some Dry Fruits To Your Shrikhand
Dry fruits are a great way to thicken your Shrikhand.
You can either chop them or add them whole to the mixture.
This way, you will also get the benefits of the dry fruits, and the Shrikhand will be thicker.
Some of the popular dry fruits that you can add are –
Almonds
Walnuts
Pistachios
Cashews
Raisins
Golden raisins
6. Use Fresh Fruits To Thicken Your Shrikhand
Fresh fruits like Pineapple, Mango, Apple, and Banana can also help in thickening the Shrikhand.
Simply chop them and add them to the mixture.
Mix your Shrikhand well and keep it in the fridge for some time before serving.
7. Add Thick Mango Pulp To Hung Yogurt
If you don't like fresh fruit pieces in your Shrikhand, you can add mango pulp to the hung yogurt.
This will also help thicken the mixture and give it a nice flavor.
You can buy mango pulp from any store or simply make it at home.
Here's how you can make it –
Cut the mango into small pieces and remove the seed.
Add it to a blender and blend until smooth.
Strain the mixture using a fine-mesh strainer to remove any lumps.
Add the pulp to your Shrikhand and mix well.
8. Using Thickening Agents
There are quite a few thickening agents that you can use to make your Shrikhand thicker.
But, before using them, it is essential to understand how they work.
I generally prefer natural ingredients for this process, but you can definitely find some artificial thickeners on the market.
So, it's up to you to decide which one you want to use.
Well, these are some of the best ways to thicken your Shrikhand.
Just try out these tips, and you will be able to achieve the desired consistency.
In the next section, let's learn how to make thick Shrikhand from scratch.
Step By Step Process To Prepare Thick Shrikhand At Home
Even though the above techniques are useful, I'm sure you would like a step-by-step process to make Shrikhand at home.
So, here it is!
Add some yogurt to a muslin cloth and tie it up.
Hang the cloth over a bowl and let the water drip out for a couple of hours.
Once all the water has drained out, transfer the yogurt to a bowl.
Add sugar, cardamom powder, and dry fruits and mix well. You can add more or less sugar according to your taste.
If you want, you can also add saffron strands. It gives a nice flavor and color to the Shrikhand.
And that's how you can make a perfect Shrikhand at home.
Making Shrikhand is not rocket science at all, and anyone can make it with a little practice.
The key is to get the right consistency and flavor.
If you can get really thick yogurt, you will not have to worry about the rest of the procedure.
8 Things To Remember While Making Shrikhand At Home
Before you head to the kitchen and start making the Shrikhand, here are a few things that you need to keep in mind –
Always use fresh yogurt for making Shrikhand.
Use tasteless/sweet yogurt for this process. Do not use sour yogurt, as it will make the Shrikhand sour.
The hung yogurt can turn sour pretty quickly during the summer season. So, you need to be careful while using the same for this process.
Use a clean cloth whenever you're straining the yogurt.
Do not add too much sugar, as it can make the Shrikhand really sweet. You can always add more later if you want.
Fresh fruit Shrikhand doesn't store well. So, it's better to finish it on the same day.
Do not mix too many ingredients in the yogurt. It will change the taste and consistency of the Shrikhand.
You can store the plain Shrikhand in an airtight container in the fridge for up to 3-4 days. If you want to increase its shelf life, you can put it in the freezer.
These are some of the things that you should remember while making Shrikhand at home.
In the following section, I have shared some FAQs about Shrikhand that might be useful for you.
So, do check them out.
FAQs
1. Is Shrikhand Made Of Yogurt?

Yes, Shrikhand is made of yogurt.
2. Is Shrikhand And Yogurt The Same?

No, Shrikhand is different from yogurt.

Shrikhand is a sweet dish made with hung yogurt and flavored with cardamom and saffron.

On the other hand, yogurt is a dairy product made from milk and bacterial culture.
3. How To Make Shrikhand From Greek Yogurt?

To make Shrikhand from Greek yogurt, you first need to hang the Greek yogurt.

Then, add sugar and other ingredients to it and mix well.

Finally, pour it into a serving dish and refrigerate for a few hours.
4. How To Make Shrikhand From Spoiled Milk?

The process of making Shrikhand from spoiled milk is a little different.

You will need to boil the milk first and then add yogurt to it.

Stir well and cook for about 5 minutes.

Once the Paneer separates from whey, strain it properly. 

Then, add sugar and cardamom powder to it.

Blend it well and serve.

You can also store it in the refrigerator for later use.

Note: This type of Shrikhand will have a different taste and texture.
5. What Can Be Done With Spoiled Milk?

Apart from Shrikhand, many other dishes can be made from spoiled milk.

Some of these include Raita, Kheer, Paneer, and Cheese.

So, don't discard it just yet!

There are many delicious things you can make from it.
Over To You
As you can see, there are many ways in which you can make Shrikhand thicker.
So, try out these methods and enjoy this amazing dessert at home!
Meanwhile, let me know if you have any questions in the comments section below.
I'll be happy to help!
And if you enjoyed this guide, don't forget to share it with your friends and family.
Thanks for reading!