When you talk about Indo-Chinese food, you must mention the oh-so-popular Manchurian Balls Gravy.
It is generally served with different Fried Rice and Noodles dishes, but you can also savor this gravy as a bowl of hot soup in Winters.
When I had tasted Manchurian gravy for the first time, I didn't know much about this dish.
I thought it'd be something similar to Punjabi Kofta Curries, but I was wrong. I never expected it to be so different yet so delicious.
It just blew my mind.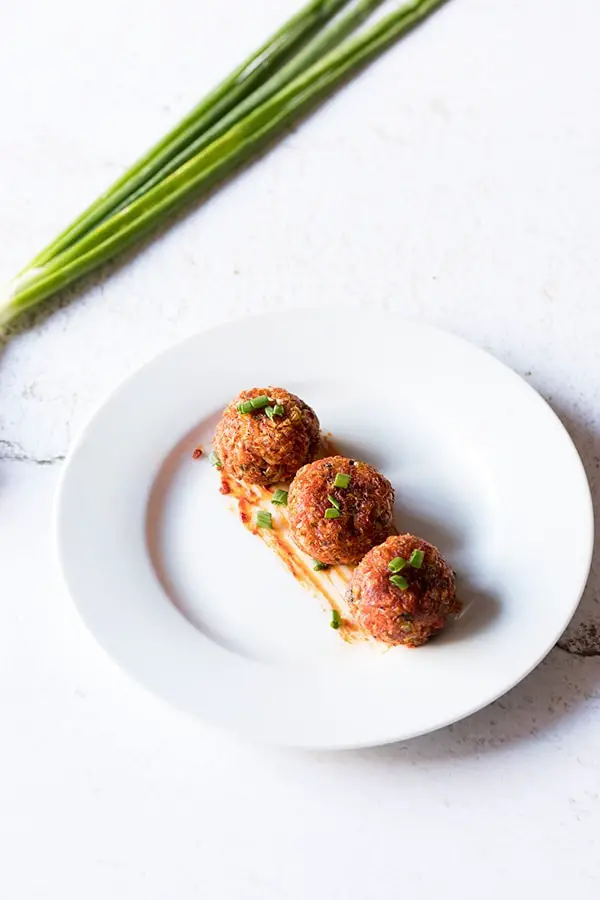 And that's when I'd decided to find out more about the Manchurian Balls and its gravy.
Later on, I did find out how to make the perfect Manchurian Balls.
So, in today's post, I'm going to share the same easy-to-make recipe with you.
I'm sure you will love this recipe!
Alright, let's begin now.
Manchurian Balls Recipe
Manchurian Balls is an easy to make Indo-Chinese recipe. You can also use these balls to make Veg. Manchurian or Chicken Manchurian. It can also be served as a snack or appetizer for parties.
Ingredients  
1

cup

Cabbage (Gobi)

finely chopped or shredded

2-4

tbsp

Carrots (Gajar)

finely chopped or grated

2-4

tbsp

Spring Onion (Hare Pyaz)

finely chopped

2-4

tbsp

Capsicum (Shimla Mirch)

finely chopped

4

tbsp

All-Purpose Flour (Maida)

2

tbsp

Corn Flour (Makke ka Aata)

2

tsp

Schezwan Chutney

optional

2

tsp

Red Chili Powder

1-1/2

tsp

Black Pepper Powder (Kali Mirch Powder)

2

tsp

Ginger (Adrak)

1

tbsp

Garlic (Lehsun)

Salt

as per taste

Oil

for deep frying

Water

as needed
Instructions 
Get a mixing bowl and add the Cabbage, Carrots, Spring Onions, Capsicums to it.

Add the All-Purpose Flour (Maida) and Corn Flour to it. 

Finally, add the Black Pepper Powder, Schezwan Chutney (optional), Red Chili Powder, and Salt to it. Mix everything well and prepare a dough out of it. 

Once the dough is formed, prepare the balls and keep them in the refrigerator for 10 minutes. Apply some Water to your palms if the balls are not forming properly.

Heat Oil in a Kadai and make sure the flame is not too high. Otherwise, the balls will remain uncooked from inside.

Now, gently add the balls to Oil and deep fry them till you get a light golden color.

Remove the fried Manchurian Balls on a kitchen paper. 

After 5 minutes, increase the flame to high and deep-fry the balls again for a couple of minutes.

Remove them once you get the golden brown color and serve them hot with Schezwan Chutney or Manchurian Gravy.
Notes
Once you remove the balls from Oil, do not cover them under the lid. 
If you do not wish to fry them twice, you may skip the second step. Just deep-fry them once on medium-high heat for a few extra minutes. 
Always use a good amount of Cabbage to make this recipe. 
Do refrigerate the balls for some time, as it helps in retaining the shape of balls.
Tips To Make Manchurian Balls
Once you add salt to the veggies, keep the mixture aside for a few minutes. The veggies will automatically leave the juices, and you don't have to use additional Water to prepare the dough.
You can also use Schezwan Chutney while preparing the dough mixture. It gives an amazing taste to this dish.
You may replace Corn Flour with Rice Flour in this recipe.
Other vegetables like Cauliflower, Brocolli, Colored Capsicums, Green Beans can also be included to make these vegetable balls.
For non-vegetarians, you can use any type of minced meat or small cube-sized pieces to prepare the balls.
How To Make Crispy Manchurian Balls
Have you ever wondered how chefs serve crispy Manchurian Balls each time?
Well, it's all about the combination of ingredients and food preparation techniques.
Once you know these secrets, you can easily prepare the same crispy balls at home.
And yes, you can use the same technique to fry Pakodas and Bhajiyas. The outcome will be as good as store-bought fritters if not better.
So, what's the trick?
The trick is –
1. Use Corn Flour
It's the best ingredient to get the extra crispy texture to any deep-fried food, and it works with Manchurian Balls as well.
When you're preparing these balls, use a couple of tablespoons of Corn Flour in the mixture.
And it should get you the desired results.
2. Deep-Frying Technique
The next trick is the frying technique.
Even though Corn Flour or Rice Flour are useful ingredients, it's not enough to make restaurant-style Manchurian Balls.
You will have to deep-fry them twice to get the perfect texture.
Yes, two times!
Firstly, you should fry the balls on a medium-high flame, which helps in cooking the mixture from inside.
As soon as they turn slightly golden in color, take them out on a plate and wait for 5 minutes.
For the second time, you will need to fry them on high flame so that the outer layer gets crisp and golden brown.
However, be careful while frying them again, as the high heat cooking can turn them dark brown or black quickly.
Also, it's important to note that the cooking process doesn't stop after you've removed the balls from hot Oil.
It will continue until they cool down completely.
So, make sure you remove the balls at the right time.
3. Serve Quickly
Yes, serve Manchurian Balls as quickly as possible.
The crispy texture lasts only for the first few minutes.
No matter what ingredients or techniques you use to prepare them, the balls will start turning soft as they cool down.
Well, I hope you liked this recipe and cooking tips.
Do subscribe to my email newsletter for more such interesting recipes and updates.
And if you have any doubts, queries or suggestions, leave a comment below.