Looking for different ways to marinate Paneer for a BBQ party?
Paneer is one such ingredient that allows you to infuse some exciting flavors in it. 
Since it doesn't have its own taste, you can really play with different flavors and enhance its taste even further.
In the following guide, I have talked about some of the useful techniques and ingredients through which you can marinate Paneer pieces.
So, let's get started and learn more about it.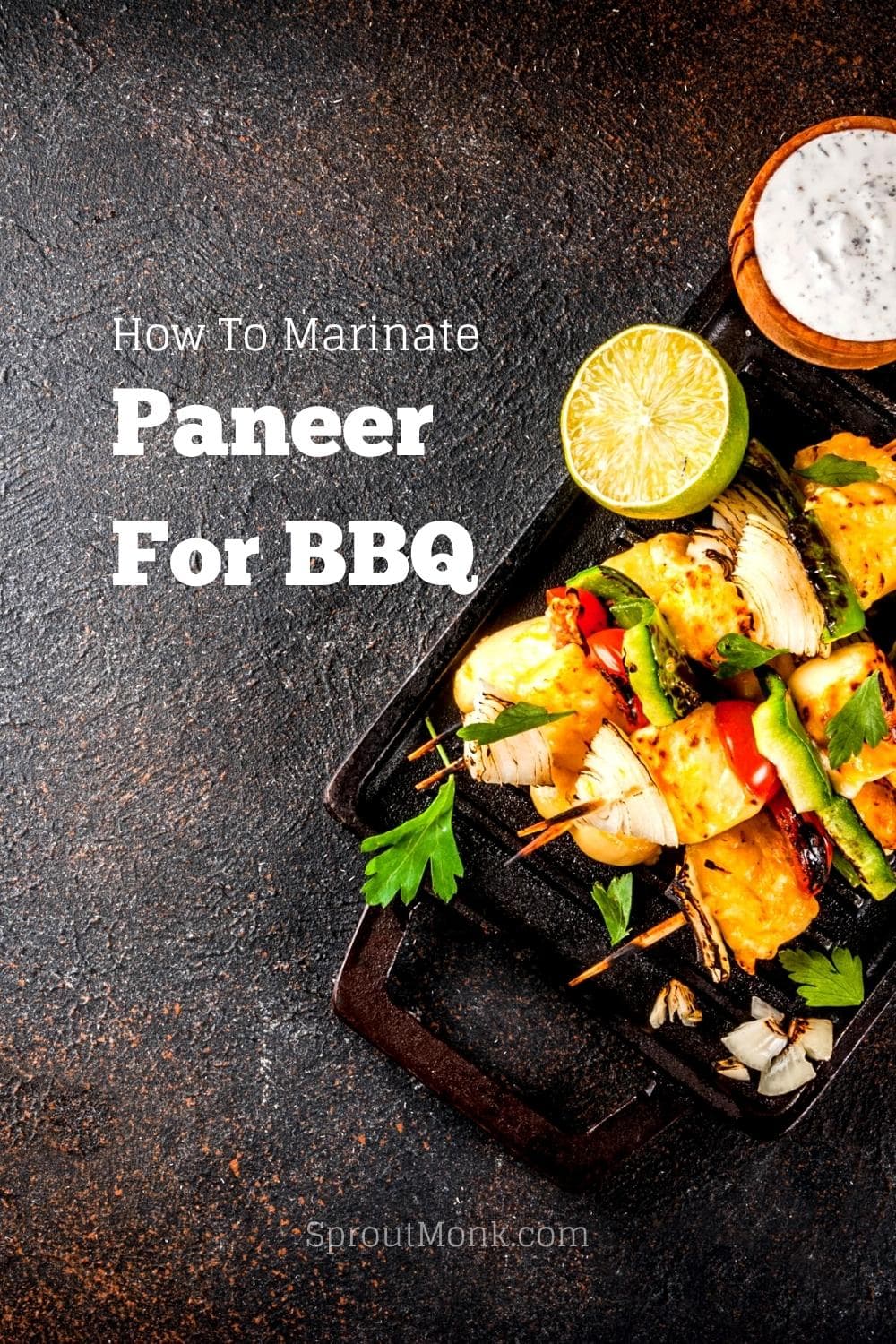 How To Marinate Paneer For BBQ
In case you don't know, there are prominently two ways to marinate Paneer.
These two techniques and their usage depend on the type of dish you're going to make for BBQ.
These techniques are – 
Basic Marination
Main Marination
Now, you don't have to follow this two-step marination for all the dishes.
But if you do, there is no harm in it either.
It will only increase the taste of your preparation.
Moreover, the basic marination is only useful for removing the odor and off-taste of the Paneer pieces.
It won't help much in getting the taste you're looking for in your BBQ Paneer.
If you want the more rich taste and flavors, you will have to follow the main marination.
To understand these things better, let's have a look at the following sections in detail.
Basic Marination For BBQ Paneer
First thing first, it's the basic marination that plays a key role in making any BBQ Paneer or grilled dishes.
This step is quite important, especially for Paneer, because it often comes with an off taste. 
So, there is no better way to remove this taste than marinating pieces prior to grilling on the barbeque.
But what's included in this basic marination process?
Let's find out below.
Lemon Juice, Salt, and Spices
Yes, that's all you need for the initial marination process.
Lemon juice is an acidic ingredient, so it helps remove any bad odor or taste present in the Paneer pieces.
The next thing is the spices!
For basic marination, you can use turmeric powder, red chili powder, and salt.
Rub these spices thoroughly on the pieces and let the pieces marinate for half an hour or so.
If you can't wait for so long, you can marinate them for 15 minutes too.
As for the spices, you can also include cumin powder, coriander powder, raw mango powder (amchur) in this marination.
These spices are not spicy, so you can surely use them in this step.
If not, you can add them during the main marination as well.
Note: Always use Kashmiri red chili powder while marinating the Paneer pieces.
It will bring a nice bright red color to the pieces.
However, if you're going to make Malai Paneer or Zafrani Paneer, you shouldn't use red chili powder at all.
You can simply stick to the lemon juice and salt for such recipes.
On that note, let's move to the next section, where I've shared some interesting ideas for the main marination.
Main Marination Ideas For BBQ Paneer
This is the real deal when it comes to marinating Paneer for BBQ!
The main marination is the step that actually allows you to infuse flavors in tasteless Paneer cubes.
Also, this process involves your creative skills too.
So, don't just rely on the suggestions below or the recipes on the internet.
You can add your own twist to these recipes and suggestions, which will give you even more satisfaction while preparing the BBQ Paneer at home.
1. Classic Paneer Tikka
It's the one thing that I like making for any BBQ Paneer party.
The reason is simple – it doesn't require too many ingredients, and you don't need a lot of time to prepare it at home.
So, what goes into the marination of this recipe?
For classic tikka, you can marinate it with thick yogurt, roasted gram flour, ginger-garlic paste, chaat masala powder, red chili powder, turmeric powder, garam masala powder, lemon juice, and salt.
Of course, you can add more spices to it, but I like to keep it simple.
Mix all these ingredients and rub them well on the Paneer pieces.
Once you're done with the process, keep it aside for at least half an hour.
Note: For this recipe, you can avoid the basic marination step.
2. Pahadi Paneer Tikka
The word 'Pahadi' can be roughly translated to 'from the mountains,' so this tikka is more rustic and green in color.
It doesn't need red chili powder and turmeric powder.
But you can include a bit of turmeric powder for its beneficial properties.
For the main marination, you can prepare a paste of coriander leaves, mint leaves, ginger, garlic, cumin seeds, coriander seeds, and green chilies.
Once the paste is ready, you can mix it with the yogurt and apply it to the Paneer pieces.
If the mixture has a thin consistency, you can add some roasted gram flour to it.
The marination period is the same for these tikkas.
You can keep them for 30 minutes or so, which should be enough to make the pieces more flavorful.
3. Banjara Paneer Tikka
Banjara Kebab or Tikka is another popular dish in India, and its preparation style is pretty similar to classic tikkas.
This tikka is slightly spicy than most tikkas you'd find in any restaurant.
For the marination, you can prepare a thick paste using red chili powder, turmeric powder, garam masala powder, green chilies, ginger, garlic, mint leaves, coriander leaves, chaat masala powder, cumin powder, and salt.
You can add some yogurt to this mixture and turn it into a rich mixture with a thick consistency.
Marinate the Paneer pieces with this mixture and keep them aside for half an hour.
Apart from the above ingredients, you can add some fresh cream and cashew paste for more delicate flavors.
4. Malai Paneer Tikka
Malai Paneer Tikka is a subtle variation of traditional tikkas.
It is not the most popular tikkas, but it does taste delicious nonetheless.
Its marination ingredients include thick yogurt, fresh cream, cashew paste, ginger-garlic paste, lemon juice, black pepper powder, cumin seeds powder, coriander powder, garam masala powder, and salt.
You can add some amchur powder to this marinade if you like.
The rest of the marination process is pretty much the same, so you can follow the same steps and allow it to rest for a while.
5. Zafrani Paneer Tikka
Zafrani Paneer Tikka is another nice variation to Malai Paneer Tikka.
For this recipe, you will have to be gentle on the spices and add the ones that offer more flavors and aroma.
For those who don't know, Zafran means Kesar or Saffron.
It's the main ingredient in this recipe, which brings the quintessential light yellow color.
Some chefs also prefer adding yellow color to this preparation, but you can either stick to saffron strands only or add a bit of turmeric powder to get the desired color.
Now, here's the rest of the ingredients that go into its marination – 
Saffron strands soaked in milk, hung yogurt, fresh cream, cashew paste, white pepper powder, cumin powder, cardamom powder, lemon juice, raw mango powder, and salt.
Since this recipe requires saffron, it's better to soak it in lukewarm milk prior to acquiring other ingredients. 
You can marinate these tikkas for 15-20 minutes.
6. Achari Paneer Tikka
This one is for those who love Indian pickles!
Generally, they use Mango Pickle masala (pickle gravy) for this recipe.
However, the best thing about this recipe is that you can use any pickle of your choice.
Yes, even sweet pickles too!
Now, let's quickly take a look at the ingredients for the marination – 
Yogurt, any pickle of your liking, roasted gram flour, turmeric powder, red chili powder, ginger-garlic paste, coriander seeds powder, dry fenugreek leaves, and salt
Get these ingredients together and apply the mixture to the Paneer pieces.
Marinate the tikkas for 15-30 minutes and put them on barbeque later.
There is another way of making this marinade mixture, i.e., using mustard seeds, nigella seeds, fennel seeds, fenugreek seeds, etc.
But the one suggested above is quite simple and gives amazing results in the end.
Well, these are some of the most loved variations you can try while marinating Paneer for BBQ.
I hope you try them out.
Let's check out the FAQs now.
FAQs
1. How Do You Keep Paneer From Sticking To The Grill?

The best way to avoid Paneer from sticking to the grill or pan is through greasing.

Greasing helps in forming a layer between the grill and Paneer pieces.

When the layer forms, the pieces don't stick to the surface. 

You can turn or remove such pieces easily from this type of surface.

So, make sure you grease it well.

Apart from that, you should also avoid making the marinade watery. 

It should be slightly thick so that it holds well to the Paneer cubes.
2. How Much Time Does It Take To Make Paneer?

If you are making Paneer from scratch, it can take anywhere from 30 minutes to 45 minutes.

It depends on your skills, quantity of milk, and flame. 

All these contribute to how quickly or slowly you make Paneer at home.

But in general, as I mentioned, it should at least take half an hour for the whole process.
3. How Can I Tenderize Paneer?

You can make use of lemon juice, vinegar, or raw papaya paste.

These ingredients are known as tenderizers, and they will surely help in the marination process.

Besides, Paneer doesn't need any tenderizer as such if you're using freshly made pieces.

You can use them directly for BBQ or any gravy preparations.
4. Can I Make Paneer With Spoiled Milk?

Yes, you can make Paneer with spoiled milk.

However, you need to ensure that it has not turned too sour.

If it's sour, you should consider throwing it away.

Do not use such milk for Paneer preparation, as the same taste would transfer to the Paneer pieces.
5. Should You Oil Grates Before Grilling?

Yes, you should put some oil or melted butter on the grates.

It keeps Paneer or any other ingredient from sticking to the surface.

Moreover, you will be able to remove it with ease.
Over To You
Marinating Paneer for BBQ is a fun process, and there is no limit to what you can add to the marinade for a more interesting taste and flavor.
That said, I prefer keeping things simple with fewer ingredients.
Since Paneer and smokey flavor from BBQ are the two key elements of this recipe, you don't need anything else to elevate the preparation further.
But if you prefer more exotic flavors for your BBQ preparation, you can surely experiment as you like.
And if you come across any issues or difficulties, do let me know in the comments below.
I will try to help you out.
Do share this guide with your friends and family if you found it helpful.