Have you ever thought of making Masala Peanuts at home?
Well, the same best-selling snack can be made in your home kitchen! You don't have to use any special ingredients or kitchen tools to make this spicy Peanuts recipe.
When I was thinking of making this recipe, I wasn't sure about the final results.
Although the recipe is quite simple, I wanted the texture and flavors to be similar to the packaged Peanuts.
Eventually, I did make some changes and skipped certain ingredients to come up with the following recipe.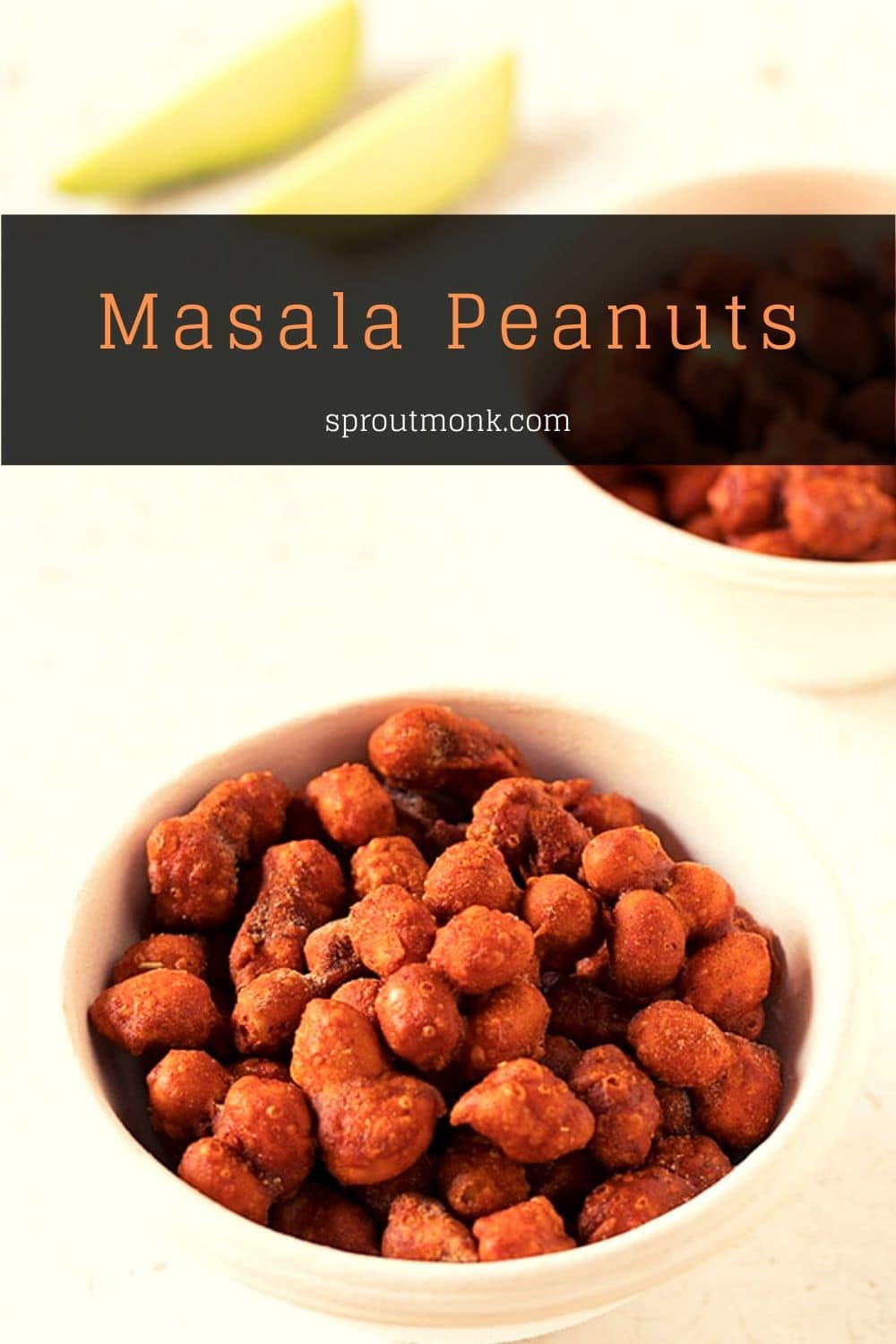 So, what did I change?
Rice Flour –
I skipped Rice Flour from my recipe, as it's an optional ingredient.
I used Corn Flour and Gram Flour to make the Masala coating, and both these ingredients are good enough to make the crunchy and crispy Peanuts.
Citric Acid –
It is one of those ingredients which you find in most of the packaged foods.
Citric Acid acts as a preservative and also helps in getting a sour/tangy taste to the dish.
In the following recipe, I have used Chaat Masala Powder. It gives more authentic chaat-like flavor to these fried Peanuts.
You may also use Amchur Powder (Dry Mango Powder) in this recipe.
Frying Technique –
I tried frying Peanuts in medium-hot and very hot Oil.
And I got the best results with medium-hot Oil.
Everything from texture to taste remained consistent when I lowered the heat.
But when I used a high flame, the coating color changed to very dark brown and the peanuts remained uncooked.
So, it's important to adjust the flame while preparing these tasty nuts.
You can also use Microwave to get the near-perfect results.
Now, let's have a look at the recipe.
Important:
I have used homemade Red Chili Powder for this recipe. If you want more red-ish color to your Peanuts, you may use Kashmiri Red Chili Powder.
Masala Peanuts Recipe
Masala Peanuts is a tea-time snack in India. It is often made using Gram Flour batter, Indian spice, and raw Peanuts/Groundnuts.
Ingredients  
100

gm

Peanuts (Singdana/Shengdana)

3-4

tbsp

Gram Flour (Besan)

2

tbsp

Corn Flour

1-1/2

tbsp

Red Chili Powder (Lal Mirch Powder)

1

tsp

Black Pepper Powder (Kali Mirch Powder)

optional

1

tsp

Garam Masala Powder

optional

1/2

tsp

Chaat Masala Powder

1/2

tsp

Turmeric Powder (Haldi Powder)

Oil

for deep-frying

Salt

as per taste

Water

as required
Instructions 
Get some Peanuts in a mixing bowl.

Add Gram Flour, Corn Flour, Red Chili Powder, Black Pepper Powder, Garam Masala Powder, Turmeric Powder, Salt, and Oil (2 tsp) to it.

Mix it well using a spoon.

Now, add Water to this mixture and prepare a thick batter to it.

Heat some Oil in a Kadai for deep-frying. Make sure the flame is not too high.

Fry the Peanuts in batches.

Take them out in a plate and sprinkle some Chaat Masala Powder on top.

Serve them with a hot cup of tea or store them in an air-tight container.
Notes
When you deep-fry peanuts in hot Oil, do not fry them till they are completely done. Remove them 5-10 seconds before they get the perfect color. The cooking process will continue even after you remove them in a plate.
Tips To Make Masala Peanuts
There is no need to use roasted Peanuts for this recipe. You can use Raw Peanuts directly in the flour batter.
If you wish to get the fiery-red color to the Peanuts, do not use Turmeric Powder and Garam Masala Powder. Also, it's better to use Kashmiri Red Chili Powder instead of regular Lal Mirch Powder.
You can also use Ginger-Garlic paste to get more distinct flavors to the nuts.
Do not use whole spices in the batter, as it might ruin the experience of having Masala-coated Peanuts.
These Peanuts can last really long if you can preserve them in an air-tight container.
Masala Coating Variations
Since Peanut is the main ingredient in this recipe, you can play a bit with different types of Masala coatings.
1. Cajun-spiced Masala Peanuts
Cajun spice mix is quite popular in Western countries.
And you can use the same spice mix to give a different touch to this recipe.
Just replace this spice mix with Garam Masala Powder in the above recipe. Everything else is pretty much the same.
Also, you can always adjust the spices as per your taste.
2. Schezwan Masala Peanuts
Recently, I have shared the Schezwan Chutney recipe on this blog.
You can use this Chutney to make the Masala batter for Peanuts.
3. Orange Flavored Masala Peanuts
If you like fruity flavors, you will love the Orange flavored Masala coating on fried Peanuts.
For this recipe, you can use some fresh Orange juice and Orange zest while making the batter.
The subtle flavors of Orange give an interesting taste to these spicy nuts.
So, that's it for this recipe!
Do you make Masala Peanuts at home? Let me know in the comments section below.