What do you do with the over fermented Idli batter?
This is the first thing that comes to our mind when the batter becomes over fermented.
Well, the fermentation process is quite tricky in itself.
If you don't follow it properly, you will definitely have difficulties in making perfect Idlis and Dosas at home.
In the following guide, you will find a few helpful tips and suggestions that might help you fix this problem.
So, let's check them out below.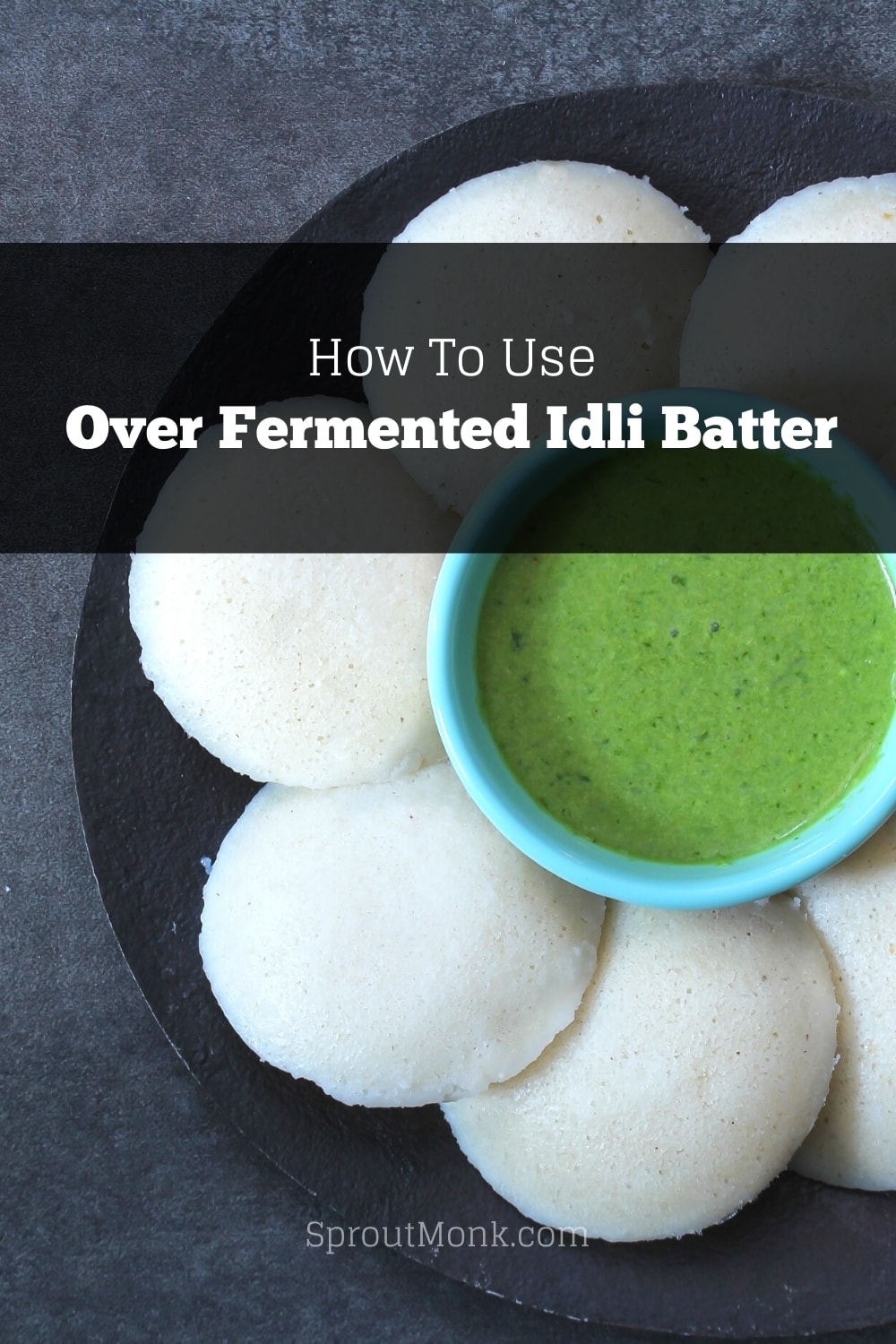 8 Things You Can Do With Over Fermented Idli Batter
Here are some of the workaround techniques that you can use to deal with this issue – 
1. Drain Out Excess Water Before Mixing The Batter
Whenever you have over fermented batter in the pot, you will see a thin layer of water on the top of the batter.
This water is not very useful and is a byproduct of the fermentation process.
If you mix it with the batter, there is a possibility that it will add a more sour taste to the mixture.
Hence, it's better to get rid of this excess water from the batter's surface.
Note: You need to follow this step before mixing the batter.
Otherwise, you will find it difficult to remove the sour water from the batter.
Later, you can add some warm water to the batter to get the right consistency.
2. Add A Pinch Of Sugar To The Batter
Overfermentation can cause the batter to turn sour, and there is very little you can do to fix the taste.
If your batter is slightly sour, you can add a pinch of sugar to it.
This will help balance the flavor of the batter and will reduce the sour taste to some extent.
Apart from that, sugar also helps in getting the crispy brown layer to your dosas.
So, it'd be a useful addition to the batter, especially if you want to make dosas with this batter.
3. Add Some Rice Flour To The Batter
Rice flour is another ingredient that can help fix your over fermented batter.
As you know, this flour doesn't have its own taste.
When you mix it with the over fermented batter, it really helps in balancing the sour taste.
The other benefit of using this flour is it can make your dosas and uttapams crispy.
But of course, you can't use it in large quantities.
4. Make Idlis With The Same Batter
Even if the batter becomes over fermented, you shouldn't throw it away.
Taste the batter and see if it's any good for consumption.
If it seems alright, you can go ahead with the Idli-making process.
The Idlis will come out softer and fluffier with this type of batter.
Also, you won't notice much sourness in your Idlis compared to Dosas or other steamed delicacies.
5. Make Idli Fry With Over Fermented Batter
There might be a time when you will get relatively more sour batter due to the over fermentation.
In such cases, you can still make Idlis out of it.
However, make sure you prepare something like an Idli fry or masala stuffed Idlis.
The spices and other ingredients will offset the sour taste of Idlis.
In the end, you can also sprinkle some freshly made gun powder chutney on this preparation.
It will enhance the overall flavor of the dish.
6. Do Not Make Plain Dosas With This Batter
That's right!
Over fermented batter should never be used to make plain dosas or uttapams.
They will always taste sour with such batter.
Plain dosas or paper dosas taste amazing when they offer a hint of sourness.
This comes from the regular fermentation process.
But if the batter is already over fermented, your dosas will taste extremely sour.
You might have experienced the same taste with dosas made out of the store-bought batter.
Well, it happens because of over fermentation.
7. Make Masala Dosas
Yes, this could be an option for you.
If you're really craving delicious dosas on a Sunday morning, you can certainly make these dosas with over fermented batter.
The masala that you prepare with potatoes, cabbage, onions, and spices will reduce the sourness of the batter.
In fact, the sour taste will really complement this masala mixture and sambar.
8. Make Uttapams
Uttapams will also taste great with this type of batter.
However, as I said earlier, you should avoid making the plain ones.
With Uttapams, you can add some chopped onions, tomatoes, potato masala, etc.
There are quite a few options for making delicious Uttapams with different toppings.
These toppings will surely go well with slightly over fermented Idli batter.
In the next section, let's learn a few techniques to avoid the over fermentation issue.
How To Avoid Over Fermentation Of Idli or Dosa Batter
Here's what you need to know –
1. Do Not Keep It In A Hot Place
The fermentation process should take place in a warm place.
If you keep it in a hot room or very hot microwave oven, it will definitely over ferment.
This generally happens during the summertime.
So, you need to be careful when you ferment the batter at a high temperature.
Quick Tip: If you don't have any other option, you can simply reduce the fermentation period accordingly.
2. Do Not Use Too Much Urad Dal
Urad dal aids the fermentation process.
If you add it a lot to the batter mixture, you will increase the chance of getting the over fermented batter in the end.
Therefore, keep an eye on how much Urad Dal you need to use for the Idli or Dosa batter.
3. Reduce The Quantity Of Methi Seeds
Similarly, Methi or Fenugreek seeds can boost the fermentation process.
So, you don't need to add them in large quantities either.
Otherwise, the batter might get over fermented, and you will keep wondering what might be the cause of this problem.
4. Store The Fermented Batter In Refrigerator
You should never store the fermented batter outside.
The reason is quite simple – the fermentation process will continue to take place in such an environment.
When you move it to the refrigerator, you essentially create a barrier for this process.
The cold temperature inside the refrigerator lowers the speed of the fermentation process, as the bacteria do not work efficiently in this environment.
So, if you don't want to use the batter immediately, you should put it in the fridge or freezer section of your refrigerator.
If you want to store it for a week, it's better to keep it in the freezer.
Also, try to store it in small batches and different containers.
It will help keep your batter fresh for a long time.
5. Adjust The Fermentation Period According To Climate Conditions
This is the one mistake that many beginners make when they prepare Idli or dosa batter at home.
Since the fermentation process depends on the temperature, you will have to make some adjustments accordingly.
For e.g.,
If the outside temperature rises during the daytime in summers, you may keep it for fermentation overnight.
Ideally, the batter takes about 8-10 hours to ferment completely.
But if you live in really cold places, this process can go on for 20 hours too.
So, make sure you adjust the fermentation time accordingly.
Well, that's pretty much about the whole process!
I hope you find these suggestions useful.
Now, let's take a look at the FAQs related to this topic.
FAQs
1. How To Know If Dosa Batter Is Spoilt?

You can easily guess it with the appearance of the batter.

If you see a thick and yellowish layer of batter on the top, it's gone bad.

You shouldn't be using such batter for making Dosas or Idlis.

Similarly, you can check for the smell and taste of the batter.

Both these things will give you more idea about the freshness of your batter.
2. How To Ferment Idli Batter Instantly?

You can make use of Eno and Citric acid to ferment Idli batter instantly.
3. What To Do With Unfermented Idli Batter?

You can add some fresh yogurt or buttermilk to it.

Do not make Idlis with this batter, though.

Try making Dosas with such batter.

Alternatively, you can keep the batter for a few more hours, which should help the fermentation process.
4. What To Do If Idli Batter Smells Bad?

Check the taste of this batter.

If it's too sour, you should not use it.

As for the smell, you may add some hot water to the batter.

This should reduce the smell to some extent.
5. How Can We Remove Sourness From Idli Batter?

You can add some rice flour or cooked rice to such batter.

It will help remove a bit of sourness from your Idli batter.

However, it's not possible to remove this taste entirely.

You will need to think of making different dishes that require the use of other complementing ingredients.
Over To You
When your batter turns over fermented, you can easily get disappointed.
But thankfully, it can still be used for making Idlis and Dosas at home.
I hope the above suggestions help in solving this issue.
If you have any more questions or feedback, please let me know in the comments below.
Do share this guide with your friends and family if you found it helpful.