Want to make Palak Paneer with frozen Spinach?
Palak Paneer is one of the most popular dishes in the Indian subcontinent, and it is generally made with fresh spinach leaves and cottage cheese.
However, Spinach is a leafy vegetable and not grown each month of the year, especially outside India.
So, what do you do in such a case?
You can still make this dish, but you will need to follow some techniques and guidelines in this process.
In today's guide, you will find more information about it in detail.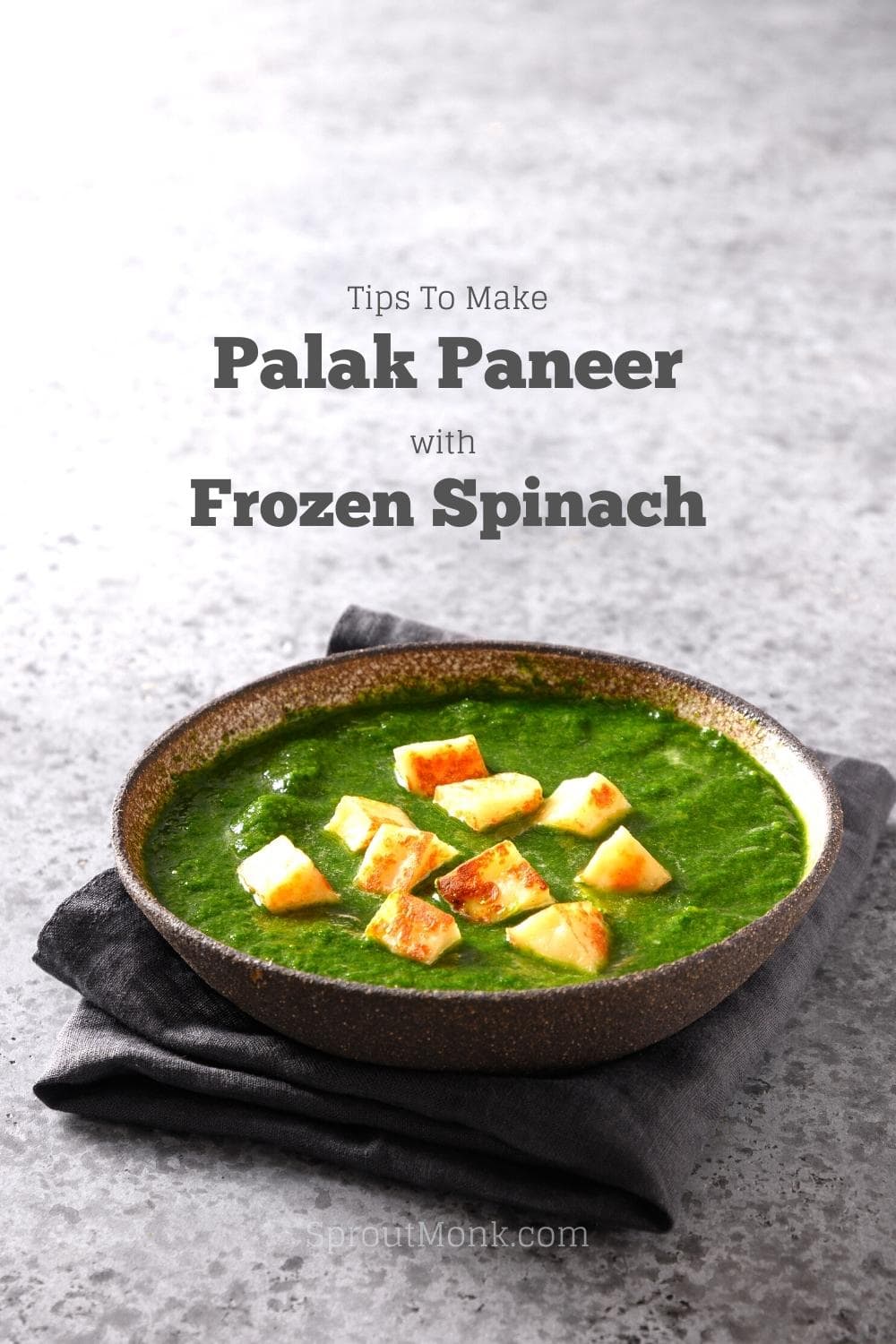 5 Tips To Make Palak Paneer With Frozen Spinach
Here are some tips for you –
1. Clean The Leaves Before Using Them
Once you remove the leaves from the fridge, rinse them thoroughly.
It will also help remove the water accumulated on their surface during the defrosting process.
If you don't follow this process, you might end up having some rotten leaves for your preparation.
Even though the freezing conditions help keep the leaves fresh, you will always have a couple of leaves that will begin to rot in such conditions.
So, it's quite important for you to rinse them well before using them for Palak Paneer preparation.
Also, if you use them directly, the curry might taste bitter due to the accumulated juices.
2. Check For Any Foul Smell
Foul smell or off smell is another great indication of the gradual decaying process in your Spinach leaves.
Since the fresh leaves contain a great amount of water, it increases bacterial activity much faster.
Therefore, you should check for any foul smell coming out of the leaves. 
If you do notice any such smell, do not use these leaves for the preparation.
3. Use More Frozen Leaves Than Required
When you put the leaves in the freezer, they shrink in size.
This happens with pretty much all the leafy vegetables because they contain a lot of water content.
To balance the quantity in your curry, you should add more Spinach leaves to the preparation.
Also, the Palak Paneer preparation needs the leaves in the purée form.
So, it's always a good idea to have them in slightly more quantity.
4. Grind Spinach Leaves With Some Ice Cubes
When you grind the leaves in the grinder, the system often turns hot.
This heat easily gets transferred to the leaves, which might result in slight discoloration of the paste.
If you want dark green color for your Palak Paneer dish, you should use some ice cubes while grinding.
You can also avoid ice cubes and grind the frozen leaves directly.
But you should let them defrost for some time. 
Let the excess water seep out of the leaves.
5. Add Paneer Pieces After Cooking The Gravy
This is one of the common mistakes people make when they prepare this dish at home.
When you make Palak Paneer, you should never hurry into putting the Paneer pieces in the gravy.
If you do, you will need more time to get the right consistency to the gravy.
As a result, the Paneer pieces will turn rubbery, and there isn't much you can do about them later.
So, reduce the gravy and get the right texture and taste before you can think of adding the Paneer pieces.
The same goes for fresh cream addition as well.
You should wait a bit so that the raw Spinach leaves cook to perfection.
Well, as you can see, there isn't much difference between how you make Palak Paneer with fresh leaves and frozen leaves.
The only major difference is the state of leaves, which you can bring back to normal with the defrosting process.
Why Is My Palak Paneer Bitter?
Palak Paneer generally turns bitter for several reasons, including bitter leaves, excess Palak paste, and rotten leaves.
But there are some other reasons too.
Let's look at them in this section in more detail.
1. Bitter Leaves
Sometimes, you might just get unlucky and get a batch of leaves that are slightly bitter or off-taste.
This happens when you buy leaves in the off-season.
So, look for fresh leaves with some shine on their surface.
2. Excess Paste
Spinach leaves do have off taste, and you get to notice it more when you use them in excess quantity.
While making Palak Paneer, you should only use the leaves in the required amount.
In case you have added too much purée, you can reduce the bitter taste using fresh cream.
3. Rotten Leaves
Even though frozen leaves look good on the surface, you should look at them carefully from each side.
If one of the leaves begins to rot due to some reason, it can ruin the taste of your preparation.
Discard such leaves completely and use the fresh ones for your recipe.
4. Overcooking
Spinach cooks really fast.
So, you shouldn't cook it for too long.
It takes about 10 minutes to cook this leafy vegetable.
If you cook it for more than 10-15 minutes, it will turn dark and lend an unpleasant taste to your curry.
5. Large/Overgrown Leaves
This is another factor that plays a crucial role in deciding the taste of your Palak Paneer or Saag Paneer dish.
When you use large and overgrown leaves, they can sometimes taste bitter after cooking.
It also happens with the leaves that have stayed longer on the plant and matured during this period.
You shouldn't be using such leaves for making Palak Paneer or any other curry.
These leaves will surely change the taste of your preparation. 
But don't throw away the large leaves just yet!
You can use these leaves to prepare pakodas and serve them as an accompaniment for dinner.
Quick Tip: If you want to enjoy the best Palak Paneer dish, pick the smaller and tender leaves from the store.
The small leaves will bring a delicious taste to the dish.
Now, in the next section, let's check out the FAQs related to this topic.
Do take a quick look at it if you have any further queries in mind.
FAQs
1. How Do You Use Frozen Palak?

Firstly, you should defrost your spinach leaves.

For that, you can remove the leaves from the freezer and put them in the refrigerator for a few hours.

Once they are defrosted, you can remove them from the fridge and use them as you like.

Other than that, there are some methods of defrosting your Palak leaves.

For e.g., using a microwave oven, placing them in hot water, running them under tap water, and letting them
defrost at room temperature.

These methods are equally useful, but the time required to defrost them will differ significantly.
2. What Can I Make With Frozen Paneer?

You can make all the dishes with frozen Paneer that you make with the fresh one.

There is not much difference in these types of Paneer.

However, as you know, the fresh ingredients lose their flavors and textures when you keep them in the fridge for a long.

So, you might notice some subtle differences while tasting the dishes made using frozen Paneer.

To avoid such experiences, you should only use the frozen Paneer pieces in grated form. 

Do not use the pieces for curries or rice dishes.
3. How Long Does Frozen Paneer Take To Thaw?

It takes 2-3 hours to thaw the frozen Paneer at room temperature.

It may even take more time if you live in a cold place.

If you want to use the refrigerator method, you can also keep it overnight in the refrigerator.
4. Can Palak Paneer Be Frozen?

Yes, you can surely freeze Palak Paneer.

It can stay fresh for a couple of weeks or so in the freezer.

Just make sure you use a decent airtight container for storage.

Also, it's better to have thicker consistency to your gravy, as it will enhance the overall shelf life.
5. How Do I Substitute Frozen Spinach For Fresh?

For frozen Spinach substitute, you should replace it with 1.5 times fresh Spinach leaves.

The fresh leaves contain more water content than the frozen leaves.

So, it makes sense to use the fresh ones in more quantity.

Besides, the cooking process is pretty similar in both cases.
Over To You
Liked the guide?
I am sure you did.
As you can see, it's quite easy to make Palak Paneer with frozen Spinach leaves.
You just have to remember a few things, and you should be able to make this delicacy perfectly at home.
Still, have any questions?
Don't worry! 
Just ask them in the comments below, and I will help you out.
Do share this guide with your friends and family if you found it useful.