Paneer is one such ingredient in Indian cooking that looks easy to cook, but you often fail to get its right texture. 
No matter how well you cook it, you always come across a situation where it feels undercooked or turns rubbery after cooking.
It happens because of some of the common mistakes you make during its preparation.
So, how do you cook it to perfection?
What's the trick to get the perfectly soft texture to your Paneer pieces?
Let's get into the details in the following guide.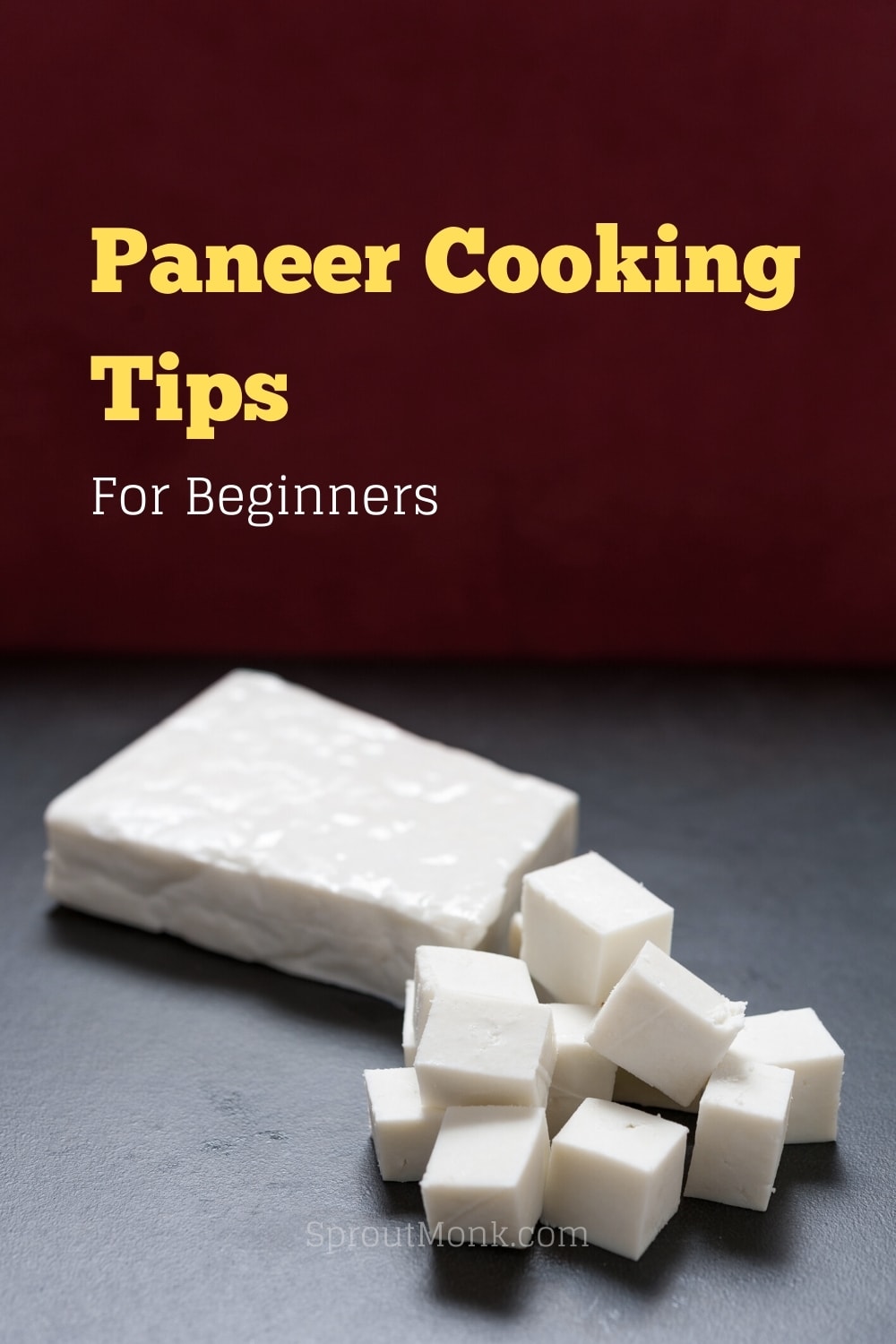 Paneer Cooking Tips For Beginners
If you have been struggling to make the perfect Paneer at home, check out the cooking tips shared below.
These tips will help you understand the mistakes and correct your cooking method. 
So, let's begin!
1. Rinse Paneer Pieces Before Using
It is the first thing you should do whenever you want to cook Paneer at home.
Whether you bring Paneer from a store or use the homemade one, you should rinse it well under the tap water.
When you rinse the cubes or slices, it helps in getting rid of sour taste and odor from their surface.
If you don't rinse the cubes, the same taste and smell may get into your preparation.
Ultimately, it won't turn out as you'd expected.
2. Soak Them In Slightly Warm And Salty Water
Want soft Paneer pieces for cooking?
Then, you should soak them before adding them to your preparation.
For this process, you should soak the pieces in slightly warm and salty water.
The mixture of salt and warm water will help get you a nice and soft texture to Paneer.
This method is quite useful for the packaged Paneers, as they often turn hard due to long storage.
As for the duration of this process, you should let the pieces be in the water for up to 10-15 minutes.
Also, the other thing you need to remember here is we've used salt in the mixture.
So, you will need to cook the dish accordingly.
Do not put too much salt at the beginning of base masala preparation.
Otherwise, the dish will taste salty. 
3. Marinate The Paneer Whenever You Can
The marination process is one of the best techniques to infuse flavors into the ingredients.
Since Paneer is pretty much a tasteless ingredient, you can make use of this method to elevate its overall taste.
The good thing about Paneer is it absorbs flavors well if you marinate it for a while.
As for the marinade, you can use any choice of spices and other ingredients for this process.
The only thing you need to remember, though, is that the flavors should complement the dish's taste.
Do not add too many spices, as you may not be able to fix the taste later.
Moreover, if you are not sure about what to choose for this marination, you can simply use Salt, Turmeric Powder, Red Chili Powder, and Lemon Juice.
This basic marination will be useful for many curry preparations.
The other benefit of using this method is it allows you to remove the raw smell from the Paneer pieces.
So, do try it out.
4. Fry Paneer Pieces Before Using Them In A Curry
As you know, Paneer pieces are tasteless, and they need to be flavored with other ingredients.
Without the help of additional ingredients, you cannot elevate its taste.
And the best way to do that is using the traditional frying technique.
You can either fry them using the shallow-frying or deep-frying technique.
It really depends on how you want to use the Paneer cubes in your dish.
Now, in case you don't know, the frying process helps in two ways.
It gets rid of the raw smell from the pieces, and also, the fat content from oil makes it even more appetizing.
Hence, you should always fry the Paneer pieces before putting them in the curry or rice delicacies.
5. Use Dairy Paneer Instead Of Packaged Paneer
If you are in India, you should always try to get the dairy Paneer.
It generally contains more fat content, which adds to the taste.
Apart from that, the texture you get from this Paneer is quite soft, and it can't be compared with the packaged cubes or slices.
If you can't find a dairy Paneer, you should try to make it at home.
The packaged Paneer should be the last option for making delicious preparations at home. 
6. Do Not Use Refrigerated Paneer Directly For Your Preparation
I know most of us like to store Paneer in the refrigerators, and that's probably the only way you can increase the shelf life of this perishable food item.
That said, you shouldn't use the refrigerated Paneer pieces directly into the preparation.
You should let them attain room temperature.
If you don't give them enough time to reach the normal temperature, the pieces will turn hard and rubbery while cooking.
So, make sure you follow this additional step whenever you want to use the refrigerated pieces for the preparation.
 7. Add Them To Your Gravy In The End
Paneer pieces don't take long to cook on the flame.
Since they contain a lot of moisture, you can cook them for under 10 minutes without any issues.
If you overcook them, you will end up having a firm texture that may not be very appetizing. 
Alternatively, you should fry the pieces in a separate pan and put them right at the end of your preparation.
The pan-frying method will add a nice golden crust to them.
And when you cook them in the curry or rice, they will also get cooked thoroughly from inside.
Hence, it makes sense to put the pieces in the end instead of adding them at the time of preparing the base masala.
The above tips should help you cook the best paneer dishes at home. 
In the following section, I have shared some answers to commonly asked questions.
You can have a look at this section if you have any such queries in your mind.
FAQs
1. Do You Need To Fry Paneer Before Cooking?

You don't have to fry Paneer pieces before cooking.

But if you do, it will simply add to the taste of your preparation.

However, it's an optional step, and you can ignore it completely. 
3. Do I Cook Paneer Before Adding To Paneer?

There is no real need to cook Paneer separately.

It can make the pieces turn rubbery, which is something you want to avoid while making any Paneer dishes.

That said, you can shallow-fry Paneer in a pan before adding to the curries.

It will enhance the taste of your preparation. 
4. How Do You Cook Frozen Paneer Cubes?

Ideally, you shouldn't cook frozen Paneer cubes directly.

You should allow them to attain room temperature before using them for cooking.
5. Why Does Paneer Melt While Cooking?

It can melt because of two reasons, i.e., excess water and fat content.

Both these elements can make the Paneer pieces melt when they meet the high temperature of the pan or Kadai.

To avoid this process, you should place the pieces right at the end of your preparation.

This way, the pieces will retain their shapes and won't dissolve in the curry.

Also, you shouldn't stir your preparation continuously after adding these pieces to the curry.

That's just another way of breaking and melting the soft Paneer pieces!
Over To You
Cooking Paneer at home is always a fun thing to do, especially if you want to make something rich and delicious for lunch or dinner.
But as you can see, it's tricky to get the perfect texture when you're using them for such preparation.
So, do follow the suggestions mentioned in the guide above and see if they can improve your Paneer cooking technique.
If you want to know more about any specific technique or have more queries, please let me know in the comments below.
I will try to resolve them for you as soon as possible.
If you liked this guide, do share it with your friends and family.