Paneer Tikka On Tawa?
Yes, that's right! You can make a perfect restaurant style Paneer Tikka on Tawa.
When I make something in the kitchen, I always look for ways to simplify the recipe.
It gives me a feeling of satisfaction.
The Paneer Tikka in Tawa is one such recipe that gives me the same feeling.
For this recipe, you don't have to have a Tandoor or Oven to get the perfect results.
Of course, the authentic kitchen tools often give the best results for your recipes, but you can still make use of available tools and come up with the same results.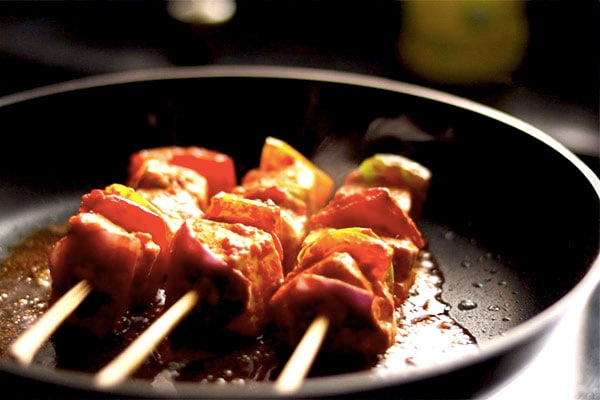 And another best part of this recipe is you don't need a particular type of Tawa.
You can make it in your regular Pan or Grilled Pan as well.
However, you need to make sure that the coating of your Tawa is in a good state.
Use a good non-stick Tawa for this recipe, as the Tikkas may stick to the Pan while shallow frying.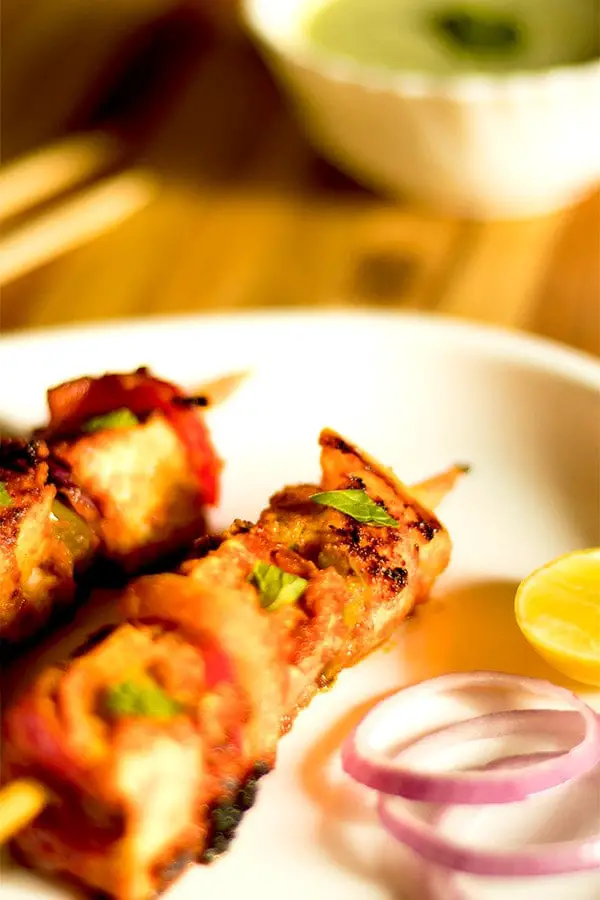 Tip: You can prepare these Tikkas on your Tawa in advance so that it can be used in other curry dishes like Paneer Tikka Masala, Paneer Amritsari, etc.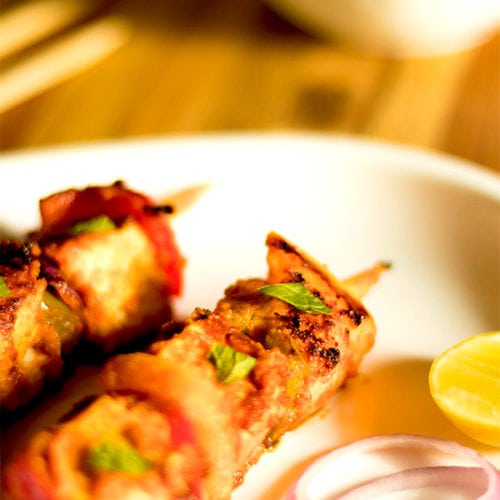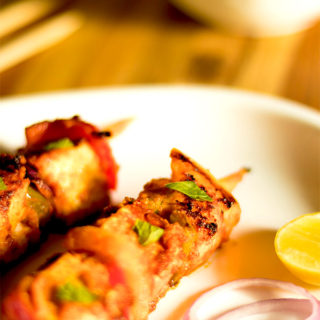 Paneer Tikka Recipe
Paneer Tikka is a great alternative for those who don't prefer eating non-vegetarian food. You can make this recipe on Tawa or Griddle at home. 
Ingredients  
300

gms

Paneer

cut into cubes

200

gms

Yogurt

1

tbsp

Gram Flour (Besan)

slightly roasted

1

Green Bell Pepper

cut into cubes

1

Yellow Bell Pepper

cut into cubes

1

Red Bell Pepper

cut into cubes

Onion

cut into cubes

1

tsp

Tandoori Masala

1

tsp

Garam Masala

1/2

tsp

Chaat Masala

2

tsp

Kashmiri Red Chili Powder

2

tsp

Ginger Garlic Paste

1/2

tsp

Turmeric Powder

1

tsp

Lemon Juice

Coriander Leaves

finely chopped

2-3

tbsp

Oil

for shallow frying

Salt

as per taste
Instructions 
Cut Onion and Bell Peppers into 1-inch cubes.

Cut Paneer slice into 1-inch cubes.
Marination
Get a bowl and add fresh Yogurt into it. Make sure you use thick Yogurt for this recipe. Whisk it nicely.

Now, add the Kashmiri Red Chili Powder, Turmeric Powder, Chaat Masala, Tandoori Masala, Gram Flour (Besan), Ginger-Garlic Paste, Salt into it.

Add the chopped Bell Peppers and Onions along with Paneer cubes into this mixture. Mix all these ingredients nicely with your hand.

Put this bowl into the refrigerator for at least 30 minutes. Let the Paneer cubes and veggies marinate in the tasty juices. 
Making Paneer Tikka on Tawa
Take out the marinated mixture and place the Paneer cubes and Veggies on the skewers. 

Heat the Tawa on medium flame.

Gently put the skewers on the Tawa and cook them on medium heat.

Turn the skewers in between so that it gets cooked evenly from all the sides.

Once you get the desired color to the Paneer and veggies, switch off the flame. 

Serve your Tawa style Paneer Tikka with Mint Chutney, Sliced Onions, and a Lemon Wedge.
Notes
Paneer Tikka may get stuck on the Tawa, so make sure you turn the skewers on regular intervals.
Do not use high heat while making this recipe.
You can also prepare this Paneer Tikka recipe without using the skewers. 
Always use fresh Paneer to avoid the extra sour and tangy taste to the Tikkas.
Variations
Paneer Tikka is a complete delicacy in itself, and it doesn't need any additions to it.
But there is always a room for improvements and variations!
So, here are a couple of variations that you can try without changing too many things in the recipe –
Paneer Tikka With Honey Chili Sauce
Sounds tempting, right?
Well, you got to try this variation!
In this variation, you should drizzle a spoonful of the Honey Chili sauce over Paneer cubes. It gives an amazing taste to the spicy Tikkas.
Note – Serve the Paneer Tikkas hot with this sauce.
If you don't want to prepare Honey Chili sauce at home, you can get it from any grocery store.
You can serve the Honey Chili Sauce separately if you don't want to pour it on the Tikkas.
Paneer Tikka With Schezwan Sauce
How about using Schezwan sauce?
Schezwan sauce can give a nice fiery twist to this Paneer Tikka recipe.
Similar to the Honey Chili sauce variation, you should add Schezwan sauce or Chutney to the Tawa fried Paneer Tikkas.
If you like to experiment with Indo-Chinese food, I think this Schezwan style Paneer Tikka can be a great option for you.
You can also serve this dish for your evening snacks party and treat your guests with finger-licking surprise.