Papdi Chaat, also known as Papri Chaat, is a delicious Indian chaat dish.
The recipe for this chaat is very similar to Sev Puri.
Both recipes require the same ingredients, which include Papdis (fried flour crispies), Boiled Potatoes, Onions, Masalas, Chaat Chutneys, and Nylon Sev and Coriander for garnishing.
So, what's the difference?
The only difference is Sweetened Yogurt (Meetha Dahi) and Boiled Chickpeas or Boiled Mung Beans.
Alternatively, you can also use Black Chickpeas in this recipe.
Apart from these two additions, some people also like Bhallas (Urad Dal Fritters) in their Papdi Chaat.
The Bhallas taste amazing with different chaat flavors.
But hey, don't get scared after seeing so many ingredients!
You don't have to use them all to make this chaat recipe.
Use anything you like.
Yes, that's the fun of making this delicious chaat at home.
For eg.,
If you don't like Chickpeas, you can replace them with Sprouted Mung Beans or any other sprouts for that matter.
It's completely your choice.
And that's why I love this chaat!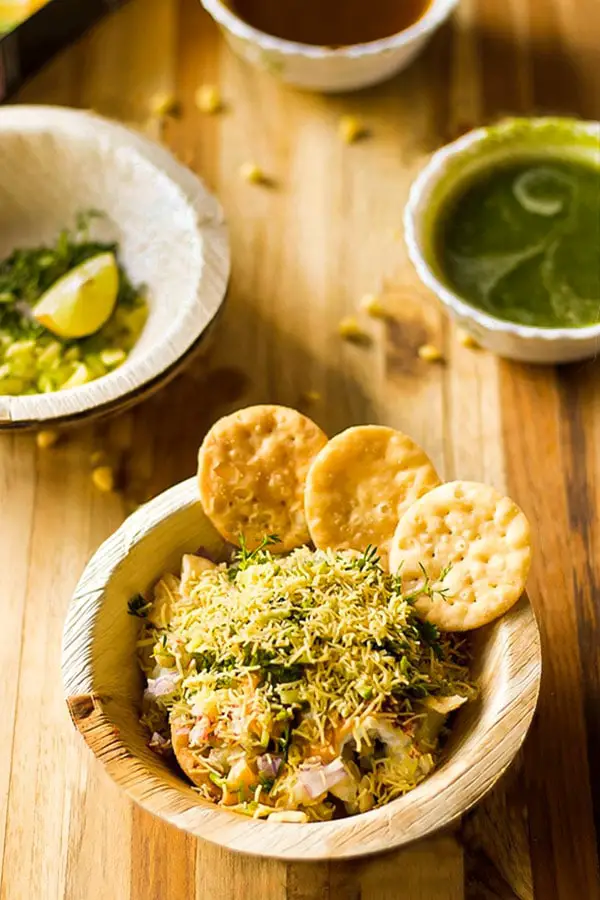 For this recipe, I prefer store-bought Papdis or Puris to make this dish.
It saves a lot of time as compared to making Papdis at home.
You can easily find readymade Sev Puri packets in any Indian grocery store.
So, grab a Sev Puri packet from the nearby store and make your favorite Papadi Chaat at home.
Note – You can either crush the Papdis into pieces or place them as a whole to prepare the base layer.
Papdi Chaat: Step By Step Recipe
In the following photos, you will learn the step by step method to prepare this chaat recipe.
Cut, Chop & Whisk
Yes, you need to keep all the ingredients ready in one place before moving to the preparation steps.
Here's how: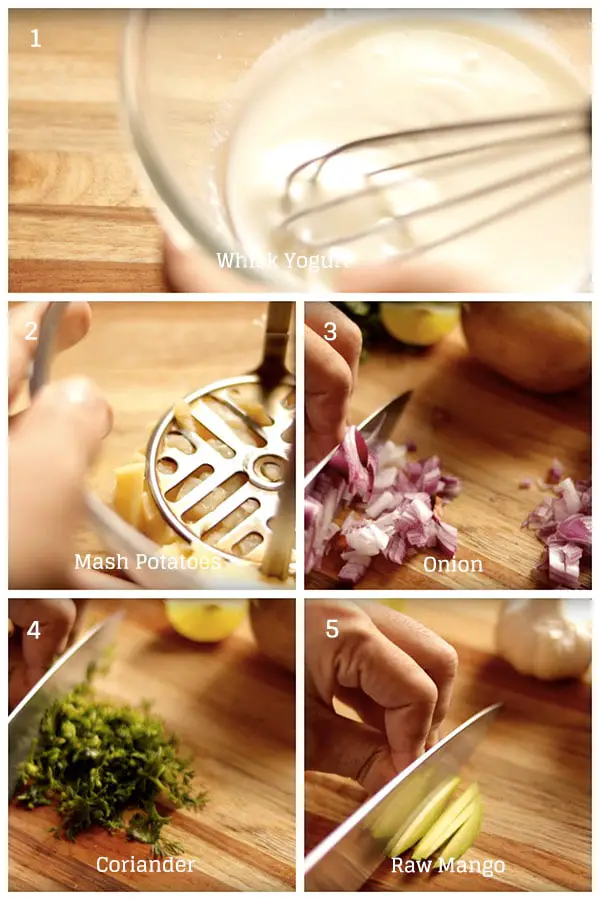 Preparation Steps
Done with the above steps?
Cool!
Now, start making the chaat in a Katori or Plate.
Note: You can find this type of Katori in any general food store. Look for the disposable plates and dishes section if you're in a food mall or supermarket.
Yummy, right?
Well, check out the following tips as well.
These tips will help you avoid certain mistakes while preparing this dish.
Tips To Make Papdi Chaat
Mash the potatoes thoroughly. The smooth texture of mashed Potatoes gives an interesting subtle taste to the recipe. And more importantly, it perfectly balances the crunchiness of Papdis.
You can add chilled Yogurt to this chaat if you like. I like the combination of chilled Yogurt and hot spices in chaats.
Yogurt plays an important role in this recipe, so make sure you use a fresh one to prepare the chaat. If you use sour Yogurt, the dish might turn a little too sour and tangy to the taste.
If you can't find Nylon Sev, use Farsan, Bombay Mix or Teekha Sev (spicy deep-fried Noodles). The final preparation may not seem like the traditional Papdi Chaat, but it'd be an interesting addition to the recipe.
Make sure you have all the ingredients ready in one place. It will help in serving this chaat quickly.
Use Pomegranate Seeds (Anardana) for garnish. It gives a nice flavor to the dish.
Once you have gone through these tips, take a look at the detailed recipe below.
Do watch the video if you need more help.
Papdi Chaat Recipe
Papdi Chaat is one of the most popular street foods in India. You can enjoy this dish as a tea-time snack.
Equipment
Knife

Whisk

Spoons

Masher

Pressure Cooker

Mixing Bowl
Ingredients  
12

Papdis/Puris

fresh and crunchy

4

Papdis/Puris

crushed

1-1/2

Potato (Aloo); medium sized

boiled and peeled

1/2

Onion (Pyaaz); medium sized

finely chopped

1

cup

Yogurt (Dahi)

whisked

1/2

cup

Sprouted Mung Beans (Ankurit Moong)

boiled

Tamarind Chutney

as needed

Coriander Chutney

as needed

5

gm

Coriander Leaves (Dhaniya Patta)

finely chopped

1/2

tsp

Chaat Masala Powder

1

tsp

Red Chili Powder

Water

as needed

Sugar

as needed

Salt

as per taste

Lemon Juice

optional

1

slice

Raw Mango; small sized

finely chopped (optional)

50

gm

Nylon Sev
Instructions 
Get a bowl and mash the boiled Potatoes in it. Add some Salt to it and mix nicely.

Get another bowl and add Yogurt, Salt, and Sugar to it. Whisk it well. You can also add Water if Yogurt is too thick.

In a serving plate, place the Puris and spread the mashed Potatoes on top of them.

Add the chopped Onions, sprouted Mung Beans, crushed Papdis, sweetened Yogurt, Red Chili Powder, Chaat Masala Powder, Coriander Chutney, Tamarind Chutney to it.

Finally, garnish it with Coriander Leaves, chopped Raw Mango pieces, and Nylon Sev. You may also add some fresh Lemon juice to this Chaat.
Notes
If the Papdis are soft, gently roast them on a Tawa for a few minutes. You may also use Microwave Oven to get back the crunchy texture.
Do not use sour Yogurt for this recipe. 
Avoid using too many spices in your chaat. 
If possible, use warm Potatoes or Chickpea Masala in the chaat. It'll help take your dish to a new level.
Papdi Chaat doesn't retain its texture for a long time, so serve it immediately.
Enjoyed this chaat recipe?
If yes, do let me know in the comments section below.
You can also share your version of this recipe in your comment. I'd love to know how you make it at home.
Meanwhile, don't forget to subscribe to my newsletter for more such recipes and updates.