Is there a difference between Paratha and Naan?
This is one of the most frequently asked questions in the world of flatbreads.
And if you want to know more about these two flatbreads, you have landed on the right page!
Well, in the following guide, I am going to share a detailed comparison between Paratha and Naan.
So, do check out the guide below.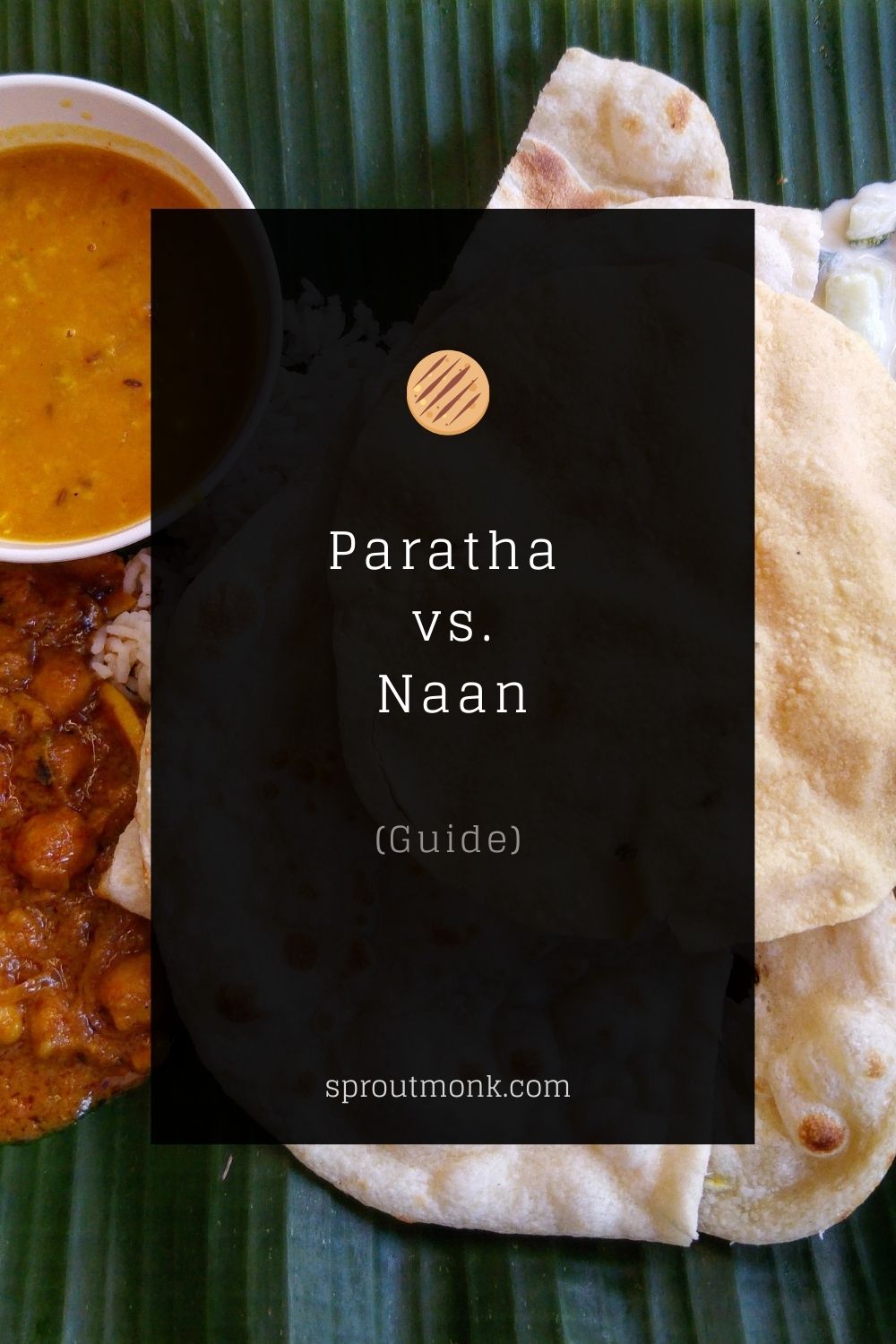 What Is Paratha?
Paratha is a popular Indian flatbread, which is served with some Chole, Raw Mango Pickle, Spiced Onions, and Raita.
It is generally made out of unleavened dough, salt, water, and some spices.
For cooking, you can either use a concave iron pan or flat fry pan.
And it can be cooked with the help of oil, butter, or desi Ghee (clarified butter).
There are many types of Parathas available in India, but the stuffed varieties are more popular than the plain ones.
However, the plain varieties are often considered for the travel journeys, as they tend to remain fresh for a relatively longer duration.
As for the name, there are many theories and stories around this flatbread.
Some believe the word Paratha is a combination of Parat and Atta, which also has different meanings.
For instance,
Parat or Paraat is a large-sized plate found in Indian kitchens, which is generally used for kneading the dough (atta).
And therefore, the name Paratha might have been derived from Paraat and Atta.
On the other hand, the word Parat also translates to layers in Hindi and other regional languages.
Hence, the term Paratha may have come from Parat and Atta, which roughly translates to layered flatbread.
Common Ingredients For Paratha
That's all you'd need if you want to make some hot Parathas at your home kitchen!
Moving on, let's now understand more about the other flatbread in this comparison, i.e., Naan.
What Is Naan?
As compared to Paratha, Naan is a leavened flatbread from the Indian subcontinent.
It generally contains yeast, which is useful in making this flatbread soft.
Naan is also popular in other parts of the world, including Europe, Middle East, and United States.
It is cooked in traditional Tandoors (clay pot ovens), which helps in getting the quintessential smokey and rustic flavor to this flatbread.
You can have this flatbread with almost any type of curries.
It also goes well with Tandoor Kebabs or Seekh Kebabs.
And unlike Parathas, this flatbread is mostly preferred for lunch and dinner only.
As for the history, Naan seems to have been arrived from the middle eastern part of the world.
And therefore, it's not an authentic Indian flatbread like Chapatis or Parathas.
Common Ingredients For Naan
All-Purpose Flour or Maida
Yogurt 
Yeast
Sugar
Oil
Water
Salt
So, these are the basic ingredients that go into making the traditional Naan.
Regarding flour, you can also use a combination of Whole Wheat Flour and Maida for this recipe.
Now, let's compare Paratha and Naan with their similarities and differences below.
Paratha vs. Naan – The Similarities
| | Paratha | Naan |
| --- | --- | --- |
| Type | Flatbread | Flatbread |
| Common Ingredients | Flour, Oil, Salt, Water | Flour, Oil, Salt, Water |
| Kneading | Required | Required |
| High Heat Cooking | Required | Required |
| Can Be Enjoyed For | Breakfast, Lunch, Dinner | Breakfast, Lunch, Dinner |
| Goes Well With Curries | Yes | Yes |
| Can Be Made At Home | Yes | Yes |
| Popularity | High | High |
Let's try and understand some of the similarities between these flatbreads.
1. Both Are Traditional Flatbreads 
That's correct!
Both these flatbreads have been popular since ancient ages.
And their popularity gives us an idea of how they have become so famous in almost the entire world.
From local households to gourmet restaurants, these flatbreads have truly come a long way in this journey.
2. You Can Have Them Anytime You Want
Well, yes, you can have them at any time!
Although Naan goes well with traditional meals, some of its modern variations can be enjoyed for breakfast and snacks.
Talking about the Parathas, you can have them for all 3-4 meal courses.
And there is no better flatbread than Parathas to savor for a perfect morning breakfast.
3. Great Accompaniments For Indian Curries
True!
Both Paratha and Naan taste absolutely amazing with several Indian curries.
In fact, many times, the restaurant meals seem incomplete if you don't order a Naan or two with your favorite curry.
So, yes, these two flatbreads are quite essential when it comes to Indian curries and sabzi dishes.
4. Availability
Since both these flatbreads require general ingredients, you should be able to prepare or order them throughout the year.
Also, the popularity of the flatbreads makes it even more convenient to simply order them from a nearby restaurant.
Of course, you may not get all the varieties of Naan and Paratha in all the restaurants, but they usually serve the basic varieties of these flatbreads.
So, you shouldn't be having a lot of difficulties in finding a place where you can order hot Parathas or Naan.
And this is specifically applicable for those who live in major cities of India.
If you are living outside India, you would probably not get them so easily due to the lack of Indian restaurants or communities in the area.
Even if you find a decent Indian restaurant, there is a possibility that they might not serve Parathas in their flatbread menus.
Parathas require stuffing, especially the stuffed ones!
Hence, the restaurants prefer to serve plain Parathas or no Parathas at all.
In the next section, I have tried to discuss some of the common differences between Paratha and Naan.
So, I'm sure you'd enjoy this section as well.
Paratha vs. Naan – The Differences
| | Paratha | Naan |
| --- | --- | --- |
| Origin | India | MiddleEast |
| Yeast Required | No | Yes |
| Sugar Required | No | Yes |
| Tandoor Usage | Rarely Used | Often Used |
| Taste | More Like Rotis and Chapatis | More Like Pizza Bread |
| Storage Time | Few Days | Few Hours |
Well, these are some of the differences between these popular flatbreads.
Let's learn more about them below.
1. Origin
Both Paratha and Naan come from different regions!
Paratha is pretty much an Indian flatbread, whereas the Naan is more of a gift from the Middle Eastern culture to the Indian culinary world.
So, there is definitely a difference between them when it comes to their origins.
2. Yeast Requirement
Parathas don't require yeast or any such ingredients for the leavening purpose.
On the other hand, you can't make Naans without adding yeast to their dough.
Yeast is one of the key ingredients in making this flatbread, and it does a great job in softening the overall texture.
3. Sugar Requirement
Sugar plays another critical role in the preparation of Naan.
When you add yeast to the flour, you should also add some sugar to it.
Sugar helps in releasing CO2 in this process, which is important in getting the fluffy and soft texture to the dough.
Without this ingredient, the dough will take a longer time to rise.
And sometimes, it won't rise at all.
Hence, it's a must-have ingredient for making Naans.
As for Parathas, they don't require sugar or any such ingredient for traditional preparation.
But if you are making sweet varieties, you can add some sugar to the dough depending on the requirement of the recipe.
4. Tandoor Cooking vs. Tawa Cooking
Naan is mostly prepared in hot clay pot ovens known as Tandoors.
But Parathas can be prepared inside Tandoors as well as on flat-surfaced Pans.
Most Dhabas prefer making their flatbreads in well-made Tandoors.
However, the homemade cooking doesn't allow the liberty to prepare these traditional flatbreads in clay pot ovens.
So, the best suitable option for making them at home is nothing but the pans.
As for Naans, you can make them at home, but the taste won't be similar to what you get in a restaurant or Dhaba.
5. Taste Difference
Since the preparation methods are quite different from each other, these two flatbreads differ a lot in their tastes.
Parathas taste similar to other popular Indian flatbreads like Chapati or Rotis.
But Naan is a completely different flatbread.
It tastes more like soft and thin Pizza bread.
And yes, there is the smokey flavor too.
6. Storage Time
Storage time is an interesting differentiating factor between Naan and Paratha.
Paratha is a typical travel food, as it remains fresh for a really long time.
But when you think of Naan, it's not as good as Paratha.
In fact, you should enjoy Naan when it's hot.
As it turns cold, it becomes hard and chewy.
And you'd surely not want to try such flatbread with your favorite curries.
This is also the reason why the home-delivered restaurant Naan or similar flatbreads are not as enjoyable as the fresh ones.
This applies to the Pizzas as well.
On the contrary, Parathas remain soft for a reasonable amount of time.
You can store them for a day or two, and they should do just fine for you.
Note: The stuffed varieties do not have a great shelf life, which means it's better to enjoy them within a few hours of cooking.
Alright, here are some of the FAQs for you.
In this section, you will find answers to the related questions asked by the readers.
FAQs
1. Is Naan The Same As Roti?

No, both of them are different from each other.

Roti doesn't require yeast as the leavening ingredient.

Also, it is mainly prepared on flat or concave surfaces.

You can also store Rotis for a much longer period than Naans.
2. What Is Roti Called In English?

Roti often comes under the category of flatbreads.

However, there is no specific English word for this Indian flatbread.

Hence, you can simply call it Roti or Roti bread in English.
3. Is Paratha A Roti?

No, Paratha is not Roti!

Paratha can be termed as a type of Roti, but the same can't be said for Rotis.
4. What Is The Difference Between Paratha And Chapati?

The main difference between Paratha and Chapati is the additional ingredients.

For Chapatis, you don't need anything other than wheat flour.

But for Parathas, you can add some spices and other ingredients to make it more flavorful and tasty.

And then, there are some stuffed varieties as well.

Apart from that, there is a slight difference between their preparation technique too.

You need to cook Parathas with the help of oil or ghee.

On the contrary, Chapatis do not require any such ingredient. 

You can cook it without oil as well.

Over To You
So, what's your favorite flatbread?
Is it Paratha or Naan?
Do let me know in the comments section below.
Also, if you have any questions or feedback, you can share it in your comments as well.
Meanwhile, don't forget to share this guide with your friends and family.
I think they will also learn a thing or two about these traditional flatbreads.
And if you are interested in receiving more such guides and food updates, do consider subscribing to my weekly newsletter below.