Pav Bhaji is a popular Indian dish consisting of a vegetable curry served with pav (a type of bread).
The dish originated in the city of Mumbai and is now a common street food across India.
So, what all ingredients go into making this delicious dish?
Let's take a look!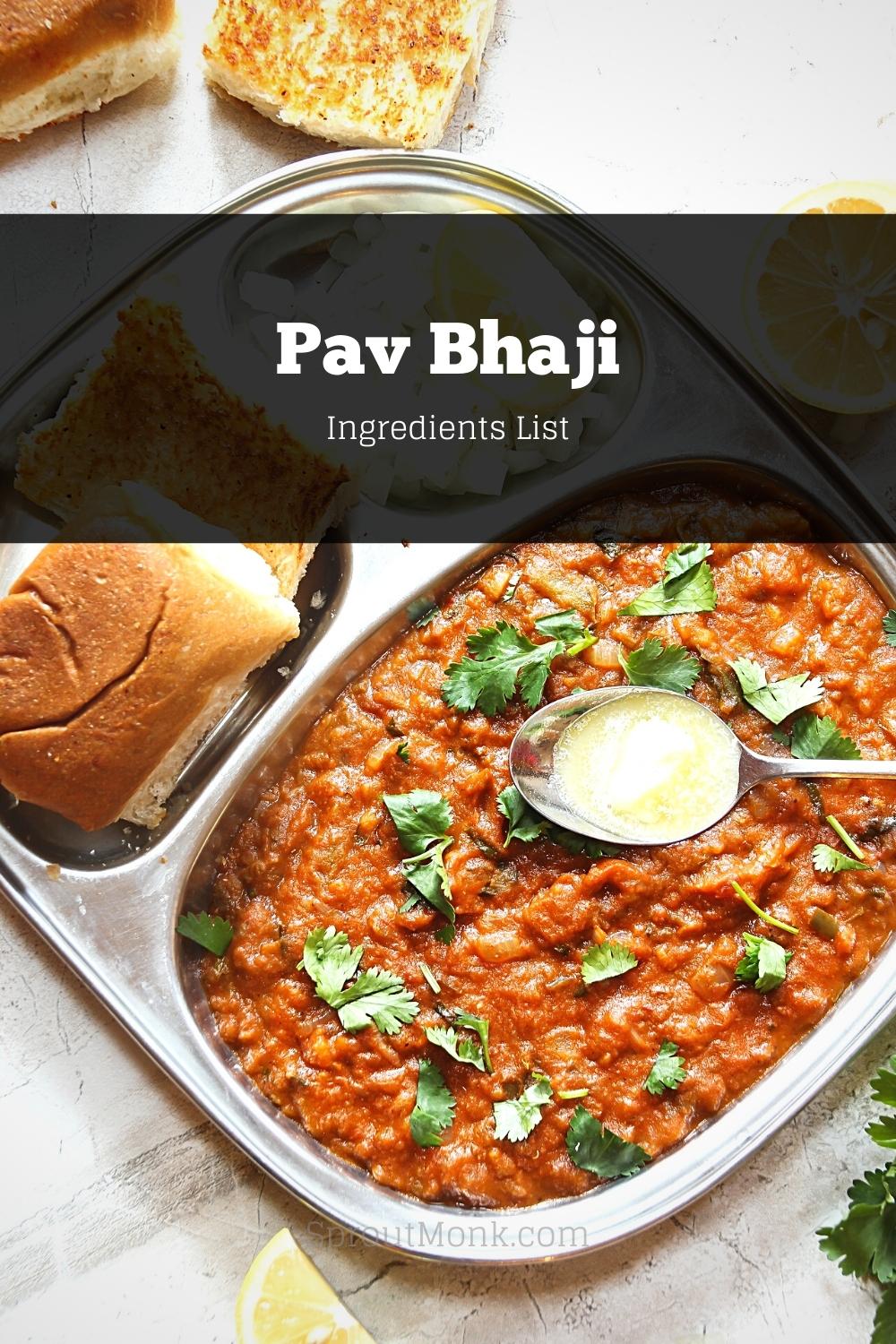 List Of Pav Bhaji Ingredients
Here's the list of ingredients you'd need to make Pav Bhaji at home –
1. Pav Bhaji Masala
This delicacy is incomplete without Pav Bhaji masala.
It is a spice mix made of coriander, cumin, chili powder, dry mango powder, star anise, cloves, cassia bark, black pepper, and nutmeg.
You can either buy Pav Bhaji masala powder from the store or make it at home.
2. Onions
Onions are a must in Pav Bhaji.
They not only add sweetness to the dish but also a lovely texture.
When you make Pav Bhaji at home, you will have to cook the onions more thoroughly than what you get to see in the street-style preparations.
This is because they generally use a high flame to prepare their dishes.
If you cook the onions on a low flame, they won't cook properly.
And your Pav Bhaji won't turn out as good as it should be.
3. Tomatoes
Tomatoes help in getting that lovely red color as well as a slight tanginess to the dish.
Ripe tomatoes are best for this dish as they are naturally sweet and add a lovely flavor in the end.
Also, they help get more body to the dish, which is quite important in this type of dish.
4. Capsicum
Capsicum or bell peppers are usually used to add a slight crunch as well as sweetness to pav bhaji.
You can use any color of capsicum, but green ones are most commonly used as they are easily available and also quite cheap.
However, don't use them in large quantities.
They have a peculiar taste, which might overpower other ingredients in this dish.
5. Green Peas
It's a must-have ingredient in Pav Bhaji.
Once pressure-cooked, green peas add a lovely sweetness and color to this dish.
You can also cook them at the time of making the base masala.
But if you want to save some time, you can pressure-cook them along with potatoes and other veggies.
6. Potatoes
Potatoes are the star ingredient in Pav Bhaji.
They help in binding all the vegetables together, give a lovely creaminess, and also act as a thickener.
Without potatoes, you won't get the Pav Bhaji that we all know and love.
So, make sure you add enough of them to the dish.
7. Cauliflower
Cauliflower is pretty much an option vegetable, as it doesn't add much to this preparation.
But if you want to, you can definitely add it.
It will slightly increase the creaminess and also bulk up the dish a bit.
Many street food vendors do not use this vegetable in their preparation, and they often make this dish with onion, tomatoes, potatoes, capsicum, and green peas.
So, it's entirely up to you if you want to add Cauliflower or not.
8. Ginger-Garlic Paste
You can't make a perfect Pav Bhaji without ginger-garlic paste.
This paste is an integral part of Indian cooking and adds a lovely aroma and flavor to the dish.
If you want to make this paste at home, simply grind equal quantities of ginger and garlic to a fine paste.
And voila, your ginger-garlic paste is ready!
You can also store this paste in the fridge for later use.
9. Green Chilies
Green chilies are used to add a bit of heat to Pav Bhaji.
Depending on your spice tolerance level, you can use as many or as few chilies as you want.
If you don't want the dish to be too spicy, you can skip them altogether.
But you should use a couple of chilies to prepare this dish, as Kashmiri Red Chili Powder only brings red color to the dish and doesn't make it spicy.
10. Kashmiri Red Chili Powder
This is one of the most important ingredients in Pav Bhaji.
It is what gives the dish its beautiful red color.
You can find this powder in any Indian grocery store.
If you can't find it, you can use regular red chili powder, but the dish won't be as red as it should be.
Quick Tip – You can also add some beetroot juice or grated beetroot along with regular red chili powder to get a bright red color to this dish.
Red chili paste is another good option if you want to avoid using Kashmiri red chili powder.
11. Lemon Juice
Even though tomatoes can make Pav Bhaji slightly tangy, you will still need to add some lemon juice to get that perfect taste.
Lemon juice also helps balance out the flavors and adds a bit of zing to the dish.
If you don't have lemons, you can also use raw mango powder (amchur powder) to compensate for the sourness.
But the fresh lemon flavor is always best!
12. Coriander Leaves
In traditional Pav Bhaji, coriander leaves are as important as the core ingredients mentioned in this guide.
You simply can't ignore them.
Coriander leaves add a lovely flavor and aroma to this dish.
So, if you really want to enjoy the taste of a typical street-style Pav Bhaji, you must use them generously.
You can also use finely chopped stems of fresh coriander leaves.
But you should use them at the time of onion-tomato base preparation.
Do not use them for garnish.
13. Cumin Seeds (Jeera)
Although it's not a necessary ingredient, a pinch of cumin seeds powder can really elevate the flavors of this dish.
You can also use Cumin Seeds for this preparation.
So, if you have them at home, don't forget to add them during the tadka preparation.
If not, you can simply avoid them completely.
14. Turmeric Powder
You can't forget turmeric powder while making Pav Bhaji.
It is an important spice in Indian cuisine and is used to add flavor and color to the dish.
A small pinch of turmeric powder added to the pav bhaji while cooking will give it a beautiful color.
You should add this powder at the time of making the Onion-Tomato base for this preparation.
15. Butter Or Oil
If there is a secret ingredient that makes Pav Bhaji so delicious, it's got to be butter!
Lots and lots of butter.
In fact, the more, the better.
Butter is what makes this dish so rich and creamy.
If you want to make a lighter version, you can also make it using oil.
It will still taste pretty good, but you shouldn't expect it to be as good as the butter version.
Furthermore, you can also prepare it with a combination of oil and butter.
You can make the base vegetable mixture in oil and add some butter on the top at the end.
This is another good option if you want to reduce the amount of butter in this dish.
16. Salt To taste
Yes, it's the one ingredient that you simply can't forget while making Pav Bhaji.
It is essential for getting the taste right.
You can add salt at different stages of cooking Pav Bhaji.
But, as always, don't overdo it.
In case you end up adding more salt to this dish, you can always add a boiled potato to reduce the salty effect in your dish.
17. Sugar As Needed (Optional)
Well, it's not a key ingredient for making Pav Bhaji at home.
Some people like to add a pinch of sugar to this dish, which balances the acidity of tomatoes and also enhances the flavors.
But it's entirely up to you whether you want to add sugar or not.
It won't make or break the dish.
Besides, some street vendors also use tomato ketchup in pav bhaji, which contains sugar.
However, you can just stick to a pinch of sugar to get the right flavors.
18. Masala Pav
How can a Pav Bhaji dish be complete without mentioning pav?
Pav is nothing but a type of Indian bread that is served along with this dish.
And you can find them in any Indian grocery store.
Pav Bhaji is usually served with butter pav.
But you can also use regular bread or any other type of Indian bread.
The pav buns can also be made at home, but the process is quite lengthy.
So, I would suggest you buy them from the store.
For Masala Pav, you will have to slice the pav horizontally into two pieces.
Then, apply some leftover Pav Bhaji masala and butter to the pav and toast it on a tava (griddle) until it turns slightly crispy and golden brown in color.
Serve them hot with Pav Bhaji.
Well, these are the ingredients you need to make Pav Bhaji at home.
Of course, you can always add or omit some of the ingredients as per your taste and preference.
But the key ingredients remain the same.
Now that you know all the Pav Bhaji ingredients, let's learn some useful tips to make the perfect Pav Bhaji at home.
Tips To Make Perfect Pav Bhaji
Here's the list of things you can do to elevate the flavors and taste of this dish –
Always use fresh ingredients to make Pav Bhaji. This is one dish where freshness really matters. So, use fresh vegetables and spices to get more flavors.
Add more potatoes to get the creamy texture. Other than butter, it's the one ingredient that can make this dish more silky and creamy.
Don't burn the base masala. If you do, it will add burnt flavor to this dish.
Avoid using any other masalas or spice blends in this recipe. You should only stick to Pav Bhaji masala to get the right taste and aroma.
Use the slow-cooking technique to cook the vegetables in the second stage. This way, they will absorb all the flavors and become more soft and mushy.
Butter is your friend as far as Pav Bhaji is concerned. So, add more butter to get more flavors.
Now, let's take a look at the FAQs below.
FAQs
1. Does Pav Bhaji Contain Potato?

Yes, Pav Bhaji generally contains boiled and mashed potatoes.

Potatoes help to thicken the gravy and give it the desired consistency.
2. Is Pav Bhaji Masala The Same As Garam Masala?

No, Pav Bhaji masala and garam masala are two different spice mixes.

Pav Bhaji Masala is a blend of spices that are specific to Pav Bhaji, whereas garam masala is a general spice mix used in many Indian dishes.
3. What Is Pav Bhaji Called In English?

There is no specific name for pav bhaji in English.

It is simply a type of mixed vegetable curry served with pav buns.
4. What Goes With Pav Bhaji?

Pav Bhaji is generally served with pav buns, butter, and lemon wedges.

You can also have it with plain bread or roti.

Moreover, you can serve it with Tawa Pulao, Jeera Rice, or plain steamed rice.

It tastes equally good with these rice dishes.
5. What Can We Add Instead Of Pav Bhaji Masala?

If Pav Bhaji masala is not available, you can use some homemade garam masala.

Don't forget to add some raw mango powder (amchur powder) along with it.
Over To You
Pav Bhaji is an easy-to-make dish.
But it does require quite a few ingredients if you want to get the real taste and flavors.
The Pav Bhaji masala is essential for giving the dish its unique flavor, so make sure to stock up on that before getting started.
As for the other ingredients, I have already listed them above in detail.
So, what are you waiting for? Start cooking!
If you have any questions or tips to share, please leave a comment below.
I would love to hear from you.
Share this guide with your friends and family if you found it useful.
Happy cooking!