Have you added a lot of vinegar to your chutney?
And does it taste too sour?
Well, vinegar is one of those ingredients that lend a really sharp taste to preparations.
But thankfully, there are a few ways through which you can balance the taste of your dishes.
In the following guide, I have shared some of the secret food hacks to fix the sour vinegar taste in chutney preparations.
So, let's take a look at them below.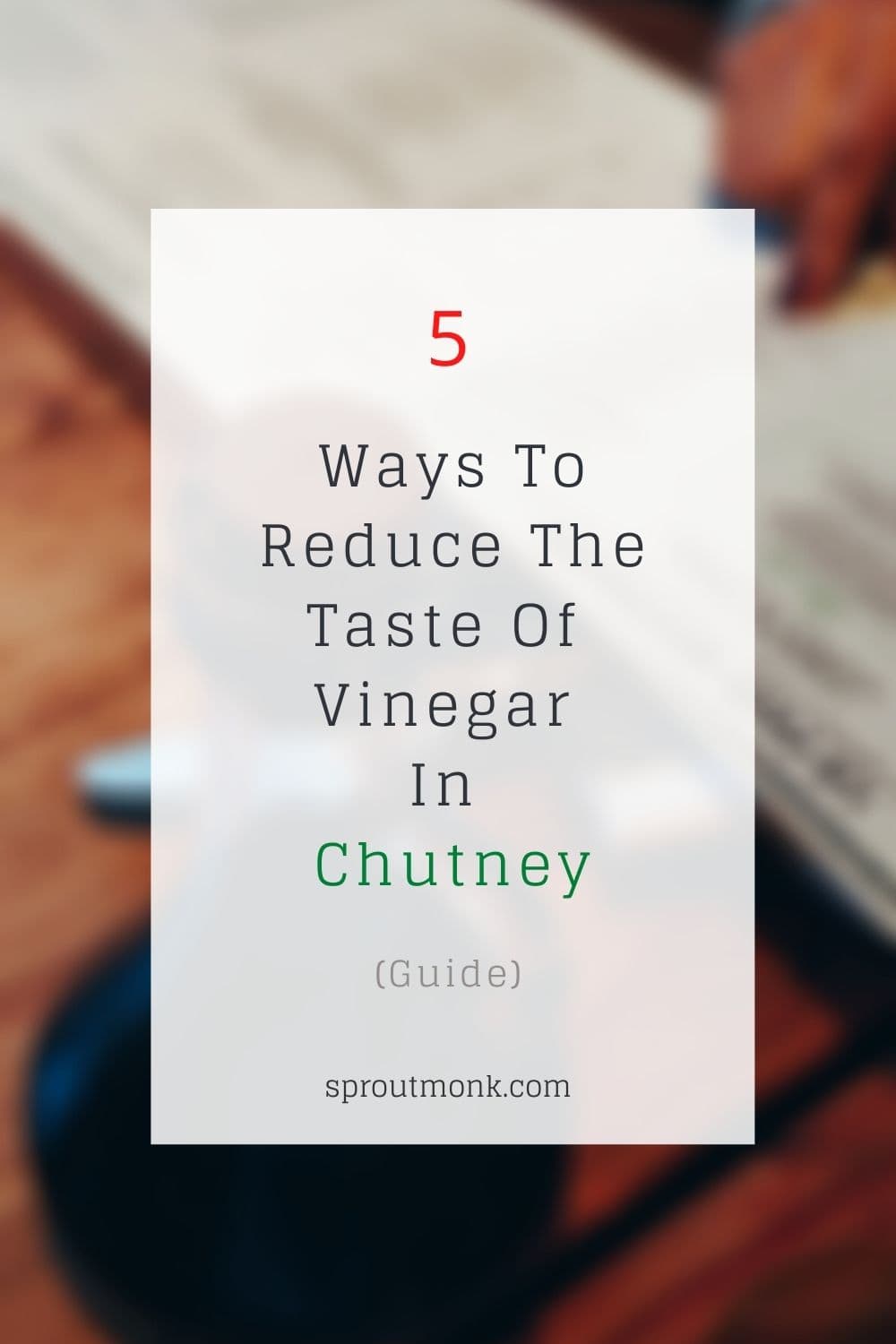 Tips To Reduce The Taste Of Vinegar In Chutney
Here's the list of ways through which you can neutralize the sharp vinegary taste in your chutney – 
1. Use Baking Soda
Baking Soda is one of the best ingredients to fix the vinegar issue in almost all types of preparations.
But you may wonder why it works so effectively, right?
For those who don't know, vinegar is nothing but a dilute solution of Acetic Acid.
And when Baking Soda reacts to this acid, it produces three elements, i.e., Water, Carbon Dioxide (CO2), and Sodium Acetate (CH3COONa).
The CO2 gets released into the air, and other elements mix with the preparation without lending any of their own flavors.
In layman's language, it helps in toning down the effect of vinegar in your preparation.
And that too without changing the taste of your dish.
But how much soda do you need to fix the vinegary taste?
The good thing about Baking Soda is you don't need it in a large quantity.
Just a pinch of it would do the trick for you!
Now, here's how you can use it effectively –
Take a pinch of Baking Soda and mix it with the chutney.
Wait for a couple of seconds and check the taste.
If it's still sour, you can add a bit more to it and repeat the same taste test.
Note – Do not add more Baking Soda, as it also reacts with other food particles present in chutney.
And therefore, it might change its taste entirely.
If the Baking Soda doesn't reduce the sour taste as much as you want, you can add some sugar too.
Alternatively, you can also use Baking Powder if Baking Soda is not available.
2. Use Sugar or Honey
Yes, the sweeteners!
You can use Sugar or Honey as a neutralizing ingredient to fix the sour taste of vinegar.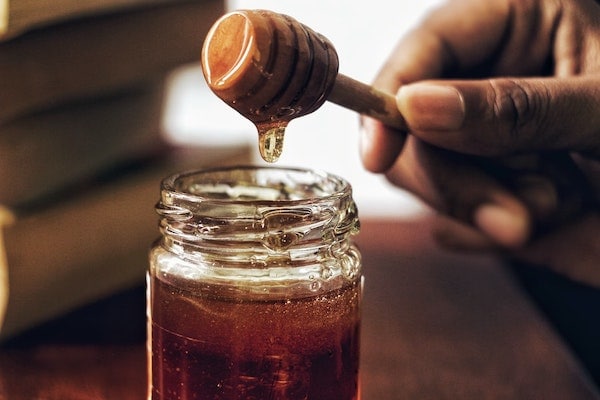 Of course, these ingredients don't work like Baking Soda.
But they can add an effective flavor dimension to your chutney.
Also, you have to use these sweeteners for sweetish chutneys like Mango Chutney.
Do not use them for spicy and salty chutneys, as you may not enjoy the taste of the end result.
And if you don't want to use Sugar or Honey, you can also use Jaggery in it.
It will bring a nice earthy flavor to your chutney and will also reduce the sharpness of the vinegar.
3. Use Salt & Sugar
Salt and Sugar can really do wonders for many dishes.
And when it comes to fixing the sour taste, they also play their part effectively.
When you add these two ingredients, it brings an amazing lemonade-like taste to the preparation.
So, do try them out if you have added too much vinegar to your chutney.
As for the combination, you need to check the taste of your chutney before adding these two ingredients to it.
But generally, you shouldn't add too much salt into it.
Otherwise, it'd become a salty-sour mixture in the end.
Besides, Salt and Sugar won't reduce sourness like Baking Soda.
These ingredients only enhance the contrasting flavors of the dish, which offset the overpowering tastes of other elements.
So, do keep these tips in mind whenever you try to reduce the taste of one ingredient in your delicacy.
4. Let The Chutney Mature On The Shelf
Vinegar tends to lose its sharp smell and taste over the period.
And that's one quality which might be useful if you have prepared chutney for later use.
In such a case, if you have added a bit of extra vinegar to your chutney, you can quickly get away with it.
There is nothing else you need to do.
Of course, you can try the above methods if you want.
But overall, the maturation period does help in balancing the flavors of such delicacies.
And in the case of chutneys, you wouldn't notice any sharp taste of vinegar.
So, do try this pickling method and see if it works for you.
5. Prepare A New Batch Without Vinegar
If the above tips don't work, you will have no other option than to prepare a separate batch again.
And that's not a bad thing at all.
In fact, you can save yourself from adding unwanted items in your preparation.
Now, if you want to balance the vinegar taste in your chutney, you can either prepare a new batch in a half portion or a full portion of the sour chutney.
It really depends on how much vinegar you've added to your first batch of chutney.
Once you know the required additional quantity, you can prepare the next batch accordingly.
Besides, you can also try out some of the natural ingredients to offset the sour taste.
Bonus Tip: Use Some Fats
Fats are quite helpful in balancing any excess flavors in your preparations.
When it comes to the sour vinegar taste, you can also think of using them as neutralizers.
So, what type of fats you can use in your chutney?
Well, the answer depends on the type of chutney you've prepared.
But generally, you can use Oil with more fats content, Butter, Cheese, and Yogurt. 
If it's an Indian-style chutney, you can also use Ghee in it. 
Regarding yogurt, you need to ensure that it's fresh and doesn't taste sour.
If it does taste sour, do not use it to mix with your chutney.
Note – When you use extra fats in your preparations, it tends to neutralize the spice levels as well.
So, do keep it in mind, and don't forget to adjust the spice flavors later on.
FAQs
1. How Do You Fix Too Much Vinegar In A Marinade?

It depends on the type of ingredients you are using in your marinade.

If you are making a Tikka-style marinade, you can add more fats to the mixture.

And it should do the job for you.

For vegetarians, you can use some vegetables like Potatoes and Cauliflower.

These veggies should help in balancing the sour taste.

On the other hand, if you are making a basic marinade without yogurt, you can also add Baking Soda or Baking Powder to it.

But as I mentioned earlier in the guide, you need to keep an eye on the quantity of soda you add to your preparation.

Otherwise, you may end up changing the taste of your preparation.

And with too much Baking Soda, you can't expect the authentic taste for your dish.
2. How Do You Make Tomato Sauce Less Vinegary?

The best way to fix the vinegary taste and smell in your sauce is to add more tomato mixture without vinegar in it.

You may also add some sweeteners like Sugar, but there will always be a limit to adding such ingredients in your recipe.

Hence, the addition of more sauce is the best solution in this case.

Apart from that, there is one more thing you can do.

If your sauce doesn't taste too sour, you can just put it in the bottle and keep it aside.

The maturation process will naturally help in reducing the sharp smell and taste over time.

And you don't have to do anything else.

So, do follow these tips and see if you can fix the vinegar issue for your Tomato sauce.

3. Which Vinegar Is Best For Chutney?

You can use the regular Chilli Vinegar or Apple Cider Vinegar for chutneys.

Both these varieties are good enough to bring the quintessential sour taste to your preparation.
4. How To Neutralize Vinegar Without Baking Soda?

I know Baking Soda is not the most suitable option to balance vinegar taste in several recipes.

Therefore, you can use some of the other techniques shared in this guide to fix the overall taste of your curry or similar preparations.

The ideal way to neutralize this sour taste is to add more ingredients or base masala gravy to the preparation.

As explained above, the addition of ingredients helps in distributing the sourness equally in the delicacy.

The only downside of this method is you will also have to adjust the other flavors later.

So, do keep it in mind when you add more ingredients to fix some other flavor.
Over To You
Now, I hope you know how to fix too much vinegar in your chutney as well as other recipes.
Well, if you understand the flavors correctly, you can easily play with them and fix them when needed.
And it's not that too difficult either.
So, try to learn more about the flavors. 
I'm sure it will make a positive impact on the way you prepare various dishes.
On that note, if you have any more questions related to this topic, please leave a comment below.
I will do my best to share an appropriate answer with you.
And yes, if you found this guide useful, share it with your friends and family members.
For more such food-related updates, you can subscribe to my newsletter below.