Dosa can be reheated using different methods, including tawa and microwave ovens. Both these methods are effective in regaining the crispy texture of the leftover dosas. 
However, you need to maintain a suitable flame and cooking time to ensure it doesn't burn or turn soft. Also, it's not possible to make some dosas crispy again. 
So, let's explore the dosa reheating process in the following guide.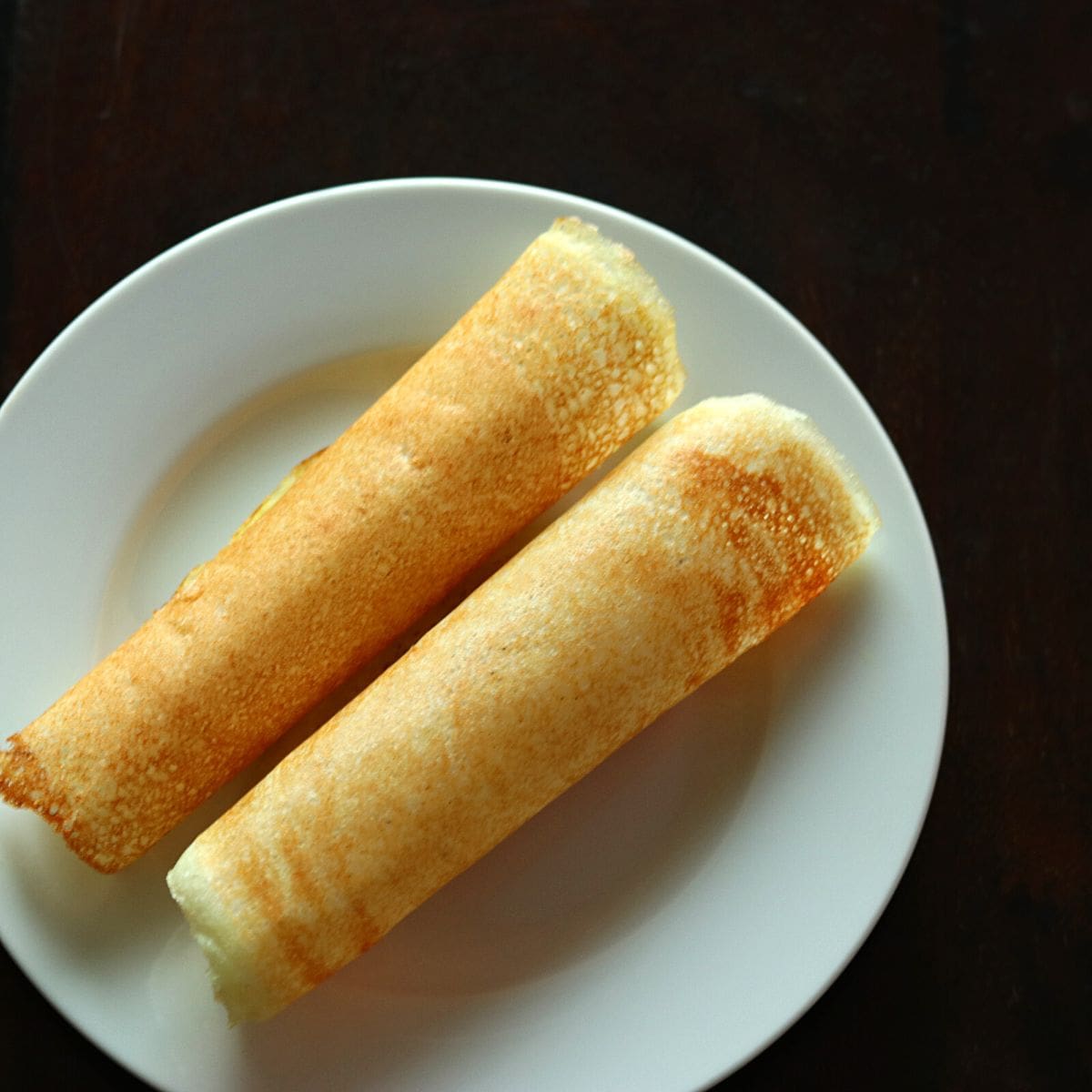 How To Reheat Dosa
As you know, there are two methods to reheat the dosas. Let's look at them in detail now. 
1. Using Tawa
Tawa or griddle is the best medium to reheat the dosas, as you can flip them on each side as many times as possible. This way, you get more control over the heat. It also allows you to reheat the dosa properly from each side.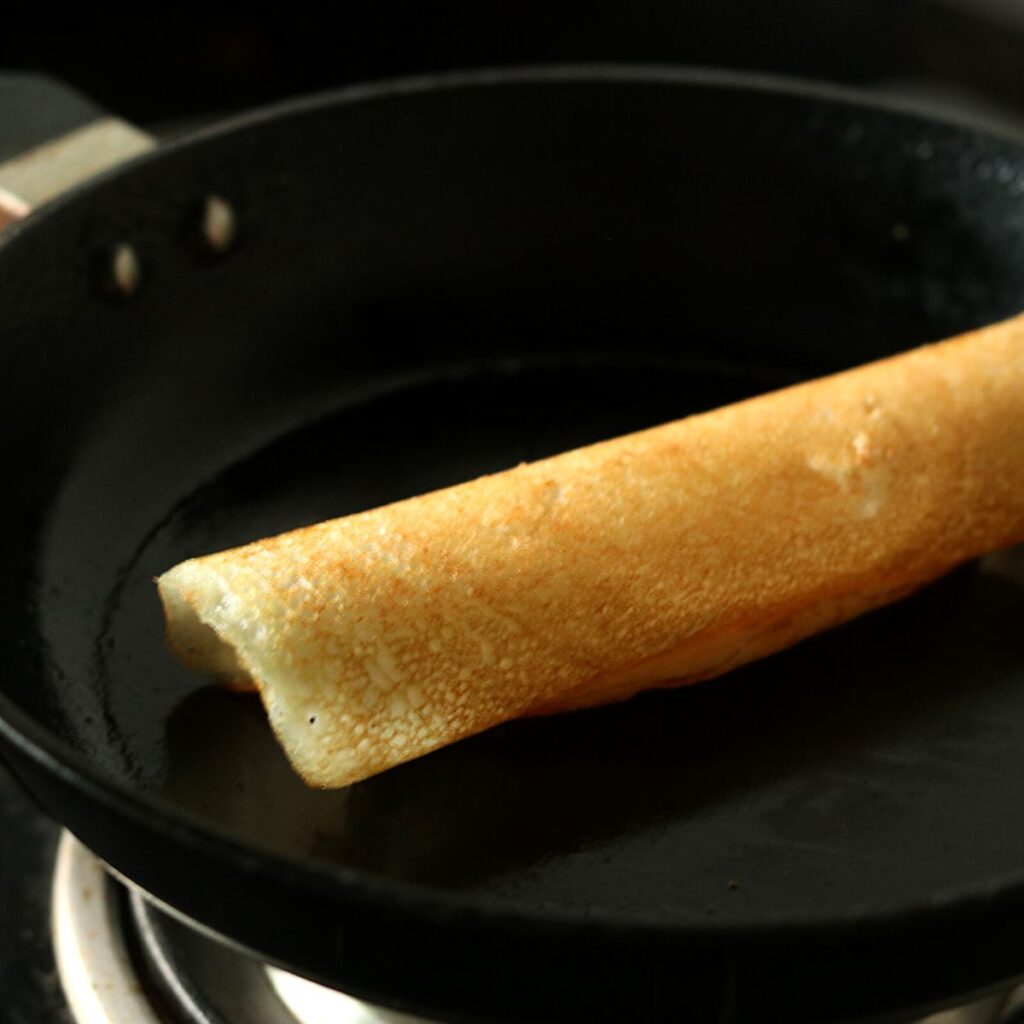 Moreover, you can reheat multiple dosas on tawa in quick succession. 
Steps To Follow –
Switch on the flame and place a non-stick tawa. Let it turn hot for some time. 
Once it's hot, place the dosa on it. 
Cook the dosa for 1-2 minutes on medium flame. Flip it on the other side to follow the same process. You may perform this process one more time for an extra crunchy texture.
Remove the dosa from the pan and serve as you like.
Note: If your pan is not non-stick or has a rough coating, spread some oil on the surface before reheating the dosa. It will help get a more crispy texture, and the dosas won't stick to the pan. 
2. Microwave Oven
A microwave oven is another useful tool to reheat the dosa. 
It's effective for particular types of dosas, including set dosa, masala dosa, Mysore masala dosa, uttapams, etc. These dosas often have a thicker texture, barring masala dosa. So, it's perfectly alright to reheat them in the oven. 
If you want to regain the crispy texture to a certain extent, try the above method. But for general reheating, use the steps mentioned below. 
Steps To Follow –
Preheat the oven to 250°F. 
Place the dosa in the oven once it's hot enough. 
Heat the dosa for 2-3 minutes, depending on the oven settings and the size of your dosa. 
Remove the dosa from the oven and serve immediately. 
Note: In some devices, you will need to heat the dosa for a longer period. So, adjust the heating time accordingly. 
Can You Store Dosa After Reheating It?
Yes, you can store the dosas after reheating them for some time.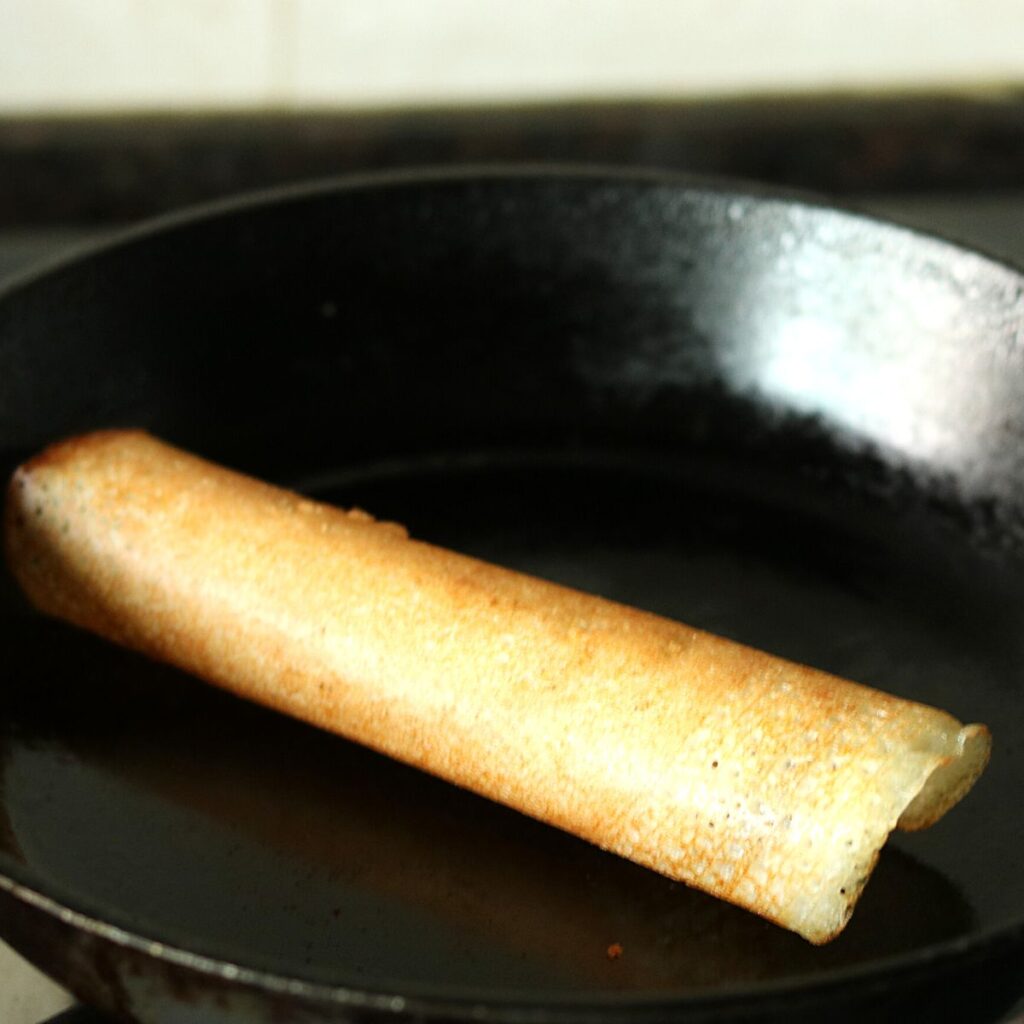 But as you know, the dosas don't have a longer shelf life, especially the ones with thicker surfaces. If you store these dosas after reheating, they will not taste the same. They will also lose their texture over time. 
Therefore, you should enjoy them as soon as possible. There is no point in storing further. 
If you want to have dosas after some time, keep some batter aside and make a fresh batch of dosas whenever required. It doesn't take too long to make dosas anyway. 
Note: The shelf life of reheated dosas won't be too great. You can store them for 4-5 hours, but don't keep them for long. 
Things To Remember When You Reheat The Dosa
Even though it's a simple process, you need to know a few pointers to get the best possible results. Let's find out more about them in the following guide. 
Thick and soggy dosas do not turn crispy after reheating. They will only turn hot. If you place them on the flame for a long, they will burn from the bottom. This applies to uttapam as well, as they are quite thick in size. 
Dosas should always be reheated on medium flame. Don't use high heat for reheating. 
Clean the pan surface using a kitchen towel before placing the dosa. You may also spread some oil on the tawa to create a smooth surface. 
For crispy dosas, you will need to flip them a couple of times on each side. If you only flip them once, they won't get the same crispiness. 
Thin dosas need more time to reheat and turn crispy again. So, adjust the heating time accordingly. 
Do not cover the dosas during or after reheating. It will make them lose the crispy texture. Cook them without placing the lid. Similarly, don't store them immediately in the container.
FAQs
1. How To Make Dosa Crispy Again?
You can reheat the dosas on a medium flame to make them crispy. Similarly, you may try reheating them in the oven. 

However, as mentioned in the guide, you should make them fresh. The fresh ones have a more crispy texture than the reheated dosas.
2. How Do You Store Cooked Dosa?
Once the dosas are cooked, allow them to cool down for some time outside. 

When they are moderately hot, store them in an airtight container. This way, they will stay fresh for a long time. 

You may also store them in the fridge for 4-6 hours. Don't store them overnight, as they will turn slightly sour.
3. Why Is My Dosa Soft And Not Crispy?
There are many reasons why your dosas turn soft and not crispy. This includes low flame, less cooking time, thicker batter, and a long storage period. 
4. How To Reheat Paper Dosa?
You can reheat the paper dosa in the same style, i.e., using a tawa or oven. 

That said, it'd be difficult to get the crispy texture back to the dosa. 
5. Do You Cook Dosa On High Heat?
Yes, you need to cook dosas on relatively high heat. 

Since it contains a lot of moisture, it needs a lot of heat to form the shape and crisp texture at the bottom. Without sufficient heat, it might turn too soft and soggy.