What do you do when your Paneer starts smelling bad?
Do you just throw it away in the bin?
Well, if you are not sure about what to do with such Paneer, you should check out the following guide.
In this guide, I have shared a few useful tips that you can use to remove smell from your Paneer pieces.
I'm sure you'd find this guide helpful.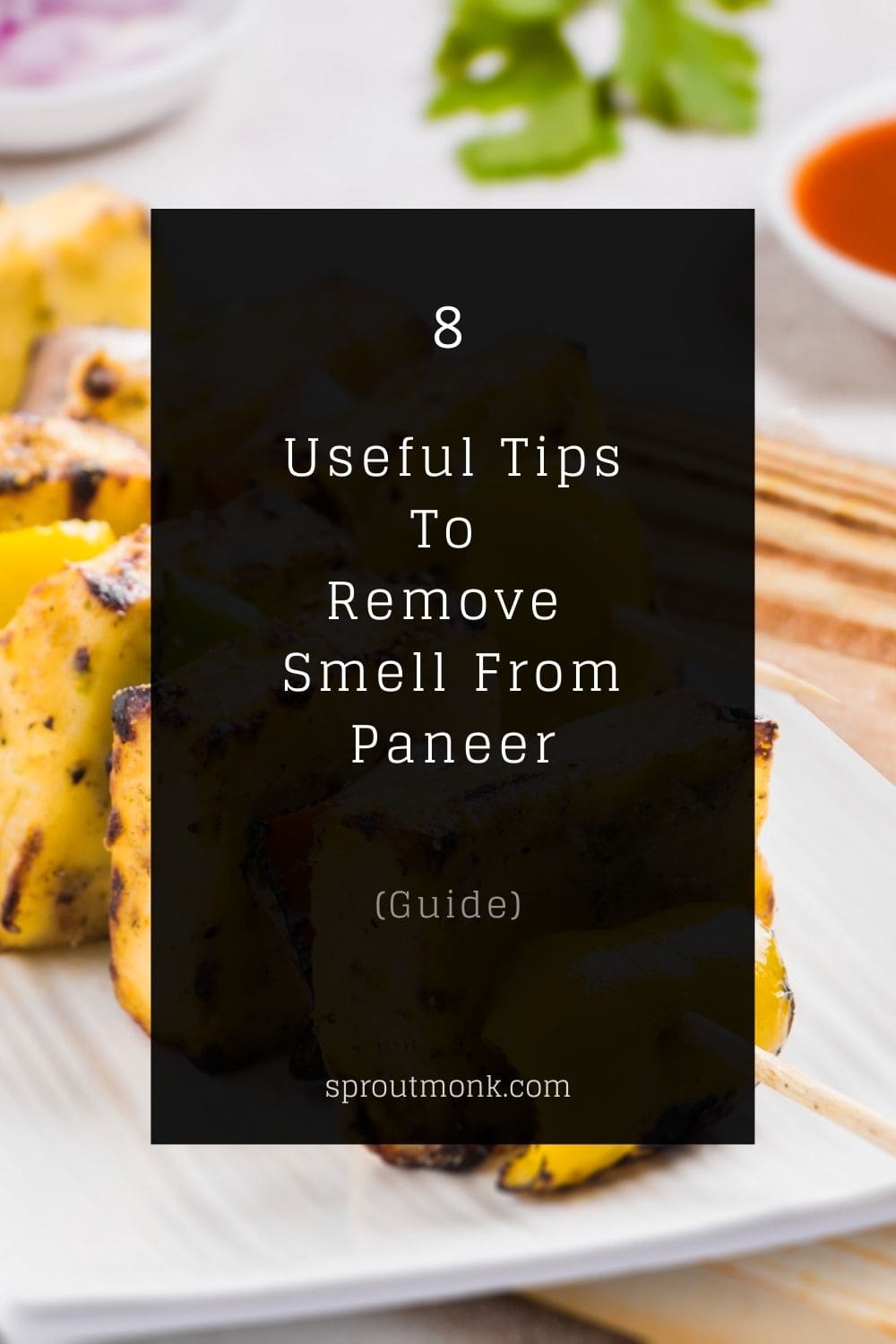 How To Remove Smell From Paneer
Here are a few ways to remove the smell from your fresh Paneer pieces –
1. Rinse It With Water Thoroughly
This step is quite useful for the packaged Paneer.
When the Paneer cubes remain in the package for too long, they may acquire a strong odor due to bacterial activity.
And therefore, it becomes essential to rinse the cubes before using them in your preparations.
Note: You should rinse them only when you want to use them for making curries or any such preparations.
Do not rinse it with water and put it back in the refrigerator.
It won't make any difference to the smell later on.
2. Place It In The Cold Water For A Few Minutes
Apart from rinsing, the other thing you can do is put the pieces in cold water for some time.
You can rest them in a bowl of water for 10-15 minutes.
It will help in removing any impurities that may be present on the surface of the pieces.
So, make sure you perform this step whenever possible, especially when you want to use a slightly older Paneer.
Also, when you keep Paneer in water, the cubes will automatically absorb some water during this time.
And it will result in even softer Paneer pieces.
3. Squeeze Some Fresh Lime Juice On It
Fresh lime juice is known to remove the odor and bad taste of many raw ingredients.
We often use it for several types of meats, which generally contain a strong smell as well as taste.
And the fresh lime juice does wonders in balancing these two aspects of some of the food items.
So, if your Paneer pieces are smelling not so fresh, you can rinse them first and then squeeze some lime juice over them.
Once you spread the juice, add some salt to them and allow the mixture to rest for at least 10 minutes.
This should help in bringing freshness to the pieces.
4. Use Vinegar To Remove Odor From Paneer Pieces
Vinegar works quite similar to lime juice.
You can simply add a couple of teaspoons of Vinegar to the pieces, and it should fix the smell issue for you.
However, do not add too much Vinegar in it, as it might spoil the taste of your preparation later on.
Also, it doesn't go well with many of the Indian curries and rice dishes.
So, you need to be careful while using Vinegar to remove smell from your Paneer pieces.
In such cases, you should always think of adding fresh lime juice to it.
5. Rub Some Spices On The Pieces
Spices are great for adding aromas and flavors to the Paneer pieces.
But what sort of spices should one use for this process?
Well, here are some of the aromatic spices you can use to remove smell from Paneer – 
Coriander Powder
Cumin Powder
Red Chilli Powder
Garam Masala Powder
Cinnamon-Nutmeg Powder
Cardamom Powder
These are some of the spices that bring a pleasant soothing aroma to Paneer pieces.
Of course, you don't have to use all of them at once.
Depending on the preparation, you can either use one powder or a combination of different powders for this process.
And if you want to make it even more interesting, you can also make use of Pav Bhaji Masala or Chaat Masala to remove the odor from the pieces.
You can think of adding Saffron milk to it if you want to make Shahi dishes at home.
Along with these spices, you can also add a drop or two of Rose Water (Gulab Jal) and Kewra Water.
Both these aromatics will help remove any foul smell from the pieces.
6. Marinate The Paneer Pieces Well
Now that we've talked about most of the marinade ingredients above, I think it's inevitable to mention this method here.
Marination generally helps in bringing amazing flavors to the raw ingredients.
And the same thing applies to the Paneer pieces.
When you marinate using different ingredients, they completely transform the taste, flavor, and aroma of the main ingredient.
So, if you are thinking of removing smell from Paneer, there is no better option than marinating them with your favorite ingredients.
Quick Tip: When you are done marinating the pieces, put them directly in the refrigerator.
Do not keep them outside, as the warm temperature might spoil the entire marinated mixture.
7. Smoke The Paneer Pieces Using Dhungar Method
Yes, it's an ultimate way to remove odor from the Paneer pieces.
When you use burning charcoal to smoke the food, it brings absolutely amazing smokey flavor to the dishes.
For those who don't know, this method is known as Dhungar in India.
And it is often used to smoke the curries, tikkas, and rice delicacies.
Sometimes, the dhungar method is also used in western countries while maturing some of the finest quality of cheese.
Of course, this process is quite different than what we use in small home kitchens.
And if you want to use it for Paneer pieces, you can use a tiny piece of charcoal too. 
You won't need too many pieces here.
So, do give it a try and see how it transforms the taste and aroma of the Paneer pieces.
8. Pan Fry The Pieces Before Using In The Curry 
Don't have charcoal?
No problem!
You can simply make use of the traditional pan-frying method.
Here, you will have to fry the Paneer pieces until they turn slightly crisp brown or golden brown.
Once you're done, take them out on a plate and put them back in your favorite curry or rice preparation.
Now, why does this technique work?
Well, when you fry the pieces, the excess heat eliminates any foul smell-producing bacteria present in them.
Also, the oil you use for this technique coats well on the surface of Paneer pieces.
And therefore, it creates a thin layer around the surface, which prevents any residual odor from coming out of the pieces.
In the next section, you will find the answers to some of the most frequently asked questions by the readers.
If you have any queries related to this topic, do take a quick look at this section.
FAQs
1. How Do You Get Burnt Smell Out Of Paneer?

It's quite difficult to remove the burnt smell from Paneer.

In fact, you can't get rid of the smokey smell entirely.

The only way to reduce the effect of burnt smell from such ingredients is by mixing them with other ingredients.

For e.g.,

You can mix the Paneer pieces in a makhani gravy.

It will not only tone down the burnt effect but will also enhance the flavor of your makhani dish.

However, if the Paneer pieces are already charred, you shouldn't use them for any such repurposed dishes.

It will only ruin your dish, and you will probably regret wasting so much time and effort into fixing this issue.

Note: You can also rinse the Paneer pieces with water if they are not burnt to a great extent.
2. What Is The Shelf Life Of Paneer?

Paneer stays fresh for at least a week if you keep it in the refrigerator.

But if you open the package and expose it to the outside atmosphere, it will turn hard and rubbery in a couple of days.

As for the freezer, it can easily last for 10-15 days in this compartment of your refrigerator.

Quick Tip: Do not store your Paneer for too long. 

It's going to get harder and tougher irrespective of how well you store it.
3. How To Remove Bitterness From Paneer?

It's important to note that Paneer turns bitter due to the bacterial process.

If it has stayed outside for too long, it's going to turn bad.

And eventually, you will also notice changes in its taste, as it might taste sour or bitter depending on different types of bacteria.

Therefore, you shouldn't think of using such Paneer for your preparations.

Meanwhile, if you want to remove bitterness from a Paneer based curry or similar preparation, you will need to add some flavor and taste balancing ingredients to it.

Here are some of the ingredients you can try depending on the preparation – 

Mashed Potatoes, Spices, Honey, Cheese, Butter, Mayonnaise, Lemon Juice, Yogurt, etc.

You can try some of these ingredients and see if it works for you.
5. How To Make Old Paneer Fresh?

If the Paneer is not too old, you can put it in a bowl of water for 10-15 minutes.

This process will rejuvenate the pieces and will make them soft and juicy.

Alternatively, you can also marinate the pieces for half an hour, and it should do the same trick for you.

And if you feel Paneer is more than 3-4 days old, you can simply prepare a Paneer Bhurji with it.

It will have a softer texture than the big cubes or slices.
Over To You
As you can see, fresh ingredients like Paneer can often turn bad if they are not handled or used correctly.
But that doesn't mean you should always throw them away in the bin.
Sometimes, you can use the traditional methods and fixes to find a way to reuse such ingredients.
So, I hope some of the above tips help in removing any smell from your Paneer.
If you have any more tips or feedback, do let me know in the comments section below.
Also, please share this guide with your friends and family. 
And yes, don't forget to subscribe to my weekly newsletter as well.